10 Quick Questions with Kaycee Rice
Joe Toreno

Everything former DS cover girl Kaycee Rice touches turns to viral. From doing Nike campaigns (she has her own collection and self-designed shoe with the brand!) to performing at the Super Bowl to crushing class videos with WilldaBeast and Tricia Miranda, Kaycee's always on the move—and she's always fierce, fun, and full-out.
---
Kaycee's not one to sit still: She's launching a clothing line called Weirdo (coming soon), which will be designed entirely by her and her mom. It's inspired by that signature "Weirdo" beanie she's always sporting, and her pride in calling herself a weirdo.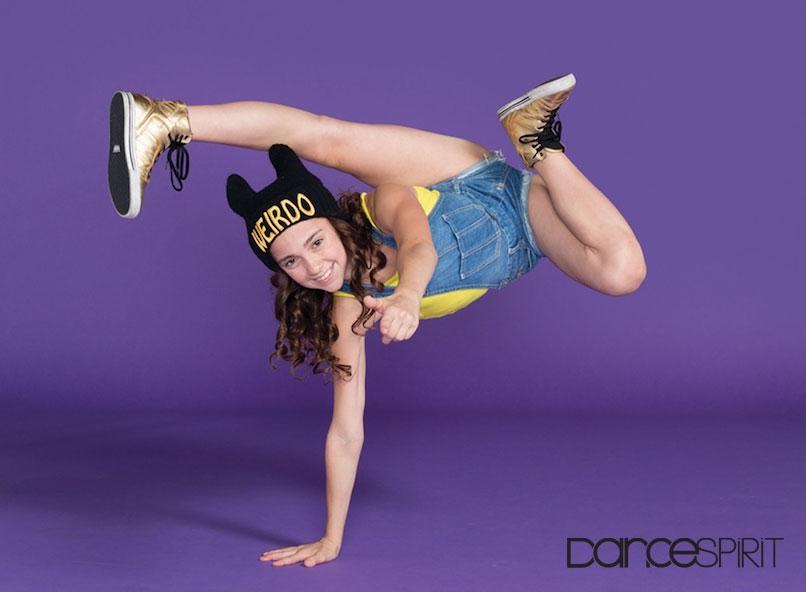 She wore one of her "Weirdo" beanies at her cover shoot! (photo by Joe Toreno)
"My mom made me my first Weirdo beanie and told me to never let what other people say bother me," Kaycee says. "Over the years, I've gotten a lot of positive and negative comments on social media. You have people that support you and people that hate on you. I try to show people that it's OK to be different. I always want people to know not to be afraid of trying something new. Always be yourself, because you are incredible at being you!"
We caught up with Kaycee to find out what she can't dance without—and what it felt like when Katy Perry shared her solo video with the world.
1. What's the first thing you do when you wake up in the morning and the last thing you do before bed every night?
The first thing I do when I wake up is lie there for a few and say to myself, "It can't be morning already!" Then I brush my teeth before stumbling downstairs for breakfast. I eat waffles with lots of syrup, check my Instagram and social media and then start school. At night, I always shower right before bed, and then I fall asleep watching Netflix.
2. What are three things you eat every day?
Waffles with syrup, pasta with lots of parmesan cheese, and fruit.
3. What are three things you can't dance without?
Performance, energy, and music. Without expression and feelings, you're just doing a bunch of steps. I always go full-out in every class. You only get out what you put in. And music, well, that's a no-brainer!
4. In your very expert opinion, what's the best dance movie of all time?
I would have to say Step Up.
5. If you were given an hour to take class from ANY instructor—living or dead—who would you choose?
Debbie Reynolds. Not only was she an icon, but she danced and trained with the best. And she wasn't just a dancer—she was also an actress and mentor. I'm currently working on my acting, so it would have been an honor to ask her questions about her life and train with her.
6. What's the coolest place you've ever performed?
The Super Bowl Halftime Show with Missy Elliott and Katy Perry. Working with Missy was a dream come true. She's such and inspiration in the dance community, and she's super nice. She's a legend! And one of my dreams was to meet Katy Perry to say thank you to her for Tweeting my solo years ago—that set me on my way in the industry. She signed a picture I had of the Tweet, so that was really cool.
7. What songs are in heavy rotation on your playlist right now?
"That's What I Like" by Bruno Mars and "Stay" by Alessia Cara.
8. Other than dance, what's your favorite way to work out?
Dance is my workout! I don't do any other form of working out.
9. What's your favorite way to spend a Sunday?
If I'm not working I love to swim, go to a theme park or just relax and watch TV or sleep.
10. What has been the single greatest moment in your dance career so far?
I have to say when Katy Perry Tweeted my "Werk" solo. That basically launched my career. If that didn't happen, I'm not sure where I'd be now.
Win It
Sep. 05, 2017 12:10PM EST
Photos by Erin Baiano
It's time to get your pirouette on! From September 5th to September 30th, we're hosting a contest to find out who's the best turner of them all.

Put together your most impressive turning combo. Post a video online. Share your turns with us and thousands of other dancers around the world. And if our editors think you're the top turner, you'll win a fabulous prize.
Keep reading...
Show less
All of 18-year-old Kaylin Maggard's dreams—from scoring the title of National Senior Outstanding Dancer at New York City Dance Alliance Nationals to winning the 2017 Dance Spirit Cover Model Search—are coming true. And to anyone who knows the gorgeous contemporary dancer, that's no surprise.
From the moment the Dance Spirit staff met Kaylin, it was obvious her humility and talent would take her far. Not only did she go full-out during the photo shoot and class at Broadway Dance Center, but she was always cheering on, laughing with, and supporting her fellow CMS contestants Haley Hartsfield and Michelle Quiner. During the voting period, the social media world was abuzz with praise for her work ethic, positive attitude, and generosity.
Since her CMS trip to NYC, Kaylin's moved from her hometown of Columbia, MO, to the Big Apple for her freshman year at Juilliard, and is busy getting acquainted with the city. As for the future? She's taking it one opportunity at a time, but something tells us we'll be seeing this contemporary queen reach new heights every year.
Keep reading...
Show less
New York City principal Lauren Lovette has become an icon thanks to her emotional maturity and exceptional musicality. The 26-year-old quickly rose through the ranks after joining the company as an apprentice in 2009, reaching principal status in 2015. A Thousand Oaks, CA, native, Lovette started studying ballet seriously at age 11, at the Cary Ballet Conservatory in Cary, NC. After attending two summer courses at the School of American Ballet, she enrolled as a full-time student in 2006. Last year, she made her choreographic debut with For Clara, her first piece for NYCB. Catch her latest work this month during the company's fall season. —Courtney Bowers
Keep reading...
Show less
In our "Dear Katie" series, former NYCB soloist Kathryn Morgan answers your pressing dance questions. Have something you want to ask Katie? Email dearkatie@dancespirit.com for a chance to be featured!
Dear Katie,
I know I'm not getting good enough dance training from any of my local studios. But I'm not sure I'm ready to move away to study at a big-name school, either. How do you know when you're ready to leave home to pursue your passion?
Marisa
Keep reading...
Show less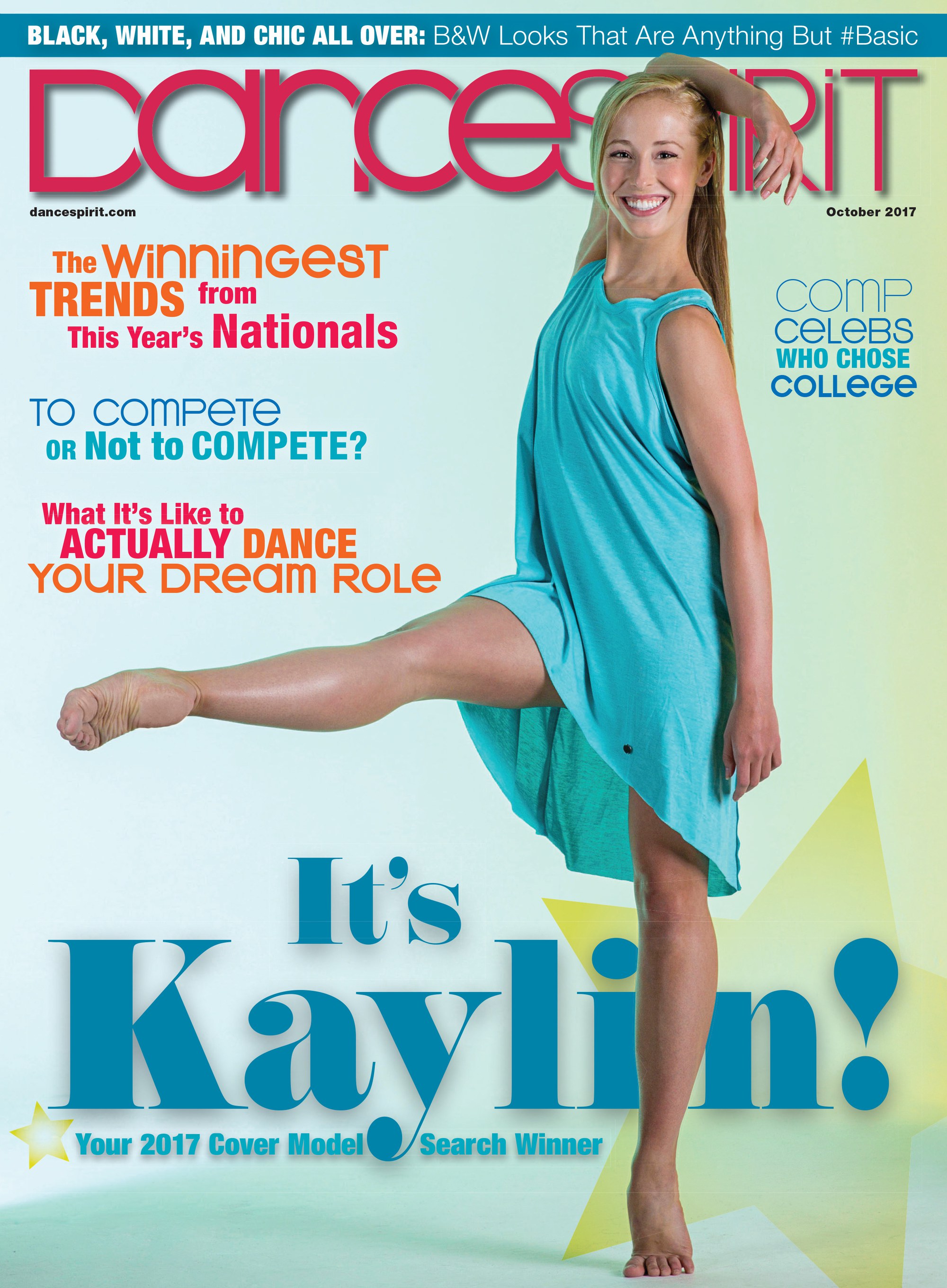 Get Dance Spirit in your inbox