10 Quick Questions with Kaycee Rice
Joe Toreno

Everything former DS cover girl Kaycee Rice touches turns to viral. From doing Nike campaigns (she has her own collection and self-designed shoe with the brand!) to performing at the Super Bowl to crushing class videos with WilldaBeast and Tricia Miranda, Kaycee's always on the move—and she's always fierce, fun, and full-out.
---
Kaycee's not one to sit still: She's launching a clothing line called Weirdo (coming soon), which will be designed entirely by her and her mom. It's inspired by that signature "Weirdo" beanie she's always sporting, and her pride in calling herself a weirdo.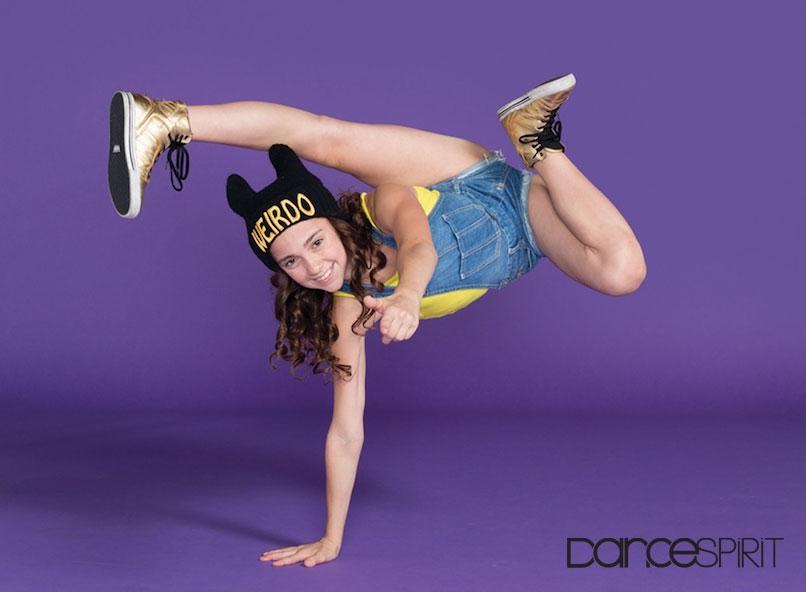 She wore one of her "Weirdo" beanies at her cover shoot! (photo by Joe Toreno)
"My mom made me my first Weirdo beanie and told me to never let what other people say bother me," Kaycee says. "Over the years, I've gotten a lot of positive and negative comments on social media. You have people that support you and people that hate on you. I try to show people that it's OK to be different. I always want people to know not to be afraid of trying something new. Always be yourself, because you are incredible at being you!"
We caught up with Kaycee to find out what she can't dance without—and what it felt like when Katy Perry shared her solo video with the world.
1. What's the first thing you do when you wake up in the morning and the last thing you do before bed every night?
The first thing I do when I wake up is lie there for a few and say to myself, "It can't be morning already!" Then I brush my teeth before stumbling downstairs for breakfast. I eat waffles with lots of syrup, check my Instagram and social media and then start school. At night, I always shower right before bed, and then I fall asleep watching Netflix.
2. What are three things you eat every day?
Waffles with syrup, pasta with lots of parmesan cheese, and fruit.
3. What are three things you can't dance without?
Performance, energy, and music. Without expression and feelings, you're just doing a bunch of steps. I always go full-out in every class. You only get out what you put in. And music, well, that's a no-brainer!
4. In your very expert opinion, what's the best dance movie of all time?
I would have to say Step Up.
5. If you were given an hour to take class from ANY instructor—living or dead—who would you choose?
Debbie Reynolds. Not only was she an icon, but she danced and trained with the best. And she wasn't just a dancer—she was also an actress and mentor. I'm currently working on my acting, so it would have been an honor to ask her questions about her life and train with her.
6. What's the coolest place you've ever performed?
The Super Bowl Halftime Show with Missy Elliott and Katy Perry. Working with Missy was a dream come true. She's such and inspiration in the dance community, and she's super nice. She's a legend! And one of my dreams was to meet Katy Perry to say thank you to her for Tweeting my solo years ago—that set me on my way in the industry. She signed a picture I had of the Tweet, so that was really cool.
7. What songs are in heavy rotation on your playlist right now?
"That's What I Like" by Bruno Mars and "Stay" by Alessia Cara.
8. Other than dance, what's your favorite way to work out?
Dance is my workout! I don't do any other form of working out.
9. What's your favorite way to spend a Sunday?
If I'm not working I love to swim, go to a theme park or just relax and watch TV or sleep.
10. What has been the single greatest moment in your dance career so far?
I have to say when Katy Perry Tweeted my "Werk" solo. That basically launched my career. If that didn't happen, I'm not sure where I'd be now.
(From left) ABT's Erica Lall; NYCB's India Bradley; Washington Ballet's Nardia Boodoo; NYCB's Rachel Hutsell (all photos by Rachel Neville)
Misty Copeland. Her name is synonymous with exquisite artistry and outspoken advocacy. And her visibility has made a huge impact on the ballet world. Ballet's relationship with race has always been strained at best, hostile at worst. But Copeland's persistent message and star quality have finally forced the ballet industry to start talking about racial diversity, inclusivity, and representation. "The rarity of seeing ourselves represented is sad," Copeland says. "The more we see every hue and body shape represented on the stage, the more possibilities young dancers feel they have for themselves."
Keep reading...
Show less
Our nominees (clockwise from top left): Roberto Campanella, Aurélie Dupont, Ashley Wallen, and Anthony Van Laast
Last month, we asked why there wasn't a Best Choreography category at the Oscars—and discovered that many of you agreed with us: Choreographers should definitely be acknowledged for their work on the super-dancy movies we can't get enough of.
Now, we're taking matters into our own (jazz) hands.
We've decided to create a Dance Spirit award for the best cinematic choreography of 2017. With your input, we've narrowed the field to four choreographers whose moves lit up some of the best movies of the year. Check out our nominations for best choreography below—and vote for the choreographer you think deserves the honor. We'll announce the winner on Friday, March 2.
Being a dancer comes with the task of having to entertain the same questions over and over again from those outside the dance world. Of course, we love having our friends and family take an interest in our passion—but if someone asks ONE MORE TIME whether or not we've met Travis Wall, we might just go crazy.
Here are 10 questions that dancers hate getting asked.
Keep reading...
Show less
ABT JKO School student Miuka Kadoi shoiwng off her beautiful line (photo by Kenneth Edwards)
Contemporary phenom Christina Ricucci has super-flexible hips, which means she can stretch her legs to unbelievable heights. But when she noticed herself making contorted positions in class, Ricucci realized she was approaching her extensions all wrong. "I went back to the basics in class, squaring my hips and using my turnout," Ricucci says. "I learned to create proper positions, rather than whacked-out versions of them."
Some dancers are so wonky they have a hard time supporting their high legs, while others struggle with limited flexibility. But no matter your facility, you can find a balance of stretch and strength to achieve your fullest range of extension. It's not about how high (or not) your legs can go: It's the quality of the movement, and how you get those legs up, that counts.
Keep reading...
Show less
Bronze medalist Kaetlyn Osmond skating her "Black Swan" long program (screenshot via YouTube)
Once upon a time (until the 2014 Winter Olympics in Sochi concluded, to be exact), figure skaters had to compete to music without words. Before this rule change, a skater faced an automatic point deduction if the music even hinted at vocals. Understandably, there were *a lot* of Olympic programs skated to classical music, and you'd tend to hear the same music selections over and over and over.
Keep reading...
Show less


Get Dance Spirit in your inbox