10 Quick Questions with Kaycee Rice
Joe Toreno

Everything former DS cover girl Kaycee Rice touches turns to viral. From doing Nike campaigns (she has her own collection and self-designed shoe with the brand!) to performing at the Super Bowl to crushing class videos with WilldaBeast and Tricia Miranda, Kaycee's always on the move—and she's always fierce, fun, and full-out.
---
Kaycee's not one to sit still: She's launching a clothing line called Weirdo (coming soon), which will be designed entirely by her and her mom. It's inspired by that signature "Weirdo" beanie she's always sporting, and her pride in calling herself a weirdo.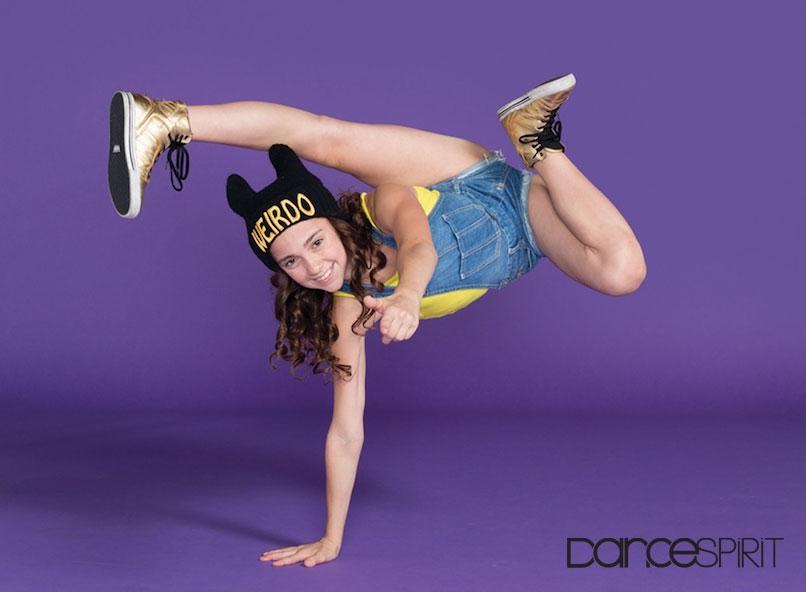 She wore one of her "Weirdo" beanies at her cover shoot! (photo by Joe Toreno)
"My mom made me my first Weirdo beanie and told me to never let what other people say bother me," Kaycee says. "Over the years, I've gotten a lot of positive and negative comments on social media. You have people that support you and people that hate on you. I try to show people that it's OK to be different. I always want people to know not to be afraid of trying something new. Always be yourself, because you are incredible at being you!"
We caught up with Kaycee to find out what she can't dance without—and what it felt like when Katy Perry shared her solo video with the world.
1. What's the first thing you do when you wake up in the morning and the last thing you do before bed every night?
The first thing I do when I wake up is lie there for a few and say to myself, "It can't be morning already!" Then I brush my teeth before stumbling downstairs for breakfast. I eat waffles with lots of syrup, check my Instagram and social media and then start school. At night, I always shower right before bed, and then I fall asleep watching Netflix.
2. What are three things you eat every day?
Waffles with syrup, pasta with lots of parmesan cheese, and fruit.
3. What are three things you can't dance without?
Performance, energy, and music. Without expression and feelings, you're just doing a bunch of steps. I always go full-out in every class. You only get out what you put in. And music, well, that's a no-brainer!
4. In your very expert opinion, what's the best dance movie of all time?
I would have to say Step Up.
5. If you were given an hour to take class from ANY instructor—living or dead—who would you choose?
Debbie Reynolds. Not only was she an icon, but she danced and trained with the best. And she wasn't just a dancer—she was also an actress and mentor. I'm currently working on my acting, so it would have been an honor to ask her questions about her life and train with her.
6. What's the coolest place you've ever performed?
The Super Bowl Halftime Show with Missy Elliott and Katy Perry. Working with Missy was a dream come true. She's such and inspiration in the dance community, and she's super nice. She's a legend! And one of my dreams was to meet Katy Perry to say thank you to her for Tweeting my solo years ago—that set me on my way in the industry. She signed a picture I had of the Tweet, so that was really cool.
7. What songs are in heavy rotation on your playlist right now?
"That's What I Like" by Bruno Mars and "Stay" by Alessia Cara.
8. Other than dance, what's your favorite way to work out?
Dance is my workout! I don't do any other form of working out.
9. What's your favorite way to spend a Sunday?
If I'm not working I love to swim, go to a theme park or just relax and watch TV or sleep.
10. What has been the single greatest moment in your dance career so far?
I have to say when Katy Perry Tweeted my "Werk" solo. That basically launched my career. If that didn't happen, I'm not sure where I'd be now.
Erin Carpenter as a Knicks City Dancer (David Safran, courtesy of Erin Carpenter)
The groundwork for Erin Carpenter's company, Nude Barre, began when she was a teenager. At 16, she earned a spot in the residency program at The Kennedy Center in partnership with Dance Theatre of Harlem. "We were required to wear nude—as in, our actual skin tone—tights and shoes," she remembers. Carpenter brought her "sun tan" tights and a pair of pink ballet shoes with her, because that was all she could find. But she wasn't allowed in class because her dancewear didn't match her skin. "I was so embarrassed," she says. "I looked unprepared. I just didn't have the right nudes." Her teacher explained that the dancers dyed their tights and pancaked their shoes.
Keep reading...
Show less
Via @whitneybugs on Instagram
There are dancers and then there are DANCERS! Whitney Jensen, soloist at Norwegian National Ballet, is the latter. The former Boston Ballet principal can do it all. From contemporary to the classics this prima has the technical talent most bunheads dream about. Need proof? Look no further.
Keep reading...
Show less
Jul. 19, 2017 04:53PM EST
Via YouTube
Luis Fonsi and Daddy Yankee's dance inducing hit, "Despacito," is so catchy it should probably come with a disclaimer that warns people of an uncontrollable itch to tap your feet or bob your head. Some might even feel inclined to go all out and break it down. Niana Guerrero is a prime example of "Despacito's" uncanny ability to unleash the red dressed emoji dancer within. 💃🏽 💃🏽
Keep reading...
Show less
Jul. 19, 2017 04:25PM EST
(courtesy NBC)
Guys, we all knew this was coming—"World of Dance" was eventually going to eliminate someone. But man, is it brutal to watch these talented dancers give their all, only to be sent home. It's the name of the game, though, and after last night's episode, only two dancers per division remain. (At least Misty Copeland guest-judging was a silver lining!) Here's what went down last night:
Keep reading...
Show less


Get Dance Spirit in your inbox