Apr. 01, 2014 10:59PM EST
10 Reasons to Join a Dance Team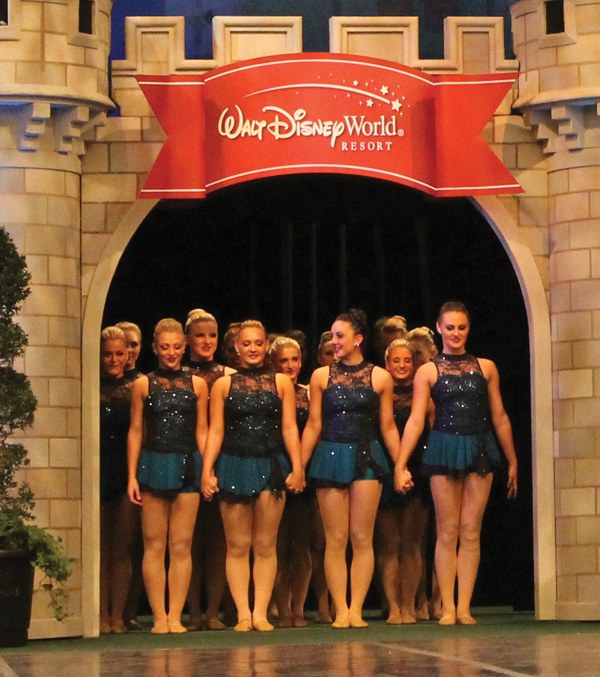 The University of Minnesota Dance Team preparing to take the floor at Universal Dance Association Nationals (photo by Universal Dance Association/Varsity)
Think it's all about cheering from the sidelines? Think again! Here's why you should consider going out for your school's dance team.
#1 You and your teammates will bring out the best in each other. "Being on a dance team has taught me to push myself. My teammates and I motivate each other to grow at every practice, so when competition time comes, we can all be our very best." —Faymie Westmoreland, University of Tennessee
#2 Teamwork will become your mantra. "It's not about individual talent; it's about what the team can do as a whole. An impressive solo turn combination is cool, but when an entire team does it in perfect unison, it's amazing." —Chelsea Woods, University of South Carolina
#3 The skills you develop will help you for the rest of your life. "Being part of a dance team taught me discipline, time management and how to take constructive criticism—skills that make me a better dancer and a better person."—Maren Thueson, Bountiful High School
#4 You'll get the chance to serve your community. "One of the best parts about being on a professional dance team is that we have so many opportunities to give back. Some of my favorite team memories are from spending time with the kids at the Primary Children's Hospital."—Nicole Gunnarson, Utah Jazz Dancers
#5 You'll get to keep dancing—and growing—after high school. "Being on the team has let me continue to share my talents, improve my dancing and make lasting connections in the dance world." —Michelle Lack, McLennan Community College
#6 You'll have many "once in a lifetime" experiences. "As a Carolina Girl, I've had opportunities that will stay with me forever. I performed at Williams-Brice Stadium when Carolina beat Number 1–ranked University of Alabama, and I've danced on the beach at National Dance Alliance Nationals." —CW
#7 You'll learn how to be a role model. "Dancing in front of 100,000 people forces you to have confidence and poise. You never know who's watching, so you have to think of yourself as a role model to any little girl in the crowd." —FW
#8 You'll see first hand that hard work pays off. "Rehearsing just three dances every day for nine months can seem tiresome and monotonous, but winning the state championship at the end of the year makes it all worth it." —MT
#9 You'll get serious adrenaline rushes. "The excitement of performing in front of massive crowds is incomparable. It makes all the hard work in rehearsals worth it. The atmosphere is electric, and I feel so much unity with my team." —NG
#10 You'll become part of a sisterhood. "Freshman year in college can be overwhelming, and it's easy to feel lost. But being involved in dance team gave me a family away from home. My team is my best support group." —ML
via @phil_wright_ on Instagram
Well, this brings class videos to a whole new level! Choreographer Phil Wright and dancer Ashley Liai have been together eight-plus years, but she was still in total shock when he proposed to her mid-dance at Millennium Dance Complex earlier this week. Why? Well, the whole thing was unbelievably perfect.
Keep reading...
Show less
Ashly Costa and Buzz Aldrin on "Dancing with the Stars" Season 10 (courtesy ABC)
In the dance industry, dancers don't always have a say in what they wear on their bodies. This can get tricky if you're asked to wear something that compromises your own personal values. So what should you do if you find yourself in this sticky situation? We sat down for a Q&A with "Dancing with the Stars" alumn Ashly Costa to answer that very question. Here's what she had to say about the options dancers have surrounding questionable costumes.
Keep reading...
Show less
Erin Carpenter as a Knicks City Dancer (David Safran, courtesy of Erin Carpenter)
The groundwork for Erin Carpenter's company, Nude Barre, began when she was a teenager. At 16, she earned a spot in the residency program at The Kennedy Center in partnership with Dance Theatre of Harlem. "We were required to wear nude—as in, our actual skin tone—tights and shoes," she remembers. Carpenter brought her "sun tan" tights and a pair of pink ballet shoes with her, because that was all she could find. But she wasn't allowed in class because her dancewear didn't match her skin. "I was so embarrassed," she says. "I looked unprepared. I just didn't have the right nudes." Her teacher explained that the dancers dyed their tights and pancaked their shoes.
Keep reading...
Show less


Get Dance Spirit in your inbox