10 Things We Learned From "All the Right Moves" Episode 1
Last night marked the premiere episode of "All the Right Moves" on Oxygen. Surely you know this by now since we basically haven't shut up about it since May.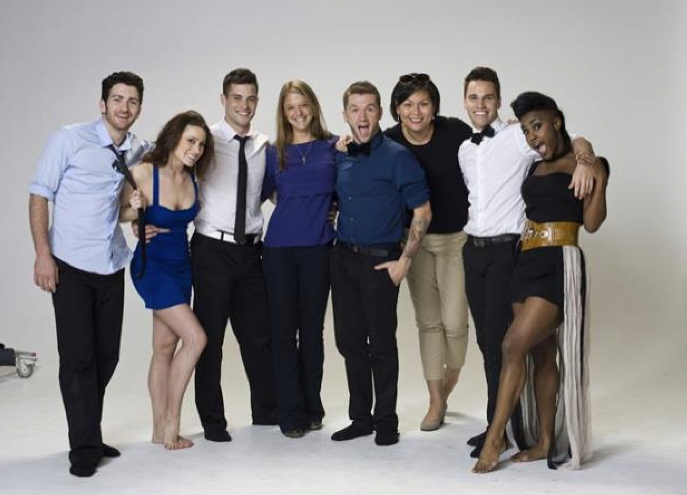 The first episode brought exactly what we expected: two contemporary routines, a whole lotta "who's the boss of this company?" drama, and plenty of shirtless Kyle Robinson...which we're totally fine with.
But amidst the breathy performances and the "we swear this is a real audition" scenarios, there were plenty of lessons to be learned. Without further ado...
The 10 Lessons We Learned From "All the Right Moves" Episode 1:
1. Everyone has a role in the group. Travis is undeniably (really guys, stop denying it) the leader of the company. Nick is the funnyman, Kyle is the hot one ("He's husband material," Nick says), and while everyone has dubbed Teddy "The Bohemian," Nick seems to think he's more Rihanna-esque. "Teddy will find love in all the hopeless places," he said. I'd like to see more of Teddy dancing, because I think his moves are some of the best.
2. Reality TV most likely comes with a slight script. I'm sorry, but there's no way I'm buying the fact that Kyle flew out and moved to L.A. to be a part of this company and then "unknowingly" had to audition. I think it's fair that all non-founding members audition, but I say this was all for the televised drama...especially since later Travis basically tells Jaimie that, despite not being able to audition on account of her knee injury, she's already in the company. Fair? Unfair? You decide. I only care about the dancing. And shirtless Kyle.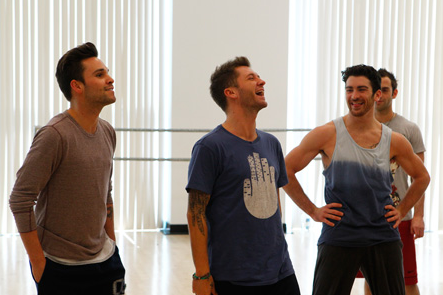 3. Travis is an amazing choreographer, super-talented dancer and definite star—but his business savvy could use some fine-tuning. During his meeting with his Clear Talent Group agents, it's suggested that they refer to the company as "Travis Wall's Shaping Sound." Travis responds by telling them, "If I say Travis Wall's Shaping Sound, I'm going to hear it from the boys." He's concerned about their friendship, which is great, but I don't hear him denying that this is, in fact, primarily his company. Something tells me this theme is going to be a crucial one in later episodes. I smell a power struggle! Manfight!
4. Travis and Jaimie started dating when Travis was 14. They dated for a full two years, until Travis "realized he was gay." Jaimie's reflection on their relationship? "I can't think of  many things that were wrong with that relationship, except for the whole gay thing." Minor detail, Jaim. Though I do think it's incredibly sweet that they have stayed so close over the years, and it's endearing the way Travis is completely protective of her.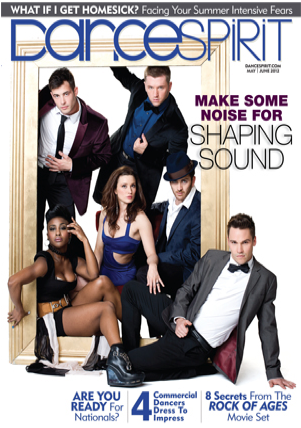 5. Almost every Shaping Sound dancer has been in, or on the cover of, Dance Spirit. Melanie Moore? Check. Former Cover Model Search champs Kaitlynn Edgar and Alexa Anderson? Duh. Chantel Aguirre? Got her. Allison Holker? Coming right up. Not to mention the co-founders, plus Kyle, Taja and Jaimie, were on the May/June cover.
6. Taja Riley, gotta love her, has mastered the art of passive-aggressiveness. Travis asked her for feedback, and she found a way to give him total backhanded compliments. "You crack under pressure sometimes," she said." Naturally Travis responded defensively—in his camera aside—by saying "I don't take attacks to my choreography." Was it unprofessional of her to show up at the audition without a headshot? Absolutely. But did I laugh hysterically when she "drew" a headshot, complete with the signature Taja braid? Yup.
7. Some things may be semi-scripted, but I genuinely believe that Jaimie's emotions are real. It is so hard to watch your friends do something you cannot. My heart broke a little for her as she watched the Shaping Sound audition from her stretching corner, unable to participate.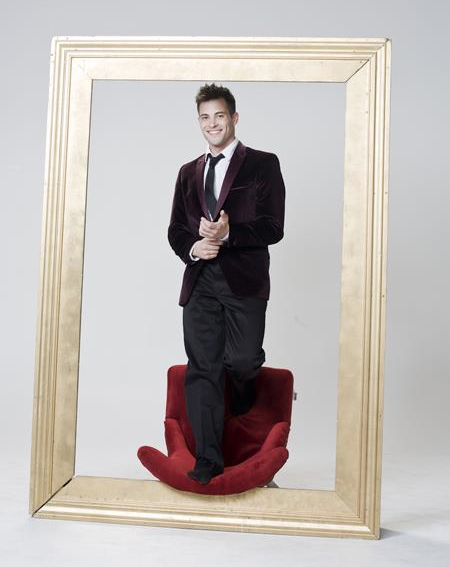 8. Kyle is so hot. Just so, so good-looking.
9. Nick is hilarious. Yes, we knew this already. But my favorite line of the episode was the much-teased "Hey guys, you're hired! We're broke!" from Mr. "I can turn for days" Lazzarini. I was also having giggle-fits when they were working out the Florence + the Machine investor performance choreo and Nick attempted to put monetary value on each move. "Crossing's really going to get us some big money," he said. "Crossing gets us dollars."
10. Chantel Aguirre and Allison Holker are stunning. They are just...beyond. I realize that I was supposed to be focusing on Taja as the "lead girl" during the final performance scene, but man, Chantel is an attention-grabber. Give that girl a spotlight.
This season on "All the Right Moves": "It's not just Travis Wall's Shaping Sound," Nick says. We'll be tuned in—will you?
Jun. 15, 2017 02:00PM EST
From left: Haley Hartsfield, Kaylin Maggard, and Michelle Quiner (photos by Erin Baiano)
Congratulations to Dance Spirit's 2017 Cover Model Search finalists: Haley Hartsfield, Kaylin Maggard and Michelle Quiner! One of them will win a spot on Dance Spirit's October 2016 cover. Learn more about the dancers on their profile pages, and then vote for your favorite below.
We also want you to get social! We'll be factoring social media likes and shares into our final tallies. Be sure to show your favorite finalist some love on Facebook, Instagram, and Twitter, sharing their profile pages and using the hashtag #DanceSpiritCMS.
Keep reading...
Show less
An outfit that makes you feel confident on the convention floor is always a "do" (via Break the Floor Productions)
Attention, ladies and gentlemen: We've officially hit Nationals season! And that means it's time to dig through those closets to find the perfect clothes to get you noticed during convention classes. The task can feel totally overwhelming—but we're here to help. Follow our guidelines, and you'll be rocking the dance floor with Travis Wall and making Stacey Tookey yell "GORGEOUS!" in no time.
Keep reading...
Show less
Royal Flux performing on "World of Dance" (NBC)
Oh man. This is getting ROUGH.
Last night marked the second round of head-to-head duels on "World of Dance." Once again, we were feeling real pity for the judges—and it takes a lot for us to pity J. Lo—because we've reached a point in the competition where there aren't any clear winners. Everyone's insanely good. And yesterday's showdowns paired acts that were so unalike, comparing them felt a little unfair.
So, who emerged from these cruel duels victorious?
Keep reading...
Show less


Get Dance Spirit in your inbox