10 Things We Learned From "All the Right Moves" Episode 6
"Drop the attitude? Why don't you...drop off the face of the earth?" —Nick Lazzarini, Voice of Reason, "All the Right Moves"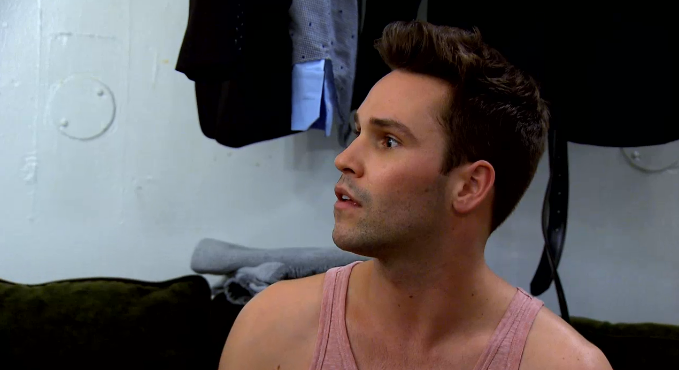 This recap is tardy, and for that I'm truly sorry. I was out of town last week hanging out at "So You Think You Can Dance" (more on that soon—I promise many details) and tragically, the Sheraton Four Points didn't grant me access to the Oxygen network!
But now I'm back on the east coast and here to recap all the lessons we can take away from last week's pretty awesome episode of "All the Right Moves." There was prop drama! Teddy being late for stuff...again! Kyle getting important meetings that may help propel his budding career as an actor! And, ultimately, we saw snippets (not nearly enough of them, FYI) from Shaping Sound's premiere show, Come Together.
So what did we learn? Now's the time to tell you...
1. The kitchen at The Manor is disgusting. Filthy. Come on, guys. You're better than that.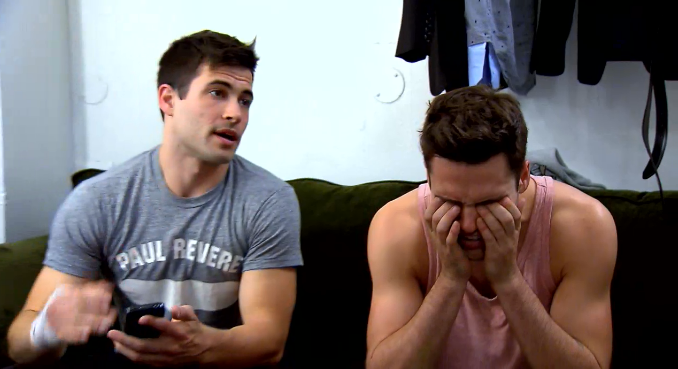 2. Teddy has a touch of Dance A.D.D. The Shaping Sound premiere show is just three days away—OMG!—but multi-tasking Teddy is busy working on a documentary of his own called "Misery Loves Company." It's based on Plato or something. "I don't have time for this criticism," Teddy snaps at the "Misery Loves Company" crew when they're trying to figure out how Teddy can split his time. And naturally Nick and Travis are "kind of annoyed" that Teddy is having these other meetings, thus making him late for Shaping Sound stuff. "It's Teddy, he doesn't think about anything," Nick quips. Teddy, we love that you're so passionate in so many ways and you want to try so much different stuff, but you've gotta prioritize dude. Because Nick's about to snap...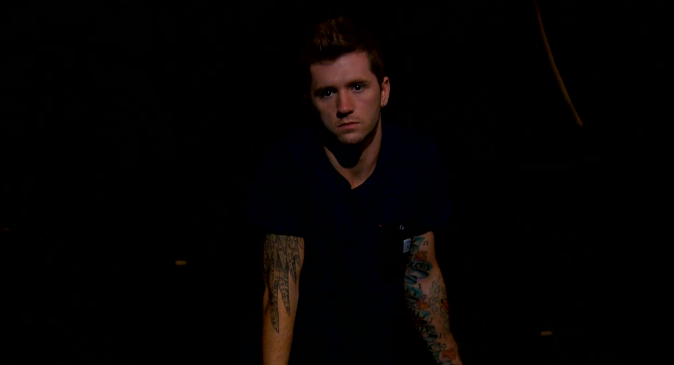 3. When it comes to being hilarious, Travis is getting up there with Nick. "Misery will have to wait for its company until Shaping Sound is done with its performance." This is fantastic, Travis, and I love you for being so pithy and witty. But seriously, Travis has ceased all other commitments so he can focus on this company, and so has Nick. If Teddy wants co-founder credit and he wants to be as important as Travis in this company, he needs to start respecting everyone's time. Right?
4. As much as I love Nick when he's being sarcastic and funny, I love him even more when he's got his little black jazz shoes on. Sometimes when I'm watching this show, I forget that it's a dance show and not a soap opera...which is fun, because it's during those soap-operatic moments that Nick delivers his most memorable one-liners. But every now and then, the boys are quiet and the music is loud and they just dance it out. And in this episode, Nick danced it the heck out. With a red chair (previously seen in the May/June issue of Dance Spirit!). Nick rocks out during his solo, and by the time he's done with his pirouettes (roughly 800 of them in a perfect row) he's deliciously sweaty. I definitely wouldn't not date Nick if he were into that...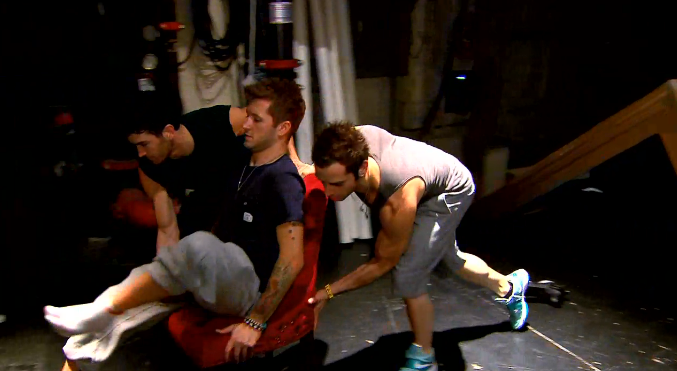 Later, there was some mega-drama with that little red chair. It may be made of velour and it may look nice, but it's a real pain in the glutes because it won't slide on the marley floor at the theater. The guys were like, "Nick, you have to ditch the chair for your solo because it's not gonna slide, literally, or maybe it's gonna slide too much" but Nick is all, "whatevs boys, I'm using the chair, it's my best friend." So he uses it...and...he falls. Sad Nick. Like a true pro, though, he gets right back up and keeps grooving.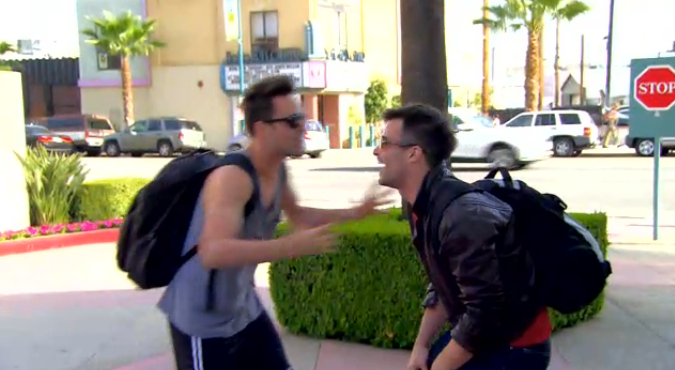 5. It would make me slightly jealous, but Nick and Kyle would make a pretty awesome (and hot) couple. I know there's the whole "I'm gay, but he's straight" issue, but can't these two just make it work? Kyle's happy jig dance when he found out he landed a meeting with casting director Robert Ulrich was precious. Also Nick called him Michael Flatley. They have the witty banter thing down.
6. It's possible the Shaping Sound lady dancers had to sign a contract saying that in order to be in the company, they would maintain exceptional hair. See: Taja's ever-growing bouf. Alexa's wildly out of control yet stunning curls. Ryan Ramirez's similar curls. Allison Holker's lusciously long locks that seem to hold flawless beach waves for days. Kaitlynn Edgar's bleachy bob that is amazing. I guess this is why I will never be in Shaping Sound. Also I'm not a very good dancer anymore. So there's that. But more importantly, it's about the hair.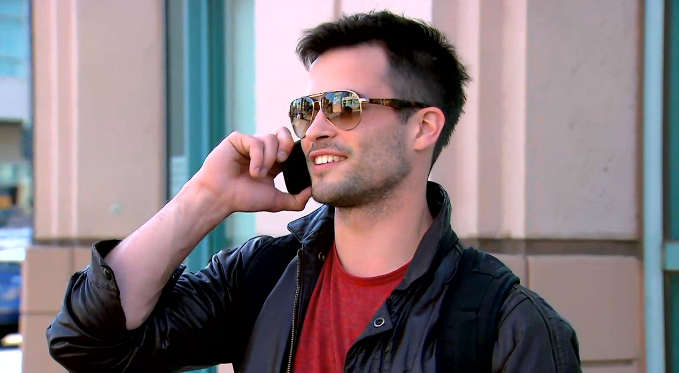 7. Kyle was a tapper! Did you know this? I did not know this! When he went to Juilliard (straight from high school, no less), he started with a specialty in tap! Granted, he eventually ditched it. But Kyle is pretty, and he's a good dancer, and he knows how to do flap-ball-changes and time steps?! Holy perfection.
8. Melanie slipping and falling during dress rehearsal was tragic. OK, maybe not for her, because she was all, "I'm OK, I promise," but OMG I hated watching that! She dashed out of the studio and immediately went to snag some ice, and you could see tiny tears of sadness dripping down her face once the guys found her. I thought she was going to be broken forever (which, come on Alison, you know she's not, you just saw her and chatted with her and watched her dance on Tuesday...). Travis was quite dapper about the situation, saying the guy should never ever ever ever under any circumstances ever in life drop his lady partner. And yet...down went sweet lil' Mel. Anyway, she's fine. Thank goodness.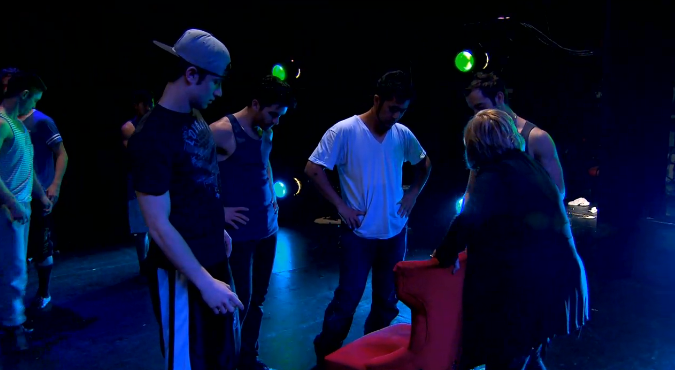 9. Denise Wall gets stuff done. She swoops in hours before the performance and is like, "What needs to get done?" and then she does it all. As Travis proclaims, "Best Mom Ever!" (Our sister mag, Dance Teacher agrees: DT presented Denise Wall with a Lifetime Achievement Award this year. During her acceptance speech, Queen Wall talked about how her boys mean the world to her. Clearly. She sewed pants for them at the last minute before the show...and all that jazz.) She also helps with the chair dilemma. Crucial!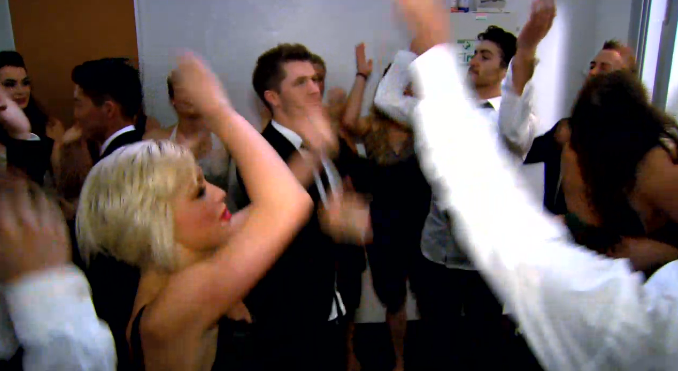 10. You've gotta love this crew. Seeing the Shaping Sound dancers literally come together (Get it? The show is called Come Together!) backstage before the premiere show was heartwarming. The boys put in so much hard work that went far beyond choreography. They costume shopped. They put down a marley floor. They ripped up a marley floor. The invested their own money in addition to so much of their time.
From what I could see, the show was killer. Like seriously killer. The dancers were just so into it, and it was electrifying. I loved the montage of all the routines and I was so happy it went well. The whole "we're a company of best friends" thing is slightly cheesy, sure, but ultimately it makes for a really good show because everyone is having so much fun together onstage. The chemistry is palpable. Also, the "Sing Sing Sing" Act I finale was a crazy good time. Travis, you say you want to choreograph, and you're great at that, so I get it. But please don't stop performing yet. You're great onstage.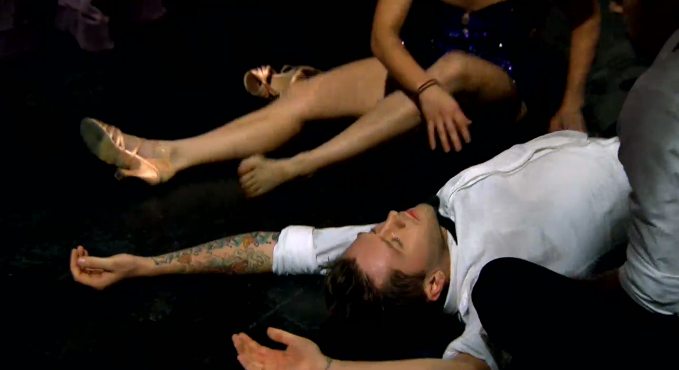 Offstage, though, slightly scary, huh? Travis sort of passes out after "Sing Sing Sing" and it's unclear whether it's from exhaustion or because Allison Holker secretly fed him a banana while they were partnering. My guess is exhaustion. Dr. Someone is called to the dressing room where Travis is given special medical attention, and is told "everything is fine." Miraculously, Travis is cured and cleared to make it through the second act after a hefty dose of fresh air. The company gets a standing ovation, Travis solidifies his spot "on Cloud 9" and everyone is sweaty and high on adrenaline. Nick cries and Teddy pops champagne. And Kyle takes off his shirt. Hooray!
Bravo to the Shaping Sound dancers who put on a fabulously fun show. I can't wait to see what the company does next.
And I won't have to wait long: Tune in tomorrow (Tuesday) at 10 PM EST for the 2-hour finale of "All the Right Moves." Jaimie is going to dance! Travis meets with Ingrid Michaelson! (Love herrrrrr OMG.) Kyle has a pretty significant beard! Adam Shankman gives advice! Dun dun dunnnnn.
Win It
Sep. 05, 2017 12:10PM EST
Photos by Erin Baiano
It's time to get your pirouette on! From September 5th to September 30th, we're hosting a contest to find out who's the best turner of them all.

Put together your most impressive turning combo. Post a video online. Share your turns with us and thousands of other dancers around the world. And if our editors think you're the top turner, you'll win a fabulous prize.
Keep reading...
Show less
All of 18-year-old Kaylin Maggard's dreams—from scoring the title of National Senior Outstanding Dancer at New York City Dance Alliance Nationals to winning the 2017 Dance Spirit Cover Model Search—are coming true. And to anyone who knows the gorgeous contemporary dancer, that's no surprise.
From the moment the Dance Spirit staff met Kaylin, it was obvious her humility and talent would take her far. Not only did she go full-out during the photo shoot and class at Broadway Dance Center, but she was always cheering on, laughing with, and supporting her fellow CMS contestants Haley Hartsfield and Michelle Quiner. During the voting period, the social media world was abuzz with praise for her work ethic, positive attitude, and generosity.
Since her CMS trip to NYC, Kaylin's moved from her hometown of Columbia, MO, to the Big Apple for her freshman year at Juilliard, and is busy getting acquainted with the city. As for the future? She's taking it one opportunity at a time, but something tells us we'll be seeing this contemporary queen reach new heights every year.
Keep reading...
Show less
New York City principal Lauren Lovette has become an icon thanks to her emotional maturity and exceptional musicality. The 26-year-old quickly rose through the ranks after joining the company as an apprentice in 2009, reaching principal status in 2015. A Thousand Oaks, CA, native, Lovette started studying ballet seriously at age 11, at the Cary Ballet Conservatory in Cary, NC. After attending two summer courses at the School of American Ballet, she enrolled as a full-time student in 2006. Last year, she made her choreographic debut with For Clara, her first piece for NYCB. Catch her latest work this month during the company's fall season. —Courtney Bowers
Keep reading...
Show less
In our "Dear Katie" series, former NYCB soloist Kathryn Morgan answers your pressing dance questions. Have something you want to ask Katie? Email dearkatie@dancespirit.com for a chance to be featured!
Dear Katie,
I know I'm not getting good enough dance training from any of my local studios. But I'm not sure I'm ready to move away to study at a big-name school, either. How do you know when you're ready to leave home to pursue your passion?
Marisa
Keep reading...
Show less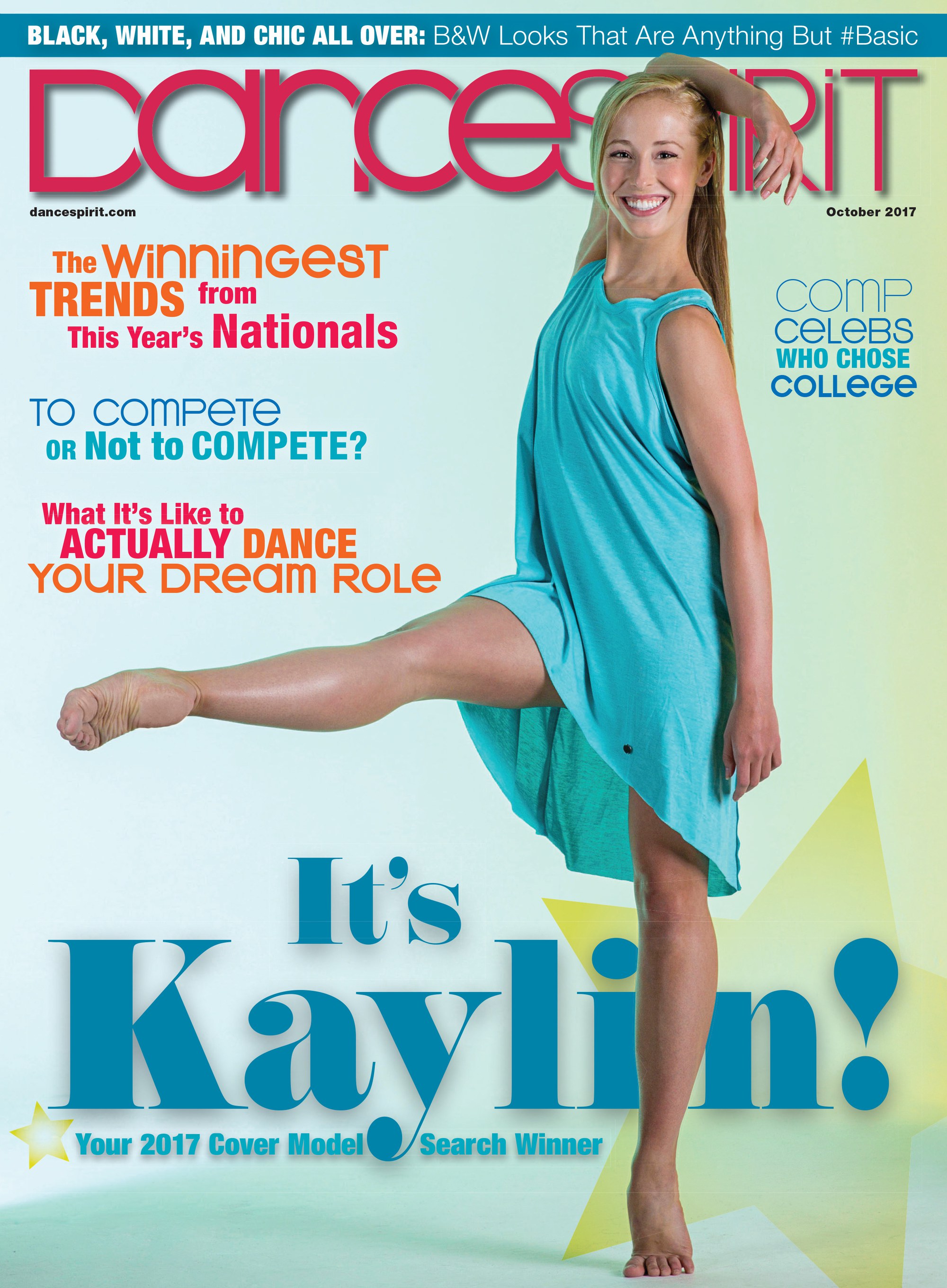 Get Dance Spirit in your inbox