How To
Jan. 02, 2018 10:18AM EST
10 Ways To Improve Your Arabesque
American Ballet Theatre's Gisele Bethea showing off her beautifully placed arabesque (photo by Nathan Sayers)
Arabesque can be one of the most breathtaking positions in ballet. But achieving a long, graceful arabesque requires a particular combination of strength and flexibility. Struggling to get past 90 degrees? We asked Pacific Northwest Ballet School instructor Nancy Crowley for 10 tips to improve your arabesque.
---
1. Warm Up Strategically
Warming up is, as always, essential. "You have to have your core warmed up for everything," Crowley says. A go-to pre-class warmup for those hoping to up their arabesques should also include rolling down the spine and body/leg swings.
2. Stretch—the Right Way
A high arabesque is a testament to a dancer's flexibility. But just dropping into the splits won't do much to improve your arabesque. Instead, try stretches focusing on the hips and spine. "Lunges where you press forward and feel the connection through the top of the hip and down to the spine are very helpful for an arabesque," Crowley says.
3. Use Your Whole Body
To hold an arabesque, a dancer must use not just her back, but her whole body. "Think about engaging the torso, the legs, and the ankles," Crowley says, to give your working leg stability and support.
4. Engage the Glutes
Your glutes are especially critical in arabesque, because they help you maintain your turnout and stand firmly on your supporting leg. To feel them working properly, "Stand facing the barre with your shoulders and hips pressed against it, making sure the heels are aligned under the hips in fifth position," Crowley suggests. "Place your arms on top of the barre, turn your head towards the supporting side, and do a small tendu. You'll really feel it in the back of the leg, how much you have to engage the glutes to maintain that turnout."
5. Watch Your Arms
Focusing on how high your leg can go may lead you to neglect your arms in arabesque. Reach out through your fingertips while keeping your shoulders square. "Think about lifting up and forward through the torso," Crowley says.
6. Keep Your Hips Square
It's easy to fall into the habit of twisting or turning your hips—especially since doing so can sometimes get you a few extra inches of height. Don't give in to temptation! A perfect arabesque requires square hips.
7. Balance Your Weight
To keep from wobbling on that supporting foot, make sure to distribute your weight strategically, focusing it on the ball of the foot rather than the heel. It's possible to save an arabesque that's too far forward, but almost impossible to save one that starts falling back toward the working leg.
8. Turn Out, Turn Out, Turn Out
From start to finish, think about your turnout, especially in the supporting leg. A turned-in supporting leg ruins the graceful line of an arabesque.
9. Use Opposing Forces
While lifting your leg in arabesque will naturally push your upper body forward, think about lifting as you lean to achieve a graceful curve through the back. "You have to sort of spiral under the rib cage so you can rotate from very high in the leg," Crowley says.
10. Ask for Help
Every dancer's body arabesques differently, so don't be afraid to ask your teachers for guidance. With their help, you'll be able to achieve your best arabesque.
Related Articles Around the Web
(From left) Mean Girls dancers Riza Takahashi, Ben Cook, Kamille Upshaw, Jonalyn Saxer, DeMarius R. Copes, and Stephanie Lynn Bissonnette (photos by Erin Baiano)
Get in, losers. We're going to Broadway.
OK, not losers, actually—more like the bajillion die-hard fans of Tina Fey's 2004 cult hit Mean Girls, who've been wearing pink every Wednesday since a musical adaptation of the film was first teased back in 2013.
Now their world is like a cake filled with rainbows and smiles, because Mean Girls the musical, which had a trial run in Washington, DC, last fall, is set to open at Broadway's August Wilson Theatre April 8. And in a very grool twist, it turns out the show—with direction and choreography by Casey Nicholaw and a book by Fey herself—is delightfully dancey.
Keep reading...
Show less
Lloyd Knight perform ing in Martha Graham's Night Journey (photo by Brigid Pierce, courtesy Knight)
Principal Lloyd Knight has become a true standout in the Martha Graham Dance Company thanks to his compelling presence and dynamic technique. Knight, who performs leading roles in iconic pieces like Appalachian Spring and Embattled Garden, was born in England and raised in Miami, where he trained at the Miami Conservatory and later graduated from New World School of the Arts. He received scholarships to The Ailey School and The Dance Theatre of Harlem School in NYC and joined MGDC in 2005. Catch him onstage with MGDC during its New York City Center season this month. —Courtney Bowers
Keep reading...
Show less
University of Minnesota Dance Team (courtesy University of Minnesota)
They say there's no "I" in "team"—and nowhere is that truer than the world of college dance teams, where precision reigns, uniformity is key, and a single misstep from any given "I" can cost a group a championship trophy. So it's unsurprising that securing a spot on one of the best dance teams in the country is no easy feat.
Members of these highly athletic teams rehearse for hours every week—on top of academic classes and commitments—and perform at football and basketball games, annual concerts, and nationally televised competitions (hi, ESPN). And "no I" rule notwithstanding, each of these top teams is made up of highly trained, highly technical, highly hard-core individuals, who come together to create a ready-for-victory pack.
These six teams aren't one-off success stories—they're consistently strong, and earn the top spots at major competitions like UDA and NDA nearly every year. Up for the challenge? Here's what to know before you go to auditions.
Keep reading...
Show less
Alicia Vikander in Tomb Raider (Warner Brothers)
Keep reading...
Show less
Photo by Travis Kelley, courtesy Kathryn Morgan
In our "Dear Katie" series, former NYCB soloist Kathryn Morgan answers your pressing dance questions. Have something you want to ask Katie? Email dearkatie@dancespirit.com for a chance to be featured!
Dear Katie,
I'm a hip-hop and jazz dancer, and I want to get involved in the commercial-dance world. I've never studied ballet, but people keep telling me I "have to" take ballet classes if I want to make it professionally. Is that really true? My family has limited money for dance classes, and I have to be careful about how I spend it.
Sarah
Keep reading...
Show less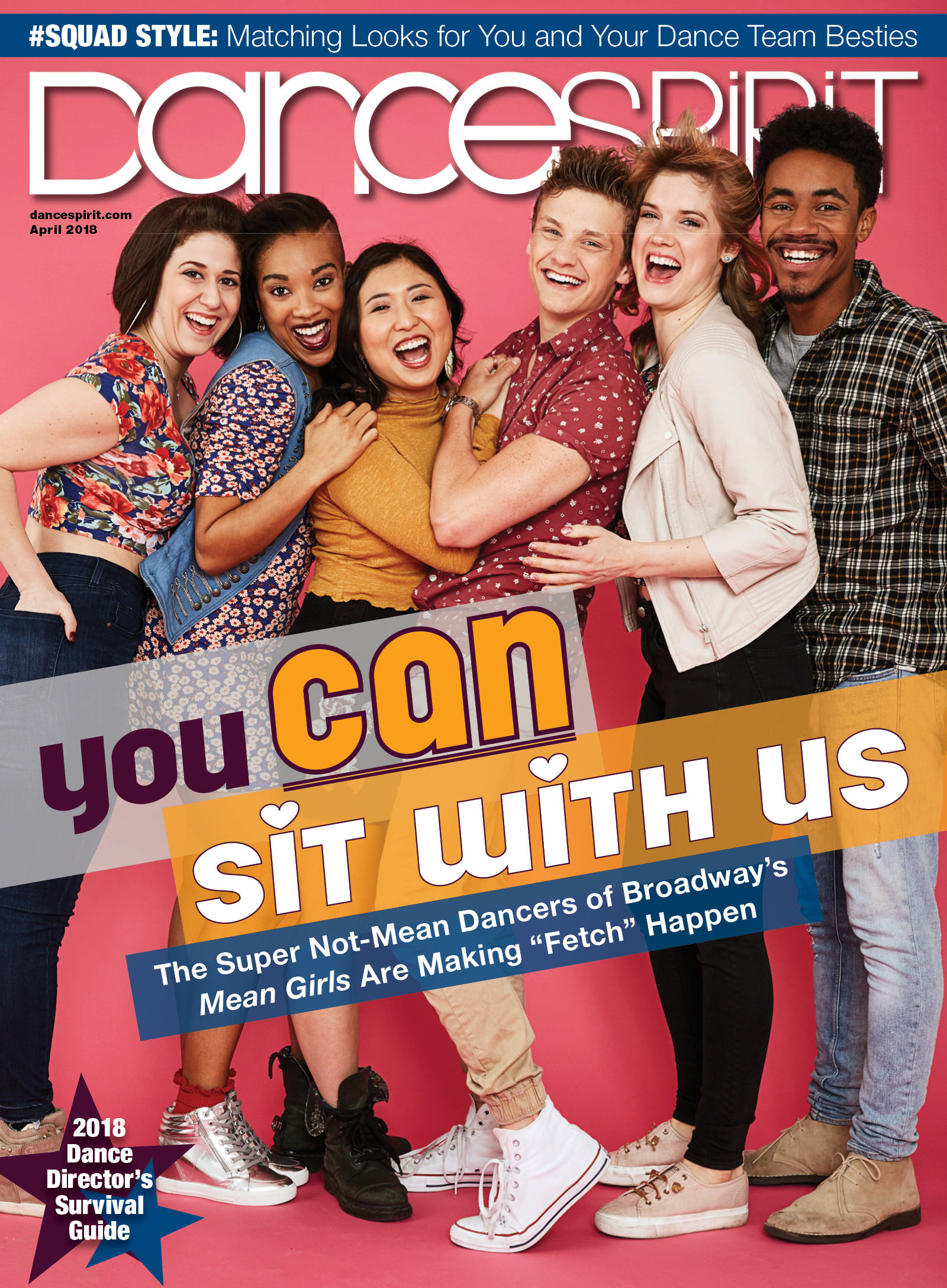 Get Dance Spirit in your inbox