Popular
Aug. 03, 2017 08:54AM EST
11 Broadway Legends and What They're Known For
Bob Fosse in the studio (courtesy Dance Magazine Archives)
It's important to know about the artists who paved the way for us—especially in the musical theater world, which has been driven from the beginning by charismatic dancers and choreographers whose work continues to inspire Broadway babies. If you're a Great White Way fan, you should get to know these legendary artists, some of whom are still making moves.
---
1. Jack Cole
Jack Cole is number one on this list for a reason: He's known as the father of theatrical jazz dance. His style was heavily influenced by movements from East India, Africa, and the Caribbean, but he also incorporated everything from ballet technique to the Lindy hop. "In theatre," he said, "you want to see real people doing real things." Cole's probably best known for Marilyn Monroe's "Diamond's Are a Girl's Best Friend" number from the film Gentlemen Prefer Blondes, but he also has numerous Broadway credits to his name, including A Funny Thing Happened on the Way to the Forum, Kismet, and Man of La Mancha.
2. Agnes de Mille
Agnes de Mille started out in the ballet world, choreographing for American Ballet Theatre and the Ballet Russe de Monte Carlo. But she won the hearts of musical theater lovers when she created dances for Oklahoma! on Broadway in 1943, including the famous "dream ballet." She went on to choreograph more than a dozen other musicals, including Carousel and Brigadoon.
3. Michael Kidd
You've probably seen Michael Kidd's athletic dance numbers for the films Seven Brides For Seven Brothers and The Band Wagon. Kidd first made a name for himself on Broadway, though, becoming the first choreographer to win five Tony Awards. Over the course of his 50-year career, he came to be known for the "integral musical", in which dance movements are essential to the plot.
4. Gwen Verdon
Gwen Verdon started as an assistant to Jack Cole and a dancer in the chorus line of Broadway plays. A uniquely gifted artist, she went on to become a muse to Bob Fosse. The two eventually married, and collaborated on several projects, including Sweet Charity and Chicago. In 1981, she was inducted into the American Theatre Hall of Fame, and in 1998, she was awarded the National Medal of the Arts.
5. Bob Fosse
We hope you know who Bob Fosse is! At a young age, Fosse performed in vaudeville and burlesque nightclubs, a sleazy, darkly humorous scene that would have a big influence on his choreography. He earned small dance parts on Broadway and in variety shows, and in 1954 choreographed his first big musical, The Pajama Game, which earned him a Tony Award—the first of eight. His absurdly impressive list of credits includes the musicals Sweet Charity, Damn Yankees, and Pippin, as well as the films All That Jazz and Cabaret.
6. Jerome Robbins
Another name we hope is very familiar! Jerome Robbins is known for his iconic work as a choreographer and director in On The Town, West Side Story, Fiddler on the Roof, andThe King and I, to name just a few. He also choreographed more than 60 ballets, bringing the playful spirit of musical theater to works such as The Concert and N.Y. Export: Opus Jazz. (Both remain staples in the ballet world.) Among the countless awards he's received are four Tony Awards and two Academy Awards.
7. Susan Stroman
Fun fact: Susan Stroman toured in the original production of Chicago! Later she shifted career paths, winning her first Tony Award for Best Choreography for Crazy For You in 1992. She also became an accomplished director, beginning in 2000, when she helmed both the groundbreaking Contact and a revival of The Music Man. Since then, she's directed and/or choreographed 14 shows on- and off-Broadway. Stroman is also the first woman to choreograph a full-length ballet, Double Feature, for New York City Ballet.
8. Kathleen Marshall
Director and choreographer Kathleen Marshall definitely has a show "type": Her Tonys for the revivals of The Pajama Game, Anything Goes, and Wonderful Town prove she's got an eye for classic American musical comedies. In an interview with the Washington Post, she says, "I love theater that challenges and provokes, but I also think there's a place in the world for theater that entertains and transports." (Her brother, Rob Marshall—director/choreographer of the film version of Chicago, among many other things—is no slouch, either.)
9. Sutton Foster
You may know Sutton Foster from ABC Family's "Bunheads," but she started out onstage, not onscreen. Originally the understudy for the lead in the 2002 Broadway revival of Thoroughly Modern Millie, Foster ended up not only taking over the role, but also winning a Tony for it. She later won a second Tony for playing Reno Sweeney in 2011's Anything Goes revival, where she showed off her impressive tap skills. Foster is currently exploring her acting career as Liza Miller in TVLand's Younger.
10. Jerry Mitchell
Jerry Mitchell is known for his upbeat, high-energy choreography. I mean, just look at this list of shows: His first major production as a director/choreographer was 2007's Legally Blonde: The Musical; in 2013, he won a Tony for Best Choreography for Kinky Boots; and most recently, he directed On Your Feet!
11. Casey Nicholaw
Casey Nicholaw started out as a dancer in the choruses of Crazy For You, Steel Pier, and Thoroughly Modern Millie. But since choreographing Spamalot in 2005, he hasn't looked back. Just last year, the director/choreographer had four shows running on Broadway simultaneously: Tuck Everlasting, The Book of Mormon, Aladdin, and Something Rotten!
(From left) Mean Girls dancers Riza Takahashi, Ben Cook, Kamille Upshaw, Jonalyn Saxer, DeMarius R. Copes, and Stephanie Lynn Bissonnette (photos by Erin Baiano)
Get in, losers. We're going to Broadway.
OK, not losers, actually—more like the bajillion die-hard fans of Tina Fey's 2004 cult hit Mean Girls, who've been wearing pink every Wednesday since a musical adaptation of the film was first teased back in 2013.
Now their world is like a cake filled with rainbows and smiles, because Mean Girls the musical, which had a trial run in Washington, DC, last fall, is set to open at Broadway's August Wilson Theatre April 8. And in a very grool twist, it turns out the show—with direction and choreography by Casey Nicholaw and a book by Fey herself—is delightfully dancey.
Keep reading...
Show less
Photo by Erin Baiano
We've all seen the videos on Instagram: a professional ballerina, casually perched atop a BOSU ball, développé-ing like it's no big deal. When done properly, BOSU ball exercises are both insanely impressive and incredibly effective for strengthening your core, ankles, and overall stability. Dance Spirit turned to Joel Prouty, a NYC-based personal trainer and injury prevention/exercise-conditioning specialist, for his top three BOSU ball moves, ranging from easy to hard.
Photos by Erin Baiano. Modeled by Lauren Post, dancer with American Ballet Theatre.
Keep reading...
Show less
How To
Jan. 30, 2017 01:44PM EST
Illustration by Lealand Eve
A few years ago, 16-year-old Kayla Gonzalez found herself dancing alongside a mean-spirited girl. "She could be so rude," says Gonzalez, who trains at The Dance Zone in Henderson, NV. "It got worse at competitions. She'd make up lies, saying my teammates and I were doing things we weren't. She was always trying to get ahead." Sound familiar? A competitive environment can bring out the very worst in some dancers' personalities. When put in a stressful situation, students can become bossy, overdramatic or downright mean. Here, DS breaks down four toxic types you might encounter, and offers tips on how to respond.
Keep reading...
Show less
Maddie Ziegler (via @tiffanyandco on Instagram)
Take a look at Tiffany & Co.'s new ad campaign and you might recognize a familiar face. The one and only Maddie Ziegler has partnered with the luxury jewelry brand and the resulting video is pure brilliance. The glamorous collaboration reveals Maddie's candid thoughts about life as a dancer and the work ethic that's gotten her to where she is today.
Keep reading...
Show less
The Lethal Ladies performing in STEP (courtesy Fox Searchlight Pictures)
"A dancer's body is her instrument"—we've all heard the saying. But for steppers, who use their bodies to emulate rhythmic drumming, that saying is everything.
Step swept the U.S. last summer with the release of the documentary STEP, which followed three members of the Baltimore Leadership School for Young Women step team. The team also made it onto the "So You Think You Can Dance" Season 14 stage, after member Blessin Giraldo's audition ended in an invite from Nigel Lythgoe himself.
For dance fans, it may have seemed like the summer of step. But this art form has been around for well over a century. What is it, where did it come from, and why is the wider dance world taking notice?
Keep reading...
Show less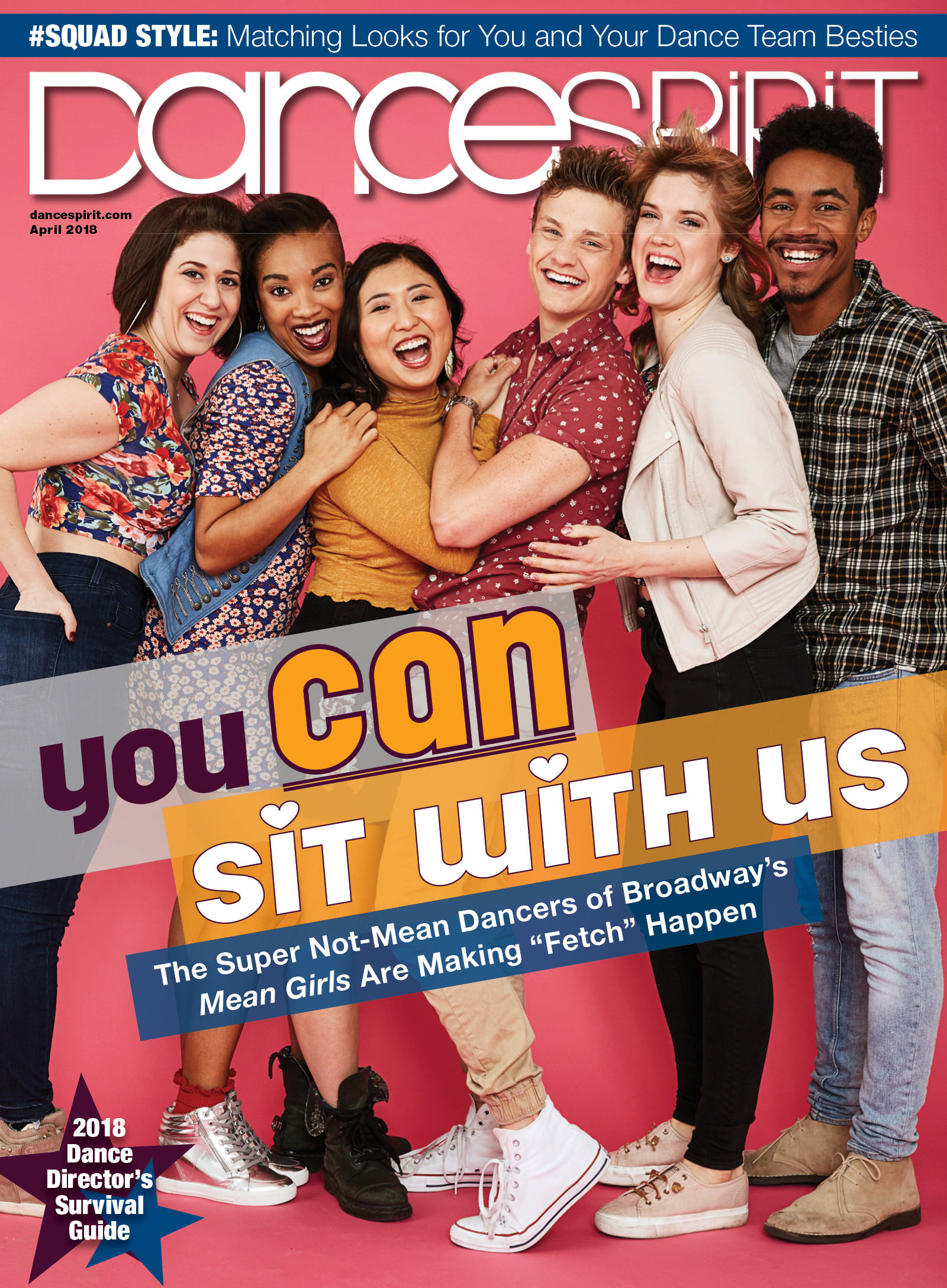 Get Dance Spirit in your inbox