How To
Sep. 26, 2017 12:55PM EST
3 Networking Tips That Will Help You Make Lasting Dance Connections
Nick Young's tap company, Rhythmatic, performing at Dance Excellence (photo by Cheyenne Nugent, courtesy Nick Young)
When Yesenia Ayala started taking Joshua Bergasse's classes at Steps on Broadway and Broadway Dance Center, she had no idea it would eventually lead to her Broadway debut. After a few classes, Bergasse pulled her aside and asked her to send him a resumé and headshot. That soon led to dancing in Bombshell: In Concert, which Bergasse choreographed. After that, Bergasse recognized her when she went to auditions. "The relationship kept getting built on those moments of seeing each other," she says. And that relationship helped her get cast in the off-Broadway production of Sweet Charity, which led to her big break in Charlie and the Chocolate Factory on Broadway—both choreographed by Bergasse.
Ayala's dream-come-true story proves how important networking can be in building a dance career. Networking might look a bit different depending on whether you're a commercial dancer, a Broadway baby, or a ballerina, but it plays an important role for all types of dancers. And while the term "networking" might make you think of over-the-top self-promotion, it's really about making connections over time. "Networking is one of the most instrumental parts of building a good career," says Doug Baum, a dancer with Complexions Contemporary Ballet. "You never know when someone might have a job for you. The dance world is small."
---
Introduce Yourself
OK, so having connections is key—but how do you make them? The first step is actually pretty straightforward: JC Gutierrez, director and senior agent at McDonald/Selznick Associates, suggests that "at a class or a competition, the best thing someone can do is to introduce themselves to the choreographer."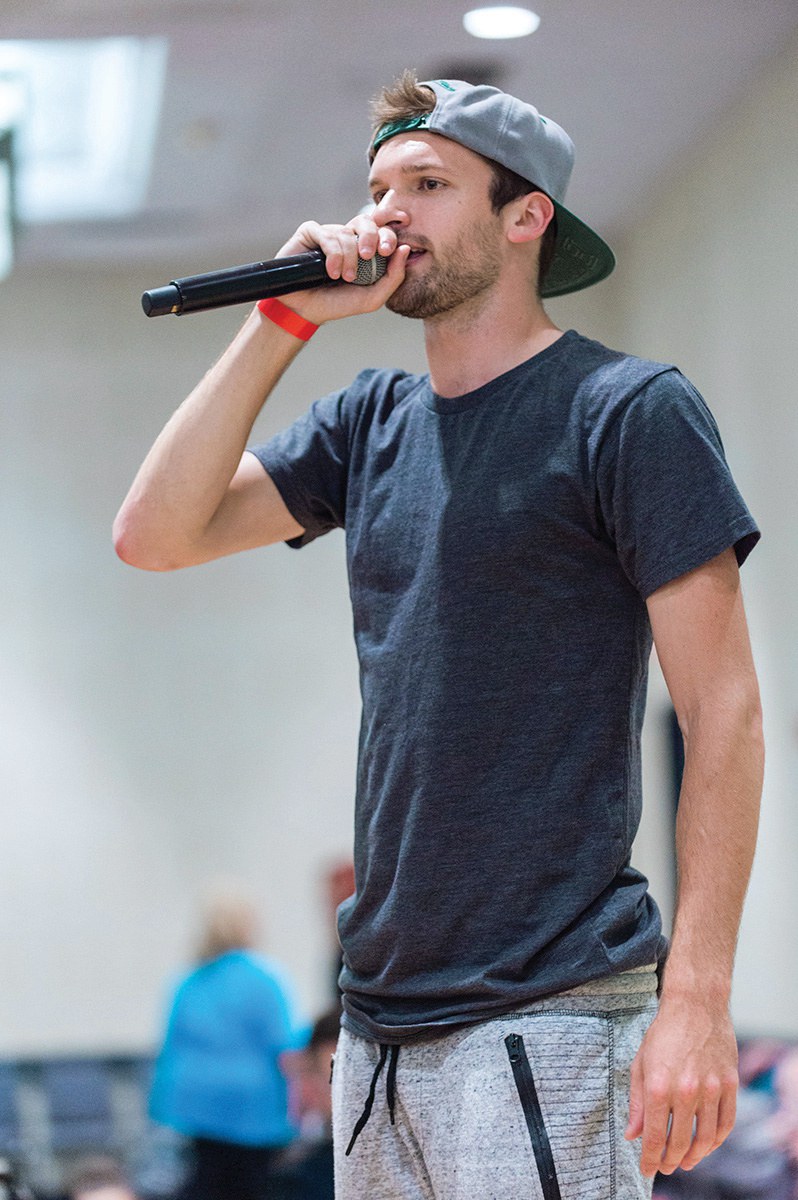 Nick Young teaching at Dance Excellence (photo Nugent, courtesy Young)
Make sure to keep it simple, though: Conventions and workshops are busy scenes. Choreographer Mandy Moore, whom you know from her work on "So You Think You Can Dance" and movies like La La Land, says dancers should "avoid trying to buddy up or get personal info." Instead, she advises, "it's best to just introduce yourself and let me know when I might see you again, or what agency you're with."
Make It Last
Once you've made a connection, allow it to develop organically. Forcing things, or trying to be too close too fast, can seem disingenuous or fake. Nick Young first met tap teacher and choreographer Danny Wallace at New York City Dance Alliance when he was only 12 years old. Over the next few years, Young continued to take his classes and Wallace started to take Young under his wing as a mentee. Eventually, that relationship led to performance opportunities for Young, including Tap City in NYC and the Dizzy Feet gala in L.A. Wallace also performed with Young's tap company, Rhythmatic, this past summer.
Think Beyond the Studio
While classes, competitions, and conventions are the most obvious places for dancers looking to network, Gutierrez reminds his clients that these aren't the only places you might meet people. He says dancers should be prepared to chat at agency events, award shows, and industry gatherings like Choreographer's Carnival in L.A. "I've had clients get booked on jobs just because we've been out in a social setting and they get to talking and exchange information," he says.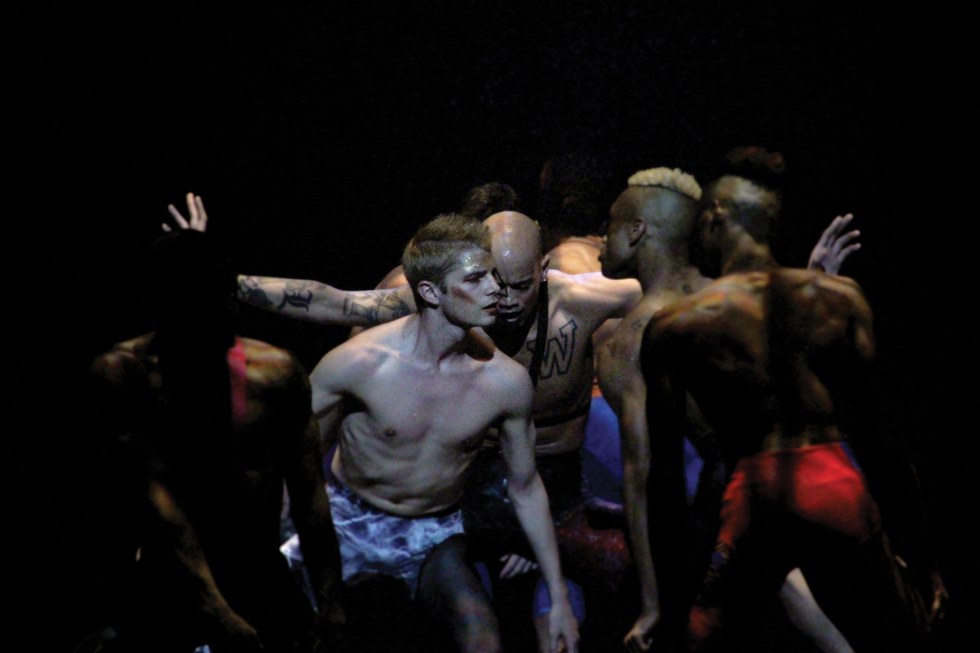 Doug Baum in "StarDust," with Complexions Contemporary Ballet (photo by Breeann Burr, courtesy Gogo Public Relations)
For ballet and modern companies, networking is less about connecting to book a specific gig, and more about making sure a director or choreographer is familiar with your work before an audition. A few years before Baum auditioned for Complexions, he met Complexions co-director Desmond Richardson, who was watching his dance class. When Baum ran into Richardson a few years later at their manager's party (they share the same one!), choreographer Francesca Harper introduced Baum to Richardson, who told him to audition for Complexions. Baum says having that familiarity was a big plus going into the audition: "Directors want to hire somebody that they're confident in because they already know your abilities and who you are as a person."
(From left) ABT's Erica Lall; NYCB's India Bradley; Washington Ballet's Nardia Boodoo; NYCB's Rachel Hutsell (all photos by Rachel Neville)
Misty Copeland. Her name is synonymous with exquisite artistry and outspoken advocacy. And her visibility has made a huge impact on the ballet world. Ballet's relationship with race has always been strained at best, hostile at worst. But Copeland's persistent message and star quality have finally forced the ballet industry to start talking about racial diversity, inclusivity, and representation. "The rarity of seeing ourselves represented is sad," Copeland says. "The more we see every hue and body shape represented on the stage, the more possibilities young dancers feel they have for themselves."
Keep reading...
Show less
Thinkstock
"Whole, low-fat, or skim?" The question of which milk to drink has gotten a little more complicated lately, with a wide variety of nondairy milks popping up in grocery stores. To find out which ones are worth your milk money, we had registered dietitian Monika Saigal answer some FAQs.
Keep reading...
Show less
Popular
Feb. 16, 2018 11:58AM EST
Via Jaime Guttenberg's memorialized Facebook page
Yesterday, the dance community was heartbroken to learn that Jaime Guttenberg and Cara Loughran, both 14-year-old dancers, were among the 17 people killed on Valentine's Day in the shooting at Marjory Stoneman Douglas High School in Parkland, FL.
Keep reading...
Show less
Sarah Lane as Clara in The Nutcracker (photo by Gene Schiavone, courtesy American Ballet Theatre)
American Ballet Theatre principal Sarah Lane charms audiences with her bright energy and crisp technique. The San Francisco, CA, native first started dancing at age 4 at a local community center, and at age 7 started training in Memphis, TN, at the Classical Ballet Memphis. Her family later moved to Rochester, NY, where she continued studying at the Draper Center for Dance Education. In 2002, she was a YoungArts Foundation winner in dance, allowing her to become a U.S. Presidential Scholar in the Arts. She joined American Ballet Theatre as an apprentice in 2003, was made a soloist in 2007, and was promoted to principal last fall. Recently, she originated the role of Princess Praline in Alexei Ratmansky's Whipped Cream. Catch her later this spring during ABT's Metropolitan Opera season. —Courtney Bowers
Keep reading...
Show less
You and I both know that dancing is the best thing since chocolate chip cookies! But its always nice when dance gets the recognition it deserves from non–dance-world peeps. That's why we did our own happy dance when we saw Shape magazine's article on how dancing can actually make you a better athlete.
Keep reading...
Show less


Get Dance Spirit in your inbox