3 Dancer-Friendly Yoga Poses That Enhance Flexibility and Strength
Rachel Knuth (photo by Erin Baiano)
Yoga has long been a cross-training favorite for dancers, thanks to the mind-body practice's power to increase flexibility, strength, and focus. But with thousands of yoga poses out there, how can you know which postures are the best use of your between-rehearsals time? DS asked Jennifer Brilliant, a Brooklyn, NY–based yoga teacher and yoga therapist, and former dancer with Jennifer Muller/The Works, which poses will serve your dancer body best.
Photos by Erin Baiano. Modeled by Rachel Knuth.
---


Pose 1: Cobbler's Pose
"This pose is great for opening up the hips," Brilliant says. "It's also very calming."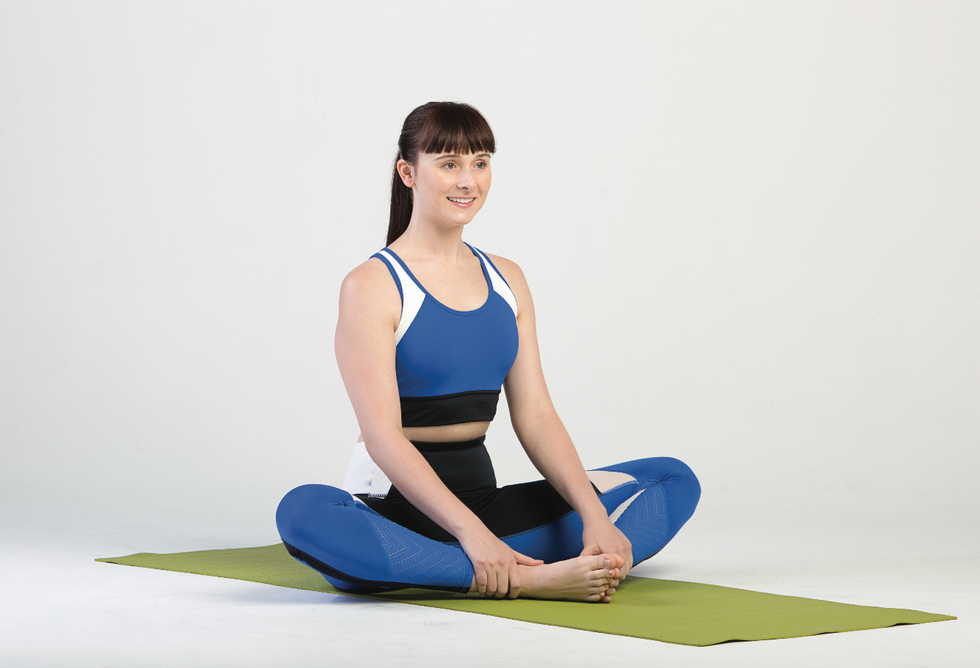 Begin seated on the ground with the soles of your feet together. Lift up through your back, and allow your knees to open as wide as your hip flexibility will allow. Breathe deeply, and relax into the stretch.
Optional adjustment: If you have tight hips, place a supportive prop under your sitz bones. "A yoga block, folded towel, or book work fine," says Brilliant.
Pose 2: Downward-Facing Dog
According to Brilliant, "down dog is a great stretch for the shoulders, chest, spine, abs, and calves. It really does everything."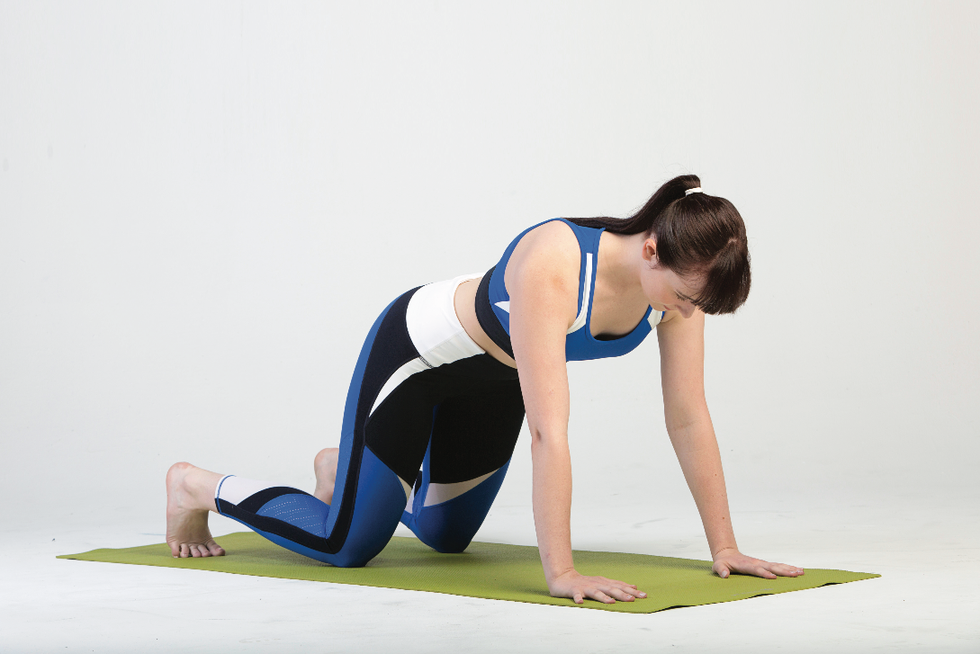 1. Start on all fours, pressing your hands down into the floor.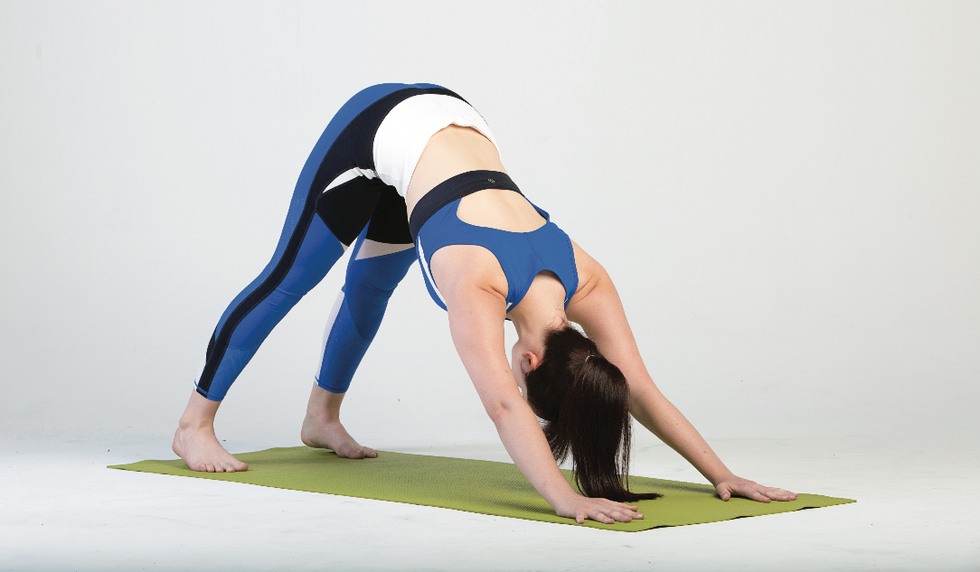 2. Curl your toes under and straighten your legs, coming up onto your hands and feet with arms and legs extended and gaze directed between your legs and behind you. Remember to keep your spine (including your neck) long and aligned, and your pelvis reaching toward the sky.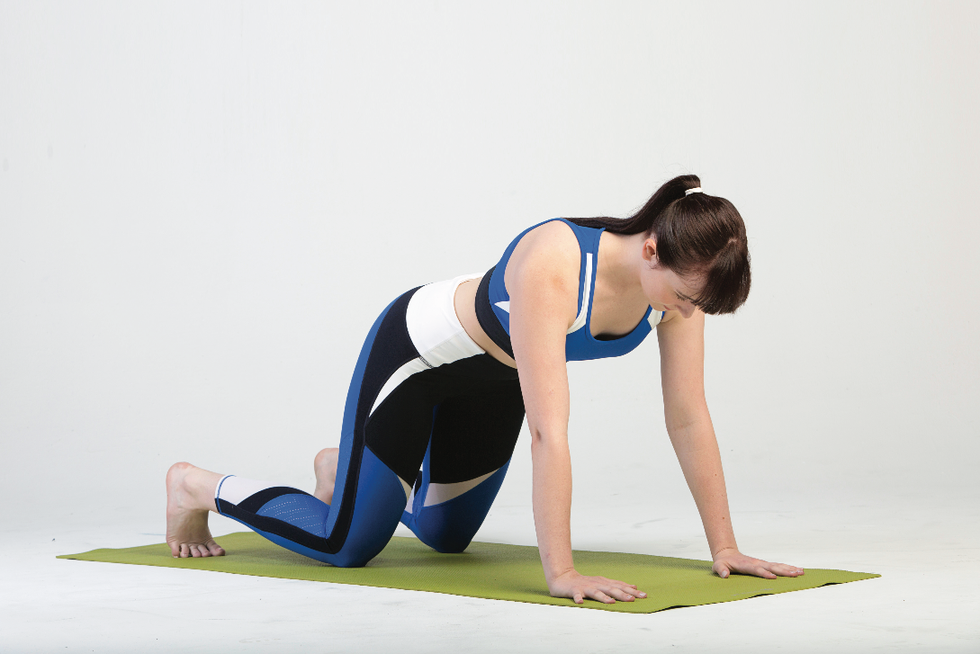 3. Come out of the pose by returning gently to your hands and knees.
Optional adjustment: If your hamstrings are tight, bend your knees slightly while keeping the hips high, so your back muscles can stretch a little more.
Pose 3: Dancer's Pose
"Dancer's pose is excellent for stretching out the thighs and for opening the chest," Brilliant says.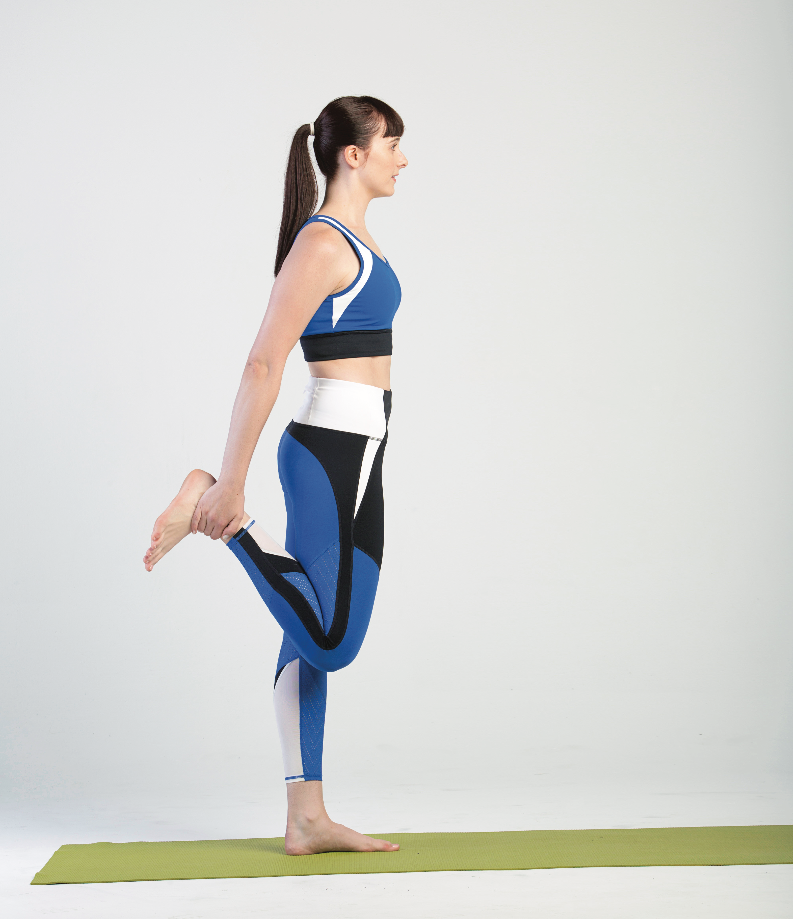 1. Reach from the outside of the right leg to hold your right ankle in your right hand, flexing the foot and ankle with your knee pointing to the ground. Lift the abdominal muscles so as not to tip forward, and release the pelvic muscles as much as possible. (Don't tuck under!)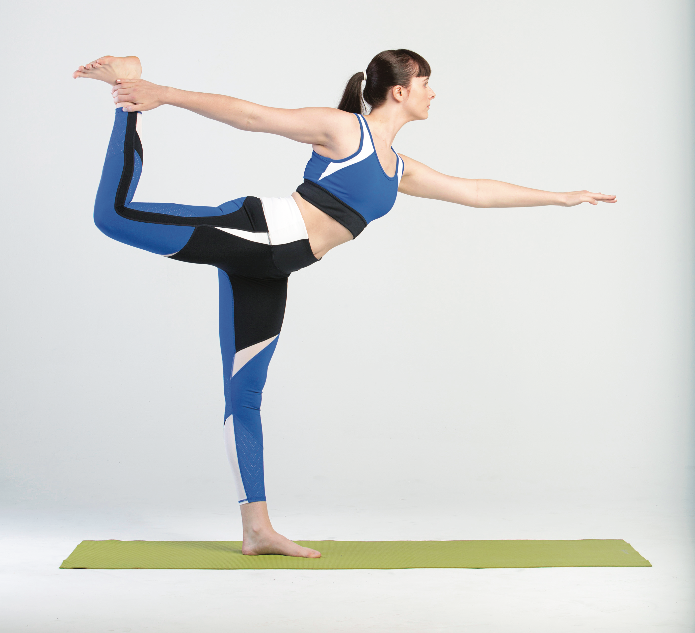 2. Reach forward with your chest as you slowly kick your foot up behind you. Make sure both legs stay parallel, like a set of railroad tracks. Lift up through the chest—and don't forget to breathe as you feel the stretch in your chest, abs, and legs.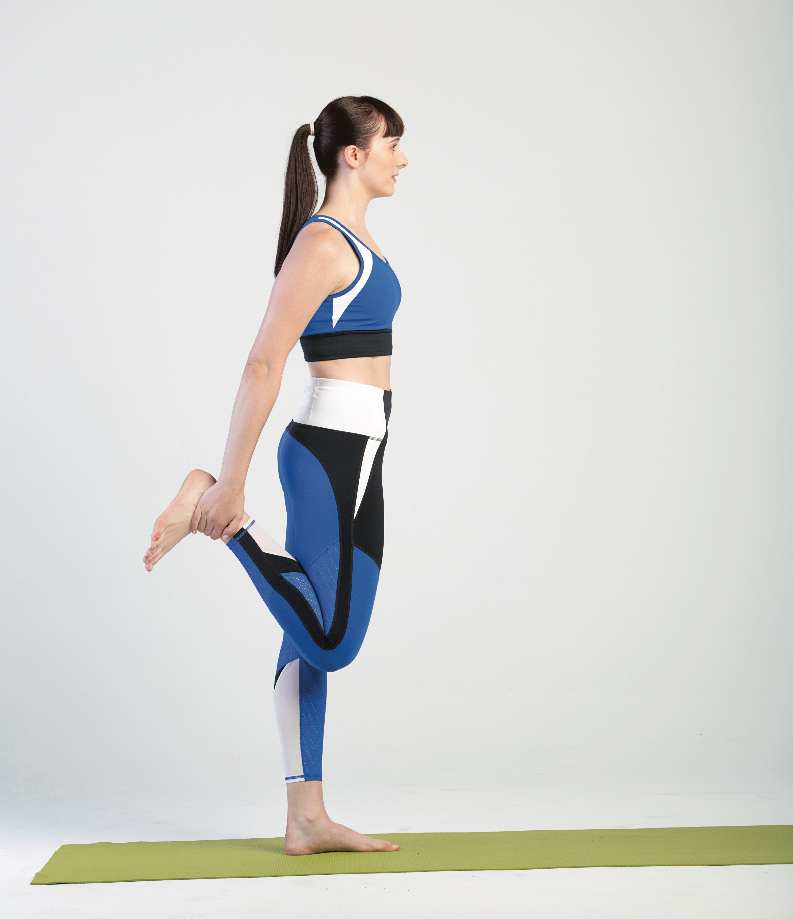 3. To come out of the pose, return to position 1, lift the knee up in front of you, and release the working leg to the ground. Repeat steps 1–3 with the left leg and arm.
A version of this story appeared in the September 2017 issue of Dance Spirit with the title "Strike a Pose."
Much of Janelle Ginestra's career has been about helping others shine. She's dedicated herself to supporting and cheerleading her partner, WilldaBeast Adams; the emerging talents in their dance company, ImmaBEAST; and the countless dancers she inspires at master classes and conventions. Her YouTube channel has become a launching pad for young talents like "Fraternal Twins" Larsen Thompson and Taylor Hatala, thanks to viral videos featuring Ginestra's creative vision.
But Ginestra's a skyrocketing success in her own right—an in-demand choreographer, a social media influencer, and a dance entrepreneur, building a legacy one eight-count at a time. It's time for her turn in the spotlight. And she's more than ready. "I want to be a legend in whatever I do," she says. We'd argue that she already is.
Keep reading...
Show less
Win It
Oct. 13, 2017 04:31PM EST
Week five of "Dancing with the Stars" proved to be one of the best weeks of the season so far. (And we're not just saying that because Mickey made a cameo debut on the piano during one of the routines—although that certainly didn't hurt!) Everyone brought their A-game, and with such a fun theme the contestants were able to really let their guards down. There was true sincerity in their dancing that we hadn't seen before. But not all Disney stories end with a "happily ever after," and one couple still had to hang up their dancing shoes.
If there's one week you should watch all the routines of it's undoubtedly this one... But, ICYMI, scroll below for our highlights of the night.
Keep reading...
Show less
Via Facebook
Almost a month out, Puerto Rico continues to suffer the devastating aftereffects of Hurricane Maria. Many of the island's residents still lack power, clean water, and safe housing. Ballet classes? For Puerto Rican dance students, they must feel like an impossible luxury.
But a dance studio in Florida is working to allow a group of young Puerto Ricans to continue their training. And it needs your help.
Keep reading...
Show less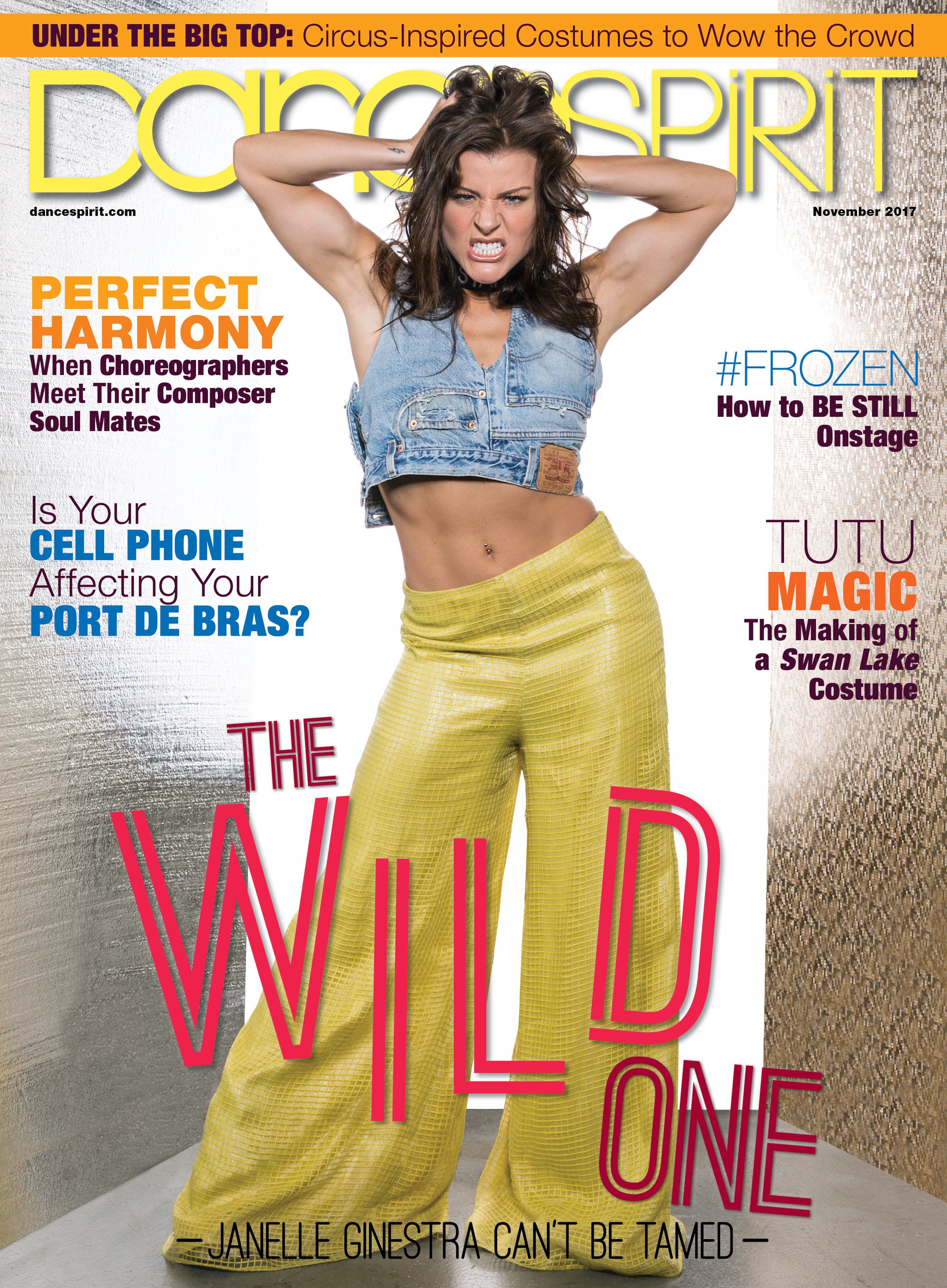 Get Dance Spirit in your inbox