7 Reasons To Love Mandy Moore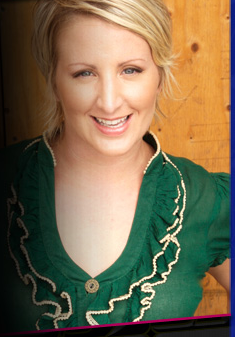 This just in: Choreographer and should-be comedian Mandy Moore is awesome.
OK, you knew that already. And so did we.
At this weekend's Dance Teacher Summit, Mandy charmed her captivated audiences not just during her jazz and contemporary classes, but also during her always-anticipated "What the Judges See" panel.
This panel is always a crowd favorite, and for good reason: Mandy is honest, holds nothing back and isn't afraid to tell it like it is. She had plenty of quote-worthy gems during her hour-long session, and it seems only fair to share them with you in case you couldn't be there.
On her less-than-stellar comp kid past: "I was not a successful competition kid. I never won...ever. Back then it was all gold, silver or bronze, and I got bronze every single time."

On what she wants to see at competitions: "Please don't do 700 contemporary numbers. Bring back the jazz!"

On whatever that word means: "I don't even know what contemporary is. It's like, well, they're not wearing shoes and the music's kinda weird, so...contemporary!"

On the challenges of choreographing for "So You Think You Can Dance" contestants: "Nigel, you get in there and do that! I've got a clogger and a ballroom kid, and we're doing contemporary! And the song I wanted to use didn't clear, and you just told me last night!"

On stepping outside your competition comfort zone—in tap shoes: "This isn't really about the tap routine. This is about learning how to lose."

On giving your routines a little TLC: "I'd rather see a clean, easy routine than a bunch of crap onstage."

On that move we all hate but everyone keeps doing: "Can we not do all the developpé seconds 100 times? It's the new fouetté. I don't want to see your crotch. Can't you turn another direction?"
I told you she was honest—and I totally dig it.
In addition to choreographing for "SYTYCD," Mandy is also on faculty with JUMP dance convention.
Want to know what inspires Mandy? Check out her Choreographer's Collage!
Jun. 15, 2017 02:00PM EST
From left: Haley Hartsfield, Kaylin Maggard, and Michelle Quiner (photos by Erin Baiano)
Congratulations to Dance Spirit's 2017 Cover Model Search finalists: Haley Hartsfield, Kaylin Maggard and Michelle Quiner! One of them will win a spot on Dance Spirit's October 2016 cover. Learn more about the dancers on their profile pages, and then vote for your favorite below.
We also want you to get social! We'll be factoring social media likes and shares into our final tallies. Be sure to show your favorite finalist some love on Facebook, Instagram, and Twitter, sharing their profile pages and using the hashtag #DanceSpiritCMS.
Keep reading...
Show less
An outfit that makes you feel confident on the convention floor is always a "do" (via Break the Floor Productions)
Attention, ladies and gentlemen: We've officially hit Nationals season! And that means it's time to dig through those closets to find the perfect clothes to get you noticed during convention classes. The task can feel totally overwhelming—but we're here to help. Follow our guidelines, and you'll be rocking the dance floor with Travis Wall and making Stacey Tookey yell "GORGEOUS!" in no time.
Keep reading...
Show less
Royal Flux performing on "World of Dance" (NBC)
Oh man. This is getting ROUGH.
Last night marked the second round of head-to-head duels on "World of Dance." Once again, we were feeling real pity for the judges—and it takes a lot for us to pity J. Lo—because we've reached a point in the competition where there aren't any clear winners. Everyone's insanely good. And yesterday's showdowns paired acts that were so unalike, comparing them felt a little unfair.
So, who emerged from these cruel duels victorious?
Keep reading...
Show less


Get Dance Spirit in your inbox