911: My Best Friend Quit!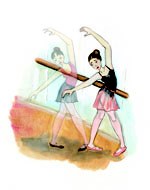 When I was 16, my best friend quit dance. She wanted to be a cheerleader and participate in student government—activities that our rigorous dance schedules didn't allow time for.
It was the right decision for her, but I was devastated. I couldn't understand what could be more rewarding than dance or how anyone could survive without a daily dose of pliés. But worst of all, she was my person—the one who stood next to me at the barre, the one who encouraged me, the one with whom I exchanged cards on opening night. We had tons of inside jokes, not to mention a decade of shared memories.
So how do you cope when your best friend says au revoir to dance? It isn't easy, but don't despair. There are ways to make sure your friendship and your dance career survive. 
Making the Adjustment
The hardest part of losing your dance bud can be the initial blow. "Depending on the depth of the relationship, it can be a real loss," says Dr. Joshua Rosenthal, Psy.D., a child and adolescent psychologist in NYC.
That was certainly the case for Hanna Tadevich, 16, whose friend recently quit dancing after they took class together for seven years. "I was mad at her for a while," says Hanna, who trains at Chicago Festival Ballet (CFB). "We were best friends, and ballet was where we spent time together."
When you get the news, remember that your friend isn't quitting because she wants to hurt you; she is simply acting in her own best interest. Fill the void by broadening your social circle. Try sitting with someone new during breaks or carpooling with a dancer who lives nearby. Hanna became friends with older students who inspired her. You can do the same by enlisting an advanced dancer to be your mentor. Stand next to her in class and ask her for pointers. 
Maintaining the connection
Remember, even though your friend quit dance, it doesn't mean she's quitting your friendship. "At the time, it might feel like all or nothing," Dr. Rosenthal says. "But it doesn't mean the relationship has to end."
Still, you'll need to make an extra effort to maintain your bond, especially if you and your dance buddy attend different academic schools. Let her know you care by occasionally sending her a text message or posting a comment on her Facebook page. Make a weekly or monthly standing date, even if you just do homework together. Invite her to your performances and reciprocate by attending her extracurricular activities. You might even try finding a new hobby to share. Hanna and her friend joined a church group and a community choir, so they still get to see each other regularly and have shared interests. 
Sorting out Your Feelings
Without your friend around, "You might have feelings of sadness, loneliness or jealousy," Dr. Rosenthal says. "When you feel something, it's a message. It's your right to feel abandoned, but it's your responsibility to question that feeling rather than just acting on it." In other words, it's OK to be upset—change is hard—but it's also important to deal with your emotions. "Dance becomes a family unit for a lot of students, and suddenly it feels like there is a family member missing," says Kenneth von Heidecke, director of CFB. "A lot of dancers become despondent." If this is how you feel, von Heidecke recommends talking to someone you trust about what you're going through.
If you're feeling lonely, anxious and sad, it may be because your support structure is gone. Eventually, you'll build a new one, but in the meantime, von Heidecke encourages his students to find ways to rediscover their joy. "Stop and reflect on why you went into dance. Was it the music? The physicality?" he says. "Focus on what drew you so strongly in your heart—that's the best medicine."
You can even use your feelings as an opportunity to grow as a dancer. That's what Ashley Michalek, 18, did when her best friend stopped dancing. The competitive nature of Ashley's relationship with her friend had always helped motivate her. "She helped push me to the next level," Ashley says. But as Ashley began to adjust, her teacher, von Heidecke, saw a measurable improvement in her mental focus. "She re-channeled her thinking into the idea that she was there for herself, so she concentrated on her own needs," he says. "You should never worry about who is or isn't in class. Class is for you—be absorbed in what you need." Von Heidecke says it's common for students whose friends dropped dance to acquire a higher level of self-discipline.
If your friend's decision inspires feelings of jealousy, your emotions might have more to do with an internal struggle about your own choice to dance than about  the lack of your friend's companionship. As Dr. Rosenthal points out, some dancers may envy their ex-dance buds who have more time for other activities, like going to football games or participating in school clubs. If you feel this way, it's time to reevaluate why you dance. Would you rather be at the studio or doing something else? Answer honestly, then decide whether or not to take a break from dance. Just be sure you do what's right for you.
Moving Forward
So what happened to my friend after she quit? We actually became closer than ever, and we're good friends to this day. We set aside regular coffee and movie dates—much more intimate settings than a studio. During our last year of high school, she even returned to class so we could perform together in a special number just for the seniors.
Regardless of the path your friends choose, be happy for them. After all, true friendship really does transcend studio walls.
Illustration by Lealand Eve
Kalani Hilliker made "Dance Moms" fans sit up a little straighter when she first appeared on "Abby's Ultimate Dance Competition" back in 2013. The then–12-year-old ballerina had charisma, she had sass—and, wow, did she have technique! Abby Lee Miller, the show's infamous host, saw Kalani's star potential from the start, saving her from elimination and ultimately inviting her to perform alongside Maddie Ziegler on Season 4 of "Dance Moms." "I was never supposed to be on 'Dance Moms' beyond that one performance," says Kalani, now 16, but she ended up staying on the show for the whole season—and the following three. "It was my first time, but not my last time, causing drama. And it was also the first time I got to meet the other dancers, who have become like sisters."
Keep reading...
Show less
Boston Ballet's Misa Kuranaga and Patrick Yocum (courtesy Rachel Neville/Boston Ballet)
We're on somewhat of a dance photography kick here at DS, so we figured we'd keep it going in a very big way: an exclusive interview with Rachel Neville, the photographer responsible for all those absolutely drool-worthy dance photos on your Instagram feed. We caught up with Neville at PurePoint Financial in NYC, where her new show, "A Command Performance," is up on display (and we highly recommend you check it out).
Keep reading...
Show less
Thinkstock
Acupuncture has proven benefits for reducing pain and getting dancers back on their feet, but it's also a way to treat your overall well-being—in both mind and body. "Acupuncture works very holistically," says Cassandra Krug, licensed acupuncturist at the Acupuncture Clinic of Boulder, in Boulder, CO. "Even if you come in because of ankle pain, we're looking at your whole body. We're trying to return you to a place of homeostasis, or balance."
Peter Schmidt, a licensed acupuncturist who works with Pacific Northwest Ballet dancers, thinks that acupuncture—when combined with the work of dancer-friendly Western doctors, physical therapists, and orthopedists—results in a higher success rate for his patients. "Acupuncture can't address everything," he says. "But for things that are bothering you that don't show up on an X-ray or MRI, acupuncture could help." Is acupuncture right for you? We talked to the experts to find out what dancers should know before going under the needle.
Keep reading...
Show less
The Top 9 in a Chris Baldock routine (Adam Rose/FOX)
Before we get into this week's recap, let's all show some love for Travis Wall, who had a day yesterday. Just hours before "So You Think You Can Dance" was set to air, Wall was at Disneyland (with friend and "Modern Family" star and aspiring Shaping Sound member Jesse Tyler Ferguson, NBD), where he found himself at a bit of a standstill—literally. "Not gonna be able to make 'So You Think' tonight...because I'm stuck on Indiana Jones," Wall shared on Instagram yesterday afternoon.
But hooray! He eventually did get off the stalled ride, and was in the audience alongside Mandy Moore. We're glad you made it, Travis!
On to the show:
This week, the Top 9 performed solos and duets with their All Stars. You know the drill. As always, we'll skip the solos and get right to the good stuff. (Though the solos were, like last week, so good.) Here's how it all went down.
Keep reading...
Show less


Get Dance Spirit in your inbox