Jan. 30, 2017 08:08PM EST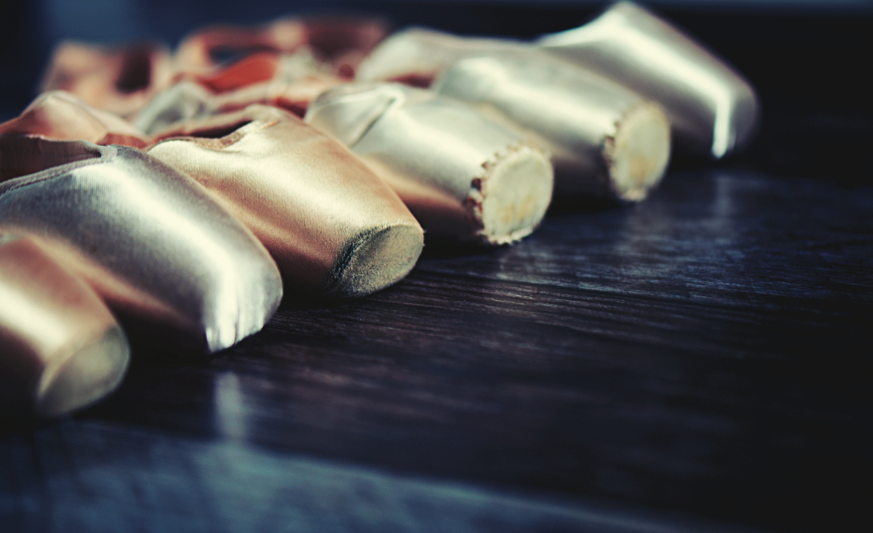 (via Thinkstock)
Every ballet dancer has a pointe shoe prep process that's akin to a sacred ritual. And while some modifications are meant to make feet look prettier, the most critical tricks help those precious shoes last as long as possible—because at $60 to $100 a pop, they have to. We rounded up some of the best hacks to get your shoes through the intensity of Nutcracker season.
Keep 'Em Dry
Moisture is the worst enemy of pointe shoes, and your sweaty feet start to break down those boots from the moment you put them on. Richmond Ballet artistic associate and school director Judy Jacob says taking the time to make sure your shoes dry out is the most effective and inexpensive way to make them last.
To get your shoes completely dry, try to rotate between pairs. "Students probably won't have five pairs of shoes, like professionals do," Jacob acknowledges, "but try to keep two pairs going at any given time." She recommends storing your shoes in a mesh bag, which promotes air circulation. If you only have one pair, using a blow dryer on them at the end of the day can help. Jacob has students who put cedar wood blocks in their shoes at the end of the day, too, because cedar draws out moisture. (The pleasant cedar smell is a nice bonus.)
Unless you're required to, don't pancake your shoes—the water on the pancake sponge will make your box and shank break down more quickly. And if you have to color your shoes for a role, use dye sparingly, to avoid overwetting.
Mix 'Em Up
Another cheap way to save your shoes, Jacob says, is to rotate them from one foot to the other after each wearing. That won't work for every dancer—if one of your feet is significantly larger than the other, for example, it's a no-go. But if you can swing it, rotating shoes between feet will keep you from wearing the same pressure points over and over, extending the life of the pair. Jacob recommends marking each shoe with a number or symbol, so you can easily keep track of your rotations.
Glue 'Em Good
For many years, dancers used wood shellac to harden the boxes and shanks of their shoes. And while some dancers still swear by that old standby, Jet glue has become a newer favorite. Originally created for building model airplanes, Jet glue is fast-drying and leaves shoes harder than shellac does.
But proceed with caution: Once you apply Jet glue, there's no way to remove it, and it can dramatically alter the shape of your shoe and the way it breaks in. Pittsburgh Ballet Theatre corps member Marisa Grywalski, who's a big fan of Jet glue, is careful to use it only on the insides of her Freeds (castle maker)—if applied to the outside satin, it can create a slippery situation. "I put it inside the shoe at the bottom of the tip, and then around the top like I'm making a little cup in the box," she says. "Then I glue on either side of the shank, until just below the place I like my shoe to break." Grywalski reapplies glue when her shoes start to soften, which can sometimes get her through one more rehearsal or show.
Sew 'Em Up
Always wearing through your box? Give darning a try. Grywalski has come to rely on darning to make her shoes last, because it keeps her from breaking down the platform and box around her big toe too quickly.
Darning is tricky at first, and it requires a bit of a time commitment, but it gets easier—and quicker—with practice. When Grywalski first started darning, it took her two hours to do both shoes; these days, she can complete a pair in 30 minutes. You can darn your shoes two ways: either by simply whip-stitching around the platform with thick thread, or by stitching your leftover drawstring cord to the crown of the platform. Grywalski likes the drawstring method, because she finds it softens less over time.
It'll take a while to figure out exactly where to position your darning stitches, so be patient. "It's just trial and error," Grywalski says. "If you don't like it at first, it might be because the darning is in a weird spot."
Aug. 18, 2016 08:14PM EST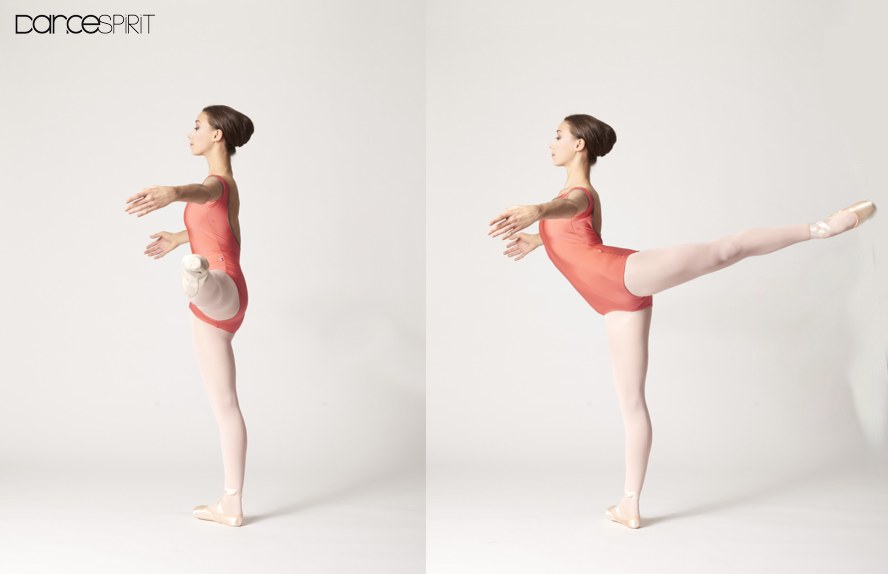 Ballet Academy East student Marisa Trapani demonstrating grand rond de jambe (photo by Nathan Sayers)
Few things are as beautiful as a seamlessly executed grand rond de jambe: There's something majestic about the high arc of the leg from front to side to back (or vice versa). But many pitfalls line the road to effortless grands ronds, especially in the tricky side-to-back and back-to-side transitions. How can you make this difficult step feel as free as it looks?
Understand the Fundamentals
If you're having trouble with grand rond de jambe, step back from the barre and think about the step abstractly. Darla Hoover of NYC's Ballet Academy East and Central Pennsylvania Youth Ballet has her students try a grand rond with their arms—a much simpler prospect than supporting the heavy weight of their legs in the air. She asks them to carry an extended arm from front to side, with their palms facing the ceiling, and then from side to back, keeping their palms up. "Your arm doesn't 'turn over' as you go from the side to the back, and that's exactly the feeling you want to achieve with your leg," Hoover says. Next, try a rond de jambe with your leg at 45 degrees. At that lower height, it's easier to preserve your turnout and push through the "hitch" that sometimes happens between à la seconde and arabesque. Imagine the underside of your foot as the equivalent of your palm in the arm exercise. "Think about leading with your heel and pointed foot," says Houston Ballet soloist Allison Miller.
In fact, you can prepare for grand rond de jambe from the very beginning of barre. Dmitri Kulev's students at the Dmitri Kulev Classical Ballet Academy in Laguna Hills, CA, first learn the feeling of preserving turnout without "turning over" during tendu exercises. "I tell dancers to think of creating opposing spirals from both hips, so they're rotating the legs evenly, especially from side to back," Kulev says. "And we stress avoiding pronation in the supporting foot, which makes the entire supporting leg turn in."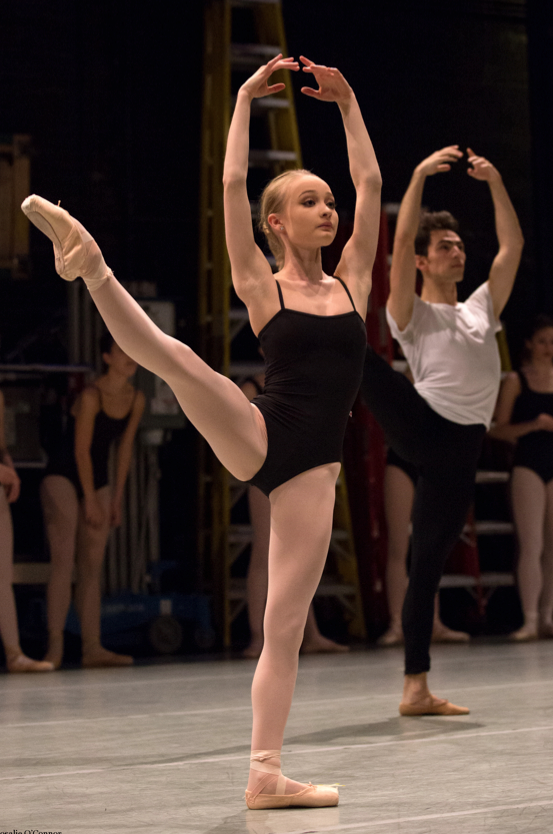 Ballet Academy East's Mary Watters mid-grand rond (photo by Rosalie O'Connor, courtesy BAE)
It's Hip to Be Square
As you work up to grand rond de jambe at 90 degrees and above, resist the urge to go for your maximum height immediately. To create a beautiful sweeping arc, your leg should rise slightly with each change of direction—but not if that requires distorting your hips and shoulders. As Miller says, "If your body isn't in a classical shape, the leg's height doesn't matter." Avoid tipping your pelvis forward or back, lifting the working hip or twisting the standing leg to achieve height.
It's counterintuitive, but the key to staying square as your working leg gets above 90 degrees is actually your standing leg. Try this: Put your weight well over the ball of your foot as you do a grand rond de jambe. As your leg goes from front to side, strongly engage the supporting leg's turnout muscles. Keep rotating both legs away from each other as you move towards arabesque. You'll find your working leg feels freer when your supporting side is well grounded.
A strong core—the secret to so much of ballet technique—is also critical to properly supporting your leg in grand rond de jambe. Bracing your stomach muscles will keep you from gripping your hip flexors, which will allow your leg to move more smoothly from one position to the next and your pelvis to remain square.
You Can Do More Than You Think
Everyone's hip joints are different, but many dancers who think they're too stiff in the hips to execute an effortless grand rond de jambe actually have plenty of range. Most of the time, hitching through transitions happens not because of a lack of flexibility but because of a lack of strength. Hoover likes to get hands-on to show her students just how much range they have: She'll have them stand up perfectly straight, hold their leg in her hands and guide it around in grand rond de jambe. "When I'm supporting the whole weight of their leg, they can feel it traveling correctly and see the potential in their body," she says. "They'll say, 'Wow, my leg really can do that!' "
Ask a teacher or friend to try Hoover's experiment with you. If you find that your leg glides around easily when someone else is supporting it, focus on strengthening your inner thighs and hamstrings. Once your leg is well supported from underneath, rather than restricted by the gripping of your quads and hip flexors, a seamless grand rond de jambe will become much more attainable.
Mar. 23, 2017 06:30PM EST
She just retired as a principal with Pacific Northwest Ballet, but as a teenager, Maria Chapman struggled to gain control of her flexibility. "I looked pretty good at the barre," she says, "but I was relying on it way too much, and focusing exclusively on what my legs and feet were doing." Without the barre's support, she became a wobbly mess. "It wasn't until I figured out how to use my back and core that I was able to be successful in center, too," she says.
If you work well at barre but fall apart in center, chances are there's a hole somewhere in your technique. But it can be hard to figure out exactly what the culprit is. Here's how to pinpoint and fix your bad barre habits so you can stand strong throughout the whole class.
Leaning on the Barre
The barre is like a partner: It's there for you when you need it. But many dancers overuse its support and become dependent. "You see this problem even with professionals," says Cynthia Lucas, artistic director of Marin Ballet in San Rafael, CA. "They're much stronger at barre than in center, and usually it's because they're relying on the barre too much."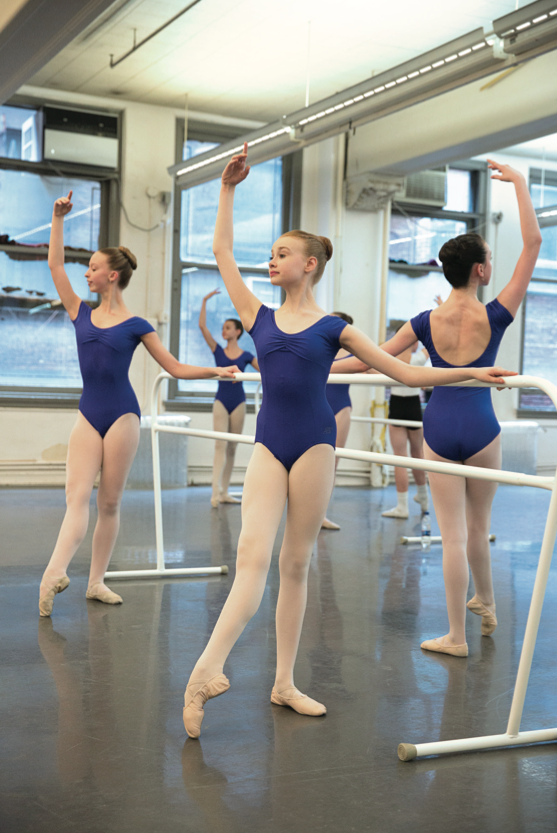 Students of the Jacqueline Kennedy Onassis School at ABT working at the barre. (Photo by Rosalie O'Connor, courtesy ABT)
To find out if this is your problem, first check your hand position. "Your thumb shouldn't be underneath, but on top," Lucas says. "Your fingers shouldn't be curled around like a claw." Avoid the "death grip"—that tight clench that makes your knuckles turn white. Instead, touch the barre with the pads of your fingertips, as if you're playing the piano. Test your balance every once in a while by lifting your hand off.
If you're having trouble letting go, take time after class to work out your core, which will help stabilize your whole body. Overdependence on the barre can actually weaken those critical core muscles. Franco De Vita, director of the Jacqueline Kennedy Onassis School at American Ballet Theatre, says Pilates and Gyrotonic classes can be especially helpful.
Standing Incorrectly
It's difficult to move in a balanced, coordinated way in center if your body isn't properly aligned—a flaw the barre can camouflage. "Even though the barre is there, you have to be able to stand up as if you're in the center," Lucas says.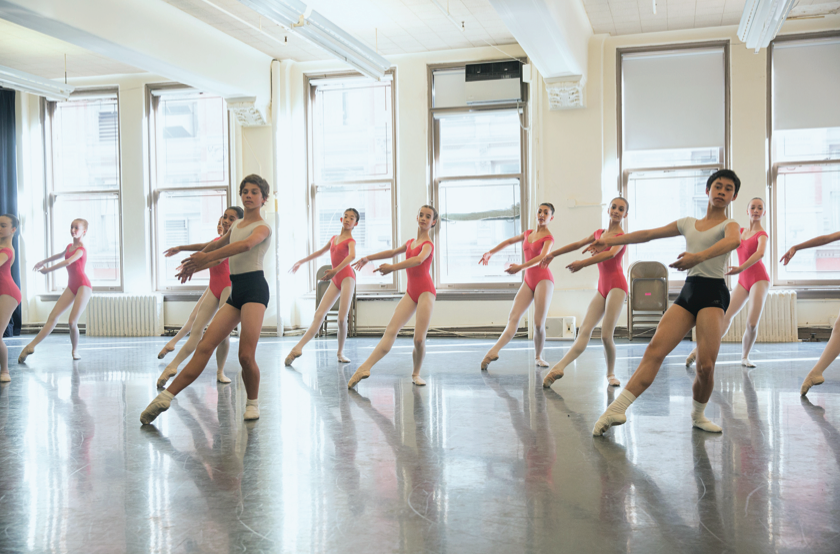 JKO School students in center. (Photo by Rosalie O'Connor, courtesy ABT)
Chapman suggests using the mirror and watching yourself on video to make sure that your shoulders are over your hips and your spine is straight while you're working at the barre. "My back used to shift in all directions," she says. "Once I figured that out, I learned how to control my body." And make sure you're not crowding the barre, which can skew your alignment. To promote proper placement of the arms and shoulders, "there should be one person's distance between you and the barre," Lucas says.
Forcing Your Turnout
You might be able to hold a forced perfect fifth position when you have the barre's support. But you definitely won't be able to hold it in center—and that can lead to all kinds of problems.
Rather than aiming for 180-degree turnout at all times, focus on working with your natural rotation from the beginning of class. "Ninety degrees is enough," De Vita says. "You don't have to push it." Make sure your pinky toes are on the floor and your arches aren't dropped forward. "If you're feeling pressure in your ankles or knees, that's a sign that something is wrong," Chapman says.
If you're used to forcing at the barre and are having trouble finding your natural turnout, Lucas suggests thinking about opposition. "That's how you hold true rotation—by feeling the resistance between right and left, up and down, from the tops of your hips to your feet," she says. "Push into the floor, rotate, engage your back, lock and load."
Nov. 11, 2015 09:59PM EST
Super-hard shanks can make new pointe shoes feel like bricks on your feet. That's why dancers have come up with tons of clever ways to bend, cut, score and tape their shanks—adjustments that can significantly improve a shoe's performance. It's a highly personalized process, and often a complete game-changer.
Here are a few of the most common techniques advanced dancers use to customize their shanks. With your teacher's guidance, you can experiment with your shanks to make them look, feel and function better.
To Customize or Not to Customize?
Some people think you shouldn't do anything to your shanks, because the resistance of a hard shank can strengthen the foot. But according to Natasha Brooksher, co-owner and director of Brooksher Ballet in Arizona, the opposite is often true. "If the shoe doesn't fit properly, it can hinder your development on pointe," she says. "A shank that's too hard will keep you from getting over your box. You'll be standing on the back edge of the platform, which limits your ankle's range of motion."
That said, those with extremely high arches and flexible insteps need the support of a hard shank, and might find that bending, scoring or cutting makes their shoes die too quickly. Not sure whether you should be customizing your shanks? Talk to your teacher.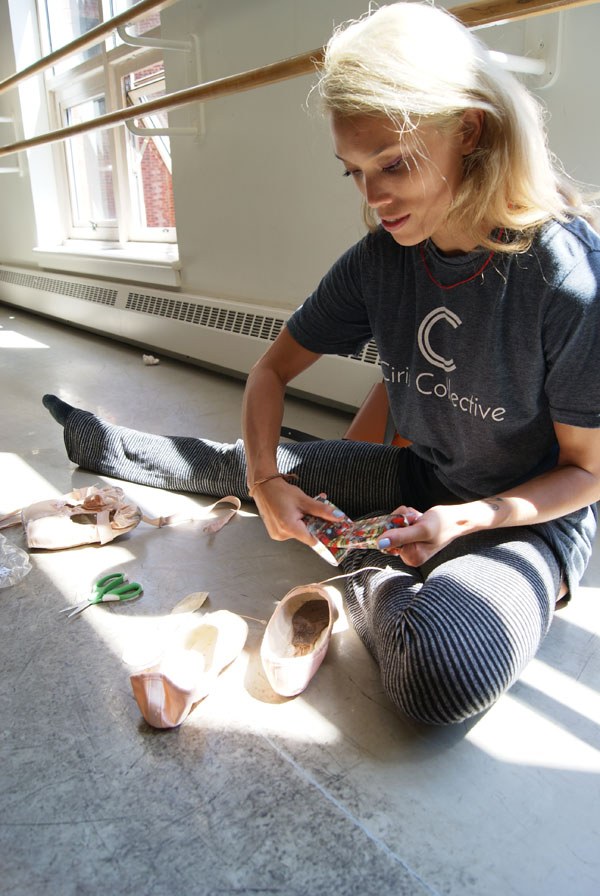 Boston Ballet principal Lia Cirio demonstrates her three-quartering technique. (Photo by Lauren Pajer, courtesy Boston Ballet)
Bending and Folding
If you like a hard shank but want it to move with your foot, try bending the heel portion so it echoes the line of your arch. Some dancers fold their shoes around barres or even close them in doors. Margarita Armas, a 15-year-old pre-professional student at Miami City Ballet School, likes to bend her shanks gently in the middle. "I have flat but very flexible feet," she says, "so I tend to sink down in my shoes. Keeping the full shank and just bending it slightly gives me the support I need, but makes it easier to roll down off pointe."
Scoring and Scraping
Some find that bending the shank doesn't give them quite enough flexibility. If that's true for you, try flipping your shoes over and customizing the outer soles. With adult supervision, use a box cutter or knife to cut a small sliver out of each sole, right under the arch. That'll give the shoes a little extra bend. You can also score (scratch up) the whole surface of the sole for extra traction, and/or shave down its edges so you can stand on flat without feeling unstable.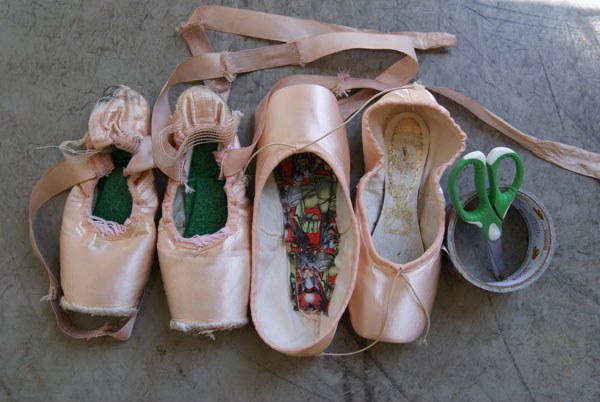 Lia Cirio's prepped pointe shoes. (Photo by Lauren Pajer, courtesy Boston Ballet)
Three-Quartering
When bending and scoring just aren't cutting it, try…cutting it. A lot of dancers swear by three-quartering their shanks. "My toes are basically the only part of my feet that point, and that's not a pretty shape," Boston Ballet principal Lia Cirio says. "I used to three-quarter my shanks, and now I cut almost half of the shank out, so my shoes break in a really nice way. It lifts me up and makes each pair last longer."
To three-quarter your shoes, start by ripping out the insoles. Use strong scissors to pop the shank off the heel end of the sole, and take out the nail(s) connecting the various layers. (That process can get messy and even dangerous, so if you're a three-quartering newbie, work with an adult.) Trim a few inches from the board, so the shank stops under the apex of your arch. Some dancers, like Cirio, prefer to cut even lower. But start by trimming just a little at a time, Brooksher advises: "You can always take more off, but you can't get it back on!" 
Taping and Cushioning
Three-quartered shoes may make your feet look beautiful, but leaving cut shanks exposed can also lead to blisters on the soles of your feet (ouch!). To prevent this, Cirio uses duct tape to line the entire length of the shank. Armas also duct-tapes, but for a different reason: "The tape provides a little grip, which keeps the shoe molded to my foot, especially when I don't have tights on," she says. "It also prevents the nails from poking into my heel."
Another way to make a cut shank more comfortable is to use moleskin padding, which you can buy at any drugstore. Brooksher recommends applying it as a cushion in the heel area of a three-quartered shoe. "That creates a faux back for the shank, so it doesn't give you a blister under your arch," she says.
The Pros and Cons of Three-Quartering
Weigh them carefully before cutting (and don't forget to consult your teacher).
Pros
• makes it easier to get over the platforms of your shoes
• creates a shape that supports your arches
• can make your shoes last longer
Cons
• can give you blisters under your heel
• might not offer enough support for dancers with flexible feet and ankles
• can ruin shoes if done incorrectly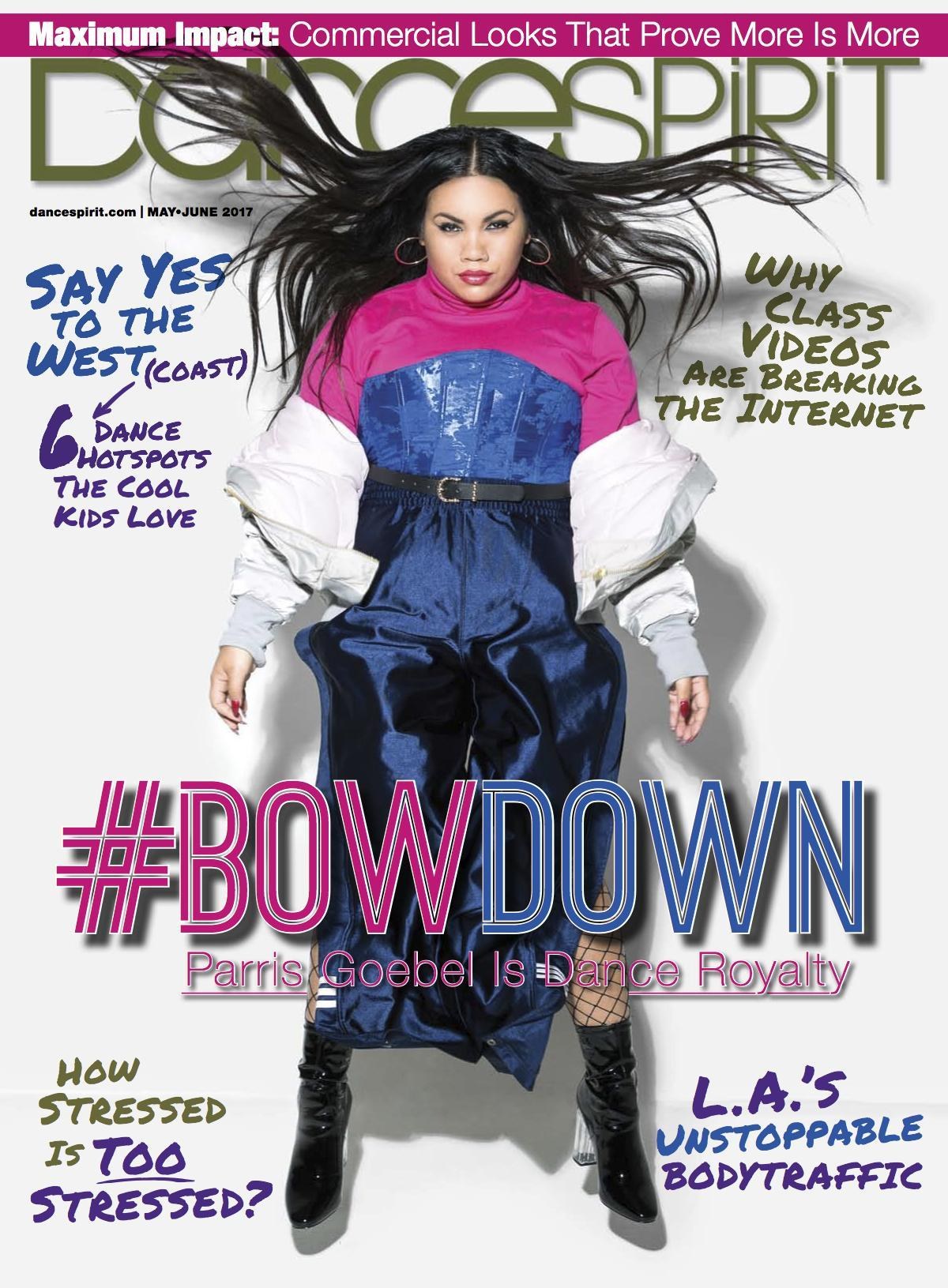 Featured College Dance Program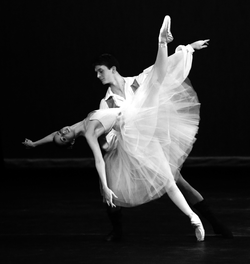 Get Dance Spirit in your inbox