Jun. 27, 2016 08:57PM EST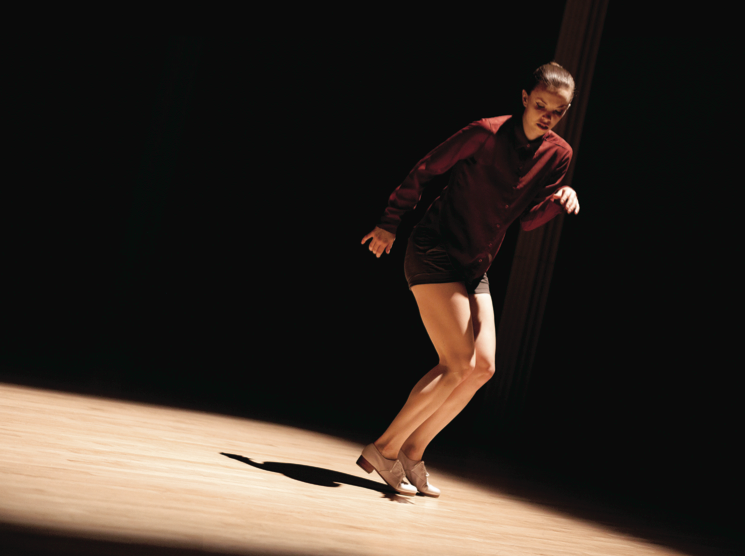 (Photo by Matthew Murphy, courtesy Dorrance)
Since founding her company, NYC-based Dorrance Dance, in 2011, Michelle Dorrance has won one major award after another, starting with a Bessie and culminating in 2015's MacArthur Fellowship. Like most tappers, she's quick to cite the legends and masters who came before her. But Dorrance's belief in the power of tap has helped her carve out space for her own genre-bending work. —Nicole Loeffler-Gladstone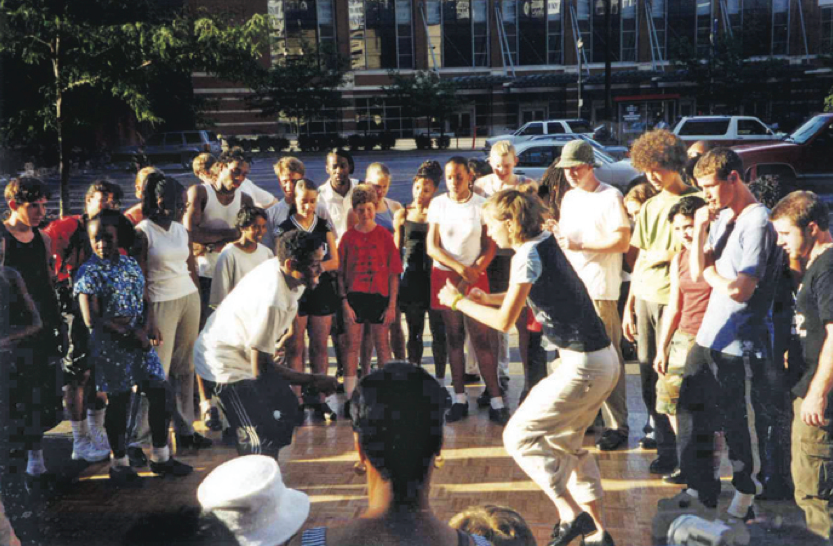 Dorrance at the St. Louis Tap Festival (Photo by Gene Medler, courtesy Dorrance)
"I founded Dorrance Dance to push myself in directions I wouldn't necessarily choose on my own. We're working to institutionalize tap and get it represented at colleges, at jazz festivals."
"My early mentor Gene Medler took us to the second annual St. Louis Tap Festival, where we learned the African and Irish roots of the form."
"Individual dancers often trigger something I'd like to create. Warren Craft is so striking
and unique. He pushes boundaries to the extreme, and he's entirely unpredictable."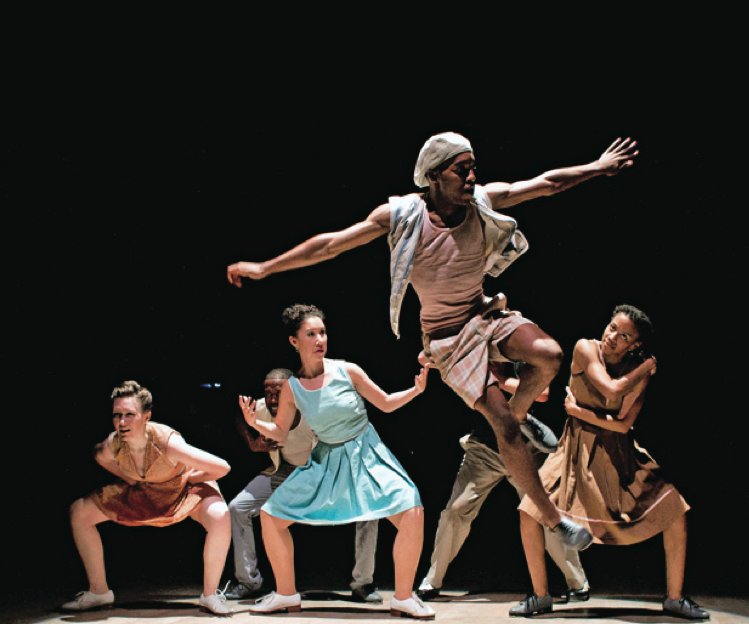 Members of Dorrance Dance performing The Blues Project (Photo by Em Watson, courtesy Jacob's Pillow Dance)
"I'm obsessed with New Orleans culture. The rawness and improvisation inside jazz music is embedded in tap."
"I've performed at The Joyce Theater in other people's work, but having our own season there was really special. The dance that has inspired me most? I've seen more than half of it at the Joyce."
"I have three places that are like home: DANY Studios, where I have an artistic residency, the American Tap Dance Foundation and The Clemente theater in NYC. We have a studio there that used to be the urinal!"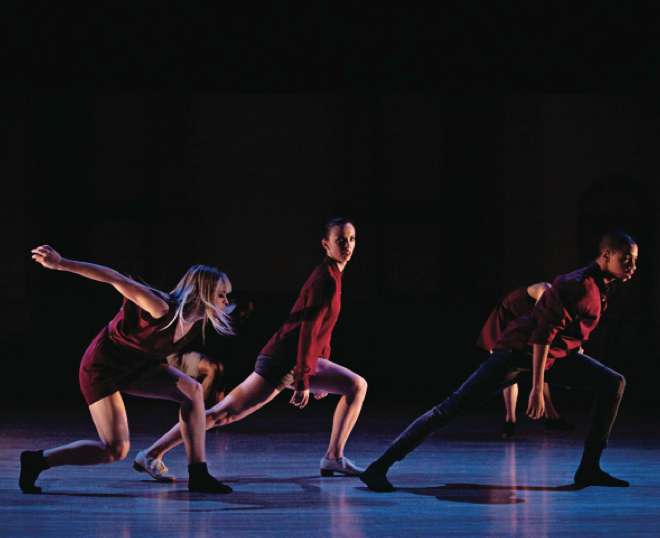 Performing SOUNDspace (Photo by Matthew Murphy, courtesy Dorrance)
"SOUNDspace is the site-specific work I created in St. Mark's Church. We explored the way sound reverberated in the space by using different kinds of taps, shoes and socks."
"Sometimes I picture things when I choreograph. But most often I hear things. I don't usually know the vocabulary of a piece when I start, but I know the energy."
"Blues and tap are the oldest American art forms, and they're rooted in the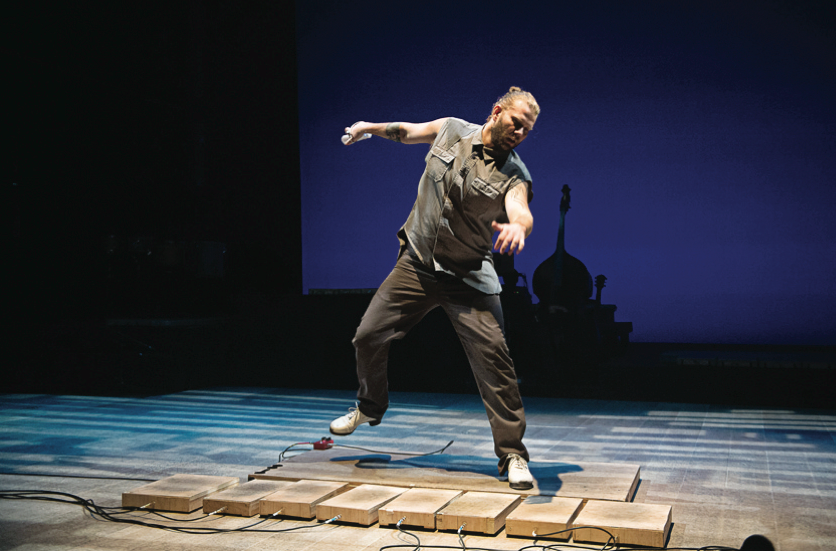 Nicholas Van Young (Photo by Christopher Duggan, courtesy Dorrance)
plantation. The Blues Project was my first full evening of work, and I wanted to put blues and tap together to establish historical context because they're rarely thought of as contemporaries. The show has affected a lot of communities in an important way."
"For ETM: The Initial Approach, Nicholas Van Young [pictured] created 'trigger boards' that can make a footfall sound like anything. You're playing the music you're dancing to,while you're dancing."
Mar. 08, 2016 07:32PM EST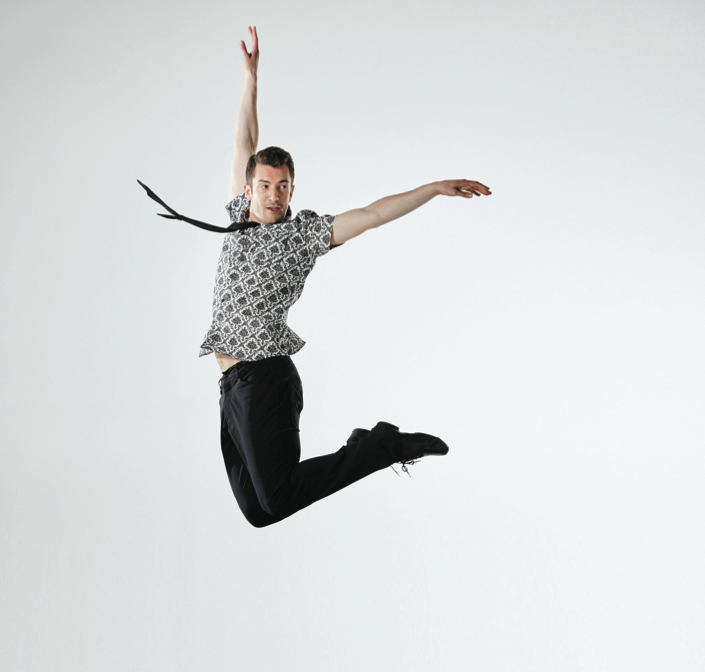 (Photo by Lee Cherry, courtesy Break the Floor Productions)
Al Blackstone is one of the fastest-rising choreographers in the industry, creating one successful piece after another. After making his Broadway debut as a dancer in Wicked, Blackstone won the 2011 Capezio A.C.E. Award for Choreographic Excellence, which gave him the opportunity to direct and choreograph a full-length production, Happy We'll Be. For the last three years, he's worked as Sonya Tayeh's associate choreographer, and his work, which often has a musical-theater slant, has also been featured on "So You Think You Can Dance." DS caught up with Blackstone to see what inspires his thoughtful and dynamic choreography.
"Jason Parsons made me want to become a dancer. I left high school in New Jersey early on Tuesdays and Thursdays to go to NYC and take his class at Broadway Dance Center."
"Matthew Bourne's Swan Lake changed my life. I saw it three times. It made me want to be a choreographer, and showed me what was possible in storytelling without dialogue."
"Just before the A.C.E. Awards, I was performing in Wicked on Broadway. The girls in the dressing room were always talking about online dating—it was starting to get really big around then. My work is usually derived from things happening in my personal life. So when I was creating my A.C.E. Awards piece, I was inspired by the dressing room conversations—and by the fact that I'd just fallen in love."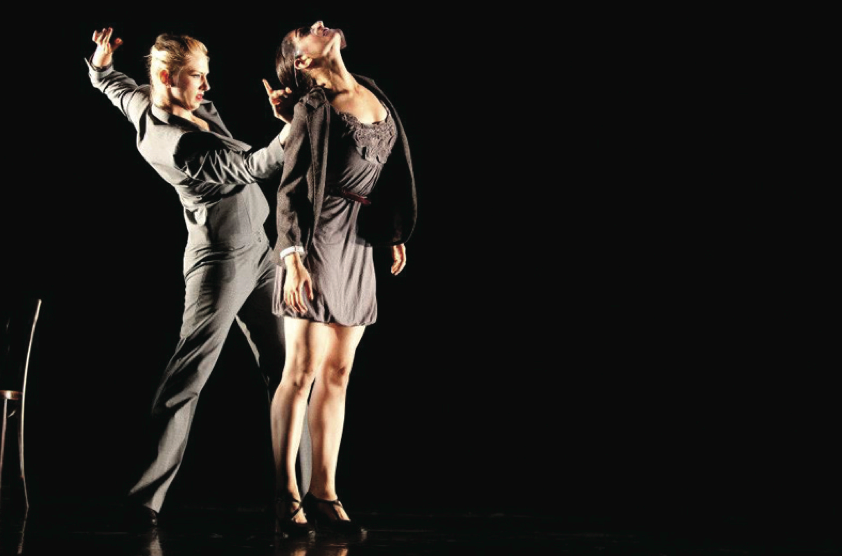 (Photo by Matthew Murphy, courtesy Al Blackstone)
"My full-length piece, Happy We'll Be, explores the highs and lows of our universal search for happiness. I used music and dance from lots of different genres, and the stories that unfolded reflected the joy of connection to the world and to each other."
"I knew early on that I wanted the venue for Happy We'll Be to be the Roseland Ballroom in NYC, and was ecstatic when it was presented to me as an option. It has a certain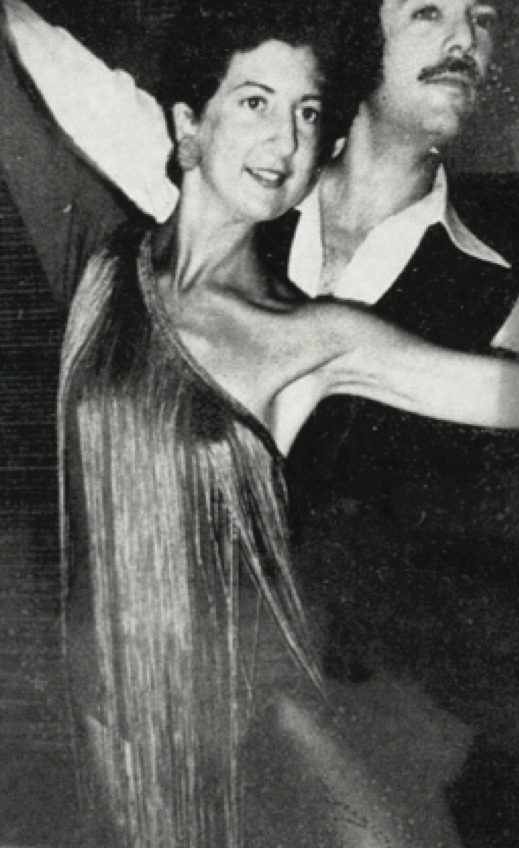 Al's parents at the Roseland Ballroom (courtesy Al Blackstone)
rawness and history—there are ghosts within that space. My parents used to go there all the time. My dad was a ballroom dancer, and I grew up listening to stories about his times at Roseland."
"When creating Happy We'll Be, I had a giant queue of songs I wanted to use during the production. 'Hyperballad' by Björk was one of them. To me, it represented a return to my contemporary roots. And I was set on ending with Louis Armstrong's rendition of 'La Vie en Rose.' I'd also wanted to use 'Chicago' by Sufjan Stevens, but had to cut it because it just didn't fit."
"'SYTYCD' was a crash course in trusting my instincts. The routines I created for Season 12 were exercises in making quick decisions. Nine times out of 10, your gut is right. For Jaja and Ricky's routine to 'Let's Face the Music and Dance' by Nat King Cole, I knew I wanted Jaja's character to be bold and feminine. She's an amazing actress, so she played the feisty wife of a smooth-talking mobster perfectly."
"I'm really inspired by filmmakers Woody Allen and Wes Anderson, especially Anderson's Rushmore and The Royal Tenenbaums. Allen's Everyone Says I Love You and Mighty Aphrodite feature choreography by Graciela Daniele—she uses humor in a way that's really stayed with me."
Mar. 23, 2017 05:30PM EST
Choreographer Matthew Neenan, who danced in Pennsylvania Ballet's corps, was eager to include plenty of dancers in his first work for the company back in 1998. "As a corps member, I'd always been around large groups, and it excited me to get everyone in there!" says Neenan, who ended up using 20 dancers in his ballet. But with a large cast come a lot of complications—complications that can sometimes overshadow the fun of having all those dancers to play with. What are the keys to clutter-free, universally flattering large-group choreo? Here are a few creative and practical ways to devise choreography that will help you highlight your cast's strengths.
Define Your Concept
Joanne Chapman, director of Joanne Chapman School of Dance in Brampton, ON, mounts production numbers every year for 55 to 115 dancers aged 5 to 18. Her cardinal rule is to find a clear theme—and stick with it. "From the beginning, you have to have a well-defined concept," she says. "Make a decision about what you're going to say, and stay true to that. If you're trying to tell a story, you have to be very explicit—otherwise, it can end up looking like a highway at rush hour." Her piece Drove All Night, for example, had a 35-
member cast, for which she constructed pure-jazz choreography, avoiding aerials and acrobatics because they would have confused the overall look. "With a large group, you can't afford to get sidetracked," she says.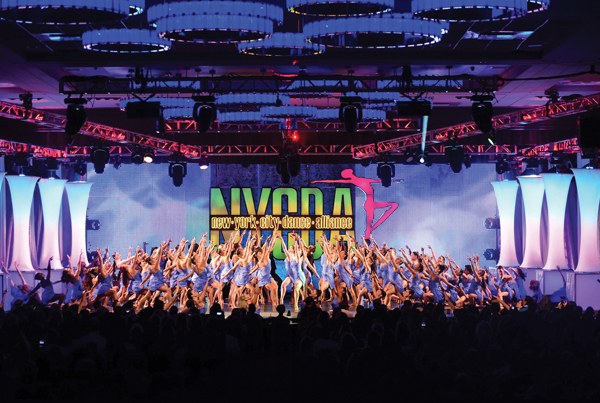 One of Suzi Taylor's numbers for this year's New York City Dance Alliance Nationals featured a cast of 145 (!) (Photo by Eduardo Patino, courtesy New York City Dance Alliance)
Emphasize Cleanliness
Even with a clearly defined concept, it's easy for choreography to get muddy with a lot of dancers onstage. When teaching the steps, it's important to be very specific about body alignment, arms, focus and direction changes. Chapman holds pre-planning sessions with her assistants to make sure everyone's on the same page about the details. Then she rehearses her dancers in small groups, looking for inconsistencies and tightening up unison work.
Even if that kind of intense organization isn't your style, it's still smart to go into the studio with a battle plan. Though Neenan likes "to allow for some messes to happen, some bump-ins and such," he still brainstorms big ideas and traffic patterns before beginning rehearsals. Mistakes, he says, are part of the journey. Just make sure that you take an active role in correcting and reshaping them.
Be Sensitive to Technical Levels
Inevitably, the range of abilities within a big cast will vary. Subdividing the piece into sections based on technical level can help you show each group's strengths. But when the whole ensemble comes together, it can be helpful to keep the level of difficulty relatively low.
That doesn't mean choreography for the whole group can't be interesting. Chapman makes even simple phrases exciting by inserting featured moments for her strongest dancers. "One dancer doing turns or acrobatic tricks while everyone else is on the floor, for example, can really spice things up," she says. "We also do a lot of canons, with each line starting the same phrase on a different count. That creates a very cool wave effect."
Anticipate Logistical Hurdles
Getting groups of dancers on and off the stage is one of the toughest challenges of large pieces. Chapman makes transitions between sections seamless by using a consistent movement (like a jazz walk) for all entrances and exits, and slightly overlaps their timing to ensure a smooth flow. Neenan sometimes likes to have dancers in his larger pieces exit with structured improv, so they still hold visual interest even while others are entering—a pleasingly layered effect.
The most glaring logistical issue when working with a large cast is how to fit everyone onstage. Standard tricks like staggered lines are useful, but sometimes you'll need to think more creatively. For this year's New York City Dance Alliance Nationals Senior Outstanding Dancer number, Suzi Taylor literally couldn't get all 145 of her dancers to move onstage at once without colliding—but she ended up turning that to her advantage. "I used the space on the floor in front of the stage, working level changes with unison and creating ripples of movement," she says. "It turned out to be pretty stunning!"
Sometimes asymmetry can be the most arresting way to arrange a large group of dancers. Neenan encourages thinking about the possibilities beyond traditional lines. "I like to put dancers in 'communities', sharing the stage in more of a normal, 'street' fashion, rather than symmetrical patterns," he says. Those kinds of groupings have the extra benefit of allowing more dancers to share a small space. "And using space creatively can be part of how you develop your original voice as a choreographer," he says. "There's only so much vocabulary—this is another way put your stamp on something."
Mar. 23, 2017 04:00PM EST
Kyle Abraham is on fire. In the past few years, he's been named a 2013 MacArthur Fellow and honored by Jacob's Pillow Dance Festival and the Ford Foundation. College dance departments across the country can't get enough of the young choreographer—and neither can major dance companies: Alvin Ailey American Dance Theater, The Martha Graham Dance Company and Hubbard Street Dance Chicago have all commissioned work from Abraham. He was even the resident commissioned artist at New York Live Arts, NYC's postmodern dance hub. Dance Spirit caught up with Abraham to find out what drives his historically  and emotionally charged work. —Jenny Dalzell
"Many of my works have some sort of Pittsburgh influence in them, since that's where I'm from."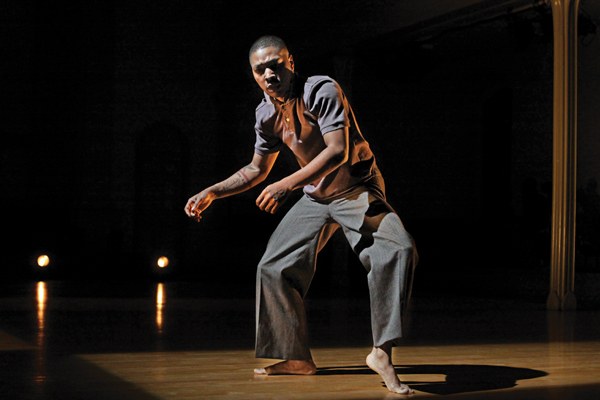 (Photo by Steven Schreiber, courtesy Kyle Abraham/Abraham.In.Motion)
"The Radio Show was initially inspired by two things: the one urban radio station in Pittsburgh going off the air, and my father, who had Alzheimer's and aphasia. I was thinking about what happens when a community loses its voice, as well as my memories of the songs I grew up listening to. The radio station had both AM and FM feeds—the AM station played old soul music, by artists like The Shirelles, and the FM station played music by Jay-Z and Kanye West. So my work was broken in two parts, using music from both stations."
"David Dorfman, whose company I danced with, always said to live in the uncomfortable and divorce the familiar when improvising or choreographing. Sometimes choreographic block hits—and when nothing is coming, you can't force it. You just have to be patient. That can be frustrating when you're paying for studio space, but patience can also be really rewarding in the long run."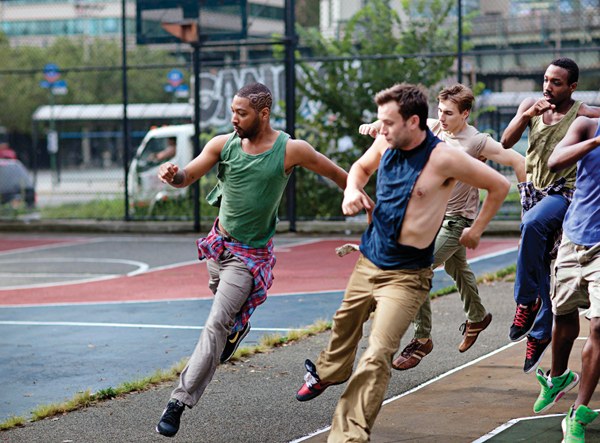 Kyle Abraham/Abraham.In.Motion dancers in Pavement (Photo by Steven Schreiber, courtesy Kyle Abraham/Abraham.In.Motion)
"Pavement evolved from looking at the 1991 film Boyz N the Hood; reading W.E.B. Du Bois' The Souls of Black Folk; and thinking about my experience in Pittsburgh in 1991, which was my freshman year of high school. I wanted to create a work that explored the time period between the film and the book, as well as the history of Pittsburgh's black community."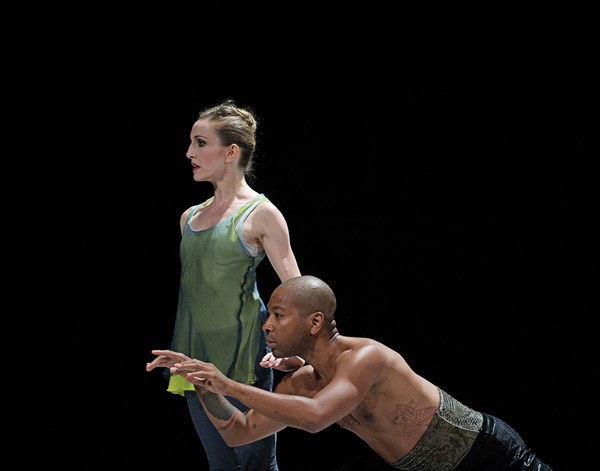 Wendy Whelan and Abraham in Restless Creature (Photo by Christopher Duggan, courtesy Kyle Abraham/Abraham.In.Motion)
"I'm a big fan of mythology, and I've been a history geek since elementary school. The piece I created for Wendy Whelan's Restless Creature, 'The Serpent and the Smoke,' came from a myth I thought I'd heard: A snake becomes enchanted with smoke and thinks it's seeing another snake. As it turns out, this myth doesn't actually exist—I made it up."
"I love working with Chalvar Monteiro, who was in my company for a little over four years, and with one of my current dancers, Tamisha Guy. I love their versatility: They're trained in Cunningham and Graham techniques, and they've worked with Kevin Wynn, who's a huge influence on my work. They're great movement generators, too."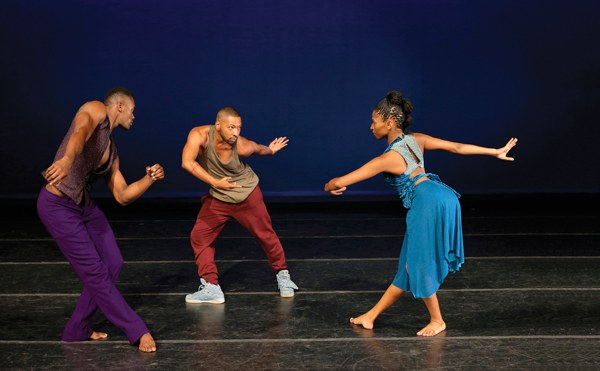 Abraham (center) rehearsing Another Night with AAADT's Jamar Roberts and Jacqueline Green (photo by Paul Kolnik, courtesy courtesy Kyle Abraham/Abraham.In.Motion)
"I created Another Night for Alvin Ailey American Dance Theater while I was making Pavement. It all stemmed from the same ideas. But Another Night was much lighter. It addressed the vitality and the community of an earlier era—the time when jazz artists like Art Blakey and Billy Strayhorn were performing in Pittsburgh."
"I was initially inspired to dance by Joffrey Ballet's Billboards, with music by Prince. I was a huge Prince fan, and I identified with the music first—that's what pulled me in to dance. I'd never experienced that before, and it stuck with me."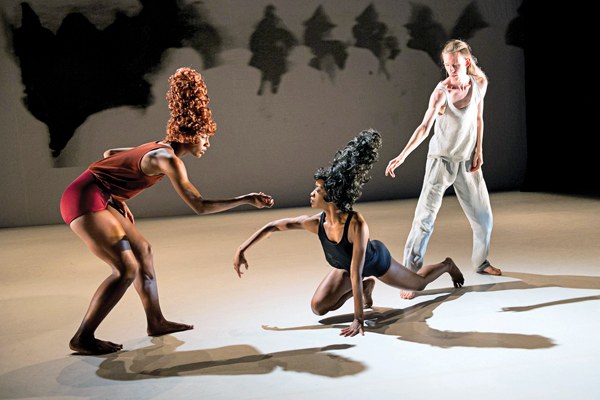 When the Wolves Came In (photo by Ian Douglas courtesy Kyle Abraham/Abraham.In.Motion)
"The repertory program When the Wolves Came In and the evening-length The Watershed were both inspired by Max Roach's album We Insist! Max Roach's Freedom Now Suite. The subject matter—the civil-rights movement, the Emancipation Proclamation and apartheid in South Africa—was tricky. I didn't want to tap into all of that too literally. Instead, I wanted to create work that nodded to the album."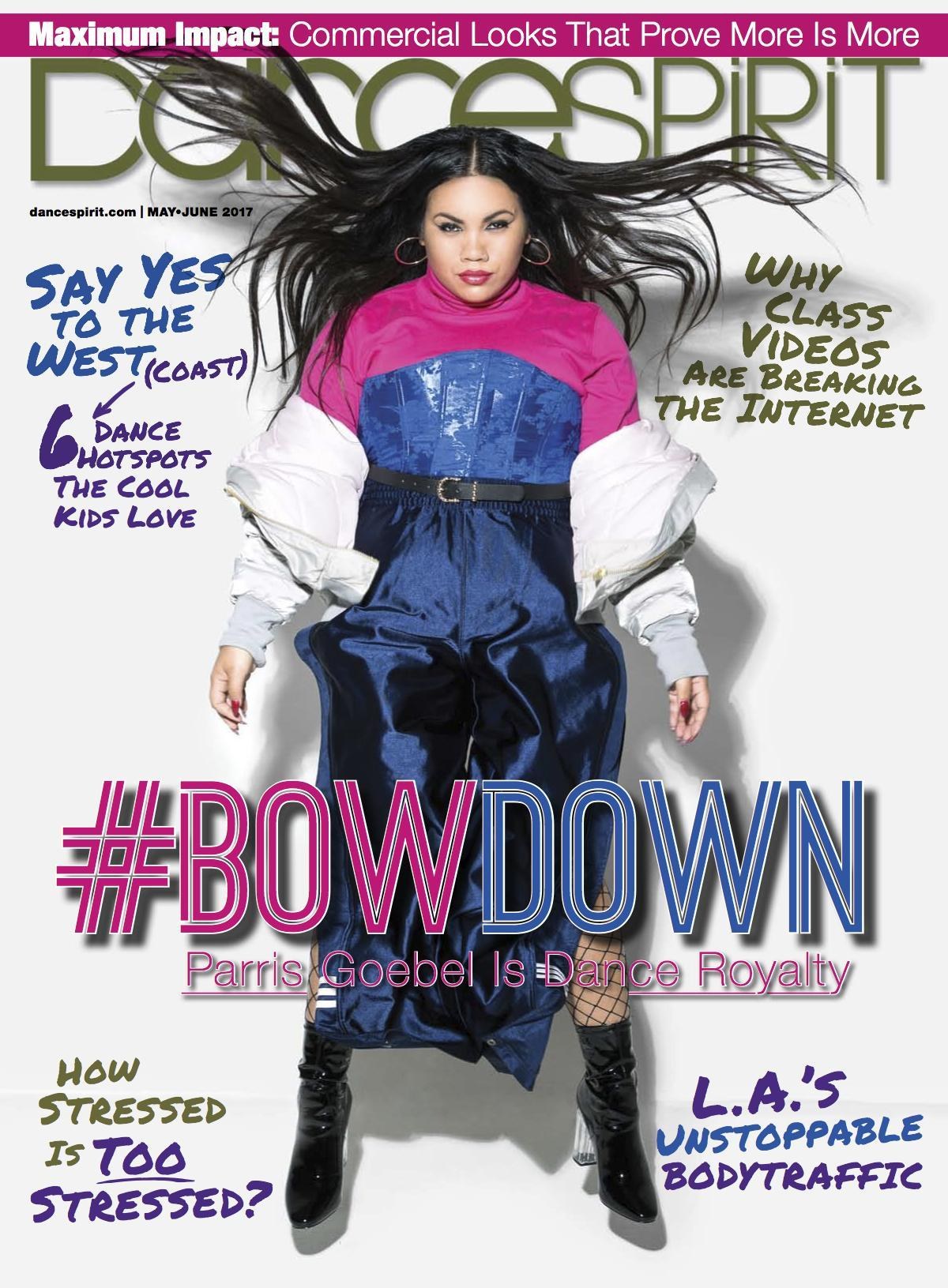 Get Dance Spirit in your inbox