Tap
Nov. 15, 2011 10:50AM EST
A Cut Above: Everything You Need to Know About Cutting Contests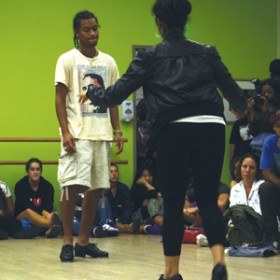 A cutting contest at the 2010 L.A. Tap Festival. Photo by Samantha Scipio.
Alaman Diadhiou entered his first cutting contest—an improv-based competition in which individual dancers must face off and perform on the spot to a set tempo while trying to impress a panel of judges and avoid getting cut—at the D.C. Tap Festival in 2009. Just 8 years old at the time, Alaman was one of the youngest participants. "My heart was racing," Alaman says. "I only knew the rules: Stay in time and don't get cut. The pressure was on."
After three rounds of battle in which he matched his opponents beat for beat, trading steps on the fly, Alaman won the title in his age group. He's continued that streak every year since. "It's not about how fancy your steps are—it's about your rhythm, creativity and timing," Alaman says. "The contests push you to practice more and become a better dancer, and they're fun because you get to have a 'conversation' with someone new, even if they don't speak the same language as you."
Cutting contests are the main events at many tap festivals worldwide, but you don't have to be a master tapper to get in on the action. "I'd encourage all dancers to participate in a cutting contest, no matter their skill level, because it pushes them outside their comfort zone so they can reach their maximum potential," says internationally renowned tap dancer Jason Samuels Smith. Intrigued? Here's what you need to know about how cutting contests work, along with advice from veterans.
The Nitty-Gritty
Cutting contest participants are divided up by age. Each contest is officiated by a host who decides which pairs of dancers within a category will compete. At the beginning of each round, the host establishes the number of bars that the dancers will dance and sets the tempo. Then, two dancers trade improvised sequences. If both dancers lose time or exceed the number of bars set, they are each cut. If both survive the round, the judges select a winner based on originality, creativity and commitment to maintaining a steady groove (being "in the pocket").
As the rounds progress, the host typically asks the dancers for fewer bars. Eventually the final two remaining dancers face off to win the category.
How to Prepare
Because you never know who your opponents will be, or at what tempo you'll be dancing, it might seem impossible to prepare for a cutting contest. But honing your musicality and improvisation skills and expanding your tap vocabulary can help you get ready to face any opponent.
Play It By Ear: "Listening to music is the best way to prepare for a cutting contest, " says Ayan Imai-Hall, 17, a member of Sean Fielder's Boston Tap Company.
"Listen to jazz standards like 'A Train' and 'Blue Bossa,' and musicians like Charlie Parker and Miles Davis," says Anissa Lee, a two-time L.A. Tap Fest champion and member of Sarah Reich's company, Tap Con Sabor. "Pay attention to how they fill the space within their music, and practice doing the same with your tap sounds."
Get Back to Basics: Lee says it's essential to drill your basic tap steps, like shuffles, flaps and paddles, as well as more complicated steps, like wings and pullbacks.  "Strive for consistency and clarity," she says.
Work on Your Timing: "Use a metronome to help you learn how to stay in time," Alaman says. "It will train your mind and body to keep the beat."
Improve Your Improv: "Play around with what you already know," Lee says. "If you have a step that you really like and want to use, make sure you can transition into it smoothly."
Expand Your Horizons: "Go to tap festivals and jams, and take classes with as many different teachers as you can," Alaman says. "You will be exposed to a variety of different styles, and you can pick up other peoples' steps."
Above all, "When you're dancing with another tapper, make sure you listen," Imai-Hall says. "You want to converse with that dancer rather than just compete." Lee adds: "It's so easy to get caught up in what you're doing instead of taking time to benefit from the conversations. Enjoy the memories you're creating."
via @phil_wright_ on Instagram
Well, this brings class videos to a whole new level! Choreographer Phil Wright and dancer Ashley Liai have been together eight-plus years, but she was still in total shock when he proposed to her mid-dance at Millennium Dance Complex earlier this week. Why? Well, the whole thing was unbelievably perfect.
Keep reading...
Show less
Ashly Costa and Buzz Aldrin on "Dancing with the Stars" Season 10 (courtesy ABC)
In the dance industry, dancers don't always have a say in what they wear on their bodies. This can get tricky if you're asked to wear something that compromises your own personal values. So what should you do if you find yourself in this sticky situation? We sat down for a Q&A with "Dancing with the Stars" alumn Ashly Costa to answer that very question. Here's what she had to say about the options dancers have surrounding questionable costumes.
Keep reading...
Show less
Erin Carpenter as a Knicks City Dancer (David Safran, courtesy of Erin Carpenter)
The groundwork for Erin Carpenter's company, Nude Barre, began when she was a teenager. At 16, she earned a spot in the residency program at The Kennedy Center in partnership with Dance Theatre of Harlem. "We were required to wear nude—as in, our actual skin tone—tights and shoes," she remembers. Carpenter brought her "sun tan" tights and a pair of pink ballet shoes with her, because that was all she could find. But she wasn't allowed in class because her dancewear didn't match her skin. "I was so embarrassed," she says. "I looked unprepared. I just didn't have the right nudes." Her teacher explained that the dancers dyed their tights and pancaked their shoes.
Keep reading...
Show less


Get Dance Spirit in your inbox