Fueling dancers' ever-moving bodies can be an artform in and of itself. We had three professional dancers journal everything they ate on a given day, to see how they navigate the complex world of nutrition while juggling classes and rehearsals. Then we asked Rachel Fine, registered dietitian for The School at Steps in NYC and founder of To the Pointe Nutrition, to weigh in on their choices. What she says might surprise you!
Emily Schoen
Keigwin + Company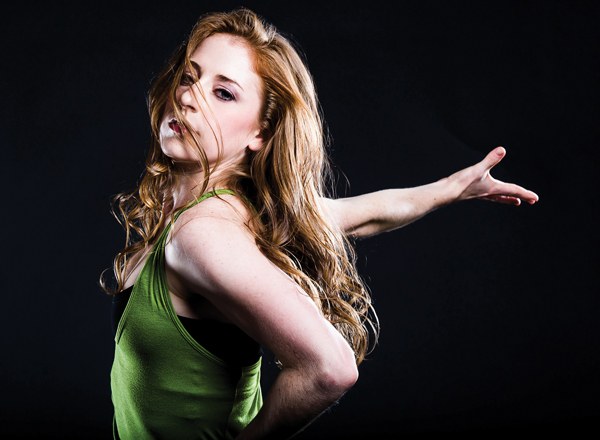 Keigwin + Company's Emily Schoen (photo by Matthew Murphy, courtesy Emily Schoen)
8:30 am, breakfast (before
10 am–12 pm ballet class):
•    1 Thomas' cinnamon-raisin English muffin
•    2–3 tablespoons Trader Joe's creamy almond butter, salted
•    homemade cold-brew coffee with a splash of half-and-half
"If I don't eat the right breakfast, I crash in class. This combo gives me a balance of fat and protein to keep me satiated, and carbohydrates for an energy kick. Plus, Thomas' English muffins are easy to find on tour!"
12 pm, snack:
•    1 apple
1 pm, lunch (eaten throughout the afternoon Keigwin + Company rehearsal):
•    a serving of honey and harissa farro salad with parsnips, carrots and feta cheese (recipe from The Smitten Kitchen Cookbook)
•    1 hard-boiled egg
"I like to munch on this grain salad throughout rehearsal. It's fresh and light, so it doesn't make me too sleepy."
5 pm, snack:
•    1 dark-chocolate almond-coconut Clif Mojo Trail Mix Bar
8 pm, dinner:
•    1 piece of homemade garlic bread
•    1 serving of spaghetti with 1/2 cup of homemade marinara sauce
•    arugula salad with lemon juice, olive oil, salt and pepper
•    1/2 scoop of Ben & Jerry's Half Baked ice cream
"I've let go of the notion that certain foods are 'bad,' and just focus on eating reasonable portions of real food. A small scoop of full-fat ice cream leaves me much more satisfied than the low-fat stuff."
FINE SAYS: I'm glad to see Emily choosing whole-food sources for her recipes. When using premade items, you should reach for those that are minimally processed. How can you tell? Look at the ingredient list on the box and see how many you recognize—and can pronounce.
To start her day, Emily makes a great choice with almond butter. It has anti-
inflammatory omega-3s, vitamin E to protect her cells, magnesium to facilitate muscle contraction and iron to oxygenate her tissues. Farro, which Emily eats throughout rehearsal, is a nutrient-packed grain, with protein, fiber and even some iron and calcium. Eating little bits of it over time will help provide a steady supply of the sugar she needs for energy—and it'll keep her from feeling too bloated.
While nutrition bars are a great grab-and-go source of fuel, many of the products
advertised as "nutrition" or "energy bars" are really just glorified candy bars, with added sugars. I'd suggest that Emily opt for a brand with more fiber and fewer processed ingredients, like Lärabars or KIND bars. And at dinner, I'd tell Emily to toss in some lean protein, like shrimp or grilled chicken breast, to help rebuild tired muscles.
Dominic "D-trix" Sandoval
Quest Crew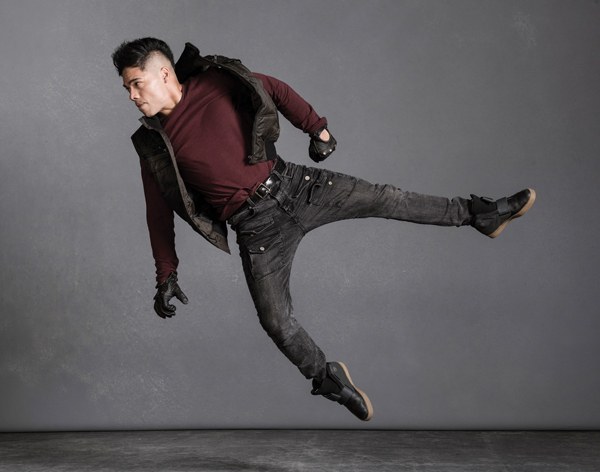 Quest Crew's Dominic "D-trix" Sandoval (Photo courtesy MTV)
9 am, breakfast (before 10 am–1 pm wardrobe fittings and camera rehearsals for "America's Best Dance Crew"):
•    16-ounce ("grande") Starbucks iced, sugar-free caramel macchiato with soy
milk
•    Starbucks reduced-fat turkey-bacon and egg-white sandwich
"I like adding soy to my morning drink because it makes it taste much sweeter—but with less sugar and fat than cream. And turkey bacon and egg whites taste just as good as regular bacon and eggs."
1 pm, lunch (before 2–5 pm rehearsal with Quest Crew):
•    chicken breast with sides of green beans, mac and cheese and corn bread
5 pm (before 5–7 pm rehearsal with Quest Crew):
•    16-ounce Jamba Juice Protein Berry Workout Smoothie
"I like drinking a protein smoothie between workouts, instead of at the end of the day."
7 pm, dinner (before 9 pm–4 am rehearsal with Quest Crew):
•    Chipotle chicken salad with rice, beans, grilled veggies, corn, cheese, sour cream and lettuce
•    pineapple-orange-mango Mountain Dew Kickstart
"Because rehearsals go so late, I'm usually hungry before bedtime. But I've found that drinking a glass of water—instead of snacking—tends to curb my late-night cravings."
FINE SAYS: When eating out, it's easy to consume excessive sugar, unhealthy fats and sodium. At Starbucks, be careful of sugar substitutes, such as those found in sugar-free syrups, as they can cause stomach discomfort. But as far as Starbucks' breakfasts go, the sandwich D-trix chooses is a good option for maximizing protein and reducing sodium and sugar.
Though a homemade version with fewer added sugars would ultimately be best, D-trix's smoothie is a solid choice before rehearsal. Protein is critical for muscle recovery, and the carbohydrates in the juice will help replenish his energy.
Overall, I'd make sure D-trix is getting enough water, especially since he's dancing all day. I'd tell him to forgo the soda—which is loaded with sugar and lacks nutritional value—and opt for seltzer or unsweetened brewed iced tea to sip on throughout rehearsal.
Liana Blackburn
Britney Spears' Britney: Piece of Me; author of DailyDancerDiet blog (dailydancerdiet.com)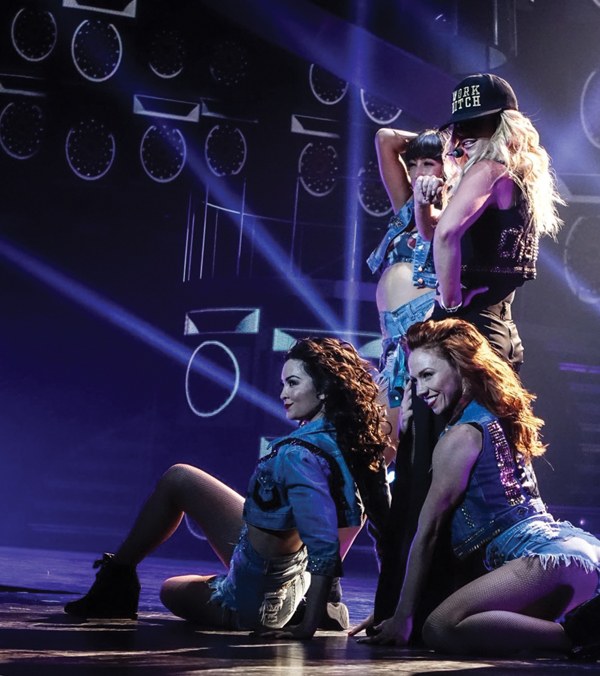 Liana Blackburn (bottom right) in Britney: Piece of Me (Photo by Jonathan Pears, courtesy Liana Blackburn)
9 am, breakfast:
•    1 glass of water
•    2 organic, pasture-raised eggs from Vital Farms, pan-fried
•    organic broccoli, zucchini and mushrooms sautéed in coconut oil and tossed with quinoa and a pinch of salt
•    1/4 avocado
"Eating veggies first thing makes me feel fresh and energized for the day. While I don't have food allergies, I've found that my body operates best when I refrain from eating gluten, dairy, refined sugar, caffeine, soy and processed foods."
11:30 am, snack:
•    homemade butternut-squash waffle with 1 tablespoon organic almond butter and organic strawberries
12 pm, snacks (eaten throughout 12–4 pm rehearsal):
•    homemade green drink with kale, cucumber, celery, lemon, water and ginger
•    Mary's Gone Crackers (original flavor)
•    organic carrots
"If I'm not fueled during rehearsal, it drags me down and I have trouble focusing. I
always bring plenty of snacks so I'm prepared in case rehearsal runs long."
4:30 pm, lunch:
•    homemade organic veggie soup with kidney beans, Swiss chard, celery, zucchini, carrots and sesame seed oil
6 pm, snack:
•    1 Lundberg Family Farms salt-free brown-rice cake topped with hummus, organic cucumbers, a drizzle of olive oil and a sprinkle of salt
8 pm, dinner:
•    3 ounces baked wild-caught Alaskan salmon seasoned with soy sauce and salt
•    steamed organic green beans lightly pan-fried with coconut oil and salt
•    1/2 cup wild rice
•    1/4 avocado
45 minutes before bed, dessert:
•    1 handful organic blueberries
•    1 piece of 80-percent cacao dark chocolate
•    herbal organic peppermint tea
FINE SAYS: I applaud Liana's use of wholesome ingredients! She's getting the most nutritious bang for her buck. Veggies for breakfast may seem like an odd choice, but they're great any time of day. That said, be careful not to fill up on veggies alone. They don't have enough protein for optimal muscle building and won't keep you satiated all day. So it's great that Liana chooses eggs to help keep her energy levels stable for the long day ahead of her.
The sodium in processed foods can really add up, so opting for low-sodium products, like Liana does, is a great way to keep it in check. But I also love that Liana adds salt back into her diet by sprinkling it on the foods she eats. Dancers need salt to replenish their electrolytes after intense rehearsals, particularly when it's hot and humid outside.
I'd suggest that Liana add some nut butter to her afternoon snack of plain crackers. While the carbohydrates from the crackers will help supply the glucose (sugar) Liana's body needs during a long rehearsal, protein will help keep her blood sugar levels stable to avoid spikes—which can cause fatigue and/or dizziness.
Jeraldine Mendoza
The Joffrey Ballet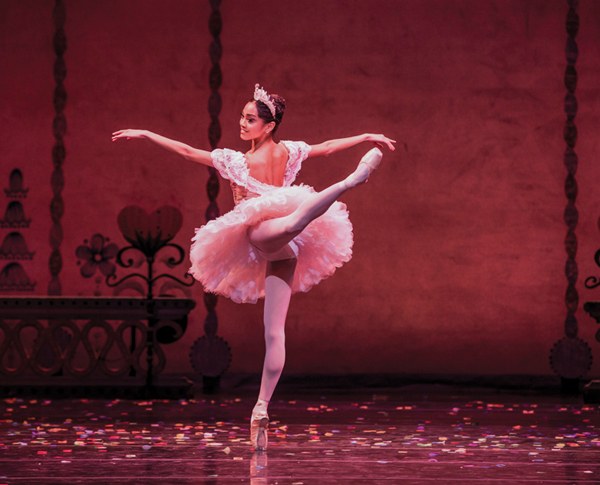 (Mendoza in The Nutcracker (Photo by Cheryl Mann, courtesy Joffrey Ballet)
7:30 am, breakfast (before 9:45–11:15 am company ballet class):
1 cup French-press coffee with a splash of cream and 2 sugars
Siggi's Fig and Lemon Zest yogurt
5 rounded tablespoons of KIND brand coconut granola
"I'm not usually very hungry when I wake up, but eating a little something before class makes all the difference in my energy and mood in the morning."
11:15 am, snack (before 11:30 am–2:30 pm rehearsal):
1 Cool Mint Chocolate Clif Bar
"If I'm even slightly hungry, I can't function! We get a five-minute break every hour of rehearsal, and I often use that time to snack on a Clif Bar, pretzels, cheese or chocolate soy milk."
2:30 pm, lunch (before 3:30–6:30 pm rehearsal):
a kid's-size cheesy chicken quesadilla with tomatoes from Freshii (a restaurant in town)
pretzels and cheese
"I like to eat something small at lunch, so I don't feel like taking a nap during our second rehearsal block."
7:30 pm, dinner:
1 slice of NYC-style pepperoni pizza from Panino's Pizzeria
1 arancini ball from Panino's
1 can of Barq's root beer
"I'm naturally a pretty healthy person, so I let myself eat what I crave. I try to listen to my body and give what it wants—and in this case it was pizza!"
FINE'S ASSESSMENT: Jeraldine starts her day with a high-protein and high-fiber meal. It's a great combination that will keep her energy levels sustained throughout the morning. I also like how Jeraldine orders the kid-sized portion of the cheesy chicken quesadilla. It helps lower the overall fat and sodium content of the meal. That said, I'd also advise Jeraldine to include more healthy fats in her daily diet. Adding flaxseeds or chia seeds to her morning yogurt; avocado or guacamole with her lunch; or olive oil to a side salad at dinner are great ways to get these in.
(From left) Mean Girls dancers Riza Takahashi, Ben Cook, Kamille Upshaw, Jonalyn Saxer, DeMarius R. Copes, and Stephanie Lynn Bissonnette (photos by Erin Baiano)
Get in, losers. We're going to Broadway.
OK, not losers, actually—more like the bajillion die-hard fans of Tina Fey's 2004 cult hit Mean Girls, who've been wearing pink every Wednesday since a musical adaptation of the film was first teased back in 2013.
Now their world is like a cake filled with rainbows and smiles, because Mean Girls the musical, which had a trial run in Washington, DC, last fall, is set to open at Broadway's August Wilson Theatre April 8. And in a very grool twist, it turns out the show—with direction and choreography by Casey Nicholaw and a book by Fey herself—is delightfully dancey.
Keep reading...
Show less
(From left) Val Chmerkovskiy, Peta Murgatroyd, and Maksim Chmerkovskiy (Jerry Metellus, courtesy Nicola Phillips)
Keep reading...
Show less
Quiz
Dec. 11, 2017 04:24PM EST
Alicia Vikander in Tomb Raider (Warner Brothers)
Keep reading...
Show less
Screenshot form YouTube
What do you get when a hoard of dancers collaborate to the catchy tune of "Love Somebody," by the band Frenship? The most epic dance party ever, of course! Said dance party was produced by the talented Michael Riccio, who's performed in feature films, including "Confessions of a Teenage Drama Queen" and "Shrek Forever After."
Keep reading...
Show less
University of Minnesota Dance Team (courtesy University of Minnesota)
They say there's no "I" in "team"—and nowhere is that truer than the world of college dance teams, where precision reigns, uniformity is key, and a single misstep from any given "I" can cost a group a championship trophy. So it's unsurprising that securing a spot on one of the best dance teams in the country is no easy feat.
Members of these highly athletic teams rehearse for hours every week—on top of academic classes and commitments—and perform at football and basketball games, annual concerts, and nationally televised competitions (hi, ESPN). And "no I" rule notwithstanding, each of these top teams is made up of highly trained, highly technical, highly hard-core individuals, who come together to create a ready-for-victory pack.
These six teams aren't one-off success stories—they're consistently strong, and earn the top spots at major competitions like UDA and NDA nearly every year. Up for the challenge? Here's what to know before you go to auditions.
Keep reading...
Show less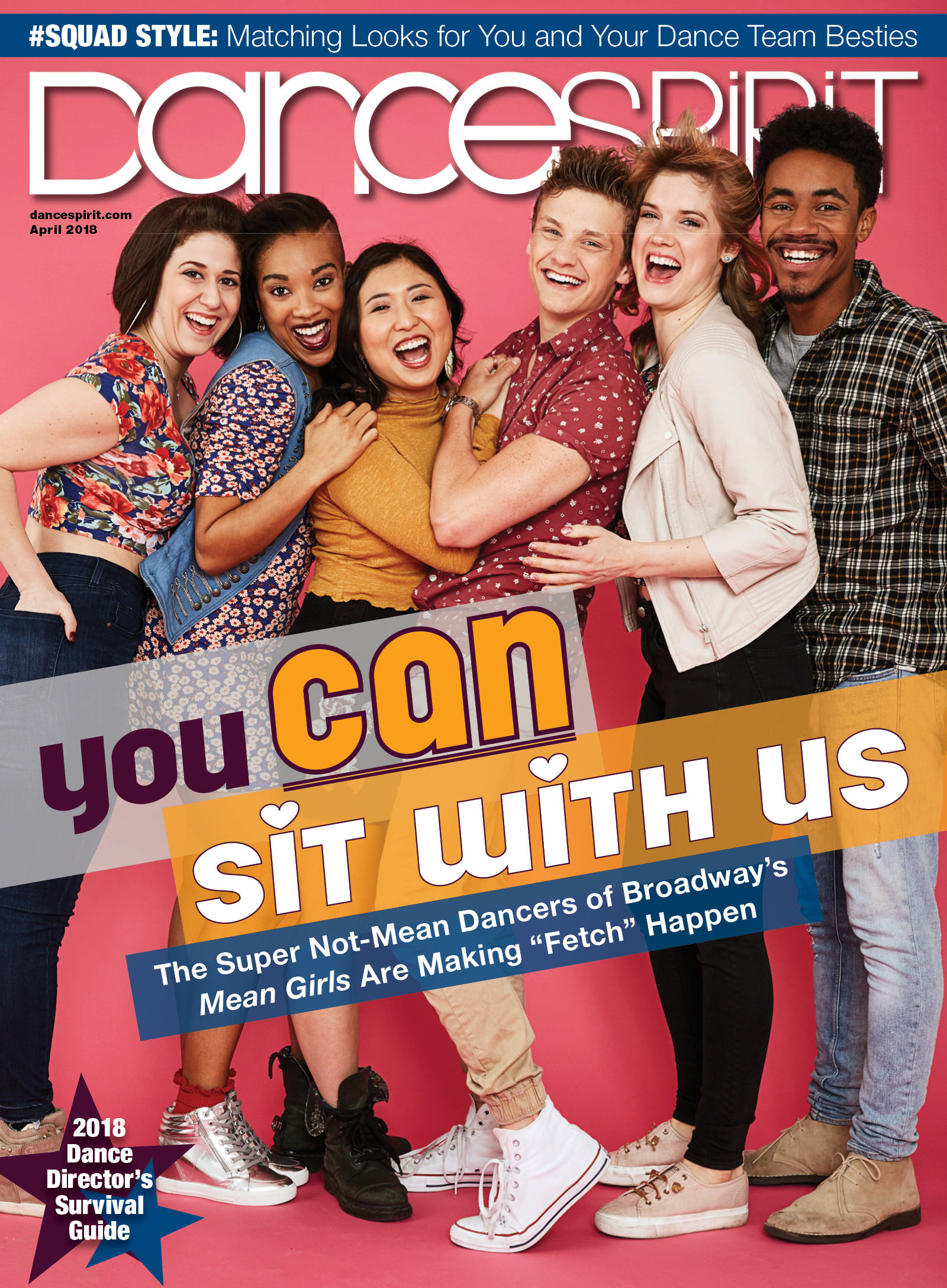 Get Dance Spirit in your inbox