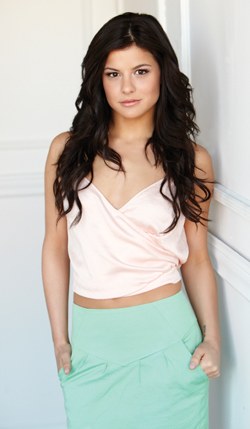 The "So You Think You Can Dance" tour is an unreal experience. During the three months on the road, we perform almost every night in sold-out venues filled with thousands of supportive fans.
The "SYTYCD" Season 7 tour, in the fall of 2010, was going amazingly well until October. That's when the lower half of my body started to feel numb. It's difficult to describe the feeling (or non-feeling) exactly, but it was like a mix between pins and needles and when you get Novocain at the dentist. During the same time, I started to get an electric sensation down to my toes when I put my chin to my chest. Although I couldn't think of a particular moment of injury, I figured maybe I had herniated a disc. After all, we were doing six performances a week, which was hard on our bodies.
Since I never experienced pain during these episodes—the symptoms were always just nagging discomforts—I didn't mention any of this to a doctor. I tried to overcome the feelings as best I could, with regular stretching and body care. By mid-March, I thought I was getting better because I began to regain feeling in my legs (though I never felt 100 percent). But then later that year my entire right side started to go numb. That's when I realized something was seriously wrong.
My grandmother has multiple sclerosis, a chronic autoimmune disease that affects movement, sensation and bodily functions. I watched her live with the disorder and knew many of the symptoms of MS overlap with the symptoms of a herniated disc, like the numbness and tingly feelings I was having. So when I finally went to the doctor over Christmas, I asked to be tested. I had a gut feeling I had the disease, but he said he doubted my test results would come back positive. There have been no studies proving MS is hereditary, although some studies show that many people with MS have family members who have the disease.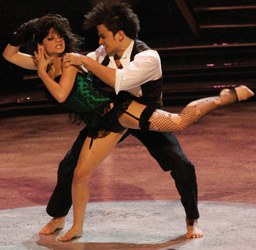 Performing a jazz routine with Mark Kanemura on "SYTYCD" Season 4 (Kelsey McNeal/FOX)
I got a series of MRIs done, and my inkling was correct: The films showed plaque on my spinal cord and lesions on my brain, confirming MS. When the doctor told me the news, I was upset, but I also felt a sense of clarity. I had a diagnosis and could start treating the disease. My first question was, "Will it affect my dancing?" But my doctor said, "The best thing for you is to keep dancing and keep your muscles strong." I definitely didn't have any objections to that!
At first, I was apprehensive about sharing the news of my diagnosis. This disease comes with the assumption that you'll get progressively worse and perhaps eventually become immobile. (MS attacks the myelin covering your nerves. Without that, your brain can no longer convey messages along the nerves to your muscles, which stops the muscles from working.) I was afraid people would think I could no longer do the things I've always been able to do or that they wouldn't hire me.
However, because of advances in medicine and research, there are many things a person with MS can do to prevent this from happening. I get an injection called Rebif three times a week. Rebif is used to prevent episodes of symptoms and slow the development of disability in patients with relapsing-remitting MS, which is the type I have (my grandmother has primary-progressive MS). Rebif isn't my favorite thing, but it's what I need to keep myself healthy, along with eating right and exercising.
I occasionally experience certain symptoms, like tingling or feeling off-balance, if I'm upset or stressed—stress is one reason relapses occur. But I'm currently in remission and able to dance. Since I was diagnosed, I've filmed episodes of "Glee," I've danced with Al Pacino in a new movie called Stand Up Guys (that was a whole lot of awesome!) and I've performed on "Dancing with the Stars." I was in the Rock of Ages movie, and I've traveled with "SYTYCD" doing Season 9 auditions. Plus, I started my own dance convention with my family called The BEAT. Some of the teaching faculty are former "SYTYCD" contestants, including Stephen "tWitch" Boss, Allison Holker, Dominic "D-Trix" Sandoval, Robert Roldan, Ade Obayomi and William Wingfield. I found out about my MS diagnosis the day after our first BEAT event in NYC. I was grateful for the timing. The BEAT gives me a chance to surround myself with family, friends and dance no matter what course MS takes.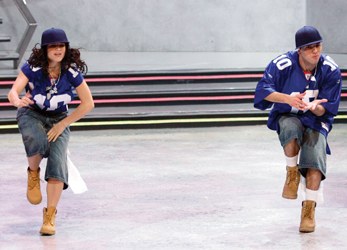 Performing a hip-hop routine with Gev Manoukian on "SYTYCD" Season 4 (Kelsey McNeal/FOX)
After receiving my diagnosis, I decided I wanted to help raise awareness about MS, so my brother and I teamed up with the National Multiple Sclerosis Society and started a foundation called BEAT MS. Now a portion of every BEAT registration will go toward the organization, which funds MS research. The society also provides people like my grandmother with nurses, helps pay for costly MS medication and hosts the MS Walk every year all over the U.S. This year my friends on both coasts took part in the walk and raised more than $20,000.
I have good days and bad days, but I've learned a lot about life that I don't think I would have otherwise. Since MS is an anxiety-driven disease, I'm trying to stop worrying (I'm a worrywart by nature) about my future. I'm also learning not to obsess about my past, wondering what I could have done better. I'm working on enjoying the now.
During the "SYTYCD" tour in 2008, I got a tattoo across my feet that, when I stand in first position, reads, "I walk forward with certainty that my dance is secure." Those words apply to my life now more than ever.
(From left) ABT's Erica Lall; NYCB's India Bradley; Washington Ballet's Nardia Boodoo; NYCB's Rachel Hutsell (all photos by Rachel Neville)
Misty Copeland. Her name is synonymous with exquisite artistry and outspoken advocacy. And her visibility has made a huge impact on the ballet world. Ballet's relationship with race has always been strained at best, hostile at worst. But Copeland's persistent message and star quality have finally forced the ballet industry to start talking about racial diversity, inclusivity, and representation. "The rarity of seeing ourselves represented is sad," Copeland says. "The more we see every hue and body shape represented on the stage, the more possibilities young dancers feel they have for themselves."
Keep reading...
Show less
Our nominees (clockwise from top left): Roberto Campanella, Aurélie Dupont, Ashley Wallen, and Anthony Van Laast
Last month, we asked why there wasn't a Best Choreography category at the Oscars—and discovered that many of you agreed with us: Choreographers should definitely be acknowledged for their work on the super-dancy movies we can't get enough of.
Now, we're taking matters into our own (jazz) hands.
We've decided to create a Dance Spirit award for the best cinematic choreography of 2017. With your input, we've narrowed the field to four choreographers whose moves lit up some of the best movies of the year. Check out our nominations for best choreography below—and vote for the choreographer you think deserves the honor. We'll announce the winner on Friday, March 2.
ABT JKO School student Miuka Kadoi shoiwng off her beautiful line (photo by Kenneth Edwards)
Contemporary phenom Christina Ricucci has super-flexible hips, which means she can stretch her legs to unbelievable heights. But when she noticed herself making contorted positions in class, Ricucci realized she was approaching her extensions all wrong. "I went back to the basics in class, squaring my hips and using my turnout," Ricucci says. "I learned to create proper positions, rather than whacked-out versions of them."
Some dancers are so wonky they have a hard time supporting their high legs, while others struggle with limited flexibility. But no matter your facility, you can find a balance of stretch and strength to achieve your fullest range of extension. It's not about how high (or not) your legs can go: It's the quality of the movement, and how you get those legs up, that counts.
Keep reading...
Show less
YAS, Adam Rippon! (Giphy)
The Winter Olympics are in full swing—and we can't get enough of all things figure skating. The skill, the technique, the glamorous costumes: What's not to love about this elegant sport? And while their perfectly choreographed performances look amazing on the ice, we think some of these insanely graceful artists could kill it onstage, too.
Here are 6 skaters we hope will make their dancing debuts soon.
Keep reading...
Show less
Bronze medalist Kaetlyn Osmond skating her "Black Swan" long program (screenshot via YouTube)
Once upon a time (until the 2014 Winter Olympics in Sochi concluded, to be exact), figure skaters had to compete to music without words. Before this rule change, a skater faced an automatic point deduction if the music even hinted at vocals. Understandably, there were *a lot* of Olympic programs skated to classical music, and you'd tend to hear the same music selections over and over and over.
Keep reading...
Show less


Get Dance Spirit in your inbox