Have you ever dreamt of being surrounded 24/7 by dancers and choreographers who are energized, inspired and eager to collaborate—with you? Have you ever imagined that one day you'd walk into a dance studio to take a class from one of your heroes—like, say, David Dorfman—or even better, to participate in a work he's creating? At a dance festival, this could actually happen! A festival is not only a great place to train your body technically, but it's also a fertile ground to explore your style and craft with other dancers and choreographers.

Imagine this: It's 1962 and Lar Lubovitch, founder of the Lar Lubovich Dance Company, has the inkling that he may want to be a choreographer one day. He decides to check out this dance festival he's been hearing about—the American Dance Festival. He arrives there and the first class he takes is with Martha Graham, the second class is with José Limón and the third class is with Alvin Ailey! As you can imagine, being exposed to the work of these creative geniuses changed his life forever.

For students who want to spend their vacation studying one specific style, summer intensives are great. But if you're still figuring out where you want your dance skills to take you, or if you crave a more well-rounded experience, consider attending a festival—one that offers technical training, multidisciplinary classes, an eclectic community and performances from a host of companies. Below is a smattering of choices to help get you acquainted with some of the country's best-known festivals.
Jacob's Pillow Dance Festival
At the venerable Jacob's Pillow, which at 76 is America's first and longest continuously running dance festival, professional and preprofessional dancers can take class and attend free lectures, talks, exhibits and up to five shows a day. They also have access to rare dance archives that include correspondence, photos, programs, books, films, costumes, posters, audiotapes, scrapbooks and 5,000 pieces of videotaped performance footage. Participants of The School at Jacob's Pillow are accepted by audition for only one of five programs: Ballet, Cultural Traditions, Contemporary Traditions, Jazz and Musical Theater Dance. There's a Choreographer's Lab (six choreographers with a minimum of two years experience outside of a college setting) and an intern program (31 students get academic credit for participating in arts administration, technical theater production and marketing). Dance lovers can watch world-class companies and emerging artists alike perform on one of three stages (including the first theater in the U.S. built just for dance, as well as a glorious outside venue). The remote site in Massachusetts' Berkshire Mountains is a National Historic Landmark set on 163 acres, including 31 buildings, gardens and woodlands.
"Jacob's Pillow is very rich in history, inspiration, commitment, exposure and in community support," says Ashley Judge, a former Ballet Program participant who is currently a member of Ballet British Columbia. "Being tucked away in the Berkshires, with such natural beauty surrounding you, you can dance in the open air and take quiet time to digest the knowledge that you're gaining."
American Dance Festival
If you love modern dance and choreograph in your sleep, you'll fit right in at the American Dance Festival, which turns a whopping 75 this year. With an international array of dance critics, artists and scholars in residence, this festival is a microcosm of the dance world, enabling participants to make friends and to stimulate future collaboration. You can choose from a huge smorgasbord of classes or delve deeper into the study of a particular style with modern dance heavy hitters like Trisha Brown and William Forsythe. "There's so much to choose from that you can't possibly do everything, but it's nice to be in a situation where there's so much," says co-director Jodee Nimerichter. "You get to find out what attracts and stimulates you the most."
"There's quite frankly nowhere in the world like American Dance Festival," says Luke Murphy, who is originally from Ireland and currently studies dance at Point Park University. "For six weeks you're totally submerged in dance. There are classes all day and other artists, teachers and students are constantly showing their work anyplace and anytime they can. You can let go, forget about everything else and fully commit to broadening your knowledge and understanding of your artform."
Bates Dance Festival
Bates Dance Festival caters to heady movers who view dance as the connection between body, mind and soul. "We're not only trying to train dancers for long and diverse careers in the field; we're trying to develop enlightened, healthy individuals who are civic-minded and good citizens of the world," says director Laura Faure. Bates, which turns 26 this year, aims to integrate study, creation and performance in a safe and pressure-free environment. Students come from all over the world to participate in either the Three-Week Professional Program or the Two-Week Young Dancers Workshop for 90 13- to 17-year-olds. Faculty members, who eat and sleep in the same facilities as participants, are always open to the students' inventive and wacky creative ideas. One year, they even engaged in an impromptu guerrilla site-specific workshop outside.
"Luckily for me, my first time attending the festival just happened to be on their 25th anniversary," says Grace Courvoisier, who attended the three-week program and is currently a dance major at the University of Illinois. "For the special occasion, Sara Pearson and Patrik Widrig created a site-specific piece around the pond on the Bates College Campus called Paradise Pond. Students (myself included) swung from trees, danced in a forest and performed American Butoh on a canoe in the middle of the lake. A special dock was even built for dancers to perform on!"
Chicago Human Rhythm Project
At 18 years old, the two-week-long Chicago Human Rhythm Project is known as the one-stop-shop for tappers looking for an all-inclusive experience. "We pay a lot of attention to presenting and honoring different perspectives within the tap community," says director Lane Alexander. "It's a very friendly, accepting and positive environment for everybody, regardless of whether you like hard-core rhythm tap or Broadway tap. Any style is welcome and practiced."
While novices can attend a four-day course for beginners, most participants are 13 and older, at an intermediate level or above, and comfortable enough with their skills to participate in tap slams and a cutting contest (that offers a $100 prize!). "There's quite a cross section of students, but I would say they are primarily tap geeks," says Alexander. Between 24 and 30 master teachers instruct on acres of custom-made sprung maple portable floors. "Some of the teachers have been there each year and so it always feels like a family reunion," Alexander adds. One of the most exciting perks is a nightly informal tap jam at a local jazz club. "Everybody goes to watch, dance and eat. You get to spend a lot of time with your classmates and the faculty. It's very intense."
"You get an all-around tap dance and musical experience," says tap phenom Jumaane Taylor of CHRP. "Tap dancers from different states and different countries come out and teach classes and speak to you. To be involved in that community is a warm thing."
Jazz Dance World Congress
While the next Jazz Dance World Congress won't happen until 2009 (it's every two years in Chicago), this event is worth planning for now. Hosted by Giordano Jazz Dance Chicago, the festival offers classes for 13-year-olds on up as well as a special five-day workshop for dancers aged 9 to 12. Options are plentiful: Spend five days learning from master teachers like Ray Leeper, Liz Imperio and Nan Giordano (Gus Giordano's daughter), three days delving into the Giordano style, or eight days doing everything—all while feasting on nightly performances from companies who fly in from across the globe. In 2007, Les Ballets Jazz de Montreal, Danza Prospettiva Vittorio Biagi from Italy and River North Chicago Dance Company were among the 15 groups that graced the stage. "This festival is so much more than Giordano," says Nan Giordano. "One of our main highlights is exposing young kids to things other than competition." An especially unique aspect is that participants don't choose which classes they take. Instead, every dancer has the opportunity to study with every teacher. jazzdanceworldcongress.org
Since the NYC premiere of Alexei Ratmansky's Whipped Cream at American Ballet Theatre's spring gala Monday night, the DS editors haven't stopped talking about its creepy-cute sets and costumes, created by artist Mark Ryden. Well, the obsession is about to get even crazier, because we just heard that Ryden's artwork for the ballet is now on display in not one, but TWO locations in NYC.
Keep reading...
Show less
May. 26, 2017 11:32AM EST
Self magazine
Keep reading...
Show less
May. 25, 2017 02:39PM EST
Joe Toreno
Keep reading...
Show less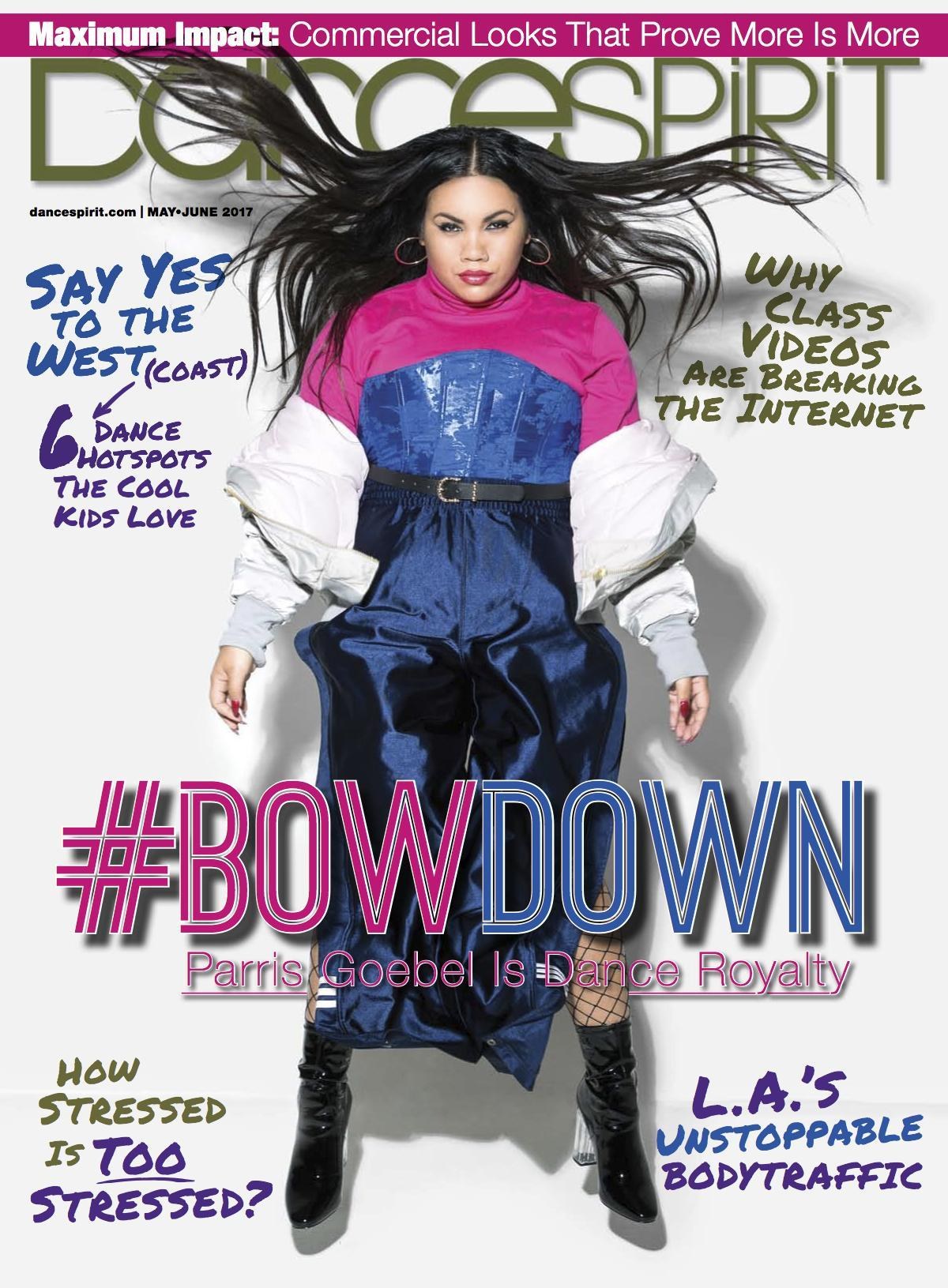 Get Dance Spirit in your inbox