A New Study Says Dancing Is Awesome for Your Brain
Not that you needed another reason to dance, but here's a pretty nifty one: A study recently published in the journal Frontiers in Aging Neuroscience says getting your groove on might be good for your brain. Well, specifically for older peoples' brains. But the brain benefits of dance seem to be pretty impressive.
---
How'd the research team figure that out? They gathered a pool of test subjects in their 60s and 70s and divided it into three groups. One group began a walking regimen; one started a stretching routine; and one started taking dance lessons. (Specifically, country dance, in case you're wondering.)
After six months, the researchers found that members of the dancing group had better-looking "wiring" in the fornix, a part of the brain that's involved with processing speed and memory. The specifics of their findings are, unsurprisingly, a little technical, but if you're scientifically inclined, you can read the full study.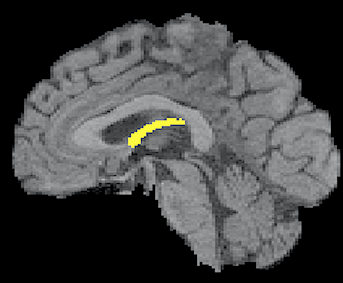 Here's where the fornix is, by the way.
Basically, because dance stimulated them cognitively and socially as well as physically, it boosted their brainpower more than other forms of exercise.
Dance: Good for your body, good for your soul, good for your noggin.
Kalani Hilliker made "Dance Moms" fans sit up a little straighter when she first appeared on "Abby's Ultimate Dance Competition" back in 2013. The then–12-year-old ballerina had charisma, she had sass—and, wow, did she have technique! Abby Lee Miller, the show's infamous host, saw Kalani's star potential from the start, saving her from elimination and ultimately inviting her to perform alongside Maddie Ziegler on Season 4 of "Dance Moms." "I was never supposed to be on 'Dance Moms' beyond that one performance," says Kalani, now 16, but she ended up staying on the show for the whole season—and the following three. "It was my first time, but not my last time, causing drama. And it was also the first time I got to meet the other dancers, who have become like sisters."
Keep reading...
Show less
Dance students performing in the graduation ceremony for the Boston Conservatory at Berklee's class of 2016 (Mila Thigpen, courtesy Alyssa Markowitz)
You probably already know the dance division at the Boston Conservatory as a top destination for contemporary dancers. But in June 2016, the Conservatory uncovered a new part of its identity when it merged with Berklee College of Music. It's a move that's opening up all kinds of new opportunities for students—especially dancers.
Keep reading...
Show less
Jade Chynoweth knows how to mesmerize an audience with some killer eye contact. (Joe Toreno)
In an audition or onstage, knowing how to use eye contact appropriately is a total game changer. Dancers who aren't afraid to meet the eyes of judges or audience members exude a special confidence that allows them to be seen as capable, talented performers. When dancers look at the floor or around the room, though, they telegraph insecurity. Don't send your critics looking for flaws! Avoid these three no-no's and become a true master of eye contact.
Keep reading...
Show less
Demi Lovato and choreographer Jojo Gomez (via YouTube)
Pretty much every class at L.A.'s Millennium Dance Complex features a combo set to a serious banger of a song. But not every class brings in the ACTUAL POP STAR BEHIND THE SONG to watch dancers take on that combo.
A few days ago, Demi Lovato dropped by Jojo Gomez's class at Millennium to see what Gomez had made of her hit "Sorry Not Sorry." Gomez's 🔥 choreo—and the incredible performances by some of Hollywood's best dancers/most devoted Lovatics, including Kaycee Rice—didn't disappoint.
Keep reading...
Show less


Get Dance Spirit in your inbox