Sep. 24, 2011 10:00AM EST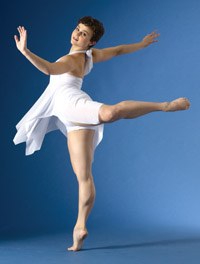 Melanie Moore, Photo by Nathan Sayers
Most dancers only get one "moment" per season of "So You Think You Can Dance." But Melanie Moore seemed to have a "moment" every time she stepped onstage. Her first audition in Atlanta left judges Nigel Lythgoe, Mary Murphy and Lil' C tongue-tied and blown away; Lythgoe threatened to hunt Melanie down if she didn't succeed in Vegas. "Turn to Stone," Melanie's Travis Wall duet with partner Marko Germar, established her as an early frontrunner. The duo's lyrical hip-hop number "I Got You" featured an electrifying kiss. In "Total Eclipse of the Heart," Melanie flew across the stage into All-Star Neil Haskell's arms. And then there was Melanie's powerhouse Top 6 solo, "Cracks," which had the judging panel on its feet.
But it wasn't until she made Season 8's Top 4 that Melanie let herself think she had a shot at the title. "The judges had been calling me a favorite, but favorites don't always win, because people like underdogs," she says. "I knew that I couldn't stop fighting, that I had to give my best every week."
Now, the 20-year-old "SYTYCD" champion is pondering her next move. NYC or L.A.? Return to college at Fordham University, or hit the audition circuit? Concert dance, musical theater or commercial work? With Melanie's killer blend of top-notch training, born-with-it talent, perseverance and positivity, why can't she have it all?
Born This Way
"I've always been a performer," Melanie says. When her older sister enrolled in dance classes, Melanie begged to sign up, too. She started at age 3 at Centre Stage School of Dance in her hometown of Marietta, GA, and went on to study ballet, tap, musical theater and lyrical. She began competing at age 10.
Even though Melanie enjoyed dancing, it took a tragedy to show her that dance was her life path. "Dance became vital when my dad passed away when I was 12," she says. "I threw myself into dance as a release. That's when I knew dance was something special. I was in the moment, and I could deal with my life through the dancing."
Eventually Melanie moved to Rhythm Dance Center. RDC co-director Becca Moore (no relation to Melanie) says Melanie showed up ready to learn. "She was so technically strong—her legs would do anything you wanted them to do," Moore says.
At RDC, Melanie started studying contemporary dance, and she fell in love with it. "It's a mix of all styles of dance," she says. "You can just be yourself and use your personality in the movement." She also started attending conventions. "Conventions changed the way I looked at dance," she says. "When I was just competing, I was focused on getting a trophy, but conventions are devoted to learning, sharing and performing."
Melanie was the 2010 National Senior Female VIP at JUMP Dance Convention, and in 2010/2011, she spent weekends touring with JUMP as a demonstrator and assistant. On tour, she says, "I realized I was going to make a career out of this."
NYC and "SYTYCD"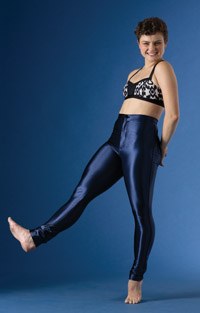 Melanie Moore, Photo by Nathan Sayers
Melanie chose to attend college so she'd have a back-up plan if performing didn't work out. She found her way to NYC's Fordham University after visiting a friend who was in the Fordham/Ailey BFA Program. "It seemed like the best of both worlds, to be training in NYC and going to school at the same time," she says. She majored in art at Fordham and studied dance at Steps on Broadway with Lauren Adams, Joe Lanteri and Jason Parsons. But she still felt like something was missing. Enter "SYTYCD."
"Becca really encouraged me to try out," Melanie says. "I figured I didn't have anything to lose—they could say they didn't like me, and then I'd go back to NYC and continue what I'd been doing."
But the judges adored her, and she soon found herself performing on her biggest stage yet. Week after week, choreographers and guest judges praised her strength, flexibility, artistry and presence. "Melanie gives inspired performances," says "SYTYCD" judge Mary Murphy. "She moves with passion, nuance and precision. You can always see her love of dance, and that connects with audiences."
Marko adds, "Melanie is an amazing dancer with a great personality. She was always happy and lively, on camera and off. She's a very positive person, and America had every reason to love her."
Melanie will be the first to tell you that winning "SYTYCD" was hard work. "Nigel told me in my first audition that I was beautiful in my own style, but he didn't know how I'd fare at everything else. I knew I had to show the judges every week that I was working hard and giving them my best." She and Marko even booked extra rehearsal time each week to polish their routines. But it was all worth it for that moment when host Cat Deeley read her name as the winner. "I was truly so surprised," Melanie says. "I had to lean over and compose myself, to try to hold back the tears. It was an amazing feeling of accomplishment."
The Sky's the Limit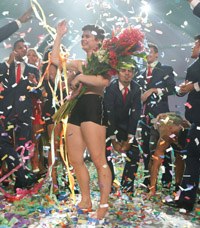 Melanie Moore on "So You Think You Can Dance," photo by Adam Rose/ Fox
Melanie may have received unofficial on-air job offers from both Lady Gaga and Kenny Ortega, but she isn't ready to commit herself to a single career path just yet. "I do want to end up in NYC," she says. "There's an energy there that I've never felt anywhere else. I've always said I wanted to do Broadway. I want to go back to school, as well, to study dance and choreography. But I also want to see what opportunities come my way."
Murphy certainly believes that Melanie has the talent to follow her dreams—wherever they take her. "I could see her on Broadway, dancing for Lady Gaga or being in a major dance company," Murphy says. "She has a good head on her shoulders, she has a solid foundation in her dance and she's focused. She's got the full package."
As the "SYTYCD" Season 8 tour wraps up, Melanie reflects on the whirlwind past six months. "The best part of this experience was the choreographers we got to work with and the people I got to know," she says. "I learned that my body can do so many more things than what I'm comfortable with. And I've realized how much more I have to learn! I can't wait to take more classes, to get back into the studio and work."
Fast Facts
Full name: Melanie Kathryn Moore
Birthday: September 17, 1991
Hometown: Marietta, GA
Favorite color: Royal blue
Favorite food: Chocolate
On her iPod: Mumford & Sons
Non-dance hobby: "I'm an artist, and 
I sing. Also, I love to collect socks."
Dream company: Cedar Lake Contemporary Ballet
Favorite "SYTYCD" numbers: "Turn to Stone" with Marko Germar, "Total Eclipse of the Heart" with Neil Haskell and "Game On" with Sasha Mallory
Dance idol: "Lauren Adams is my choreographer idol. Her movement is so organic, and pulls from her heart. Jaimie Goodwin is 
probably my ideal dancer."
Dance crush: "Robert Roldan—and I got to dance with him!"
Greatest inspiration: "Life. Life is so beautiful, and if you really enjoy it, it's going to show in your dancing."
Advice for DS readers: "Never doubt yourself. If you walk offstage feeling like you did a good job, that's all that matters. Also, never get comfortable. Keep pushing yourself. That applies to everything, not just dance!"
The Top 4 On Melanie
"Melanie's very blunt. When you do something amazing that intrigues her, she'll tell you. When you do something wrong, she'll tell you that, too—but she's never rude. That's what made our 
partnership great." —Marko Germar
"Melanie is so consistent, not 
just in her dancing but in 
everything she does. She's constantly there for the people she cares about, and I really admire 
that." —Sasha Mallory
"Melanie is a true artist. She never ceases to amaze and inspire me, not only as a dancer but also as a person. She has such a genuine heart and her strong soul reminds me to never give up and to keep pushing toward my goals." —Tadd Gadduang
Win It
Sep. 05, 2017 12:10PM EST
Photos by Erin Baiano
It's time to get your pirouette on! From September 5th to September 30th, we're hosting a contest to find out who's the best turner of them all.

Put together your most impressive turning combo. Post a video online. Share your turns with us and thousands of other dancers around the world. And if our editors think you're the top turner, you'll win a fabulous prize.
Keep reading...
Show less
All of 18-year-old Kaylin Maggard's dreams—from scoring the title of National Senior Outstanding Dancer at New York City Dance Alliance Nationals to winning the 2017 Dance Spirit Cover Model Search—are coming true. And to anyone who knows the gorgeous contemporary dancer, that's no surprise.
From the moment the Dance Spirit staff met Kaylin, it was obvious her humility and talent would take her far. Not only did she go full-out during the photo shoot and class at Broadway Dance Center, but she was always cheering on, laughing with, and supporting her fellow CMS contestants Haley Hartsfield and Michelle Quiner. During the voting period, the social media world was abuzz with praise for her work ethic, positive attitude, and generosity.
Since her CMS trip to NYC, Kaylin's moved from her hometown of Columbia, MO, to the Big Apple for her freshman year at Juilliard, and is busy getting acquainted with the city. As for the future? She's taking it one opportunity at a time, but something tells us we'll be seeing this contemporary queen reach new heights every year.
Keep reading...
Show less
New York City principal Lauren Lovette has become an icon thanks to her emotional maturity and exceptional musicality. The 26-year-old quickly rose through the ranks after joining the company as an apprentice in 2009, reaching principal status in 2015. A Thousand Oaks, CA, native, Lovette started studying ballet seriously at age 11, at the Cary Ballet Conservatory in Cary, NC. After attending two summer courses at the School of American Ballet, she enrolled as a full-time student in 2006. Last year, she made her choreographic debut with For Clara, her first piece for NYCB. Catch her latest work this month during the company's fall season. —Courtney Bowers
Keep reading...
Show less
In our "Dear Katie" series, former NYCB soloist Kathryn Morgan answers your pressing dance questions. Have something you want to ask Katie? Email dearkatie@dancespirit.com for a chance to be featured!
Dear Katie,
I know I'm not getting good enough dance training from any of my local studios. But I'm not sure I'm ready to move away to study at a big-name school, either. How do you know when you're ready to leave home to pursue your passion?
Marisa
Keep reading...
Show less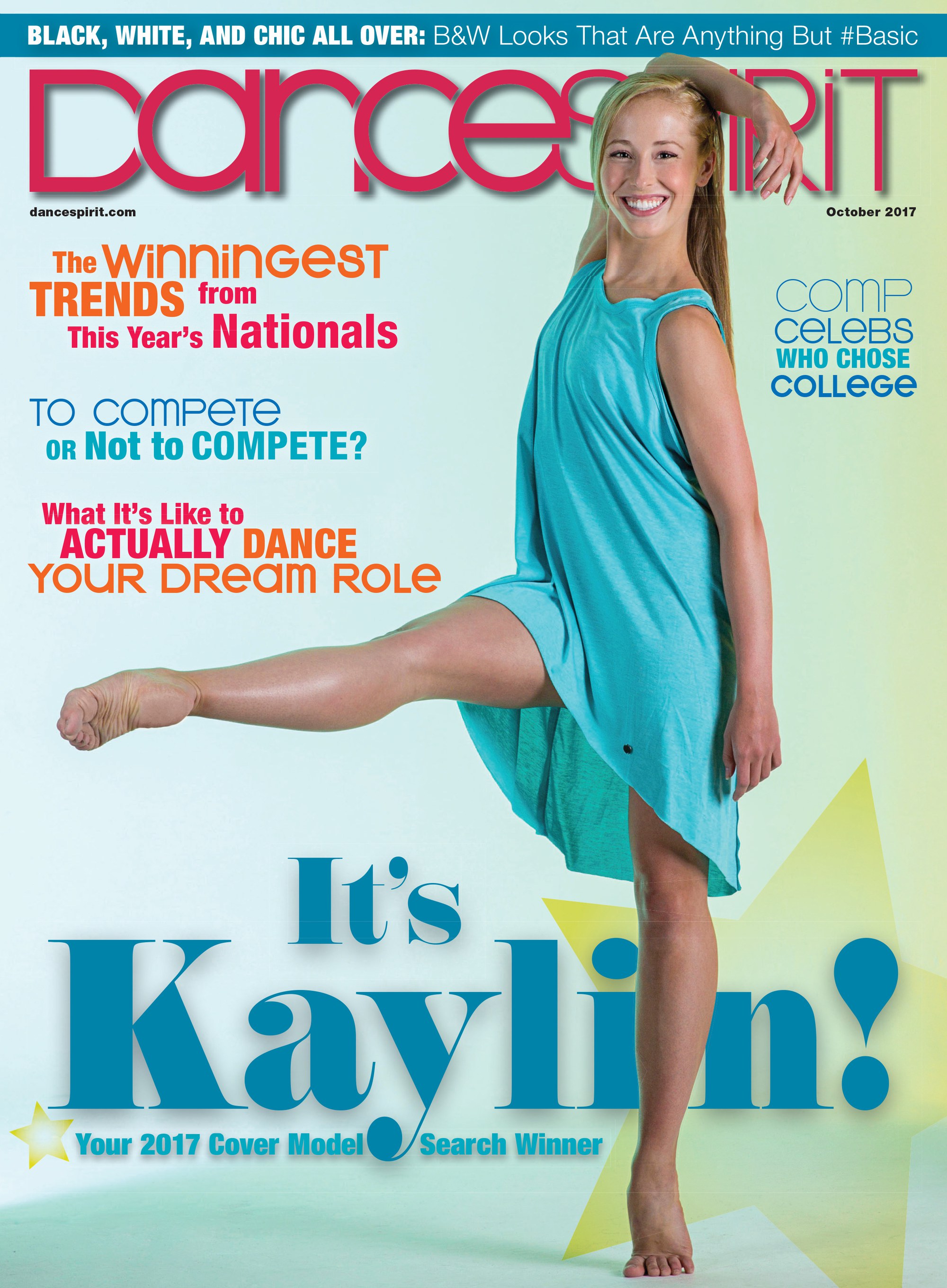 Get Dance Spirit in your inbox