Dec. 16, 2013 11:25AM EST
A Tale of Two Nutcrackers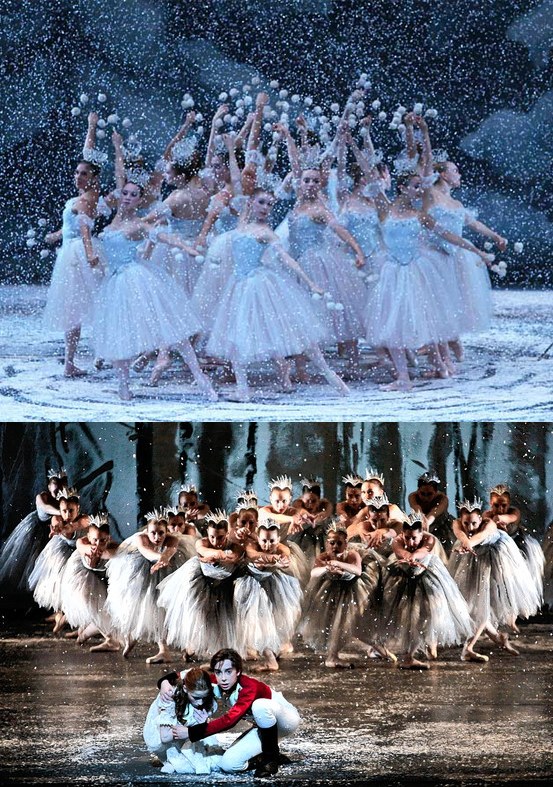 Top: Balanchine's swirling snowstorm at NYCB (Paul Kolnik); bottom: Ratmansky's menacing snowflakes at ABT (Erin Baiano)
Ah, Nutcracker season. Sure, as a dancer it's pretty much a nightmare. But as an audience member—especially in dance-stuffed NYC—it's a dream come true. There are umpteen Nuts running in the Big Apple right now, and I can't get enough of them.
This weekend, I did a Nutcracker double-header, catching American Ballet Theatre's version (by Alexei Ratmansky) on Friday night and New York City Ballet's production (by George Balanchine) on Saturday. They both get the important things right: They create beautiful, enchanting worlds onstage; they include real challenges for incredible dancers; and, most importantly, they're magical. Listening to the reactions of the kids around me as the trees grew and the snow fell was, as always, half the fun.
But in a way, these two productions couldn't be more different.
I love Balanchine's first act because it lets children behave the way they actually behave. Outside of the formal party dances, he doesn't give the young'uns much dance-y choreography. Instead, they run and skip and stomp around in a way that looks totally authentic. His snow scene is wonderfully realistic, too: He creates swirling, sweeping patterns that mimic snow falling. (I also have to give a shout-out to Lauren Lovette, who danced a gorgeous, regal Sugar Plum on Saturday night.)
Ratmansky, on the other hand, shows us what childhood feels like, rather than what it looks like. His Clara does more dancing, but that dancing is a way of expressing her inner world. His heroine isn't the Sugar Plum Fairy: it's the grown-up Clara, who dances the traditional Sugar Plum pas with her grown-up Nutcracker Prince. And yet it's clear that this is the young Clara's imagining of herself as an adult, because her ballerina counterpart still dances young. Halfway through her solo, for example, she runs offstage—only to peek out at us playfully from the wings. Ratmansky's snowflakes, too, don't necessarily move the way snow moves. Instead, he makes them into characters, who initially befriend Clara and the Nutcracker Prince but later attack them in a blinding blizzard.
I usually have pretty strong opinions about dance performances, but when it comes to these two wonderful Nutcrackers, I can't pick a favorite. I'm just thankful they're both here, inspiring new generations of ballerinas-to-be.
What's more daunting than getting into your dream college dance program? Figuring out how you'll cover the costs of tuition, room and board, incidental expenses and more. Here's the good news: The right scholarship(s) can bring your dream school well within reach.
Look Around, Look Around
Scholarship applications are due between the fall of senior year and graduation time, so familiarize yourself with funding opportunities during the spring of junior year. And there are a lot of opportunities out there, says Kate Walker, chair of dance at Booker T. Washington High School for the Performing and Visual Arts in Dallas, TX. "A lot of school guidance counselors now have software that automatically matches you with scholarships," she says.
Seek out scholarships on your own, too. According to Walker, "a lot of corporations are required to have some community engagement, including offering scholarships, so research corporations in your community." Your parents' employers might offer assistance too, says Doug Long, an academic and college counselor at Interlochen Arts Academy in Interlochen, MI. "They might have scholarships you can apply for just because your parent works there."
Other sources of grant money you won't have to pay back (as you would a loan)? The YoungArts Foundation; competitions/conventions, like New York City Dance Alliance; and the university or dance department you're applying to. Even some scholarships aimed at athletes are open to dancers!
Apply Yourself
A winning scholarship application involves a fair amount of paperwork, especially if the organization requires you to show financial need. In addition, certain scholarships ask for the College Board's CSS/Financial Aid Profile, which gives the awarding organization a more complete picture of your family finances.
Other ingredients of a successful scholarship application include recommendation letters, a dance and/or academic resumé and an essay or statement of purpose. Treat these components just like college applications: Have multiple trusted adults proofread your materials, and ask for recommendation letters or transcripts long before deadlines.
A note for non-dance scholarships: Including objective measures of achievement can only help you. "List national recognitions, like YoungArts or other competitions," says Long. "That shows the scholarship committees that people at high levels have acknowledged you as an artist of quality." And don't forget who your audience is. "Especially in writing samples, make sure you paint a vivid picture for your reader," Walker says. "Don't assume they know about all the things—like barre every day—that we as dancers take for granted."
No award amount is too small to be worth your time and effort. As Walker says, "Don't pooh-pooh a couple hundred dollars in award money, because any scholarship is funding that you didn't have yesterday."
A version of this story appeared in the July/August 2017 issue of Dance Spirit with the title "All Aboard the Scholar-ship."
Every ballet dancer knows the time, sweat, and occasional tears the art form demands. But many non-dancers are clueless about just how much work a ballet dancer puts into perfecting his or her dancing. So when the mainstream crowd recognizes our crazy work ethic, we'll accept the round of applause any way it comes—even if it comes via four men in tutus. Yep, we're talking about "The Try Guys Try Ballet" video.
Keep reading...
Show less
(via YouTube)
Remember that fabulous old-school clip of dancers tapping in pointe shoes that Tabitha and Napoleon D'umo brought to our attention back in March? As we mentioned then, toe-tap dancing was actually super popular back in the 1920s and 30s—which means there are more videos where that one came from. And because #ToeTapTuesday has a nice ring to it, we thought we'd take this opportunity to introduce you to Dick and Edith Barstow, a toe-tapping brother and sister duo from that era who are nothing short of incredible:
Keep reading...
Show less
(Adam Rose/FOX)
Guess who's back? Back again? The Academy's back! Tell a friend.
After one day at The Academy, the All Stars have successfully taken the Top 100 down to 62. But their work is just getting started: Now they need to keep narrowing the field to a Top 10, ultimately deciding who each will partner with during the live shows.
Keep reading...
Show less


Get Dance Spirit in your inbox