"Abby's Ultimate Dance Competition: Unleash the Monster" Recap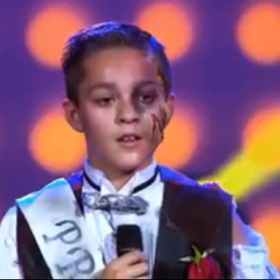 This week's theme was "monsters of the night," and it definitely brought out the monster in everyone. I get the urge to fast forward when the moms start fighting, and that happened way too much in this episode. (Let's see more of the kids instead please!) Hadley and her mom are definitely the bullies of the crew. And Abby Lee Miller was just plain mean (poor little Jordyn!). In a completely unsurprising elimination, Kyleigh Jai went home for messing up a bunch of choreography. Read on for my top five moments:
1. The challenge this week was physical strength. And the choreography was actually super cool. Jordyn was the clear standout—this tiny hip hopper with crimped hair is one of my favorites. She won a solo and got to choose another dancer to also have a solo. She picked Zack because he's a boy, and that means she'll stand out. Not the brightest decision in the world, Jordyn. Have you seen Zack dance?
2. Zack's solo! This routine about a car crash, while a little morbid, was awesome. He played the ghost of a goofy prom king coming back to haunt his high school… or something. He needed this solo to stand out from the pack of girls, and he killed it (no pun intended). I also love that he announced that he'd rather do girls' hair than watch sports. What a cutie.
3. Elizabeth's many meltdowns. I understand that going through your parents' divorce is tough, so breaking down over that is fine. But did she actually just cry to the camera about how hard it is to be pretty? She lost me on that one.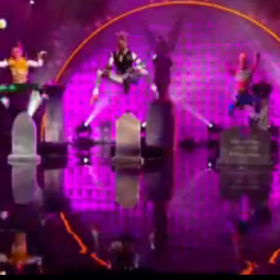 4. Bobby Newberry's hip-hop routine. Madison, Lexine and Tua rocked that graveyard, and I loved it when they jumped off the stage to get in the judges' faces. Best thing about this show: how versatile these kids are!
5. Elizabeth, Hadley and Asia doing jazz funk. Asia's existence made this piece too precious for words. She's so small! The girls played dead Michael Jackson werewolves. Wait, what? Anyway, Hadley kicked butt (don't you hate when the bully is actually really talented?), Elizabeth was good, and the judges told Asia she didn't come to life (Can someone please remind them that she's 6?). Got to say, every piece of choreography this week was better than last week. Here's hoping it keeps improving!
Your turn! Let me know what you think in the comments and check back next week for another recap.
Adam Rose/FOX
Guess who's back? Back again? The Academy's back! Tell a friend.
After one day at The Academy, the All Stars have successfully taken the Top 100 down to 62. But their work is just getting started: Now they need to keep narrowing the field to a Top 10, ultimately deciding who each will partner with during the live shows.
Keep reading...
Show less
Sara Mearns and Chase Finlay in Pontus Lidberg's "The Shimmering Asphalt" (via @saramearns on Instagram)
We've said it before and we'll say it again: New York City Ballet principal Sara Mearns is some SERIOUS #goals. Her strength and power onstage borders on superhuman. But what's extra magical about Mearns is that she really puts in the fitness and cross-training work outside of the rehearsal studio. And she's overcome her fair share of injuries. Which is why she was the perfect source for Vogue's latest ballet fitness story.
Keep reading...
Show less
Jul. 24, 2017 10:43AM EST


Get Dance Spirit in your inbox