Mar. 01, 2011 02:55PM EST
Best friends April Giangeruso, Courtney Lavine and Katie Williams go way back—so far back, in fact, it's a surprise they didn't become close until they were all dancing together in the corps de ballet at American Ballet Theatre.
Their paths crossed repeatedly before ABT. All three grew up in the Washington, D.C., area—Courtney in Fairfax, VA, April in Ellicott City, MD, and Katie in Woodstock, MD—and they ran into each other occasionally on the competition circuit. ("We stood out at competitions: We were the tall, lanky girls with big feet!" April jokes.) Courtney and Katie went on to be suite mates at a School of American Ballet summer program when they were both 12, in 2001. Later, all three girls were high school students at NYC's Professional Children's School.
But it's ABT that has turned these casual dance acquaintances into BFFs—and their friendship just keeps getting stronger.
Getting to ABT
Things started to fall into place when April and Courtney joined ABT II a month apart—April in December 2007, and Courtney in January 2008. They quickly began to bond.
Meanwhile, Katie had been promoted to the main company and was adjusting to the shift from the small company and competitive atmosphere of ABT II to being one of a multitude of dancers at ABT. "When I joined the company, most of the dancers were a lot older than me," she says. "It's a different vibe working with dancers who are your peers but aren't at the same point in their lives." So when Courtney and April were promoted into ABT in early 2010, Katie naturally gravitated toward them.
For April and Courtney, having a friend in Katie meant having someone who knew the ropes to guide them through the transition. "When I joined ABT, it was so daunting," April says. "I felt like I didn't know anything. But Katie was there to say, 'Don't worry, we've all been there.' " The girls got through their adjustment period by watching performance videos together to help each other learn choreography quickly. Katie pitched in when April and Courtney were learning ballets she'd already danced.
Katie also shared the lessons she'd learned since becoming a corps member. "I told them to stand back and watch—a lot of joining the company is figuring out what's going on," she says. "You have so much time when you're in the background instead of in the thick of things, but you can't let it get you down. It won't always be like that."
Friends Onstage and Off
April, Courtney and Katie took the stage together regularly during ABT's 2010 spring season at the Metropolitan Opera House in NYC. Among their favorite memories from that season are dancing "Kingdom of the Shades" from La Bayadère—"That one's a total community effort. Everyone's in it together," Katie says—and Act II of Swan Lake.
"Katie really helped me get through Swan Lake," Courtney says. "Standing on the sides is hard on your feet! But Katie knew what was coming. She stood in front of me and hummed to remind me to breathe, so I'd forget about the pain."
On tour, the three are each other's extended family. "It can get lonely on the road," Courtney says. "It's nice to have someone to call for dinner."
But their time together doesn't only revolve around ballet. "We hang out with non-dancers," April says. "We're in dance mode from 10 am until 7 pm every day. It's good to have a life outside of the studio."
Though they aren't roommates, the three girls spend a lot of time at each other's apartments. They watch movies. They go shopping. They watch—and argue about—sports. Last summer, they all spent a week in Ocean City, MD, and they're planning to visit Hawaii this year.
Support, Trust—and Fun
Though the girls are close, their dancing styles and tastes are very different. April has a fondness for adagio and turns, while Courtney loves grand allégro. Despite their differences, Katie points out that, "having similar body types and heights lends itself to our sharing some roles."
You might think that vying for the same spots onstage would lead to a friendly rivalry, but that's not the case.
"We're nothing but supportive," April says. "Ballet can get in your head, so it's nice to know that people have your back. We're completely honest with each other." That policy covers everything from telling each other when a leotard is unflattering to offering advice about personal issues. "We have an underlying trust," April says. "If we talk to each other, it's only between us."
That trust is the cornerstone of what takes April, Courtney and Katie from being colleagues who hang out together to being true best friends. They have fun together, both at work and in their free time, but they also genuinely care about each other, and each girl wants her friends to succeed. All of that support, plus top-notch technique and stunning stage presence? Sounds like a recipe for long careers spent dancing side by side.
On Common Ground
Ballet isn't the only thing Katie, April and Courtney have in common. They also…
…are all Aries: Courtney's birthday is March 22, April's is April 12 and Katie's is April 14.
…love sports: Courtney roots for the Washington Redskins, while Katie and April are die-hard Baltimore Ravens fans. Now that they're New Yorkers, the girls enjoy Yankees games, too.
…have Maltese dogs: Courtney's dog Oopsie lives with her in NYC, while April's dog Pebbles and Katie's dog Mo live with their respective parents.
What You Should Know About Katie
Age: 21
Training: Ballet Royale Institute of Maryland in Columbia, MD, and the Jacqueline Kennedy Onassis School at ABT. Joined ABT II in December 2006, and ABT in December 2007.
As a Dancer: "Katie has the most amazing petit allégro," April says. "I admire that, because it's one of the harder things for me. She has such a natural spring—it looks like she's on a trampoline!"
Outside the Studio: "Katie's a math whiz!" April says. Courtney adds, "She really is a genius. She even brought her Kindle to the beach."
What You Should Know About April
Age: 19
Training: The Kirov Academy in Washington, D.C., and the Jacqueline Kennedy Onassis School at ABT. Joined ABT II in December 2007, and ABT in January 2010.
As a Dancer: "I enjoy April's freedom onstage," Courtney says. "She's very honest with the audience, very real. It doesn't look at all forced when she's dancing, and that's beautiful to watch."
Outside the Studio: "April is only 19, but has 50 years of life experience!" Katie says. "I've always thought of her as much more mature than her age."
April was the first winner of the Dance Spirit Cover Model Search contest! She appeared on the cover of the October 2006 issue.
What You Should Know About Courtney
Age: 21
Training: Washington School of Ballet in Washington, D.C., and the School of American Ballet in NYC. Joined ABT II in January 2008, and ABT in February 2010.
As a Dancer: "I love the way that Courtney uses her feet," Katie says. "She has a really good wing that I'm jealous of, because I'm a sickler! Her feet are so articulate—maybe it's her Balanchine training."
Outside the Studio: "Courtney's so outgoing," April says. "She's brought both me and Katie out of our shells. She has a nothing-to-lose personality." Now that you've met April, Courtney and Katie, turn the page to meet 10 more dance best friends.
Win It
Sep. 05, 2017 12:10PM EST
Photos by Erin Baiano
It's time to get your pirouette on! From September 5th to September 30th, we're hosting a contest to find out who's the best turner of them all.

Put together your most impressive turning combo. Post a video online. Share your turns with us and thousands of other dancers around the world. And if our editors think you're the top turner, you'll win a fabulous prize.
Keep reading...
Show less
All of 18-year-old Kaylin Maggard's dreams—from scoring the title of National Senior Outstanding Dancer at New York City Dance Alliance Nationals to winning the 2017 Dance Spirit Cover Model Search—are coming true. And to anyone who knows the gorgeous contemporary dancer, that's no surprise.
From the moment the Dance Spirit staff met Kaylin, it was obvious her humility and talent would take her far. Not only did she go full-out during the photo shoot and class at Broadway Dance Center, but she was always cheering on, laughing with, and supporting her fellow CMS contestants Haley Hartsfield and Michelle Quiner. During the voting period, the social media world was abuzz with praise for her work ethic, positive attitude, and generosity.
Since her CMS trip to NYC, Kaylin's moved from her hometown of Columbia, MO, to the Big Apple for her freshman year at Juilliard, and is busy getting acquainted with the city. As for the future? She's taking it one opportunity at a time, but something tells us we'll be seeing this contemporary queen reach new heights every year.
Keep reading...
Show less
New York City principal Lauren Lovette has become an icon thanks to her emotional maturity and exceptional musicality. The 26-year-old quickly rose through the ranks after joining the company as an apprentice in 2009, reaching principal status in 2015. A Thousand Oaks, CA, native, Lovette started studying ballet seriously at age 11, at the Cary Ballet Conservatory in Cary, NC. After attending two summer courses at the School of American Ballet, she enrolled as a full-time student in 2006. Last year, she made her choreographic debut with For Clara, her first piece for NYCB. Catch her latest work this month during the company's fall season. —Courtney Bowers
Keep reading...
Show less
In our "Dear Katie" series, former NYCB soloist Kathryn Morgan answers your pressing dance questions. Have something you want to ask Katie? Email dearkatie@dancespirit.com for a chance to be featured!
Dear Katie,
I know I'm not getting good enough dance training from any of my local studios. But I'm not sure I'm ready to move away to study at a big-name school, either. How do you know when you're ready to leave home to pursue your passion?
Marisa
Keep reading...
Show less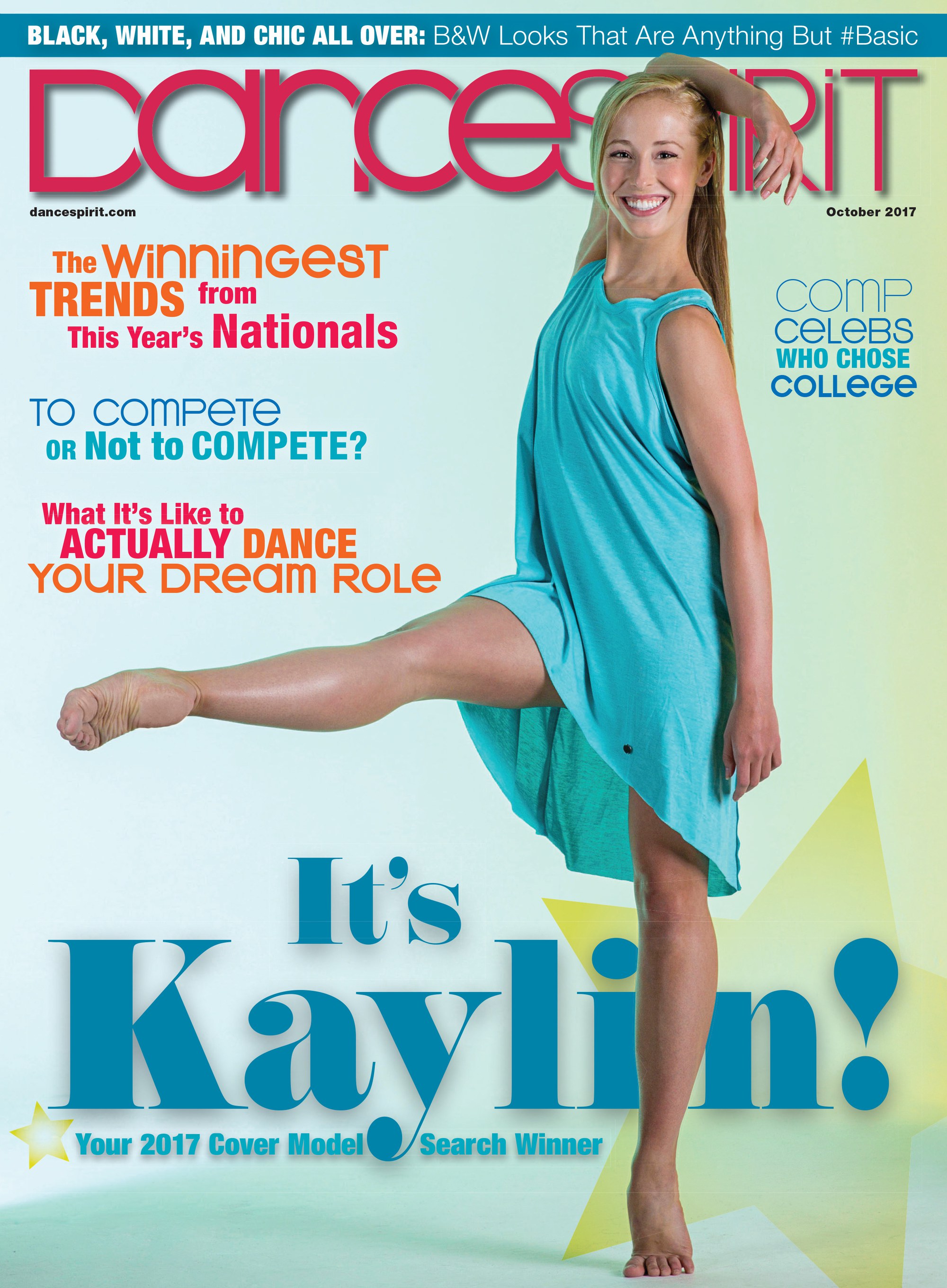 Get Dance Spirit in your inbox