Feb. 14, 2008 06:04AM EST
You have a dream: You want to dance with Alvin Ailey American Dance Theater. So you audition for the school, and (yay!) you're accepted. You spend your days taking ballet, Horton technique, Graham-based modern, Dunham, West African, jazz and yoga; every few months you perform in student showcases. All the while, four very important people have been watching you: Sylvia Waters (Ailey II's artistic director), Troy Powell (AII's associate artistic director), Denise Jefferson (director of The Ailey School), and, of course, Judith Jamison, artistic director of AAADT.
After a year (or two or three) of intensive training, Sylvia Waters and Troy Powell request a meeting with you. They sit you down and say, "We'd like you to join Ailey II." Your dream is becoming a reality.
The three young dancers on these pages—Dominique Rosales, Rachael McLaren and Rosita Adamo—are living this dream. They are members of Ailey II, AAADT's second company. Founded in 1974 by Ailey to help young dancers make the transition from classroom to stage (and give himself a place to work out new choreography), the company has always been made up of 12 of the most promising students from the school—and they are always handpicked. The dancers spend six months of the year performing and teaching across the country, and their tenure in the company is only two years (in rare instances, a dancer is asked to stay an extra year).
Dominique, Rachael and Rosita are all second-year company members. In May, they'll be let loose into the dance world. While all three fantasize about dancing with AAADT, they'll have to audition alongside everyone else who shows up, despite being trained in-house. (As alternatives, they have their eyes on companies such as Cedar Lake Contemporary Ballet and Les Ballets Jazz de Montréal.)
We caught up with these gifted ladies in the midst of a cross-country tour (phone conversations took place from hotel rooms in Elyria, OH, Mansfield, OH, and from the tour bus!). They chatted about their hometowns, what it's like dancing a master's work and what advice they have for the next Ailey wannabes.
Dominique Rosales
Watching 5'7", 24-year-old Dominique Rosales tear through space—her hair loose, her face wildly expressive—there's little doubt that she belongs onstage. But it was a serendipitous moment on a Berlin sidewalk at 15 that propelled her on her fateful journey to Ailey. "I picked up a flyer for an Ailey performance," she says. "It was all dirty, but it was a beautiful picture of people jumping. The dancers kind of looked like me and I could totally see myself in them. I thought, 'This is so cool. I'm going to be a part of this no matter what.'"
At the time, Dominique was a student at the State Ballet Conservatory in Berlin, but had already decided that she wanted to leave Germany. "I never felt 100 percent comfortable there, mostly because of my heritage," she says. (Dominique is Cuban and German.) "There's no cultural platform for black or Latin people," she explains. "I decided when I was 9 that I was going to live in NYC, and I made it happen 10 years later."
After graduating from the conservatory at 18, she joined the cast of The Lion King in Hamburg, Germany, where she was exposed to a world outside of ballet and met Aubrey Lynch, a former Ailey dancer who encouraged her to follow her dream. Dominique saved all her money to make the trip to NYC, and when it wasn't enough, she convinced BMW to sponsor her.
Six months into studying at The Ailey School, exploring everything from West African to Graham technique ("I was a mess at first because I really had no idea what any of that was!" she says), Dominique was offered a scholarship. But after two years, she still hadn't been asked to join Ailey II. "I had given up and I was really sad," she says. Then fate stepped in again—Waters offered her an apprenticeship with the company, which she gladly accepted, even though it meant learning all the repertory in four days before setting off on a national tour. Four months later, when a dancer left unexpectedly, Dominique became an official member of Ailey II.
"She has an elongated, legato quality, with a wonderful presence," Powell says. "A lot of people notice her right off the bat, even if she's in the corps in the back, because she's really statuesque." Dominique's dancing is sensual—her spine and hips move fluidly, her legs extend lusciously into space—but also precise. You can spot the years of ballet inside the steps. And while she has a distinctly feminine and sexy quality about her, she's as tall as most of the men in the company, which makes her a different kind of partner—regal, steady and slightly wild.
Rosita Adamo
Rosita Adamo, 21, is small, but shockingly strong. Onstage, her dancing has a feral quality to it; she throws herself around like a cat who knows she'll land on her feet. "Rosita's a very raw, sharp kind of dancer," Powell says. "She has a strong, striking presence and she brings a great intensity to the company."
Born in Managua, Nicaragua, Rosita was adopted at 21⁄2 and moved to Chapel Hill, NC, where she started ballet and tap at age 4. "Our progress was measured by how much glitter and how many stickers we'd get on our tap or ballet shoes," she says. She trained at the Triangle Youth Ballet, and did summer programs at American Ballet Theatre, Juilliard and American Dance Festival, where she first saw AAADT perform.
"I always loved Ailey's work and kept the company at the back of my mind," she explains. Even though her primary training had been in ballet, "I didn't feel like a professional ballet company was something I'd be happy with," she says. "When I switched to modern dance in high school, it really clicked for me." When she was auditioning for college programs, she took a Dunham class at The Ailey School. "It whipped my butt! But I loved it," she says. "It was a whole new experience. I knew that was the school I wanted to train at after high school."
After two years in the certificate program, Rosita was asked to join Ailey II—a total surprise to her. "In rehearsals, Rosita can be a little shy, but there's a back burn of fire behind her," Powell says. "When she starts dancing, it jumps out at you." Being a member of the company has been a steep learning curve: "It teaches you to take on new responsibility," Rosita explains. "You have to warm yourself up, eat right, do what's good for your body to keep it strong." She's learned to manage money, stay consistent from one performance to the next and feels lucky to be a member of the Ailey family: "I love the second company. We're all very close; we support each other."
Rachael McLaren
When Rachael McLaren, 22, took her first class at Ailey the summer after graduating from high school, she was blown away: "I completely fell in love with it," she says. "I thought, 'This is where I fit, this is where I belong, this is what I've always been looking for'—a good school that has amazing, diverse ballet dancers and a lot of different techniques. It was a pretty eye-opening experience."
Rachael grew up in Manitoba, Canada, studying at the Royal Winnipeg Ballet. "I really loved ballet specifically," she says. "I also took classical piano lessons, which is part of why I enjoyed ballet so much—the piano was something I was really comfortable with." Despite her love for ballet, she kept hitting a wall: "I repeatedly auditioned for the professional division at the school but they never thought it was the place for me," she says. She started losing heart, but at the urging of her teacher Jackie Davidson, she continued to dance.
After high school (and that first summer at Ailey), she loosened the ballet reins and decided to move to Toronto, where she performed in Mamma Mia! for two years. When her contract was up, she made a deal with herself: She'd spend one more summer at Ailey and if it didn't work out, she'd return to Toronto, find an agent and pursue commercial and theater work.
She never went back to Toronto (where she still has an apartment full of stuff!). "In NYC, I saw the diversity and I finally felt like I could fit into something," she says. That summer, she also saw Dance Theatre of Harlem perform Michael Smuin's St. Louis Woman: A Blues Ballet, the first time she'd seen black ballerinas, "with chocolate pointe shoes and gorgeous lines," she says. "I thought, 'Wow!' It was refreshing to me that maybe I could do that; maybe this wasn't the end for me. That was a huge boost."
Despite feeling reinspired, that summer proved especially painful for Rachael. Not only did she get sick with an eye condition called iritis (she lost 50 percent of her vision for two months), but her sister passed away. "It was a really, really difficult time for me," she says. "But being part of the Ailey community helped me continue to work on my dancing and move my life forward instead of getting stuck. I was in this amazing place with great people who encouraged me to follow what I was passionate about."
After a year in the school, Rachael was selected for Ailey II. Onstage, she exudes tremendous calm and focus. Her dancing is soft, clear and meticulous; she's a great technician ("The technique really excites me," she says). "She has that rare, beautiful quality—she's angelic," says Powell. "She's a very smart dancer; she's like a machine. She takes in the choreography, the movement, the corrections, and she eats it!" 
Win It
Sep. 05, 2017 12:10PM EST
Photos by Erin Baiano
It's time to get your pirouette on! From September 5th to September 30th, we're hosting a contest to find out who's the best turner of them all.

Put together your most impressive turning combo. Post a video online. Share your turns with us and thousands of other dancers around the world. And if our editors think you're the top turner, you'll win a fabulous prize.
Keep reading...
Show less
All of 18-year-old Kaylin Maggard's dreams—from scoring the title of National Senior Outstanding Dancer at New York City Dance Alliance Nationals to winning the 2017 Dance Spirit Cover Model Search—are coming true. And to anyone who knows the gorgeous contemporary dancer, that's no surprise.
From the moment the Dance Spirit staff met Kaylin, it was obvious her humility and talent would take her far. Not only did she go full-out during the photo shoot and class at Broadway Dance Center, but she was always cheering on, laughing with, and supporting her fellow CMS contestants Haley Hartsfield and Michelle Quiner. During the voting period, the social media world was abuzz with praise for her work ethic, positive attitude, and generosity.
Since her CMS trip to NYC, Kaylin's moved from her hometown of Columbia, MO, to the Big Apple for her freshman year at Juilliard, and is busy getting acquainted with the city. As for the future? She's taking it one opportunity at a time, but something tells us we'll be seeing this contemporary queen reach new heights every year.
Keep reading...
Show less
New York City principal Lauren Lovette has become an icon thanks to her emotional maturity and exceptional musicality. The 26-year-old quickly rose through the ranks after joining the company as an apprentice in 2009, reaching principal status in 2015. A Thousand Oaks, CA, native, Lovette started studying ballet seriously at age 11, at the Cary Ballet Conservatory in Cary, NC. After attending two summer courses at the School of American Ballet, she enrolled as a full-time student in 2006. Last year, she made her choreographic debut with For Clara, her first piece for NYCB. Catch her latest work this month during the company's fall season. —Courtney Bowers
Keep reading...
Show less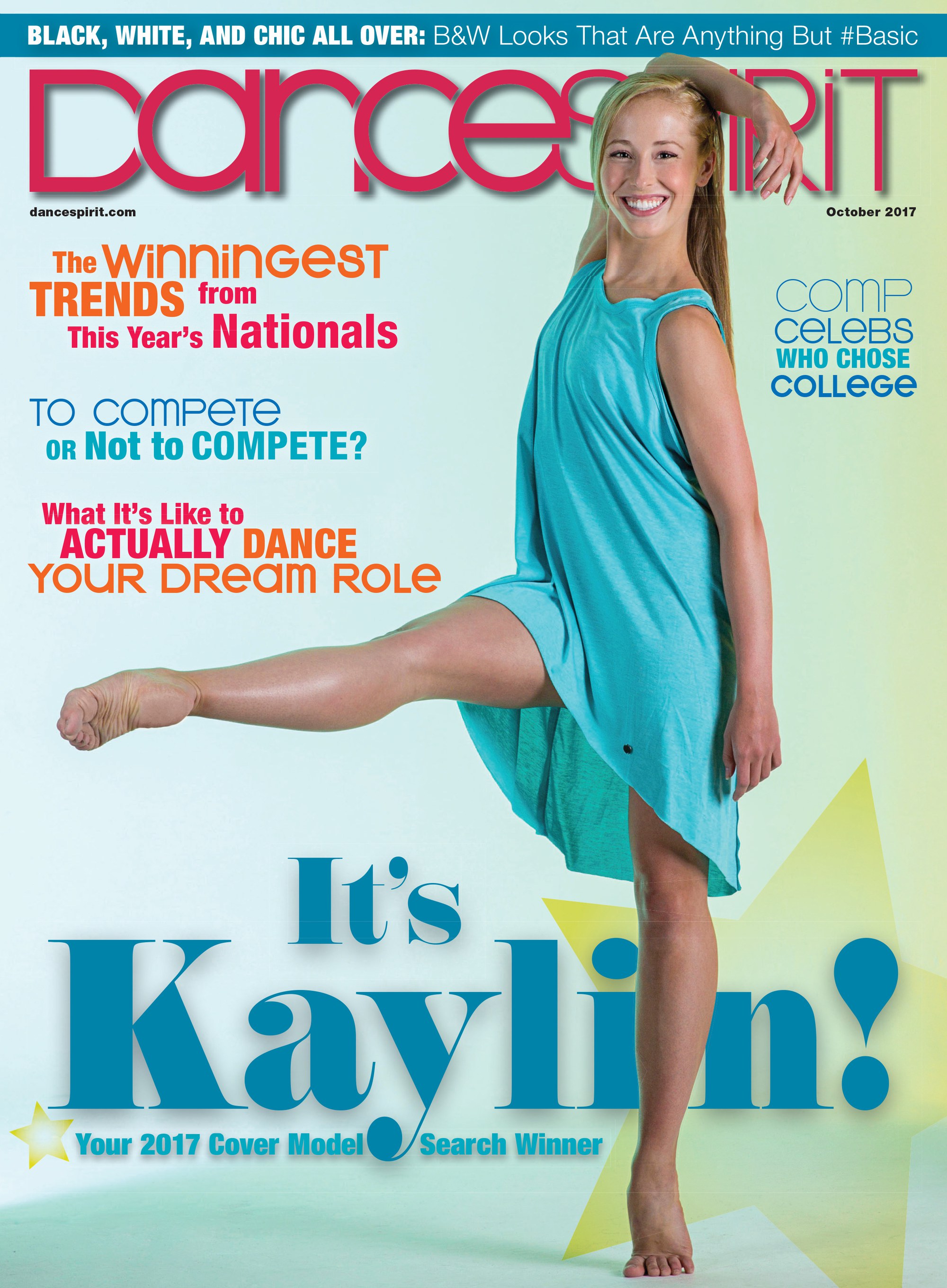 Get Dance Spirit in your inbox