Ballet
Mar. 01, 2013 10:15AM EST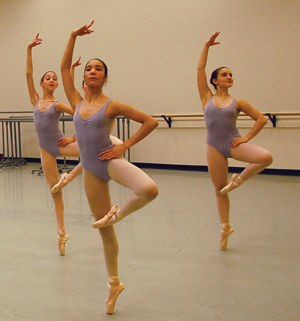 Pointe class at Maryland Youth Ballet (Alyce Jenkins)
Nothing compares to that magical moment when your teacher says you're ready for your first pair of pointe shoes. I remember bursting out of the studio doors, clutching a precious piece of paper with the phone number of the nearest pointe shoe fitter. Finally, my years of hard work had paid off!
Ever wonder why getting promoted to pointe shoes takes so long? Pointe work can be dangerous and detrimental to your feet if you start too early, so it's not a decision your teachers make lightly. Several factors have to come into play before they give you the green light.
Age and Training Schedule
For one thing, your teacher has to determine that you're at the right stage of physical development. Long foot bones start hardening between ages 8 and 14, and it's crucial that you don't start pointe work when your bones are too soft. Otherwise, you could develop growth-plate fractures, which can cause foot deformities (yikes!).
Priscilla Nathan-Murphy, lower-school principal of Houston Ballet's Ben Stevenson Academy, feels it's generally unsafe to start pointe before age 11 or 12. "Before then, your metatarsal structure is too weak to maintain the weight of your body and handle the stress of the pointe shoes," she says. "By age 12, bones are still growing and fusing, but their development is closer to being complete."
Age isn't the only factor. In order to achieve the appropriate amount of strength needed to stand on your toes, you'll need a few years of training under your belt and a commitment to several ballet classes a week. Students at Maryland Youth Ballet in Silver Spring, MD, are required to have two years of training before they can register for a special pointe preparation class. (They don't actually start pointe until the following year.) "Students should have a strong foundation of classical ballet before pointe work is added to it," says Michelle Lees, MYB's principal.
Strength
Many studios offer pointe preparation classes, as MYB does, to help students build strength in their feet, ankles and legs. Usually, class combinations involve a lot of demi-pointe and relevé, as well as resistance-band exercises, foot stretches and toe exercises. If your school doesn't offer a pointe prep class, ask your teacher for a strengthening routine you can do on your own.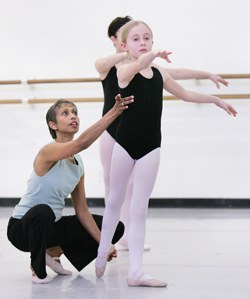 You need a strong technical foundation before beginning pointe work. Here, Priscilla Nathan-Murphy of Houston Ballet's school makes a correction in a Ballet Level 2 class. (Bruce Bennett)
But that's not all. Dancers also need killer core strength to lift up and out of their pointe shoes. (Being able to balance on demi-pointe in retiré is a good sign, according to Lees.) And don't forget the turnout muscles. "If you struggle to control your turnout when you're on flat, it will be even harder to control when you're on that 1 1/2-inch block," says Nathan-Murphy. Try simple plank exercises to build your core strength, and in class, focus on rotating from the hip to make sure you're holding your turnout correctly.
Alignment
Teachers also look for proper alignment, which requires a certain amount of natural flexibility in the foot and ankle. "When you're on pointe, there should be a
straight line from the hip, through the knee and ankle bone, to the toes," Lees says. Unfortunately, dancers with a limited range of motion in their ankles often struggle to rise onto the shoe's platform. "They will compensate to get on pointe," Lees says. "Their knees will bend, their thighs will overdevelop and their lower backs will give in." Dancers with stiffer feet may need more preparation time to improve their range of motion if possible.
On the other hand, dancers with "pretty," hypermobile feet sometimes need more time, too. "This type of dancer is usually very weak, which means she will go too far over her shoe," says Nathan-Murphy. "Teachers have to work with them carefully so they can learn how to support themselves properly."
Only when all of these factors are in place, and your teacher (and only your teacher!) gives you the go-ahead, will you be ready for the wonderful world of pointe shoes. So while you're exercising your feet and ankles, exercise some patience as well. Your body will thank you for it.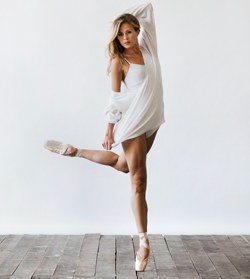 Heather Ogden (Sian Richards)
My First Pair
DS asked five pros to recall the moment they learned they could start pointe.
Angelica Generosa, Pacific Northwest Ballet
"I was 9 years old when I got my first pair of pointe shoes and I couldn't stop smiling. My teacher told me I was the exception to the rule—strong enough to start at that age. It definitely hurt at first, and dancing felt strange. But after a few private sessions with my teacher I got the hang of it and wanted to learn more."
Natalia Magnicaballi, Ballet Arizona and The Suzanne Farrell Ballet
"When I was 'promoted' to pointe shoes, it meant the world to me. I remember taking extremely good care of my shoes. I wanted them to look nice and shiny, so I would clean them with rubbing alcohol on a cotton ball."
Megan Fairchild, New York City Ballet
"I remember taking such care sewing my first pair of shoes that I needed a whole hour to do it. My school's pointe classes started slowly, with us doing exercises facing the barre for a couple minutes at the end of class. My 'tailor's bunions' (the ones by the pinky toe) popped out in the first week. But I don't remember it being painful, and my body just kind of reshaped to deal with the new stress."
Jeraldine Mendoza, Joffrey Ballet
"I was 11 when my teacher told me to buy my first pair of pointe shoes. I'm an overachiever, so when I was allowed to take pointe class, I was excited to be at the level of the older dancers whom I admired."
Heather Ogden, The National Ballet of Canada
"Pointe shoes are such a beautiful part of the ballet aesthetic, and when I got my first pair, it felt like a true breakthrough on my path to becoming a ballerina. I remember it wasn't the most comfortable feeling, but I think I was on such a high that I was willing to withstand the pain. It didn't take long to realize that there was a whole new vocabulary of dance that became available once I had my pointe shoes on. I think my first pair lasted me a year. Now I wear through a pair per day!"
Win It
Sep. 05, 2017 12:10PM EST
Photos by Erin Baiano
It's time to get your pirouette on! From September 5th to September 30th, we're hosting a contest to find out who's the best turner of them all.

Put together your most impressive turning combo. Post a video online. Share your turns with us and thousands of other dancers around the world. And if our editors think you're the top turner, you'll win a fabulous prize.
Keep reading...
Show less
All of 18-year-old Kaylin Maggard's dreams—from scoring the title of National Senior Outstanding Dancer at New York City Dance Alliance Nationals to winning the 2017 Dance Spirit Cover Model Search—are coming true. And to anyone who knows the gorgeous contemporary dancer, that's no surprise.
From the moment the Dance Spirit staff met Kaylin, it was obvious her humility and talent would take her far. Not only did she go full-out during the photo shoot and class at Broadway Dance Center, but she was always cheering on, laughing with, and supporting her fellow CMS contestants Haley Hartsfield and Michelle Quiner. During the voting period, the social media world was abuzz with praise for her work ethic, positive attitude, and generosity.
Since her CMS trip to NYC, Kaylin's moved from her hometown of Columbia, MO, to the Big Apple for her freshman year at Juilliard, and is busy getting acquainted with the city. As for the future? She's taking it one opportunity at a time, but something tells us we'll be seeing this contemporary queen reach new heights every year.
Keep reading...
Show less
New York City principal Lauren Lovette has become an icon thanks to her emotional maturity and exceptional musicality. The 26-year-old quickly rose through the ranks after joining the company as an apprentice in 2009, reaching principal status in 2015. A Thousand Oaks, CA, native, Lovette started studying ballet seriously at age 11, at the Cary Ballet Conservatory in Cary, NC. After attending two summer courses at the School of American Ballet, she enrolled as a full-time student in 2006. Last year, she made her choreographic debut with For Clara, her first piece for NYCB. Catch her latest work this month during the company's fall season. —Courtney Bowers
Keep reading...
Show less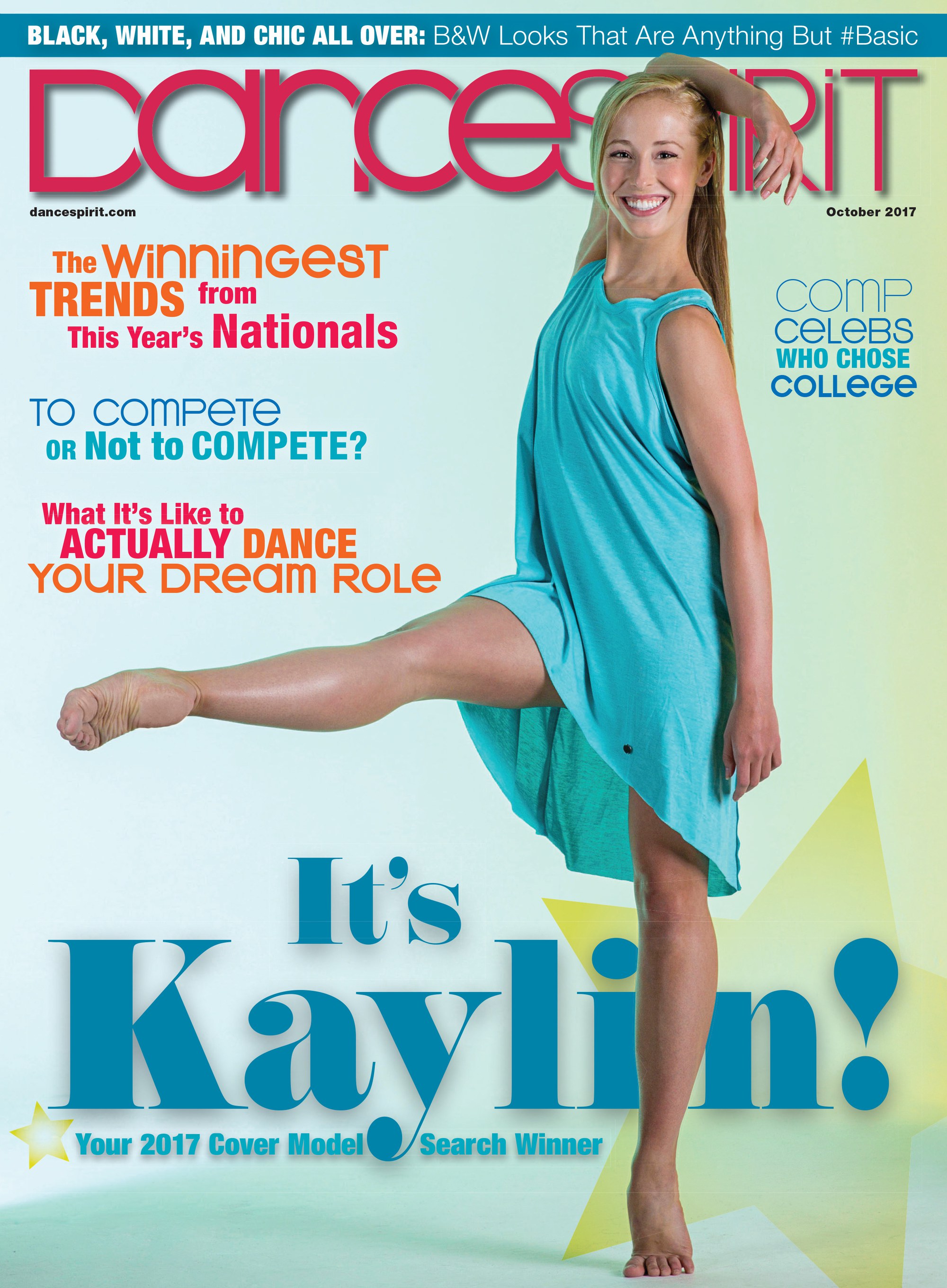 Get Dance Spirit in your inbox