"I'll Take American Ballet Theatre for $1000, Alex"
Answer:
Members of this ballet company will appear on "Jeopardy!" this Tuesday to celebrate the troupe's 75th anniversary.
"What is American Ballet Theatre?"
Correct! On May 5, one full category will be devoted to 75 years' worth of American Ballet Theatre trivia. Some of the clues will feature performance footage, and the answers will all be read by top members of the company, including Misty Copeland, Hee Seo, James Whiteside, Sarah Lane and Craig Salstein.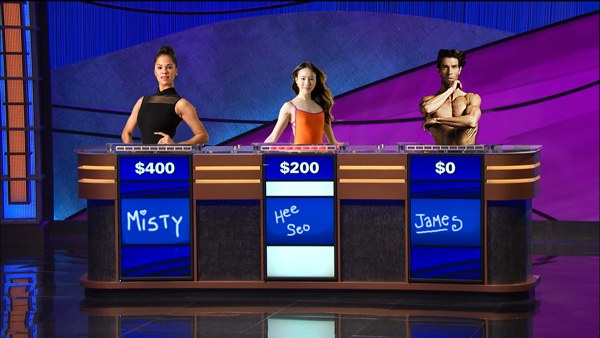 One day, Ballet Celebrity "Jeopardy!" will be a real thing... (Misty Copeland and Hee Seo by Nathan Sayers for Pointe; James Whiteside by Mark Schou Photography via ULM NYC; Photoshopping by yours truly)
Now, what does this mean for us, fellow ballet nerds? It's time to dust off our Alex Trebek–themed victory dances, because we're going to be doing a lot of correct-response gloating. Tuesday night is ours. OURS!
Still, the best "Jeopardy!" champs spend years practicing for the competition, so it wouldn't hurt us to warm up a little, too. Here are some clues from real "Jeopardy!" episodes.** (Hover—don't click—your mouse over each clue's category for the correct response.)
Ballet for $200: Princess Aurora pricks her finger on a spindle in act one of this 1890 ballet.
Ballet for $400: In 1973, Twyla Tharp choreographed Deuce Coupe for the Joffrey Ballet with music by this group.
Ballets Alex Could Star In for $600: It might be a drag, but I'll follow in the footsteps of Frederick Ashton and play one of the stepsisters in this classic.
Ballet for $800: Angel Corella of Spain is one of the "muy caliente" male stars of this U.S. company.
[Note/Hint: This clue originally aired 1998, before Corella was directing Pennsylvania Ballet. I just like to imagine Trebek saying "muy caliente!"]
Ballet for $1000: Agnes de Mille's ballet Fall River Legend was based on the case of this accused murderess.
You Should Be in a Ballet! for $2000: Your Romeo and Juliet will make everyone forget the 1965 triumph of Rudolf Nureyev & this partner.
Ballet & Opera for $2000: In a classic ballet by Adolphe Adam, she's the title peasant girl with a weak heart and a passion for dancing.
Now for the Final Jeopardy! round...
American Ballet: Characters in this 1942 ballet include the head wrangler and the champion roper.
The Oscars: Both "The Color Purple" and this 1977 ballet drama got 18 nominations—and no Oscars.
How'd you do? Tune in to "Jeopardy!" on May 5 for the real thing!
---
**As luck would have it, some very, very, very big "Jeopardy!" fans maintain a VAST episode and clue archive on the interwebs. Thanks, j-archive.com!
(From left) ABT's Erica Lall; NYCB's India Bradley; Washington Ballet's Nardia Boodoo; NYCB's Rachel Hutsell (all photos by Rachel Neville)
Misty Copeland. Her name is synonymous with exquisite artistry and outspoken advocacy. And her visibility has made a huge impact on the ballet world. Ballet's relationship with race has always been strained at best, hostile at worst. But Copeland's persistent message and star quality have finally forced the ballet industry to start talking about racial diversity, inclusivity, and representation. "The rarity of seeing ourselves represented is sad," Copeland says. "The more we see every hue and body shape represented on the stage, the more possibilities young dancers feel they have for themselves."
Keep reading...
Show less
Thinkstock
"Whole, low-fat, or skim?" The question of which milk to drink has gotten a little more complicated lately, with a wide variety of nondairy milks popping up in grocery stores. To find out which ones are worth your milk money, we had registered dietitian Monika Saigal answer some FAQs.
Keep reading...
Show less
Popular
Feb. 16, 2018 11:58AM EST
Via Jaime Guttenberg's memorialized Facebook page
Yesterday, the dance community was heartbroken to learn that Jaime Guttenberg and Cara Loughran, both 14-year-old dancers, were among the 17 people killed on Valentine's Day in the shooting at Marjory Stoneman Douglas High School in Parkland, FL.
Keep reading...
Show less
Sarah Lane as Clara in The Nutcracker (photo by Gene Schiavone, courtesy American Ballet Theatre)
American Ballet Theatre principal Sarah Lane charms audiences with her bright energy and crisp technique. The San Francisco, CA, native first started dancing at age 4 at a local community center, and at age 7 started training in Memphis, TN, at the Classical Ballet Memphis. Her family later moved to Rochester, NY, where she continued studying at the Draper Center for Dance Education. In 2002, she was a YoungArts Foundation winner in dance, allowing her to become a U.S. Presidential Scholar in the Arts. She joined American Ballet Theatre as an apprentice in 2003, was made a soloist in 2007, and was promoted to principal last fall. Recently, she originated the role of Princess Praline in Alexei Ratmansky's Whipped Cream. Catch her later this spring during ABT's Metropolitan Opera season. —Courtney Bowers
Keep reading...
Show less
You and I both know that dancing is the best thing since chocolate chip cookies! But its always nice when dance gets the recognition it deserves from non–dance-world peeps. That's why we did our own happy dance when we saw Shape magazine's article on how dancing can actually make you a better athlete.
Keep reading...
Show less


Get Dance Spirit in your inbox