"I'll Take American Ballet Theatre for $1000, Alex"
Answer:
Members of this ballet company will appear on "Jeopardy!" this Tuesday to celebrate the troupe's 75th anniversary.
"What is American Ballet Theatre?"
Correct! On May 5, one full category will be devoted to 75 years' worth of American Ballet Theatre trivia. Some of the clues will feature performance footage, and the answers will all be read by top members of the company, including Misty Copeland, Hee Seo, James Whiteside, Sarah Lane and Craig Salstein.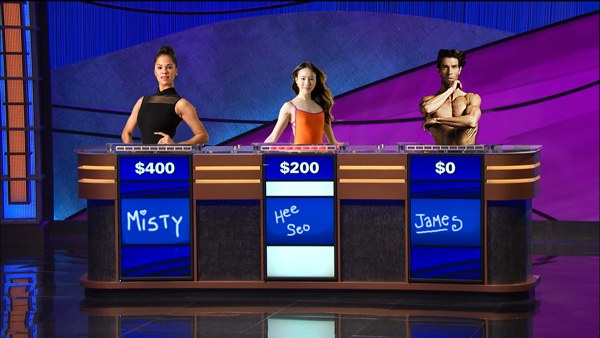 One day, Ballet Celebrity "Jeopardy!" will be a real thing... (Misty Copeland and Hee Seo by Nathan Sayers for Pointe; James Whiteside by Mark Schou Photography via ULM NYC; Photoshopping by yours truly)
Now, what does this mean for us, fellow ballet nerds? It's time to dust off our Alex Trebek–themed victory dances, because we're going to be doing a lot of correct-response gloating. Tuesday night is ours. OURS!
Still, the best "Jeopardy!" champs spend years practicing for the competition, so it wouldn't hurt us to warm up a little, too. Here are some clues from real "Jeopardy!" episodes.** (Hover—don't click—your mouse over each clue's category for the correct response.)
Ballet for $200: Princess Aurora pricks her finger on a spindle in act one of this 1890 ballet.
Ballet for $400: In 1973, Twyla Tharp choreographed Deuce Coupe for the Joffrey Ballet with music by this group.
Ballets Alex Could Star In for $600: It might be a drag, but I'll follow in the footsteps of Frederick Ashton and play one of the stepsisters in this classic.
Ballet for $800: Angel Corella of Spain is one of the "muy caliente" male stars of this U.S. company.
[Note/Hint: This clue originally aired 1998, before Corella was directing Pennsylvania Ballet. I just like to imagine Trebek saying "muy caliente!"]
Ballet for $1000: Agnes de Mille's ballet Fall River Legend was based on the case of this accused murderess.
You Should Be in a Ballet! for $2000: Your Romeo and Juliet will make everyone forget the 1965 triumph of Rudolf Nureyev & this partner.
Ballet & Opera for $2000: In a classic ballet by Adolphe Adam, she's the title peasant girl with a weak heart and a passion for dancing.
Now for the Final Jeopardy! round...
American Ballet: Characters in this 1942 ballet include the head wrangler and the champion roper.
The Oscars: Both "The Color Purple" and this 1977 ballet drama got 18 nominations—and no Oscars.
How'd you do? Tune in to "Jeopardy!" on May 5 for the real thing!
---
**As luck would have it, some very, very, very big "Jeopardy!" fans maintain a VAST episode and clue archive on the interwebs. Thanks, j-archive.com!
Win It
Sep. 05, 2017 12:10PM EST
Photos by Erin Baiano
It's time to get your pirouette on! From September 5th to September 30th, we're hosting a contest to find out who's the best turner of them all.

Put together your most impressive turning combo. Post a video online. Share your turns with us and thousands of other dancers around the world. And if our editors think you're the top turner, you'll win a fabulous prize.
Keep reading...
Show less
All of 18-year-old Kaylin Maggard's dreams—from scoring the title of National Senior Outstanding Dancer at New York City Dance Alliance Nationals to winning the 2017 Dance Spirit Cover Model Search—are coming true. And to anyone who knows the gorgeous contemporary dancer, that's no surprise.
From the moment the Dance Spirit staff met Kaylin, it was obvious her humility and talent would take her far. Not only did she go full-out during the photo shoot and class at Broadway Dance Center, but she was always cheering on, laughing with, and supporting her fellow CMS contestants Haley Hartsfield and Michelle Quiner. During the voting period, the social media world was abuzz with praise for her work ethic, positive attitude, and generosity.
Since her CMS trip to NYC, Kaylin's moved from her hometown of Columbia, MO, to the Big Apple for her freshman year at Juilliard, and is busy getting acquainted with the city. As for the future? She's taking it one opportunity at a time, but something tells us we'll be seeing this contemporary queen reach new heights every year.
Keep reading...
Show less
New York City principal Lauren Lovette has become an icon thanks to her emotional maturity and exceptional musicality. The 26-year-old quickly rose through the ranks after joining the company as an apprentice in 2009, reaching principal status in 2015. A Thousand Oaks, CA, native, Lovette started studying ballet seriously at age 11, at the Cary Ballet Conservatory in Cary, NC. After attending two summer courses at the School of American Ballet, she enrolled as a full-time student in 2006. Last year, she made her choreographic debut with For Clara, her first piece for NYCB. Catch her latest work this month during the company's fall season. —Courtney Bowers
Keep reading...
Show less
In our "Dear Katie" series, former NYCB soloist Kathryn Morgan answers your pressing dance questions. Have something you want to ask Katie? Email dearkatie@dancespirit.com for a chance to be featured!
Dear Katie,
I know I'm not getting good enough dance training from any of my local studios. But I'm not sure I'm ready to move away to study at a big-name school, either. How do you know when you're ready to leave home to pursue your passion?
Marisa
Keep reading...
Show less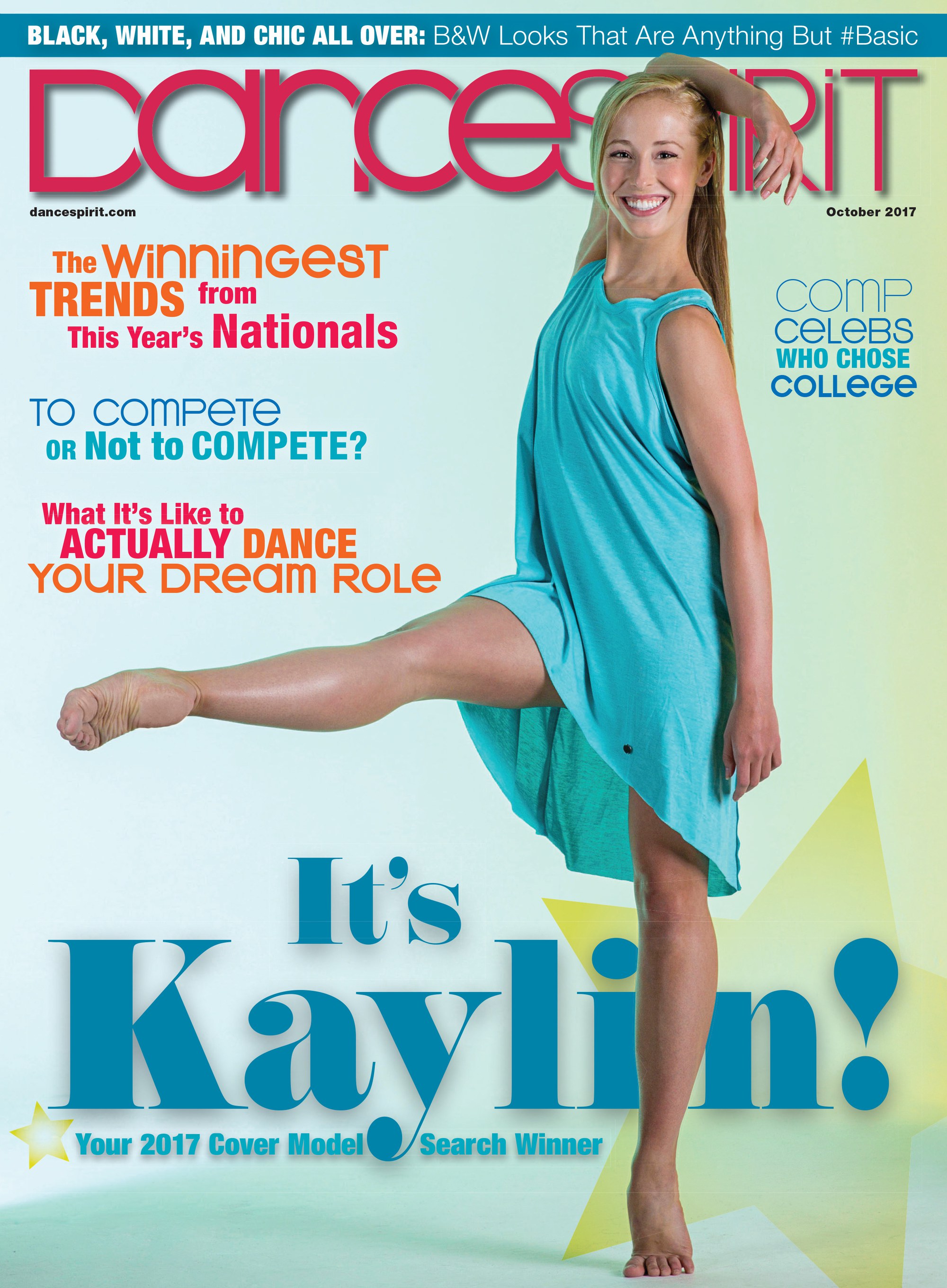 Get Dance Spirit in your inbox