An App that Lets You "Choreograph" on NYCB Dancers
There's something uniquely awesome about watching a live dance on a proscenium stage—the immediacy of it, the fact that the dancers are making something happen right in front of your eyes. But do you ever wish there were a more interactive way to experience a dance show? It'd be fun to be involved in the making itself, right?
Well, now you can be, thanks to a new app created by the 2wice Arts Foundation. Passe-Partout features New York City Ballet dancers Daniel Ulbricht and Justin Peck dancing eight different one-minute duets and solos, all choreographed by Peck. (If you're not obsessed with his choreography yet, trust us—you will be, and soon.) It gets cooler: The app allows you to mix and match those pieces, overlaying them in various combinations. There are 40,000—count 'em!—40,000 possible dances to be made, and the making is up to you.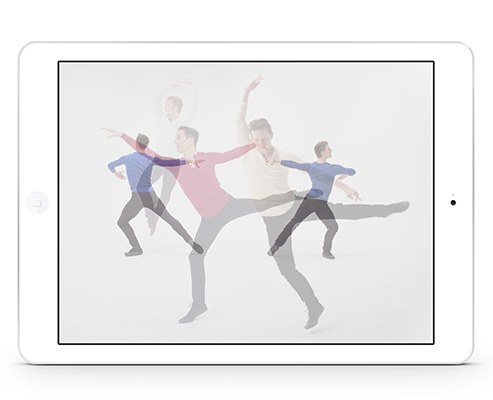 Each dance features accompaniment by former NYCB dancer Aaron Severini. The musical snippets highlight either the clarinet, piano, harp, harpsichord, marimba or percussion, and they're layerable—all of the various melodies go together, interlocking like so many puzzle pieces. So as you create your dance collage, you're creating a musical collage, too. How neat is that?
If you're having a hard time imagining what all of this actually looks/sounds like, check out the video below. (The New York Times also did a great article about it yesterday, complete with another video.) You can purchase Passe-Partout at the App Store for just 99 cents.
(via YouTube)
Remember that fabulous old-school clip of dancers tapping in pointe shoes that Tabitha and Napoleon D'umo brought to our attention back in March? As we mentioned then, toe-tap dancing was actually super popular back in the 1920s and 30s—which means there are more videos where that one came from. And because #ToeTapTuesday has a nice ring to it, we thought we'd take this opportunity to introduce you to Dick and Edith Barstow, a toe-tapping brother and sister duo from that era who are nothing short of incredible:
Keep reading...
Show less
Adam Rose/FOX
Guess who's back? Back again? The Academy's back! Tell a friend.
After one day at The Academy, the All Stars have successfully taken the Top 100 down to 62. But their work is just getting started: Now they need to keep narrowing the field to a Top 10, ultimately deciding who each will partner with during the live shows.
Keep reading...
Show less
Sara Mearns and Chase Finlay in Pontus Lidberg's "The Shimmering Asphalt" (via @saramearns on Instagram)
We've said it before and we'll say it again: New York City Ballet principal Sara Mearns is some SERIOUS #goals. Her strength and power onstage borders on superhuman. But what's extra magical about Mearns is that she really puts in the fitness and cross-training work outside of the rehearsal studio. And she's overcome her fair share of injuries. Which is why she was the perfect source for Vogue's latest ballet fitness story.
Keep reading...
Show less


Get Dance Spirit in your inbox