And Australia's Next Favorite Dancer Is...Jesse Tyler Ferguson
"So You Think You Can Dance" has undergone a number of format changes over its ten seasons—some good, some bad: Adding the All-Stars? Awesome. Male and female winners? Great. No separate results show? Meh. Elimination at the beginning of the show? Awful. Elimination no longer at the beginning of the show? Phew.
You've gotta admit, they sure keep it interesting.
But one change we're still not quite sure about is the addition of celebrity guest judges. It's really a mixed bag. You get those celebrities with real experience in the dance world: Kenny Ortega, Megan Mullally, Rob Marshall, Neil Patrick Harris, Christina Applegate and Paula Abdul, to name a few. But you also get those completely clueless celebs, who resort to common catchwords—like Great!, Inspirational!, Pretty! or Wow!—or to describing how much they like the contestants' "outfits." (Not mentioning any names here...ahem...Carly Rae Jepsen.)
But some dance-newb celebrity judges we can forgive for their lack of expertise, especially if they're cute, funny, humble and passionate about dance.
Oh, and if they happen to have red hair, three names and fashionable bow ties, we're totally sold...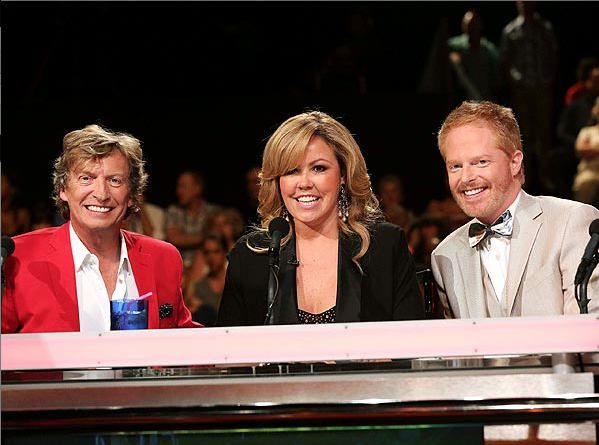 Jesse Tyler Ferguson claims his rightful spot at the "SYTYCD" judges' table. (Mike Yarish/FOX)
Yep, that's right. We're talking about "Modern Family" star Jessie Tyler Ferguson. As an avid fan, JTF really takes "So You Think You Can Dance" seriously. He believes in the show's mission—finding undiscovered talent from across the U.S.—and his critiques are just downright entertaining.
Well, last week he gave "SYTYCD" fans another reason to love him. While kickin' it in Australia filming "Modern Family," he decided to take a trip to see his good friend Paula Abdul.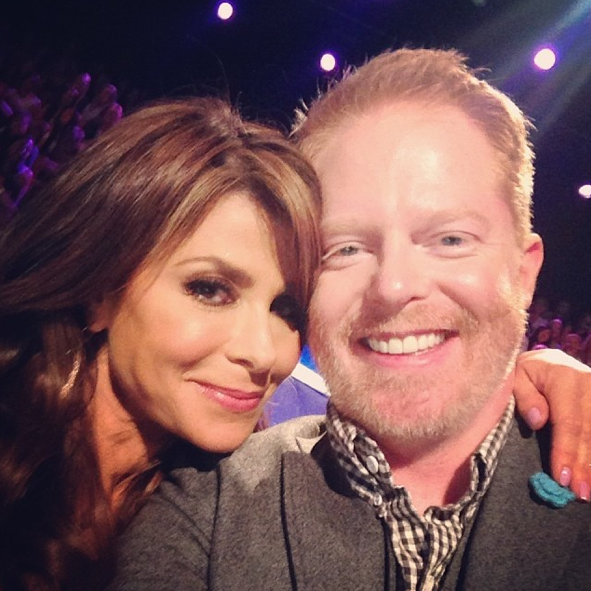 Selfie! (via JTF's Instagram)
But wait, it gets better. He didn't just visit Paula. He surprised her, showing up at the "So You Think You Can Dance Australia" auditions (where Paula was serving as a judge) for a cameo performance:
That pirouette at the end demonstrated so much commitment.
So what do you think? Could Jesse Tyler Ferguson become Down Under's next favorite dancer?
A still from Polina (Courtesy of Oscilloscope Laboratories)
The French dance film that made waves at last year's Venice Film Festival is heading stateside: Polina opens in theaters on July 21. The story follows a young Russian ballerina-in-the-making, played by dancer Anastasia Shevtsova, who's performed with the Mariinsky Ballet.
Keep reading...
Show less
Erin Carpenter as a Knicks City Dancer (David Safran, courtesy of Erin Carpenter)
The groundwork for Erin Carpenter's company, Nude Barre, began when she was a teenager. At 16, she earned a spot in the residency program at The Kennedy Center in partnership with Dance Theatre of Harlem. "We were required to wear nude—as in, our actual skin tone—tights and shoes," she remembers. Carpenter brought her "sun tan" tights and a pair of pink ballet shoes with her, because that was all she could find. But she wasn't allowed in class because her dancewear didn't match her skin. "I was so embarrassed," she says. "I looked unprepared. I just didn't have the right nudes." Her teacher explained that the dancers dyed their tights and pancaked their shoes.
Keep reading...
Show less
Via @whitneybugs on Instagram
There are dancers and then there are DANCERS! Whitney Jensen, soloist at Norwegian National Ballet, is the latter. The former Boston Ballet principal can do it all. From contemporary to the classics this prima has the technical talent most bunheads dream about. Need proof? Look no further.
Keep reading...
Show less
Jul. 19, 2017 12:53PM EST
Via YouTube
Luis Fonsi and Daddy Yankee's dance inducing hit, "Despacito," is so catchy it should probably come with a disclaimer that warns people of an uncontrollable itch to tap your feet or bob your head. Some might even feel inclined to go all out and break it down. Niana Guerrero is a prime example of "Despacito's" uncanny ability to unleash the red dressed emoji dancer within. 💃🏽 💃🏽
Keep reading...
Show less


Get Dance Spirit in your inbox