Apr. 19, 2017 10:42AM EST
April 2016 Table of Contents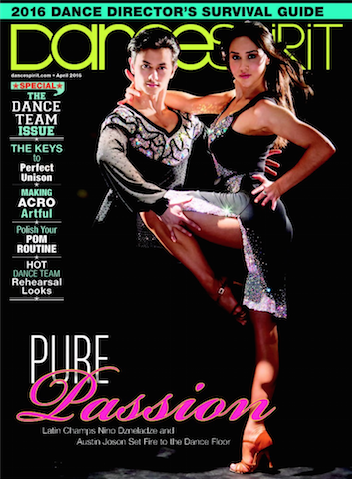 Destined for the Spotlight
Austin Joson and Nino Dzneladze, two rising stars in the competitive ballroom world, knew they were meant to dance together.
We Go Together…
Tips and tricks for achieving picture-perfect synchronization.
Tricked Out
How can you make showstopping moves look artful as well as impressive?
Pom 101
Trying out for dance team? Read these pom tips first!
2016 Dance Director's Survival Guide
The essential resource for dance-team coaches.
Be the Ultimate Understudy
You may never take the stage—but that doesn't mean you aren't essential.
Up Front: Buzz
Cincinnati Ballet celebrates female choreographers; Martha Graham Dance Company's 90th anniversary season.
Up Front: The Dirt
Alvin Ailey American Dance Theater's Jacqueline Green.
Letter to My Teenage Self
BalletNext director Michele Wiles.
Dear Katie
Kathryn Morgan answers your pressing dance questions.
Choreographer's Collage
Where Michelle Dorrance finds inspiration.
Body Buzz
Why you should ditch your dirty dancewear; Earth Day products that are good for the planet (and your body).
Mind
Is Mom your teacher? Stay sane with these tips.
Health
How to talk dance injuries with non-dance doctors.
Fashion
Dance-team looks that allow you to stand out while staying uniform during color-themed practices.
College Corner
Making the most of your college dance network.
You Should Know
Hip-hop phenom Phoenix Lil'Mini.
(From left) ABT's Erica Lall; NYCB's India Bradley; Washington Ballet's Nardia Boodoo; NYCB's Rachel Hutsell (all photos by Rachel Neville)
Misty Copeland. Her name is synonymous with exquisite artistry and outspoken advocacy. And her visibility has made a huge impact on the ballet world. Ballet's relationship with race has always been strained at best, hostile at worst. But Copeland's persistent message and star quality have finally forced the ballet industry to start talking about racial diversity, inclusivity, and representation. "The rarity of seeing ourselves represented is sad," Copeland says. "The more we see every hue and body shape represented on the stage, the more possibilities young dancers feel they have for themselves."
Keep reading...
Show less
Look at that extension! (Rick Moffitt/Wikipedia Commons)
There are plenty of current Olympic figure skaters who'd make beautiful dancers (first among them Adam Rippon, whose gorgeously choreographed long program won the internet, if not the gold). But today, as we wait for the women's figure skating competition to crown its new champions, we wanted to throw it back to one of the most beautifully balletic skaters of all time: Sasha Cohen.
Keep reading...
Show less
Popular
Feb. 16, 2018 11:58AM EST
Via Jaime Guttenberg's memorialized Facebook page
Yesterday, the dance community was heartbroken to learn that Jaime Guttenberg and Cara Loughran, both 14-year-old dancers, were among the 17 people killed on Valentine's Day in the shooting at Marjory Stoneman Douglas High School in Parkland, FL.
Keep reading...
Show less
Sarah Lane as Clara in The Nutcracker (photo by Gene Schiavone, courtesy American Ballet Theatre)
American Ballet Theatre principal Sarah Lane charms audiences with her bright energy and crisp technique. The San Francisco, CA, native first started dancing at age 4 at a local community center, and at age 7 started training in Memphis, TN, at the Classical Ballet Memphis. Her family later moved to Rochester, NY, where she continued studying at the Draper Center for Dance Education. In 2002, she was a YoungArts Foundation winner in dance, allowing her to become a U.S. Presidential Scholar in the Arts. She joined American Ballet Theatre as an apprentice in 2003, was made a soloist in 2007, and was promoted to principal last fall. Recently, she originated the role of Princess Praline in Alexei Ratmansky's Whipped Cream. Catch her later this spring during ABT's Metropolitan Opera season. —Courtney Bowers
Keep reading...
Show less


Get Dance Spirit in your inbox