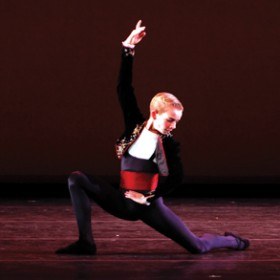 Aran Bell performing Don Quixote at Youth America Grand Prix. Photo by Nina Alovert, courtesy YAGP.
It's not just that Aran Bell can nail a picture-perfect quintuple pirouette, with a sustained relevé to finish. Or that the 13-year-old can whip out split jumps effortlessly at the end of an exhausting variation. Despite his small stature (5' 2''), Aran shines with an impossibly huge presence. He has you hooked from the moment he appears onstage, where he looks completely at home. And, OK—he's totally adorable.
At age 3, Aran (pronounced AR-an) hounded his mom for a year to let him take ballet like his older sister. After his dad, a Navy doctor, was posted to Washington, D.C., Aran commuted two hours each way to Central Pennsylvania Youth Ballet for two years. When his dad was transferred to Naples, Italy, three years ago, Aran began training under the tough Denys Ganio at Maison de La Danse in Rome, a two-hour drive from Naples.
Naturally very shy, Aran credits Ganio with pushing him to develop his stage presence. "At the beginning, the most I did was smile. Maybe," he adds, with a grin.
Now a seasoned performer, Aran loves the thrill of competing—and he has wowed audiences all over the world, including spectators at the 2011 Youth America Grand Prix finals in NYC, where he won the overall prize in the Junior Division. After touring with YAGP for two weeks, he received coaching on his Basilio Act III variation from one of the best Basilios ever: former American Ballet Theatre principal Jose Manuel Carreño.
Carreño singled out Aran for his natural talent and singular focus and invited him to attend the Carreño Dance Festival summer intensive in Sarasota, FL, last August, for more coaching. "It's so awesome," says Aran, visibly humbled when talking about working with his idol. "He's really, really good at teaching, especially Don Quixote. He knows everything."
In addition to performing at competitions and galas across Europe, Aran may choose to attend a different school next year. He has standing offers from Paris Opéra Ballet School, The Royal Ballet School, Stuttgart Ballet School and ABT's Jacqueline Kennedy Onassis School—all affiliated with companies that he says he would love to join someday. And his dream ballet? Now that he has the Basilio variation down, he wants to tackle the rest of Don Q.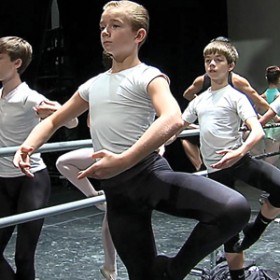 Aran at the Carreño Dance Festival. Photo by Bill Wagy, courtesy Carreño Dance Festival.
FAST FACTS:
Birthday: October 7, 1998
Most-played song on his iPod: Michael Jackson's "Beat It"
Hidden obsession: His huge collection of Nerf guns. "When I'm done dancing, I'll probably either design Nerf guns or fix them."
Favorite movie: Rambo
Still gets starstruck when: Taking class with his other idols—ABT's Ethan Stiefel and the Bolshoi's Ivan Vasiliev (a fellow lefty who Aran beat in a pirouette competition backstage
at YAGP).
Craziest prize: 7,000 euro (about $9,500) for winning a competition in Milan that he received special permission to enter (it was supposed to be for 16- to 25-year-olds)
Unwinds on the weekends by: Playing soccer, riding his bike, taking trips
Movie star moment: Aran is one of the six students profiled in the new Youth America Grand Prix documentary, First Position.
Jun. 15, 2017 02:00PM EST
From left: Haley Hartsfield, Kaylin Maggard, and Michelle Quiner (photos by Erin Baiano)
Congratulations to Dance Spirit's 2017 Cover Model Search finalists: Haley Hartsfield, Kaylin Maggard and Michelle Quiner! One of them will win a spot on Dance Spirit's October 2016 cover. Learn more about the dancers on their profile pages, and then vote for your favorite below.
We also want you to get social! We'll be factoring social media likes and shares into our final tallies. Be sure to show your favorite finalist some love on Facebook, Instagram, and Twitter, sharing their profile pages and using the hashtag #DanceSpiritCMS.
Keep reading...
Show less
via YouTube
...This clip, "'Hamilton' Choreographer Breaks Down His Moves," popped up on my YouTube recommended list. I mean, I could watch Hamilton's dance wizard Andy Blankenbuehler talk about anything. Have you read our interview with him back when he was making the moves for Bandstand? The guy is freaking fascinating.
Keep reading...
Show less
Jun. 23, 2017 03:57PM EST
via YouTube
Great contemporary choreographers and soulful singer-songwriters have always made for a perfect match. That's why we were thrilled when we found out "SYTYCD" and "Dance Moms" choreographer Kristin McQuaid created the music video for "Light the Sky," a hit single from "America's Got Talent" winner Grace VanderWaal.
Keep reading...
Show less


Get Dance Spirit in your inbox