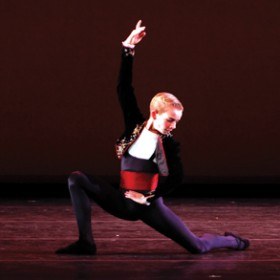 Aran Bell performing Don Quixote at Youth America Grand Prix. Photo by Nina Alovert, courtesy YAGP.
It's not just that Aran Bell can nail a picture-perfect quintuple pirouette, with a sustained relevé to finish. Or that the 13-year-old can whip out split jumps effortlessly at the end of an exhausting variation. Despite his small stature (5' 2''), Aran shines with an impossibly huge presence. He has you hooked from the moment he appears onstage, where he looks completely at home. And, OK—he's totally adorable.
At age 3, Aran (pronounced AR-an) hounded his mom for a year to let him take ballet like his older sister. After his dad, a Navy doctor, was posted to Washington, D.C., Aran commuted two hours each way to Central Pennsylvania Youth Ballet for two years. When his dad was transferred to Naples, Italy, three years ago, Aran began training under the tough Denys Ganio at Maison de La Danse in Rome, a two-hour drive from Naples.
Naturally very shy, Aran credits Ganio with pushing him to develop his stage presence. "At the beginning, the most I did was smile. Maybe," he adds, with a grin.
Now a seasoned performer, Aran loves the thrill of competing—and he has wowed audiences all over the world, including spectators at the 2011 Youth America Grand Prix finals in NYC, where he won the overall prize in the Junior Division. After touring with YAGP for two weeks, he received coaching on his Basilio Act III variation from one of the best Basilios ever: former American Ballet Theatre principal Jose Manuel Carreño.
Carreño singled out Aran for his natural talent and singular focus and invited him to attend the Carreño Dance Festival summer intensive in Sarasota, FL, last August, for more coaching. "It's so awesome," says Aran, visibly humbled when talking about working with his idol. "He's really, really good at teaching, especially Don Quixote. He knows everything."
In addition to performing at competitions and galas across Europe, Aran may choose to attend a different school next year. He has standing offers from Paris Opéra Ballet School, The Royal Ballet School, Stuttgart Ballet School and ABT's Jacqueline Kennedy Onassis School—all affiliated with companies that he says he would love to join someday. And his dream ballet? Now that he has the Basilio variation down, he wants to tackle the rest of Don Q.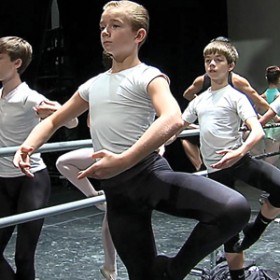 Aran at the Carreño Dance Festival. Photo by Bill Wagy, courtesy Carreño Dance Festival.
FAST FACTS:
Birthday: October 7, 1998
Most-played song on his iPod: Michael Jackson's "Beat It"
Hidden obsession: His huge collection of Nerf guns. "When I'm done dancing, I'll probably either design Nerf guns or fix them."
Favorite movie: Rambo
Still gets starstruck when: Taking class with his other idols—ABT's Ethan Stiefel and the Bolshoi's Ivan Vasiliev (a fellow lefty who Aran beat in a pirouette competition backstage
at YAGP).
Craziest prize: 7,000 euro (about $9,500) for winning a competition in Milan that he received special permission to enter (it was supposed to be for 16- to 25-year-olds)
Unwinds on the weekends by: Playing soccer, riding his bike, taking trips
Movie star moment: Aran is one of the six students profiled in the new Youth America Grand Prix documentary, First Position.
Apr. 11, 2017 04:18PM EST
Welcome to the new dancespirit.com—a completely addictive way to enjoy our top-notch dance content.
It's got all the stuff you've always loved: gorgeous images of your favorite dancers, internet-breaking viral videos, thoughtful technical advice for dancers of all styles, effective health and wellness tips, crazy-good giveaways. And now there's a lot more of it—right at your fingertips.

We've invested in the latest technology to produce a brilliant digital experience, using the powerful tools for social discovery and engagement developed by our partner, RebelMouse. They know what they're doing, guys.
Produced by the editors and writers you trust. Powered by RebelMouse. BOOM.
Team Girl Group vs. Team Boy Bands

I'm a sucker for lots of things, but specifically coordinated outfits, giant neon signs that say "Ladies Night" and the iconic TLC masterpiece, "No Scrubs." Seeing as the Team Girl Group dance had all of those things, it's getting a big shoutout. Team Boy Bands gets one, too, because they were equally as amazing, and it's not their fault they had #NoScrubs to dance to.
Normani and Val's Salsa

To say this dance was a highlight is an understatement—Normani can bring the heat. She and Val were living their best life out there. Her dancing skills are amazing to begin with, but her performance skills are literally beyond. The duo easily executed some super-tricky partnering and flips for a score of 38/40.
Heather and Maks' Rumba

If you look up "Perfect Rumba," chances are the example would be this video. Maks Chmerkovskiy is the definition of an attentive and trustworthy partner. Seriously, this dance was incredible. Every moment was picture-perfect, every flick of the wrist and développé was precisely timed, and every step was fused with musicality. Naturally, the judges felt the same way and gave the pair a well-deserved 40/40.
But apparently, perfect scores mean nothing and everything is a lie: Heather Morris and Maks Chmerkovskiy, aka The Couple That the Entire World Thought Would Win, were eliminated. It's a whooooole new ball game in the ballroom, so be sure to catch next week's recap—it's bound to be a very interesting episode after this shake-up.
Apr. 25, 2017 01:26PM EST
Gallim Dance (photo by Lucas Chilczuk)
NYC's Metropolitan Museum of Art has long had an impressive collection of still-life art about dance (much of it by a little-known fellow named Edgar Degas). But The Met as a hot dance performance venue? That's a pretty new thing—and a very, very awesome thing.
Last fall, as we were prepping to shoot our cover story on Andrea Miller's gorgeous Gallim Dance, the company gave a beautiful, innovative performance in The Met's Temple of Dendur. And now the museum has named Miller one of its 2017-18 Artists in Residence. That's especially major because Miller is the first-ever choreographer to hold the AIR title.
So, what does being a Met AIR mean? Next season, Miller will create several works that take advantage of The Met's iconic spaces—the first of which, Stone Skipping, will be performed back at the Temple of Dendur in October. You can find more info about the performance here.
Gallim's dancers won't be the only ones performing at The Met next season. Further solidifying its commitment to live dance, the museum has announced that choreographers Faustin Linyekula and Eiko Otake will also create pieces for its various spaces, and that Monica Bill Barnes' fabulous Museum Workout will return for another run (literally).
How cool is that?

Apr. 24, 2017 08:29PM EST
Even if you've never been to L.A., you probably have a solid idea of what class at Millennium Dance Complex in North Hollywood is like. You can picture the vibrant red walls; you can feel the waves of dancers feeding off one another's explosive energy. Why? Because you—and millions of other dance fans—have watched countless class videos filmed at the center.

Class videos are a VIP pass, taking dancers and non-dancers alike inside the commercial world's hottest studios. And people are watching them obsessively, sharing them on platforms across the web, helping them rack up tens of millions of views. We turned to some of the industry's key players to find out more about what makes the class video format uniquely appealing.
Photo by Evolve Photo, courtesy Matt SteffaninaMatt Steffanina teaching at The Pulse
YouTube Universe

The viral class video is a pretty recent phenomenon. It's been almost a decade since choreographer Matt Steffanina began posting videos on YouTube, but it was only five years ago that he started to have his class videos go viral. "And I was one of the first dancers to get real recognition on YouTube," he says. "It's really blown up outside the dance world in the last two years." He attributes that explosion to the rising popularity of reality entertainment. "People are looking for that raw, authentic, unedited feel," he says. "They're more endeared to real people than production effects."

These days, choreographer Jojo Gomez likes to think of YouTube class vids as the new MTV for commercial dancers. "Tons of people started dancing in the '80s after watching Michael Jackson's music videos on TV," she says. "Now, class videos are doing the same thing, online."

Courtesy Jojo GomezJojo Gomez leading a class at Millennium in Salt Lake City, UT
In fact, Gomez says class videos inspired her to move to L.A. to pursue a career in commercial dance. While she received excellent training through a competition studio in her Massachusetts hometown, she felt like something was missing: "I'd procrastinate from homework by watching YouTube videos of Tricia Miranda, Kyle Hanagami, Janelle Ginestra and WilldaBeast Adams' classes in L.A.," she says. "There was something raw about their style, and I craved that energy in the studio."

Building a Brand

Starring in a class video is a potent—and relatively simple—way for dancers to earn major recognition. In 2013, Gomez appeared as a featured dancer in Adams' vid to Beyoncé's "Upgrade U," filmed by Brazil-Lionheart. Within a few days, the class video had more hits on YouTube than the official music video. "Everyone knew who I was after that," she says. "I was the blonde in the 'Upgrade U' video."
But class videos are even greater assets to the choreographers behind the steps, giving them an inexpensive way to develop a large following. When Gomez discovered her passion for teaching and choreography, she knew to turn to YouTube: "I began teaching in smaller schools in Orange County and posting 30-second clips of my choreo," she says. Eventually, she developed enough of a reputation to land a full-time teaching slot at Millennium, where she regularly puts out videos with popular producer Tim Milgram.

As a primarily self-taught dancer from a small town in Virginia, Steffanina also paved his way to teaching jobs by posting choreo clips. "I started getting contacted by East Coast schools that wanted me to teach," he says. "That's when the light bulb really went off." He continued building his brand through YouTube, and began to get commercial as well as teaching work thanks to his online presence. Singer Natalie LaRose and Taboo, from the Black Eyed Peas, are among the artists who've hired Steffanina after seeing his class videos.

Energy Is Everything

What is it about class videos that makes them so universally addictive? Dancer Allison Buczkowski, who frequently appears in choreographer Tricia Miranda's vids, chalks it up to energy. "The videos capture the vibe of the last 10 minutes of class, when we're done stressing over the steps, and we're just having a blast celebrating dance," she says.

Courtesy Allison Buczkowski Allison Buczkowski in class
Buczkowski admits that the energy in the class isn't always as explosive as it appears on screen. "But you learn to turn it on for camera," she says. Choreographers like Miranda, Adams and Gomez often have the dancers form an "energy circle," occasionally featured in the videos, before the final run-throughs of a combo. "It really helps hype everyone up," Buczkowski says. Fellow class-video favorite Kaelynn "KK" Harris agrees: "A good inspirational pep talk pre-filming helps us enter the choreographer's world and really vibe off one another," she says.

Keepin' It Real

The other key to a real, raw class video is maintaining the integrity of the class, even though cameras are present. "Filming can compromise the class experience if dancers come to be seen rather than to learn," Harris says. "YouTube fame shouldn't get in the way of the dancers' pure love of dancing."

For that reason, choreographer Eden Shabtai tries to get a two-hour slot when she's planning to film, so that filming doesn't eat into class time. "It's important to remember that it's not about the video," she says. She relies on Milgram's vision so that she can focus her efforts on teaching. "If people are truly learning and having fun, it'll make a good video."
Combos for the Camera

How do choreographers craft class combinations that read on film? Shabtai, who first blew up on YouTube with her combo "Needed Me" and has also worked on music videos, live tours and TV shows, says the formula is similar to choreographing for music videos—both require eye-popping steps and lots of energy—but there are a few adjustments. "In music videos, people are looking for signature moves and repetition," she says. A repeated sequence can visually correspond to the song's chorus, for example. In class videos, there's less of an emphasis on recurring moves. Instead, the focus is on creativity and abundance. "I try to put more choreography into class videos, without compromising moments of stillness," she says.
On-Film Firecrackers
How do you land the center spot in a viral class video? The key is to master the basics before you add personal flair. "For the first hour and 15 minutes of class, I do the combo cut-and-dry to get the choreo the way the choreographer intends," says dancer Allison Buczkowski. "When it comes time to film, then I may add extra hair flips, and more of my own personality. But you can't train that way the whole class. You don't want to alter the choreography just to be seen."
Dancer Kaelynn "KK" Harris agrees that going over the top all of the time isn't the best approach. She recommends focusing on the combo's musicality instead. "People gravitate to dancers who make them feel the music coming to life," she says. "It's what makes them want to get up and dance too!"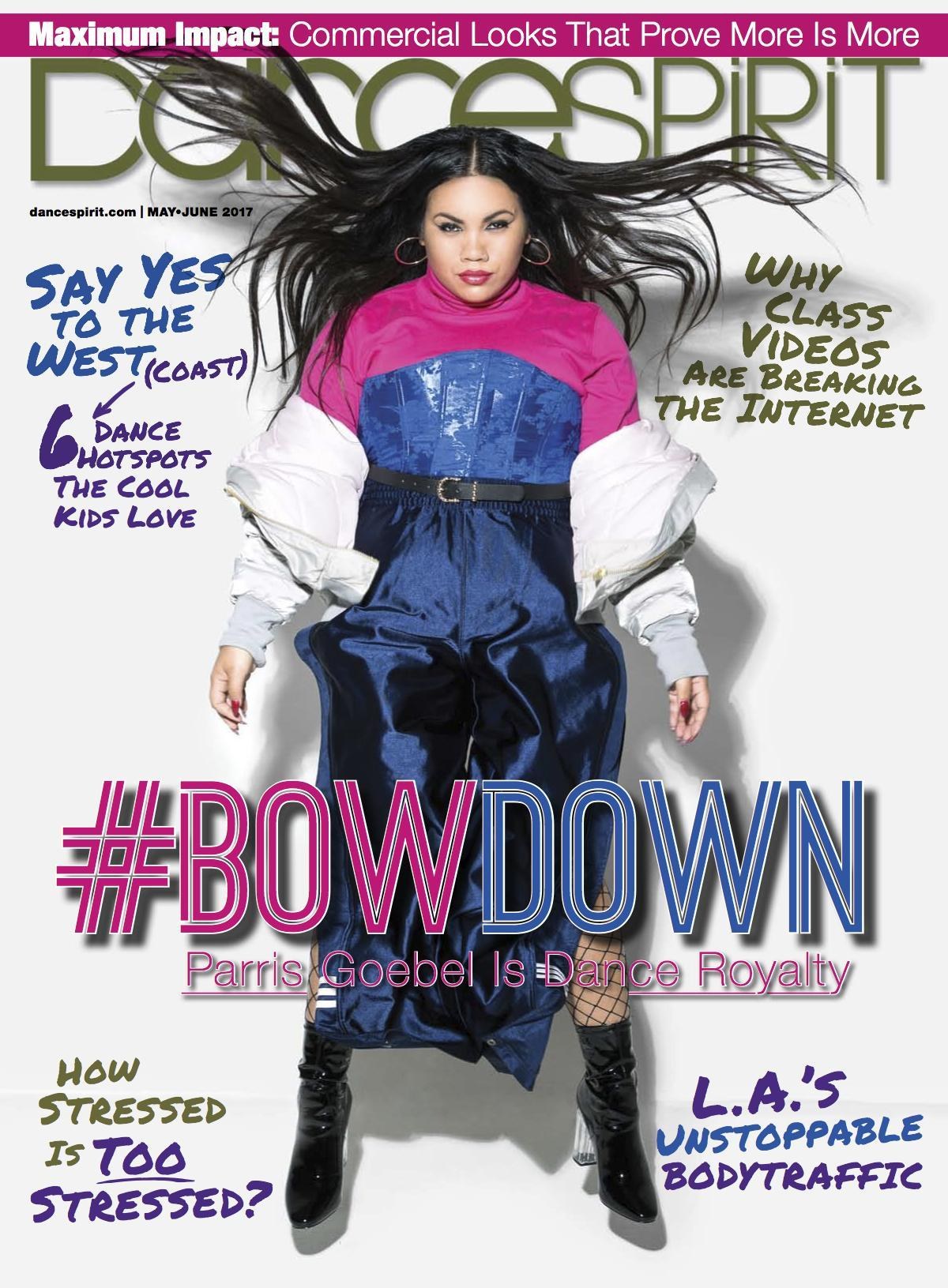 Featured College Dance Program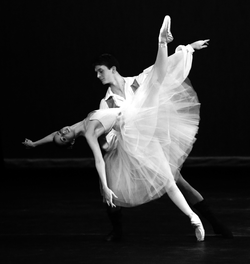 Get Dance Spirit in your inbox