Musical Theater
01 July 2014
Whether it's your first Broadway audition or your 171st, you'll most likely leave wondering whether you did everything you could to nab the role. You'll want to be sure you caught the eyes of the casting team—and for all the right reasons.
You've heard of the Seven Deadly Sins: pride, envy, gluttony, lust, wrath, greed and sloth. Well, with the help of a big-time casting director and a couple of Broadway veterans, Dance Spirit has come up with a list of the Seven Deadly Broadway Audition Sins: self-doubt, defeatism, inattentiveness, unpreparedness, ignorance, lack of training and stiffness. Avoid these or pay the ultimate price: the dreaded rejection.
1. Self-Doubt
When you walk into an audition, a crazy-flexible dancer stretching in the corner will probably make you nervous. And when you hear a fantastic singer belting in the next room, your instinct may be to turn and run. But getting psyched out can sabotage your audition. "As soon as you start watching what everyone else is doing, you'll begin second-guessing yourself," says Broadway dancer Samantha Sturm. "Know that you deserve to be in that room as much as everyone else." Sturm, who's performed in shows including The Addams Family, Nice Work If You Can Get It and Matilda: The Musical, recommends putting on headphones as soon as you enter the audition site to help you focus. That way, when it's your time to shine, you can perform as if you're the best in the room.
According to Benton Whitley, a casting director and partner with Duncan Stewart and Company who's currently responsible for casting Chicago, that extra boost of self-confidence can push an auditioner from a "maybe" to a "definitely." "I'm not necessarily looking for the next Kristin Chenoweth," he says. "But why would I offer a job to someone who can't confidently sell the package they have?"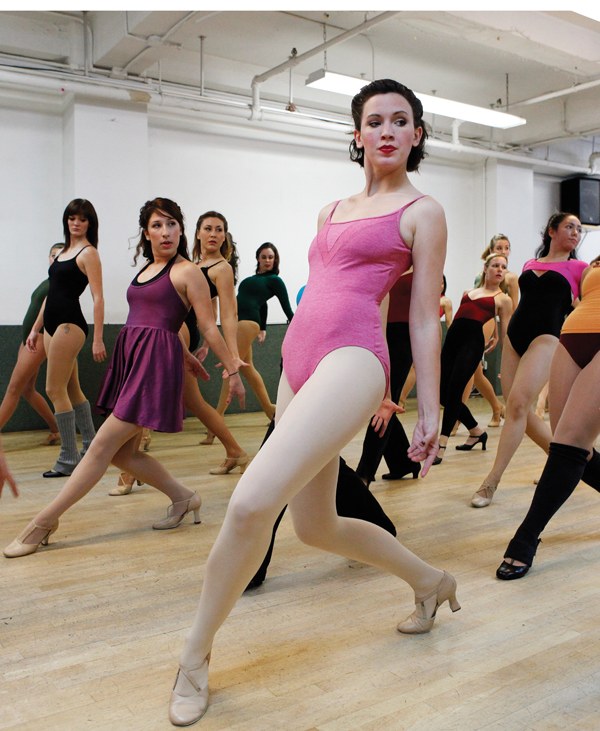 For these dancers auditioning for A Chorus Line, attention to detail is crucial. (Photo by Rachel Papo, courtesy Dance Magazine)
2. Defeatism
If you make a mistake during an audition, your instinct may be to wave the white flag. But messing up can actually give you a competitive edge—if you handle it well. "Technical errors happen nightly on a Broadway stage, so it's helpful to see how you handle it in an audition," Whitley says. "I want to see if you can move forward without insecurity or embarrassment."
When 16-year Broadway veteran Kristen Gorski-Wergeles was first starting out, she asked to restart her song after making a mistake during a vocal call. To this day, the ensemble dancer (and former assistant dance captain) for Wicked says it's her biggest audition regret. "I shouldn't have been so apologetic," she says. "If you mess up, never get upset. Embrace it and move on."
3. Inattentiveness
Prove you're great to work with by making the casting director's job as easy as possible—which means paying attention to directions. Watch the choreography carefully, and try to pick up every detail. Most of all: Listen to what the directors tell you to do when you're not dancing. Whitley notes that at every audition, he asks dancers not to mark the combination on the sides of the studio, and at every audition, he sees dancers ignoring his instruction.
4. Unpreparedness
The "business" part of "show business" can be one of the most crucial make-or-break aspects of an audition. Show your professionalism the moment you walk in: Have your resumé, headshot and music in hand, and be sure you're dressed properly. "It all goes back to following directions," Whitley says. "I'll say 'Bring heels and tap shoes,' or 'Show up at 10 am wearing black,' and performers will still show up incomplete. I've watched it cost people jobs time and time again."
5. Ignorance
Know the show you're auditioning for. If it's already on Broadway, go see it, or, at the very least, rent the movie or listen to the soundtrack. This prep will dictate everything from the makeup you apply to the song you prepare. "You can't sing a classic Gershwin tune for a rock musical," Sturm says. "It just doesn't go." That being said, don't show up in full costume. Be in the style of the show—all black for Chicago or bright colors for Rock of Ages—but don't look like you just stepped offstage.
And don't forget to research the show's creative team. A casting director will take note if you can refer to him by name on the day of the audition, and knowing some of the past shows a choreographer has worked on can give you an idea of what to expect.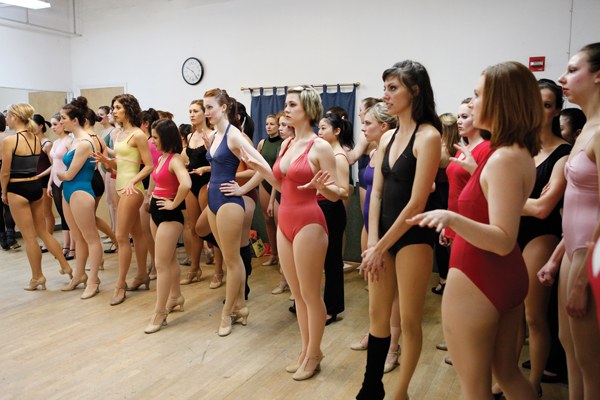 Pay attention even when you're not dancing—the director is taking note. (Photo by Rachel Papo, courtesy Dance Magazine)
6. Lack of Training
"At the end of the day, you need the technique to book the job," says Gorski-Wergeles. That includes singing, too. "I've seen extremely talented dancers who are the perfect look for a show, but when it comes to the singing part of the audition, they blow it," Whitley says. "I can tell they're not putting the same work into the singing element as they have for dance." Up your game by working with a vocal coach to learn the fundamentals of pitch, tone and musicality.
7. Stiffness
"Most choreographers will understand if you can't remember every single detail," Sturm says, "but they need to see your personality. What can you bring to their choreography and how does your style match with theirs?" Casting directors are hiring a person—not a robot. So be yourself on audition day.
And even if you don't get the part, Gorski-Wergeles says, remember that the positive exposure you gain at each audition can still help book a job down the road. "It's always about what they're looking for in the moment," she says. "You may not be right for something now, but you'll be right for something else."
Photo by ABC/Eric McCandless
And that's a wrap on "Dancing with the Stars" Season 24, ladies and gents! It's certainly been one for the books. From injuries to shocking eliminations, let's just say Season 24 has had its emotional ups and downs. But despite all that, the season made for some seriously phenom dancing and some killer performances. And as usual, we've loved watching every second of those cha chas, foxtrots, and waltzes.
Let's get right to the exciting stuff, though: Last night's winning couple of "Dancing with the Stars" is...
Keep reading...
Show less
May. 23, 2017 01:11PM EST
Via @quinn_starner on Instagram
Nearly 80,000 dance-loving Instagram followers can't be wrong: Quinn Starner is one to watch. And what's just as impressive as the 15-year-old's rabid online following is her ever-growing list of competition accolades. Quinn, who trains at Indiana Ballet Conservatory and Stars Dance Company, been named first runner-up at The Dance Awards for two years in a row (as a junior and a teen); was the 2016 West Coast Dance Explosion Teen National Champion; earned first place in contemporary and third place in the classical division at Youth America Grand Prix Regionals in Pittsburgh last year; has won the Grand Prix Award at ADC|IBC; and was a gold medalist at World Ballet Art Competition Grand Prix. Plus, she made it to the Academy round on last year's "So You Think You Can Dance: The Next Generation," and has performed as Clara in the Radio City Christmas Spectacular. Here's what Quinn has to say about her favorite songs, teachers, and career highlights.
Keep reading...
Show less
May. 23, 2017 02:34PM EST
NBC
Want a chance to get personally involved in the HOTLY anticipated TV show "World of Dance"? Of course you do. That's why J. Lo. and the rest of the "WOD" team have launched an interactive version of the upcoming NBC series that lets Snapchatters get in on the action.
Keep reading...
Show less
May. 22, 2017 02:07PM EST
On Saturday morning, Russell Horning—aka 15-year-old Instagram king @i_got_barzz—was already kind of famous. His admittedly bad but weirdly mesmerizing dance videos had earned him shoutouts from the likes of Rihanna (and dance tributes from the likes of Josh Killacky).
But by Sunday morning? By Sunday morning, Russell Got Barzz had reached an entirely different level of memedom. Because Katy Perry tapped the teen—signature backpack and all—to perform "Swish Swish" with her on "Saturday Night Live." And the internet lost its darn mind.
Keep reading...
Show less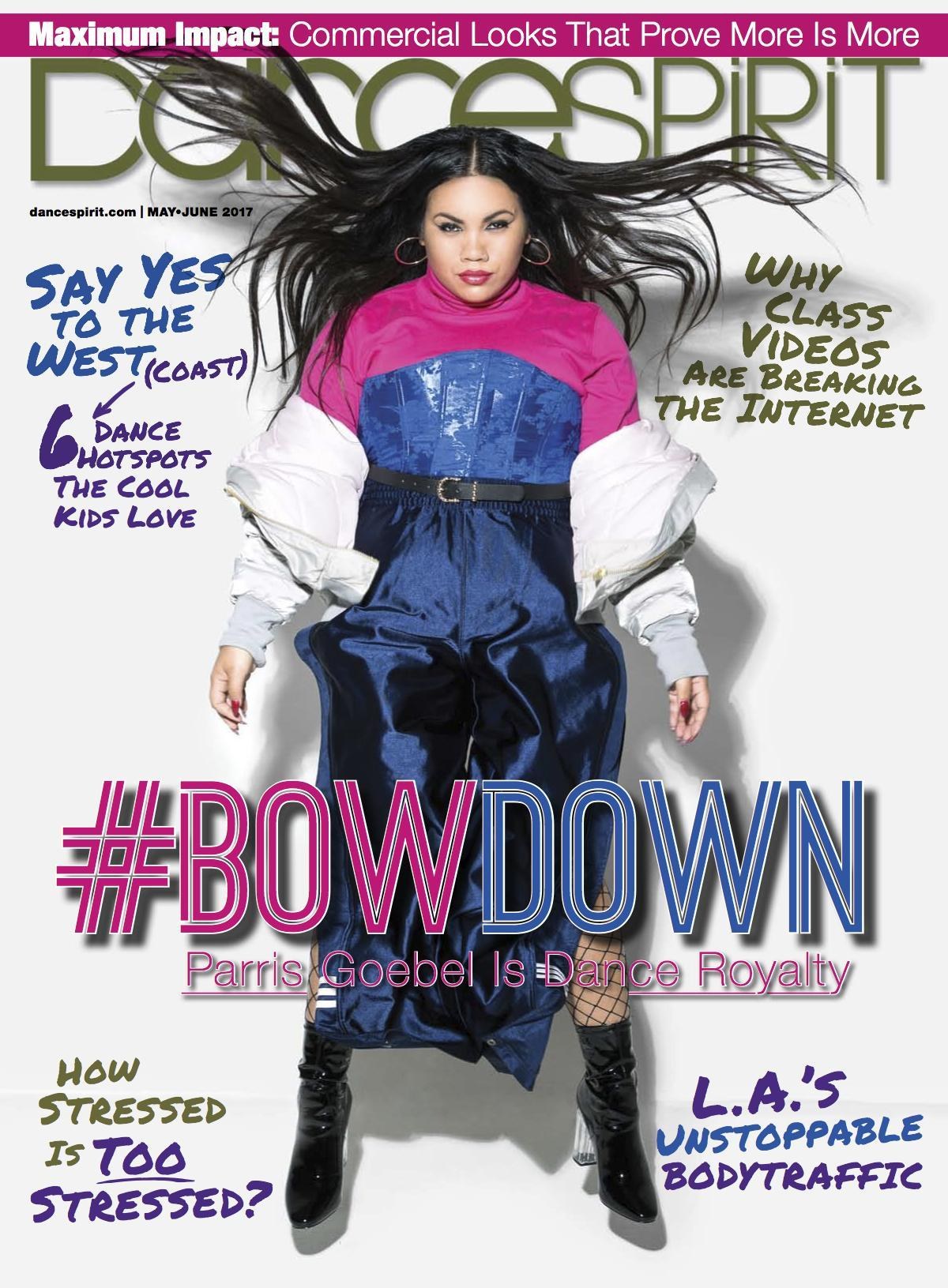 Get Dance Spirit in your inbox