Are the "Health Foods" You Eat Actually Healthy?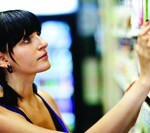 Photo by istock
As a dancer, you know that eating right gives you the energy you need to get from morning classes to the evening's final curtain call. You're pretty sure that your go-to snack of vitamin-enriched water and a protein bar has the nutrition your body requires. But did you know this snack is actually full of sugar and empty calories, which provide little nutritional value? Even worse, eating too many foods fortified with extra vitamins and minerals can lead to health problems, including muscle aches, constipation and bloating—the last things you want when you have to put on a leotard and tights!
With all the "healthy" fare out there, it can be difficult to make informed choices about the food you eat. Here are some common foods and drinks that promise nutrition, but may not deliver in all of the ways you'd expect. We've also included alternatives that offer similar benefits without the hidden drawbacks.
Juice Drinks
Why you think they're healthy: According to nutrition recommendations, you need four to five servings of fruit per day, so you figure drinking fruit juice must be a great way to meet your daily requirement.
But really: Most fruit juices contain hardly any fruit. "That word 'drink' is the qualifier," says Peggy Swistak, a consulting nutritionist at Pacific Northwest Ballet. "If the label says 'juice drink,' it usually means that only 10 percent of the drink is juice—the rest is mostly sugar and water."
Instead: Look for labels that say "100-percent juice," not "juice drink," "juice beverage," or "juice cocktail." Or just eat the actual fruit: You'll get more fiber, feel more full and consume fewer calories. (A glass of orange juice is about 110 calories, but a medium orange is only about 60 calories.)
Fat-Free Dairy Products
Why you think they're healthy: Calcium is important for keeping your bones healthy, and if it's low-fat, that's a bonus.
But really: If you reach for fat-free milk to get your calcium fix, you're probably not reaping the benefits you expect. Your body needs vitamin D to process calcium, and vitamin D is a fat-soluble vitamin. So make sure you have a little fat in your diet.
Instead: Choose low-fat yogurt and low-fat cheeses like mozzarella and provolone. Jan Hangen, a registered dietitian in the sports-medicine department at Children's Hospital in Boston and a nutrition consultant at Boston Ballet, recommends drinking one-percent milk. "You get very few extra calories, but you get vitamin D and longer-lasting energy because the fat delays calorie absorption," she says.
Vitamin-Enriched Water
Why you think it's healthy: Hydration is critical for regulating body temperature, lubricating joints and preventing cramps. If you have to hydrate all day long, why not choose water enriched with vitamins in order to reap the most benefits?
But really: One 20-ounce bottle can have as many as 150 calories. "I had one student who drank six VitaminWaters a day, but she was also trying to watch her weight," says Swistak. "She was taking in 800 calories just from water!"
Instead: Calorie-free versions of these drinks are on store shelves, but plain water is still your best bet. Drinking too many fortified beverages can put you at risk for vitamin imbalances. According to Hangen, the risk is especially high if you also eat a lot of other fortified foods, such as cereal and protein bars. If you just love the taste, limit yourself to one bottle a day.
Frozen Dinners
Why you think they're healthy: A frozen meal is a quick way to get in a balanced dinner on a busy day.
But really: "Those meals are notorious for not having enough veggies," says Swistak. Many frozen meals also contain high amounts of sodium, which can lead to blood pressure problems when you're older. Even worse, frozen dinners tend to be high in fat for the small amount of food you get, while simultaneously not having enough calories for a full meal. Banquet's Chicken Pot Pie, for instance, has 21 grams of fat and only 300 calories.
Instead: When shopping for your dinner, look for entrees with at least 500 calories. According to Swistak, dancers should aim to get 20- to 25-percent of their total daily calories from fat, so a 500-calorie meal should have about 13 grams of fat. There are numerous frozen dinners on the market, so be sure to read labels carefully. Lean Cuisine and Amy's Kitchen have several options that meet Swistak's requirement. Whatever you choose, spruce it up with a piece of fruit and a salad.
Nutrient Powders
Why you think they're healthy: Sometimes you don't eat enough fruits and vegetables, so a nutrient powder dissolved in your water can supplement your diet.
But really: You could be damaging your body. "Fat-soluble vitamins, like A, D, E and K, are absorbed by and stored in your fat," says Swistak. "If you keep taking all these supplements that have megadoses of vitamins, they end up stored in the fatty parts of your body, which can lead to muscle aches. Too much calcium and vitamin D can cause kidney stones and too much vitamin A can cause liver damage." The nutrients you eat must be in balance with each other. For example, your zinc intake needs to be in ratio with the copper you ingest or you could develop heart problems. Eating a lot of fortified foods can skew these ratios.
Instead: Eat real food and take a once-a-day multivitamin like Centrum (check with your doctor first), which is formulated to have the correct ratios. "People can get it in their minds that if they eat fortified foods they'll be healthier, and they do so instead of eating natural food," says Swistak.
The foods above are only the tip of the iceberg when it comes to hidden diet pitfalls, so remember to scan ingredient labels. Look for food that is, as Hangen says, "close to the tree and ground"—meaning there aren't a lot of added chemicals. No matter which foods you love, be sure to choose fare that's high in fiber and low in sugar. Above all, get your calories from the most nutritious sources, like fruits, vegetables, whole grains and lean proteins like fish and chicken.
Go to dancespirit.com/ to learn about three more foods that aren't as healthy as they seem.
Kalani Hilliker made "Dance Moms" fans sit up a little straighter when she first appeared on "Abby's Ultimate Dance Competition" back in 2013. The then–12-year-old ballerina had charisma, she had sass—and, wow, did she have technique! Abby Lee Miller, the show's infamous host, saw Kalani's star potential from the start, saving her from elimination and ultimately inviting her to perform alongside Maddie Ziegler on Season 4 of "Dance Moms." "I was never supposed to be on 'Dance Moms' beyond that one performance," says Kalani, now 16, but she ended up staying on the show for the whole season—and the following three. "It was my first time, but not my last time, causing drama. And it was also the first time I got to meet the other dancers, who have become like sisters."
Keep reading...
Show less
Boston Ballet's Misa Kuranaga and Patrick Yocum (courtesy Rachel Neville/Boston Ballet)
We're on somewhat of a dance photography kick here at DS, so we figured we'd keep it going in a very big way: an exclusive interview with Rachel Neville, the photographer responsible for all those absolutely drool-worthy dance photos on your Instagram feed. We caught up with Neville at PurePoint Financial in NYC, where her new show, "A Command Performance," is up on display (and we highly recommend you check it out).
Keep reading...
Show less
Thinkstock
Acupuncture has proven benefits for reducing pain and getting dancers back on their feet, but it's also a way to treat your overall well-being—in both mind and body. "Acupuncture works very holistically," says Cassandra Krug, licensed acupuncturist at the Acupuncture Clinic of Boulder, in Boulder, CO. "Even if you come in because of ankle pain, we're looking at your whole body. We're trying to return you to a place of homeostasis, or balance."
Peter Schmidt, a licensed acupuncturist who works with Pacific Northwest Ballet dancers, thinks that acupuncture—when combined with the work of dancer-friendly Western doctors, physical therapists, and orthopedists—results in a higher success rate for his patients. "Acupuncture can't address everything," he says. "But for things that are bothering you that don't show up on an X-ray or MRI, acupuncture could help." Is acupuncture right for you? We talked to the experts to find out what dancers should know before going under the needle.
Keep reading...
Show less
The Top 9 in a Chris Baldock routine (Adam Rose/FOX)
Before we get into this week's recap, let's all show some love for Travis Wall, who had a day yesterday. Just hours before "So You Think You Can Dance" was set to air, Wall was at Disneyland (with friend and "Modern Family" star and aspiring Shaping Sound member Jesse Tyler Ferguson, NBD), where he found himself at a bit of a standstill—literally. "Not gonna be able to make 'So You Think' tonight...because I'm stuck on Indiana Jones," Wall shared on Instagram yesterday afternoon.
But hooray! He eventually did get off the stalled ride, and was in the audience alongside Mandy Moore. We're glad you made it, Travis!
On to the show:
This week, the Top 9 performed solos and duets with their All Stars. You know the drill. As always, we'll skip the solos and get right to the good stuff. (Though the solos were, like last week, so good.) Here's how it all went down.
Keep reading...
Show less


Get Dance Spirit in your inbox