Audition Adventures Abroad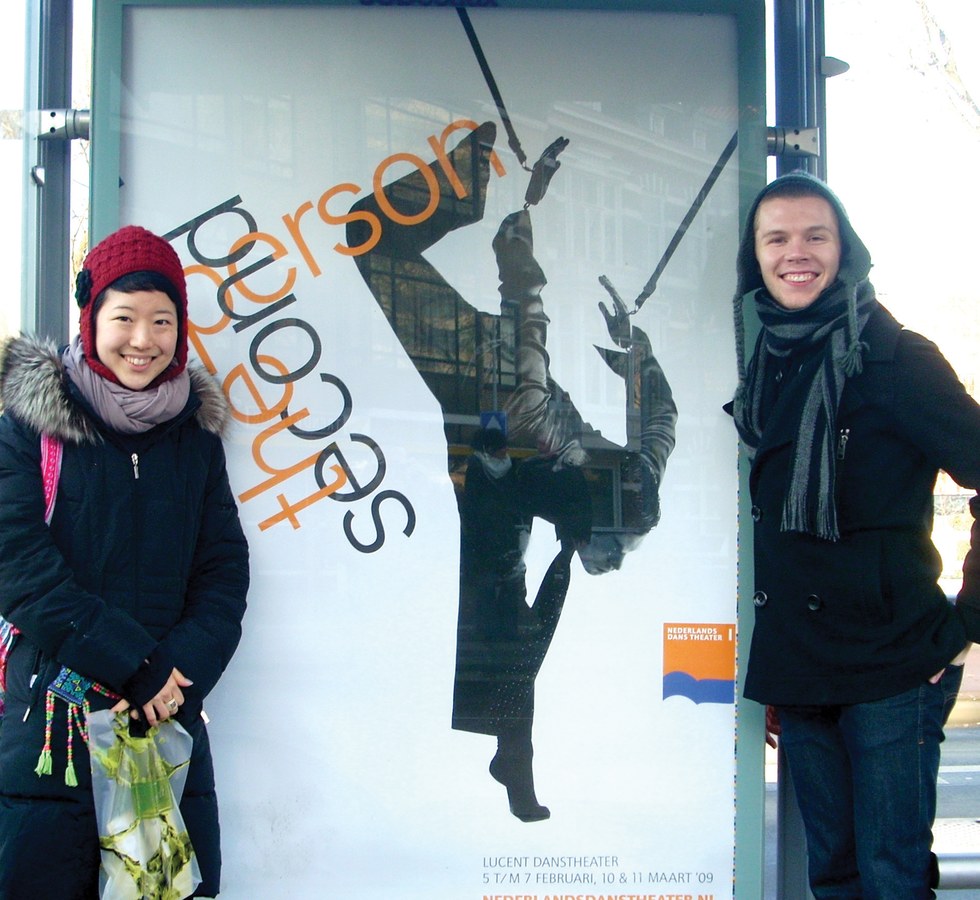 Arika Yamada with Spenser in Den Haag
Though Spenser Theberge took his first ballet class only because his gymnastics training required it, he quickly discovered that dance was his true love. At age 8, he began studying ballet intensively, and soon added modern classes to his busy schedule. His hard work paid off when he was accepted to The Juilliard School, from which he recently graduated with a bachelor of fine arts degree in dance. This January, the 22 year old Vancouver, WA, native (and 2008 Princess Grace Award recipient) embarked on a 12-day European audition tour, organized by Juilliard, with seven of his fellow seniors. His goal? To land a contract with a company like Amsterdam-based Nederlands Dans Theater. Spenser brought along his camera and notebook to document the trip for DS. Read on to learn more about his adventures overseas—and to find out if his European dance dreams came true!  —Margaret Fuhrer
Spenser in Amsterdam
Saturday, January 3
I'm sitting at the airport in New York, and I just got off the phone with my mom. "Just be yourself," she said. "Show them you." Good advice, Mom. Sharing your soul is one of the best parts of being a dancer. And that's what I must do as I head off to Europe for an audition tour: Give all of myself, so that hopefully I'll get the chance to start a new, fulfilling career.
Sunday, January 4th
Fourteen hours of travel later, I'm finally in Switzerland. Wow, do I hate turbulence.
Monday, January 5th
I have my first audition today—at Bern Ballet! I couldn't sleep for the life of me last night. I was up at 4:00 a.m., ready to go. At least my racing adrenaline is keeping me awake. It could be a long day—I hope the rush holds out!
Ballet class is fun. It helps that some of my friends are here with me. Having that sense of comfort changes everything. I relax even more as we learn a solo from director Cathy Marston's "The Tempest." The movement, a juxtaposition of fluidity and percussiveness, has a real sense of earthiness and gravity. There's a lot of room for interpretation—many opportunities to put myself into the choreo. Cathy is very complimentary and asks me to finish my day by workshopping a duet from her "Romeo and Juliet," which will premiere next season. She is so inclusive in her creative process; she always encourages participation and input. It's clear that she is interested in dancers with active minds, not just robots regurgitating choreography.
Tuesday, January 6th
I travel by train today to my second audition, this time at Ballet Basel. I really enjoy myself, even though the company isn't looking to hire any men at the moment. I feel like I'm beginning to get a sense of European dance: Technique and facility aren't the whole picture, just a means to achieve artistic expression. That mentality totally matches my ideas about dance. I think I'd fit right in here!
Thursday, January 8th
Whoa, what a surreal day: After another train ride, I have my first experience at Nederlands Dans Theater, and already I feel changed. I'm a little nervous in class, but learning the Kylián repertory is incredible. The fact that the most vulnerable parts of the body—the sternum, pelvis and neck—motivate nearly every movement makes the work feel so personal. I'm thrilled to have two more days of dancing here.
Friday, January 9th
Today has to be the highlight of the trip. I perform my solo for four of the most influential minds in dance today (Anders Hellström, artistic director of NDT I; Gerald Tibbs, artistic director of NDT II; and Paul Lightfoot and Sol León, NDT's resident choreographers)—and it goes so well! I'm relaxed and confident, and I feel totally open and honest with my expression, exposing my soul. The energy from the panel is positive and their compliments are amazing. It's a great reminder that people want to see you succeed—that you're the only one holding yourself back.
Of course we have to celebrate by taking a trip to Amsterdam. What an amazing city! It's so charming and romantic. We see the canals and Anne Frank's house, and eat some great food. This day will be etched in my body and my mind for some time.
Saturday, January 10th
Well, I thought that my NDT experience couldn't get any better, but today is a dream. After class, Paul Lightfoot asks to work privately with my classmate Arika Yamada and me. We work for half an hour on a quirky, dynamic solo. Lightfoot's choreography, so fast and detailed, requires an incredible amount of clarity and strength. I absolutely love it. I feel more myself here than anywhere else.
Sunday, January 11th
My flight to Stockholm is canceled. Evidently the man driving the baggage truck crashed into the plane and broke its wing. (Seriously, that happens?)
Monday, January 12th
It's quite an adventure, but we finally make it to Stockholm for our last stop: Cullberg Ballet. I'm feeling the exhaustion setting in. Between dancing and traveling, my adrenaline is wearing out. I'll be sad to end this trip, though. I've seen some beautiful places. It's an amazing world we live in.
Tuesday, January 13th
What an intense way to finish! After ballet class, Arika and I work privately with CB company manager and temporary artistic director Anna Grip on some repertory. She coaches us for half an hour, and then we each dance twice. Immediately afterward, we show our prepared solos, and Anna asks me to improvise some more. Usually we have breaks between these elements—it's difficult to do it all consecutively. Physically, I'm stretched to my very limit. But that's exciting, too; after all, it's what I want out of a professional experience.
Wednesday, January 14th
Today is the last day I'll wake up in Europe! By tonight, I'll be back in NYC. I'm proud of the way this trip has gone and how I followed my mom's advice: I was my honest self at every audition. It feels good to know that I allowed myself to become a vessel for communication through my dancing.
My European auditions have come to a close, and I'm so excited to see where they lead me. I can't wait to take the next step on what has already been an amazing journey!
Spenser's story has a fairytale ending: In early February, he was offered a contract with NDT II, NDT's second company! Look for him onstage with the troupe beginning in September. Congrats, Spenser! 
What's more daunting than getting into your dream college dance program? Figuring out how you'll cover the costs of tuition, room and board, incidental expenses and more. Here's the good news: The right scholarship(s) can bring your dream school well within reach.
Look Around, Look Around
Scholarship applications are due between the fall of senior year and graduation time, so familiarize yourself with funding opportunities during the spring of junior year. And there are a lot of opportunities out there, says Kate Walker, chair of dance at Booker T. Washington High School for the Performing and Visual Arts in Dallas, TX. "A lot of school guidance counselors now have software that automatically matches you with scholarships," she says.
Seek out scholarships on your own, too. According to Walker, "a lot of corporations are required to have some community engagement, including offering scholarships, so research corporations in your community." Your parents' employers might offer assistance too, says Doug Long, an academic and college counselor at Interlochen Arts Academy in Interlochen, MI. "They might have scholarships you can apply for just because your parent works there."
Other sources of grant money you won't have to pay back (as you would a loan)? The YoungArts Foundation; competitions/conventions, like New York City Dance Alliance; and the university or dance department you're applying to. Even some scholarships aimed at athletes are open to dancers!
Apply Yourself
A winning scholarship application involves a fair amount of paperwork, especially if the organization requires you to show financial need. In addition, certain scholarships ask for the College Board's CSS/Financial Aid Profile, which gives the awarding organization a more complete picture of your family finances.
Other ingredients of a successful scholarship application include recommendation letters, a dance and/or academic resumé and an essay or statement of purpose. Treat these components just like college applications: Have multiple trusted adults proofread your materials, and ask for recommendation letters or transcripts long before deadlines.
A note for non-dance scholarships: Including objective measures of achievement can only help you. "List national recognitions, like YoungArts or other competitions," says Long. "That shows the scholarship committees that people at high levels have acknowledged you as an artist of quality." And don't forget who your audience is. "Especially in writing samples, make sure you paint a vivid picture for your reader," Walker says. "Don't assume they know about all the things—like barre every day—that we as dancers take for granted."
No award amount is too small to be worth your time and effort. As Walker says, "Don't pooh-pooh a couple hundred dollars in award money, because any scholarship is funding that you didn't have yesterday."
A version of this story appeared in the July/August 2017 issue of Dance Spirit with the title "All Aboard the Scholar-ship."
Every ballet dancer knows the time, sweat, and occasional tears the art form demands. But many non-dancers are clueless about just how much work a ballet dancer puts into perfecting his or her dancing. So when the mainstream crowd recognizes our crazy work ethic, we'll accept the round of applause any way it comes—even if it comes via four men in tutus. Yep, we're talking about "The Try Guys Try Ballet" video.
Keep reading...
Show less
(via YouTube)
Remember that fabulous old-school clip of dancers tapping in pointe shoes that Tabitha and Napoleon D'umo brought to our attention back in March? As we mentioned then, toe-tap dancing was actually super popular back in the 1920s and 30s—which means there are more videos where that one came from. And because #ToeTapTuesday has a nice ring to it, we thought we'd take this opportunity to introduce you to Dick and Edith Barstow, a toe-tapping brother and sister duo from that era who are nothing short of incredible:
Keep reading...
Show less
(Adam Rose/FOX)
Guess who's back? Back again? The Academy's back! Tell a friend.
After one day at The Academy, the All Stars have successfully taken the Top 100 down to 62. But their work is just getting started: Now they need to keep narrowing the field to a Top 10, ultimately deciding who each will partner with during the live shows.
Keep reading...
Show less


Get Dance Spirit in your inbox