B-girl Ephrat Asherie Breaks Boundaries
In May 2006, hip-hop dancers and teachers Ephrat Asherie (based in NYC) and Kumari Lohar-Singh (based in Portland, OR) founded Dance for Peace: One Step at a Time, a cultural exchange program that uses urban dance to elevate underprivileged youth throughout the U.S. and across the globe. Last March, the pair traveled to Cape Town, South Africa, to teach dance to local students, and while there, they attended Freestyle Session, an international breaking event. They came back overwhelmed and inspired. DS asked Ephrat to share her experience with us. —Kat Holmes
Kumari and I believe that the essence of all urban dance is originality. As a dancer, you take pride in creating your own way of moving, of interpreting the music, of being, of thinking—and when you learn to appreciate this in yourself, you can learn to appreciate it in others. This leads to a mutual respect between people. It is this respect that leads to peace.
During Dance for Peace's visit to Cape Town, Kumari and I worked side-by-side with Emile Jansen. Emile, along with his brother Tanswell and their partner, Fabian Petersen, founded Heal the Hood, an organization that leads hip-hop workshops and lecture demonstrations in the context of South Africa's changing social, political and economic environment. The organization strives to teach youth how to attain personal peace, to value themselves and each other and to work toward a togetherness that will stop the racial divide that is still very apparent in Cape Town, and in the rest of South Africa.
Emile and his crew organized all of our workshops and drove us around the city. Kumari and I were able to teach more than 1,000 students of all different ages and backgrounds while we were there! We were amazed at how much energy and enthusiasm the participants had, even though some of them lead lives that are harsher than we could ever imagine. (South Africa has been ravaged by the AIDS epidemic, and many of Cape Town's inhabitants live in extreme poverty.) We were inspired by our students' openness to new movement and their drive to practice and improve. This trip confirmed our belief that urban dance is a powerful means to communicate with young people all over the world, instilling in them a strong sense of self-worth and respect for others.
At the close of our workshop, three parents offered to help create a permanent base for Dance for Peace in Cape Town. We're also collaborating with Emile and his crew to create an ongoing program for kids to take dance classes throughout the year and become more involved in giving back to their communities. And this past summer, we brought two of our most promising students to NYC to train for one month. Back home in Cape Town, they are sharing the knowledge they gained during their stay by teaching in various townships, public schools and dance studios in the community. Kumari and I are extremely grateful for the positive experience we've had, and we're eager to keep building an organization that lives up to its name: Dance for Peace.
Much of Janelle Ginestra's career has been about helping others shine. She's dedicated herself to supporting and cheerleading her partner, WilldaBeast Adams; the emerging talents in their dance company, ImmaBEAST; and the countless dancers she inspires at master classes and conventions. Her YouTube channel has become a launching pad for young talents like "Fraternal Twins" Larsen Thompson and Taylor Hatala, thanks to viral videos featuring Ginestra's creative vision.
But Ginestra's a skyrocketing success in her own right—an in-demand choreographer, a social media influencer, and a dance entrepreneur, building a legacy one eight-count at a time. It's time for her turn in the spotlight. And she's more than ready. "I want to be a legend in whatever I do," she says. We'd argue that she already is.
Keep reading...
Show less
Win It
Oct. 13, 2017 04:31PM EST
Oct. 13, 2017 03:01PM EST
Okay, so it's also Friday the 13th. (Eek! Be sure not to let any black cats cross your path on the way to the studio!)
Keep reading...
Show less
If you've ever seen a Janelle Ginestra class video, you know how lit her combos are. What you don't see in those clips is how devoted Ginestra is to her students. We went behind the scenes at one of her sold-out IMMA SPACE classes to see Ginestra in her element, mentoring some of L.A.'s most talented dancers. It was an inspiration feedback loop.

All photos by Joe Toreno.
Keep reading...
Show less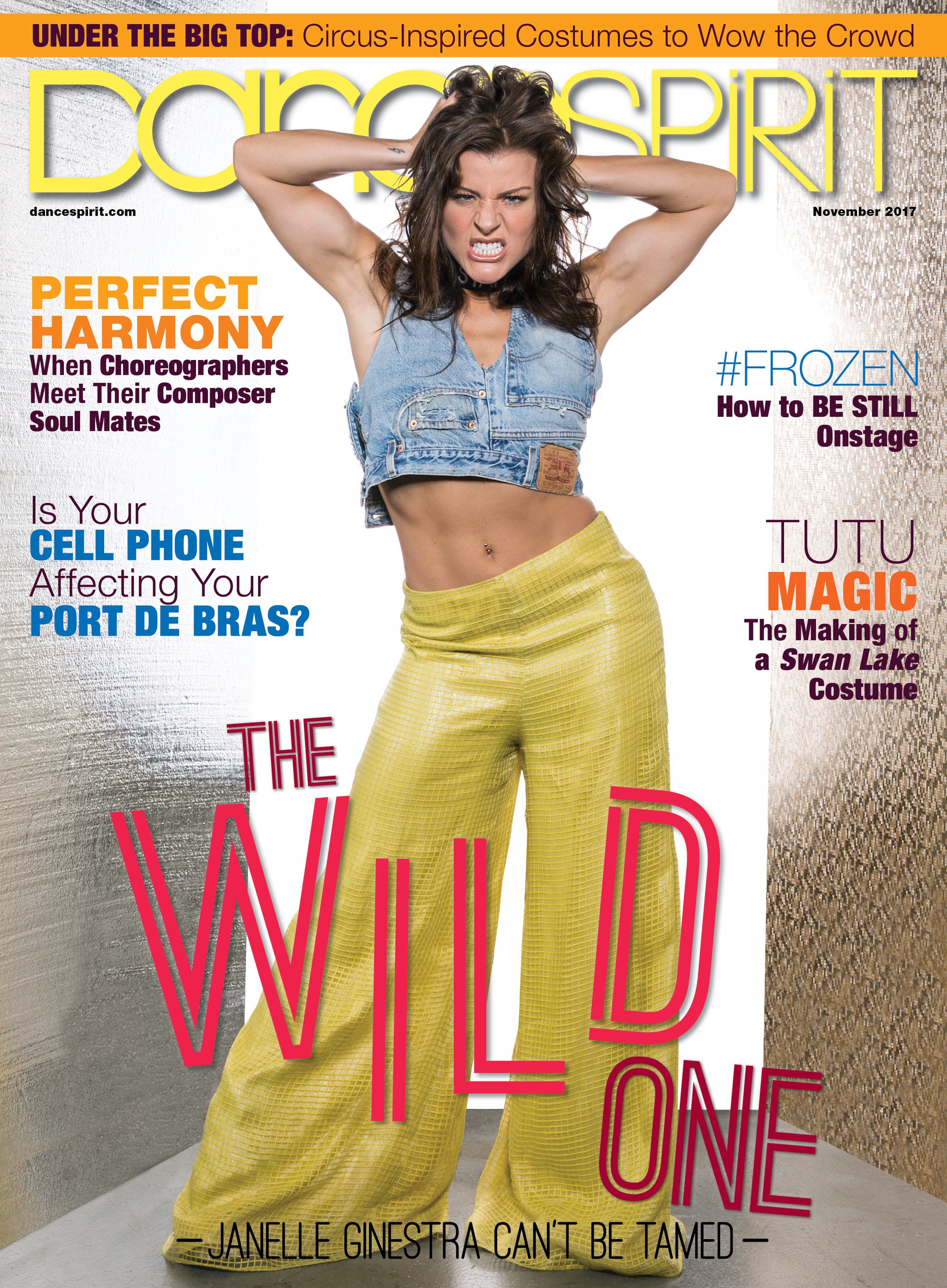 Get Dance Spirit in your inbox