Aug. 23, 2012 11:08AM EST
Ballet Blast from the Past
Sometimes Facebook is a magical place. Just this morning, I found a real gem in my newsfeed: an image from a November 2001 Vogue profile of two up-and-coming New York City Ballet dancers, Ashley Bouder and Carla Körbes. Vogue did a good job talent-scouting, because today, of course, Bouder's a principal at NYCB and Körbes is a principal at Pacific Northwest Ballet.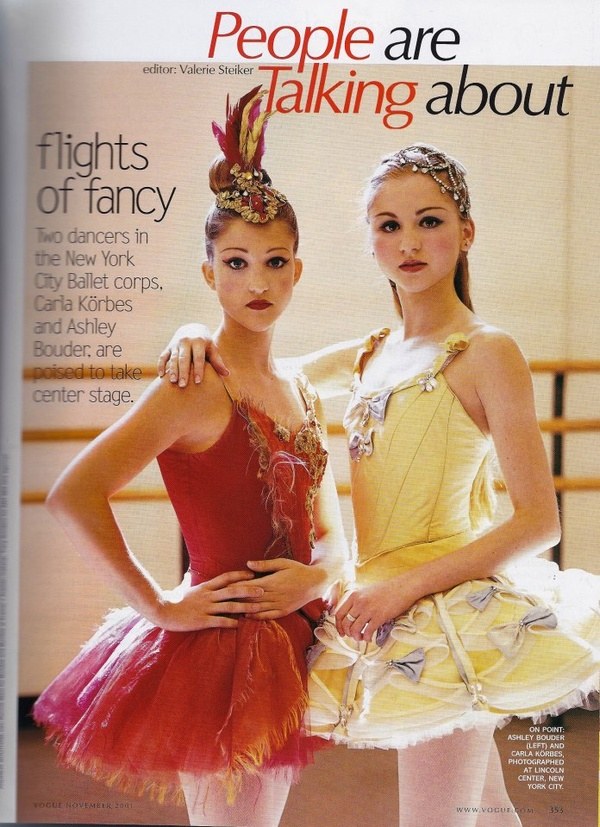 I can't get over this photo. Just look at them! So adorably baby-faced!
I've always been a sucker for "before they were stars" snapshots—which is one of the reasons I love editing our "Letter to My Teenage Self" column. If you need procrastination fuel this fine Thursday morning, check out some of my favorite "LTS" tiny dancer images: baby Christopher Wheeldon, baby Clifton Brown, baby Stacey Tookey and baby Chloé Arnold (with Gregory Hines!). Cuteness abounds.
Dance is a powerful form of expression, and Ahmad Joudeh is using its influence to promote peace.
The 27-year-old is a Palestinian refugee, whose decision to pursue his passion for ballet has made him the target of death threats from terrorist organizations. Despite the danger, Joudeh has decided to continue on his path as a dancer, using his performances as an opportunity to spread a message of peace and cultural awareness.
Keep reading...
Show less
A dance photo of Averi Hodgson (courtesy of Cortney Hodgson)
For 14-year-old Averi Hodgson, focusing on her ballet training while growing up was never easy: She's suffered from epilepsy since she was in first grade, and later, she was also diagnosed with scoliosis. Here, she tells her story of perseverance—and how her determination earned her a spot at the School of American Ballet's 2017 summer intensive.
Keep reading...
Show less
CBS
"Late Late Show" host James Corden was one of the many, many people shocked by President Trump's sudden decision to ban transgender people from the military yesterday. And he decided to voice his outrage in the way most likely to rile a President who's uncomfortable with anything "un-manly": through a big, beautiful, extra-sparkly song-and-dance routine.
Keep reading...
Show less
Jul. 25, 2017 05:04PM EST


Get Dance Spirit in your inbox