Apr. 11, 2012 12:48PM EST
Dancing with the (Ballet) Stars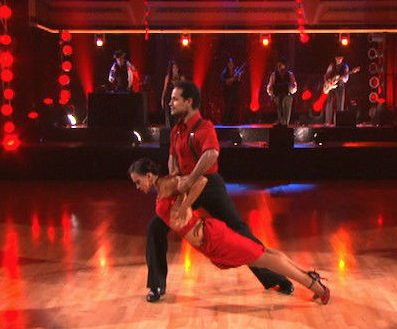 Did you catch former American Ballet Theatre principal Jose Manuel Carreño on "Dancing with the Stars" last night? The last time Carreño appeared on the show, he performed a (kind of strange) take on Swan Lake with Lorna and Lorena Feijoo. This time, though, he took on ballroom, slinking through a steamy Argentine tango with "DWTS" pro Karina Smirnoff.
I'm far from a ballroom expert, but Carreno's tango moves looked pretty great to me. I've always thought that ballet and ballroom shared many similarities—both emphasize form, structure, fluidity that's also precise. (And we've already discussed Billy Elliot star Kiril Kulish's success in competitive ballroom dance, which is awesome.)
But Smirnoff wrote a blog about working with Carreño that upends all my uninformed assumptions: She says she and Carreño have "very different" dance backgrounds. "Ballroom is fluid and soft and ballet is all about the frame," she says. "It's like having an opera singer and a rapper come together."
Interesting! I thought it was the other way around—that ballet dancers, used to being swans and princes, had trouble adjusting to the strong, forceful ballroom frame. (And I definitely never thought about putting ballet and rap in the same category.) But I'm a bunhead, so it's cool to hear about the crossover from a ballroom expert's perspective. Smirnoff's description is also, I think, an argument for cross-training: Ballet dancers have so much to learn from ballroom dancers, and vice versa.
More on that, by the way, in our September issue. Stay tuned!
Jul. 22, 2017 04:55PM EST
via YouTube
It's no secret that ballet in pop culture has sparked its fair share of controversy. Which is why this video from Refinery29, featuring ABT's Isabella Boylston, is not only a super-fun watch, but a breath of fresh air.
Keep reading...
Show less
Jul. 21, 2017 12:26PM EST
via @phil_wright_ on Instagram
Well, this brings class videos to a whole new level! Choreographer Phil Wright and dancer Ashley Liai have been together eight-plus years, but she was still in total shock when he proposed to her mid-dance at Millennium Dance Complex earlier this week. Why? Well, the whole thing was unbelievably perfect.
Keep reading...
Show less
Jul. 21, 2017 11:03AM EST
(Courtesy ABC)
In the dance industry, dancers don't always have a say in what they wear on their bodies. This can get tricky if you're asked to wear something that compromises your own personal values. So what should you do if you find yourself in this sticky situation? We sat down for a Q&A with "Dancing with the Stars" alumn Ashly Costa to answer that very question. Here's what she had to say about the options dancers have surrounding questionable costumes.
Keep reading...
Show less


Get Dance Spirit in your inbox