Students of the Jacqueline Kennedy Onassis School at ABT working at the barre (Rosalie O'Connor, courtesy ABT)
She just retired as a principal with Pacific Northwest Ballet, but as a teenager, Maria Chapman struggled to gain control of her flexibility. "I looked pretty good at the barre," she says, "but I was relying on it way too much, and focusing exclusively on what my legs and feet were doing." Without the barre's support, she became a wobbly mess. "It wasn't until I figured out how to use my back and core that I was able to be successful in center, too," she says.
Keep reading...
Show less
How To
Jan. 30, 2017 03:08PM EST
Thinkstock
Every ballet dancer has a pointe shoe prep process that's akin to a sacred ritual. And while some modifications are meant to make feet look prettier, the most critical tricks help those precious shoes last as long as possible—because at $60 to $100 a pop, they have to. We rounded up some of the best hacks to get your shoes through the intensity of Nutcracker season.
Keep reading...
Show less
How To
Aug. 18, 2016 04:14PM EST
Nathan Sayers
Few things are as beautiful as a seamlessly executed grand rond de jambe: There's something majestic about the high arc of the leg from front to side to back (or vice versa). But many pitfalls line the road to effortless grands ronds, especially in the tricky side-to-back and back-to-side transitions. How can you make this difficult step feel as free as it looks?
Keep reading...
Show less
Ballet
Apr. 13, 2016 05:35PM EST
Nathan Sayers
Ah, pointe shoes: We love those beautiful, glamorous torture devices! But pointework didn't always look or feel the way it does today. In fact, pointe shoes evolved over the course of several centuries—with many fascinating (and some straight-up bizarre) stops along the way. Here are a few highlights of pointe shoe history.
Keep reading...
Show less
Ballet
Nov. 11, 2015 04:59PM EST
Super-hard shanks can make new pointe shoes feel like bricks on your feet. That's why dancers have come up with tons of clever ways to bend, cut, score and tape their shanks—adjustments that can significantly improve a shoe's performance. It's a highly personalized process, and often a complete game-changer.
Here are a few of the most common techniques advanced dancers use to customize their shanks. With your teacher's guidance, you can experiment with your shanks to make them look, feel and function better.
Keep reading...
Show less
Ballet
Sep. 16, 2015 12:03PM EST
Your teacher has finally given you the OK to go on pointe! As any experienced ballet dancer will tell you, your pointe shoes can either be your best friend or your worst enemy. The right fit ensures that you'll be able to work safely and gives you a solid foundation for your pointe technique. Seeing a professional fitter for your first pair—and coming to your appointment prepared—will set you up for success.
How to Find a Fitter
In many cases, your teacher will recommend a fitter. But what if she doesn't? "I'd suggest calling a dance store you trust and asking if there's a professional fitter on staff," says Josephine Lee, who owns Dancer's Choice in Irvine, CA (and the affiliated roving pointe shoe fitting business The Pointe Shop). You should also be sure to ask how many brands of shoes the store carries. A qualified store, Lee says, will have at least five to eight different brands. That variety is important: It indicates that the store sells lots of shoes, and it makes it more likely that you'll be able to find the perfect shoe for your foot.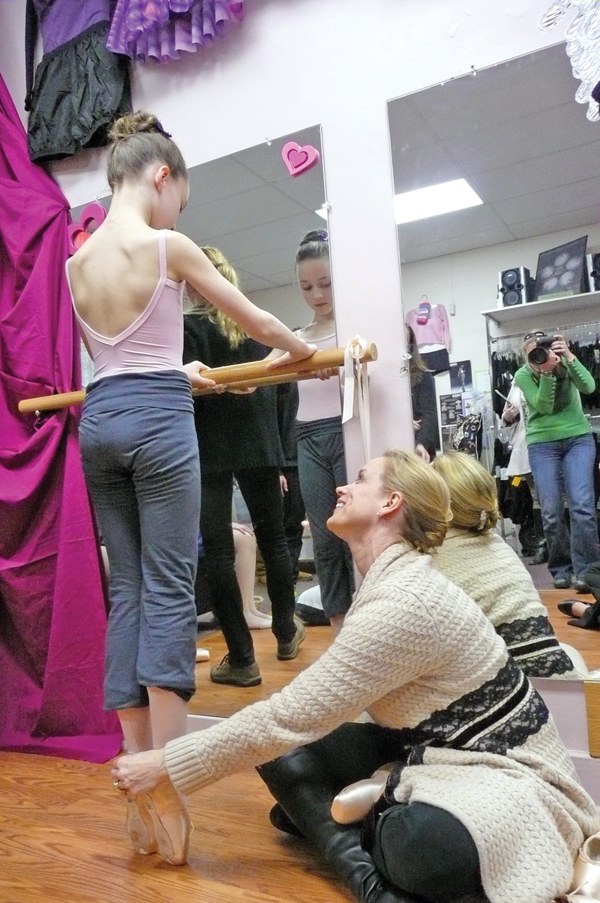 A pointe shoe fitting at Pittsburgh Ballet Theatre School (photo by Meghan Swartz, courtesy PBT School)
How to Prepare
According to Kerri Angeletti, who manages The Dancer's Pointe in Pittsburgh, one of the most important things to figure out before your fitting is what type of padding you'll be using, because padding can dramatically affect the fit of a shoe. Talk to your teacher about what she prefers. Some teachers will want you to start with a specific type of toe pad, such as a gel pad or lambswool. Others may request that you learn without padding at all. Either bring the teacher-approved padding with you to your appointment or be prepared to buy it at the shop.
It's important that you come to your fitting dressed appropriately, in a leotard and tights, so the fitter can see your lines clearly. "Your first pointe shoe fitting is your first pointe class," Lee says. Make sure your tights are convertible, since the fitter will also want to look at your bare feet and toes. And don't schedule a fitting right after class, Lee adds, because your feet will likely be swollen from dancing, which will change the way the shoes fit.
What to Expect
Angeletti recommends allowing at least an hour for your first fitting. "You need to try on a variety of different shoes so that you can really feel the differences between them," she says.
The fitter will usually begin by getting up close and personal with your feet. She'll analyze the line created by the top of your toes, the width of your metatarsal and the length of your toes and feet. Then, you'll begin the Goldilocks-like process of trying on shoes, searching for the pair that's just right. In addition to looking at the shoe on pointe, Angeletti has the dancer plié in second position—"the position in which the foot is longest," she explains—to determine if the shoe's length is correct. As a pointe beginner, it's especially important that your shoes fit well on flat as well as on pointe. You'll start out spending relatively little time on your toes as you build strength.
How to Get the Right Fit
To describe the perfect fit, Lee uses a saying she first heard from a Capezio shoe designer: "The pointe shoe should mold to the foot like a cast." Your shoes should feel tight, but your toes shouldn't curl under and you shouldn't feel pinching in your metatarsal. "Be very vocal about how you're feeling in each shoe," Angeletti says. Now isn't the time to be agreeable. Your fitter needs as much detail as possible in order to get you the best, and safest, fit.
Nervous about speaking up—or just about the fitting process generally? Mackenzie Cherry, a student at Pittsburgh Ballet Theatre School, got a confidence boost at her first fitting because her whole class went as a group, which made her much more comfortable. If your class isn't going on an excursion together, consider asking a friend if you can schedule your appointments together.
Don't be discouraged if you don't think your first pair is "the one." It's important to remember that this is a process. Lee points out that many dancers continue to change their pointe shoes periodically throughout their careers as their abilities and preferences change. And to answer one of the most frequently asked fitting questions: Does it hurt? "It's a little painful," Mackenzie admits, "but if you're excited about being on pointe, you don't really think about it."
Common Fit Problems—and How to Solve Them
Pressure on the big toe
Josephine Lee, owner of Dancer's Choice in Irvine, CA, says that too much pressure on the big toe can mean you're sinking into the box, a problem that can be solved with a more tapered shoe. But it also may depend on your foot shape. If you have a long big toe, it'll always bear more weight on pointe. As you train, you'll gain strength and learn to lift up out of your shoes, which will alleviate that feeling.
Pinching in the metatarsal
"You need a wider box," Lee says. The width is correct when your feet are nice and flat on the floor, without being able to wiggle inside the shoe. Some dancers need a more triangular box—one that's wide at the metatarsal but tapered at the toe—to keep them from sinking into the shoe.
Sickling
Lee says sickling on pointe may be a sign that a dancer is struggling to get up over her box and is pushing over her pinky toe to compensate. A softer shank can help you stand fully and correctly on pointe. The downside is that softer shoes wear out faster. But, Lee says, "it's better than learning bad habits."
Ballet
Aug. 12, 2015 09:44AM EST
Pennsylvania Ballet soloist Alexander Peters has a fantastic petit allégro. His dynamic small jumps hit crystal-clear positions, with beats that scissor impressively—making him an obvious choice for roles like the impish Puck in George Balanchine's A Midsummer Night's Dream. But that apparent effortlessness didn't come easily. As a student, he struggled to maintain his turnout in the air. "I spent so many hours at barre, strengthening my turnout so I didn't have to think about it when it came time to jump," he says.
Petit allégro can reveal a dancer's strengths—and weaknesses. When you're doing fast jumps, it's easy to lose your turnout, let your feet flop or forget to use your plié. Don't just muddle through! Instead, slow down and figure out why you're having trouble. Dance Spirit talked to Peters and two fellow professionals about the most common petit allégro problems, and what to do to give your small jumps a lift.
Turnout Troubles
If you lose your turnout during petit allégro, you probably aren't supporting yourself properly at barre. Kay Mazzo, a teacher at the School of American Ballet, suggests removing your arm from the barre intermittently as you work, to make sure your weight is in the right place. "It should be over your toes," she says. "That forces you to pull up from the tops of your legs and hips to maintain your turnout," rather than twisting from your knees. And be sure your back isn't swayed, another sign that you're not rotating from the correct place.
Lifting your heels in plié before you jump will also affect your turnout. "As soon as that happens, you have less surface area to push from, which makes it more likely that your feet will turn in," says San Francisco Ballet School teacher Damara Bennett. As you plié in fifth position to prepare for a jeté or an assemblé, think of keeping your entire foot on the floor before you brush and leading with your heels as you jump—especially if the movement includes beats. "That will create a scissoring side-to-side motion," says Peters, "instead of turned-in legs that go front to back."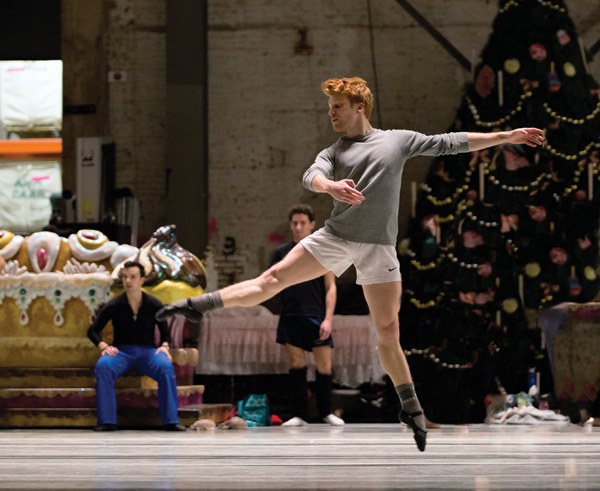 Alexander Peters showing off his perfect petit allégro (photo by Alexander Iziliaev, courtesy Pennsylvania Ballet)
Plié Problems
A good plié is the foundation of petit allégro. "Dancers who don't use their plié correctly end up bouncing all over the place like a yo-yo," Mazzo says. "There's no control."
You might think that since the steps are so fast, there's no time to plié. But trying to jump with straight legs will actually slow you down. When there's no elasticity in your legs, "the momentum gets stuck," Peters says. "A smooth plié will absorb the shock of the jump and keep you moving in the right direction." Accent the "down" part of the step, and each transition will happen more efficiently. "I think of hanging the position in the air for a second, but getting back to the floor quickly," Peters says.
Terrible Toes
Floppy feet can ruin even the most impressive petit allégro combinations. "Make sure your toes are pointing right underneath you, so it doesn't look like a fish dangling," Peters says. "Dancers also tend to forget about the second foot in glissade, so it ends up looking like a club."
Thinking about your feet will help with noise control, too. "You're not just bouncing up in the air and slamming down," Mazzo says. "Especially for girls in pointe shoes, be sure to roll all the way through the toes and metatarsals as you return to the floor," which will keep your shoe boxes from making clomping noises.
Poor Port de Bras
It's easy to focus on your fast-moving legs and feet and forget about your arms. Sometimes, port de bras troubles stem from coordination issues. "In petit allégro, the arms have to work a little faster than the legs in order to get to each position at the right moment," Bennett says. In a simple jeté, for example, the arm should come down while you're still in plié and lift to first by the time you're up in the air. If you're having trouble, work on the feet and épaulement first, keeping the arms in fifth en bas. As you become more comfortable with the legwork, add in the arms, thinking about when each arm should arrive where.
Trouble with port de bras can also be a sign that you're not supporting your back correctly. "Think of the top of your body going slightly forward when you jump," Mazzo says. "If your arms are behind you, they'll be a hindrance and not a help." Lift your elbows and send energy out through your arms and fingers as you jump, keeping your back broad and open.
Ballet
Jan. 01, 2015 12:34PM EST
When done well, a serene penchée can be magical. But while it's meant to look effortless, the extended arabesque is deceptively difficult to master, requiring control, strength and flexibility. DS talked to three professionals about the most common penchée problems—and how to avoid them.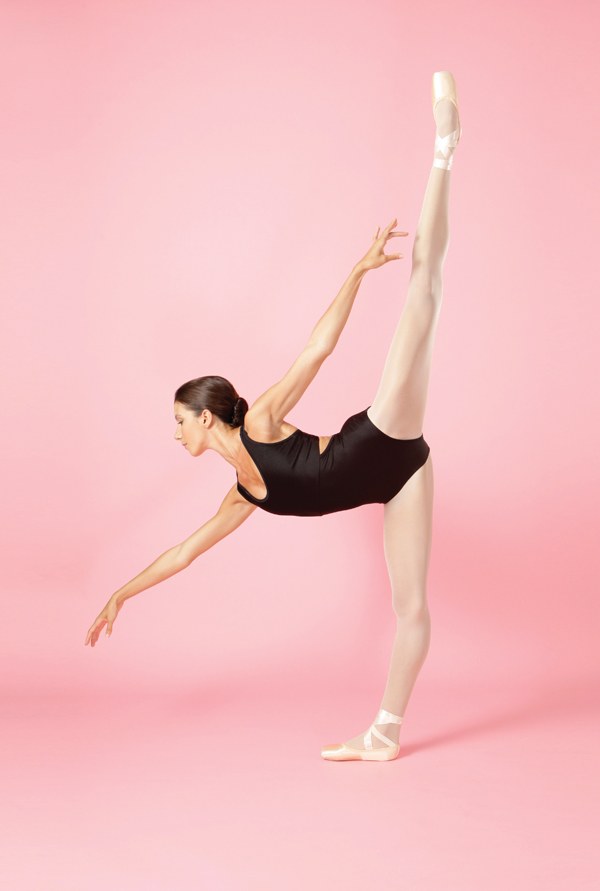 New York City Ballet's Ashley Hod shows off her pristine penchées (photo by Jayme Thornton)
Losing Control
It's easy to fall out of a penchée, especially when you're wearing pointe shoes, which make it difficult to feel the floor. Achieving stability starts with good placement. To avoid falling backward, "you need to have your weight right over the ball of your supporting foot," says Karen Gabay, artistic associate and ballet master at Ballet San Jose.
As you lift your working leg, spread the toes of your supporting foot inside your shoe and engage your core, which will help you fight the wiggles. Gabay also suggests focusing your gaze out rather than staring at the floor, which can be disorienting. Have that "past your fingertips" feeling.
Dropping Your Back
If you pitch forward and drop your upper back as you penchée, you'll ruin the step's elegant line. Jessica Collado, a first soloist at Houston Ballet, thinks of leading with her leg to maintain the correct shape. "If you think of your leg pushing you forward while you resist with your upper body, you'll never get into a funky 'plank' position," she says. On the way back up, Collado does the reverse: She leads with her shoulder blades, resisting against them with her lifted leg.
Forgetting About Your Arms
Many dancers are so focused on the height of the leg that they ignore their port de bras. But poorly held arms can ruin your line and jeopardize your stability—especially the often-forgotten back arm. Gabay suggests picturing a partner supporting your back wrist as you move into the penchée to keep the arm from dropping too low or getting too far behind you.
Focusing on stretching both arms outward will create a feeling of opposition, which will in turn help steady you. "I like to think about sending energy out through my fingertips," says Miami City Ballet principal Tricia Albertson. "It puts me right in the center of my balance."
Sitting in Your Standing Leg
Shifting your weight back into your standing leg and hip might give you an extra inch or two of height in your penchée, but it's also a recipe for disaster. "The second you rock back on your heel and stick your bottom out, you'll start to lose control," Collado warns. Instead, think about lifting up on your supporting side and keeping your weight over your toes as you lean forward.
Opening Your Hip
This is another penchée no-no that, in theory, allows you more height and stretch. But distorting your line can actually make your penchée look less impressive. "Don't sacrifice your position just to get the leg up," Gabay says. "The key to creating the illusion of a deep penchée is to maintain a high-quality line"—which will let the audience see every millimeter of your true extension. Gabay recommends imagining a connection between your back toe and the opposing shoulder to keep your hips square.
Penchée Polishers: Three exercises that will help improve your penchée
"The Sphinx": Lie on your stomach with your legs stretched behind you. Prop yourself up on your elbows, with your palms flat on the floor, engaging your back and abdominal muscles. Keeping your palms and hips on the floor, do a series of slow "push-ups," lowering and raising your chest. "When you're at the top, look at the ceiling, take a deep breath, and imagine your hips dropping down," says Karen Gabay, artistic associate and ballet master at Ballet San Jose. "That lengthening will give you a more
supple back."
Back-Ups: Lie on your stomach and lock your hands behind your head. Lift your upper body off the floor. Rock forward, lifting your legs; then rock backward, returning your legs to the floor and lifting your chest again. "Continue to rock back and forth in that position, feeling the connection between your back and your pelvis," says Miami City Ballet principal Tricia Albertson. You'll build strength in
your back and hamstrings.
Wall Assist: Albertson also likes to do penchées against a wall, positioning her supporting foot a few inches away from the baseboard. "I put my hands on the floor and lift my leg slightly off the wall, 10 times," she says. "It activates the muscles I'll need to hold
the position, and keeps me from sitting back in my standing leg."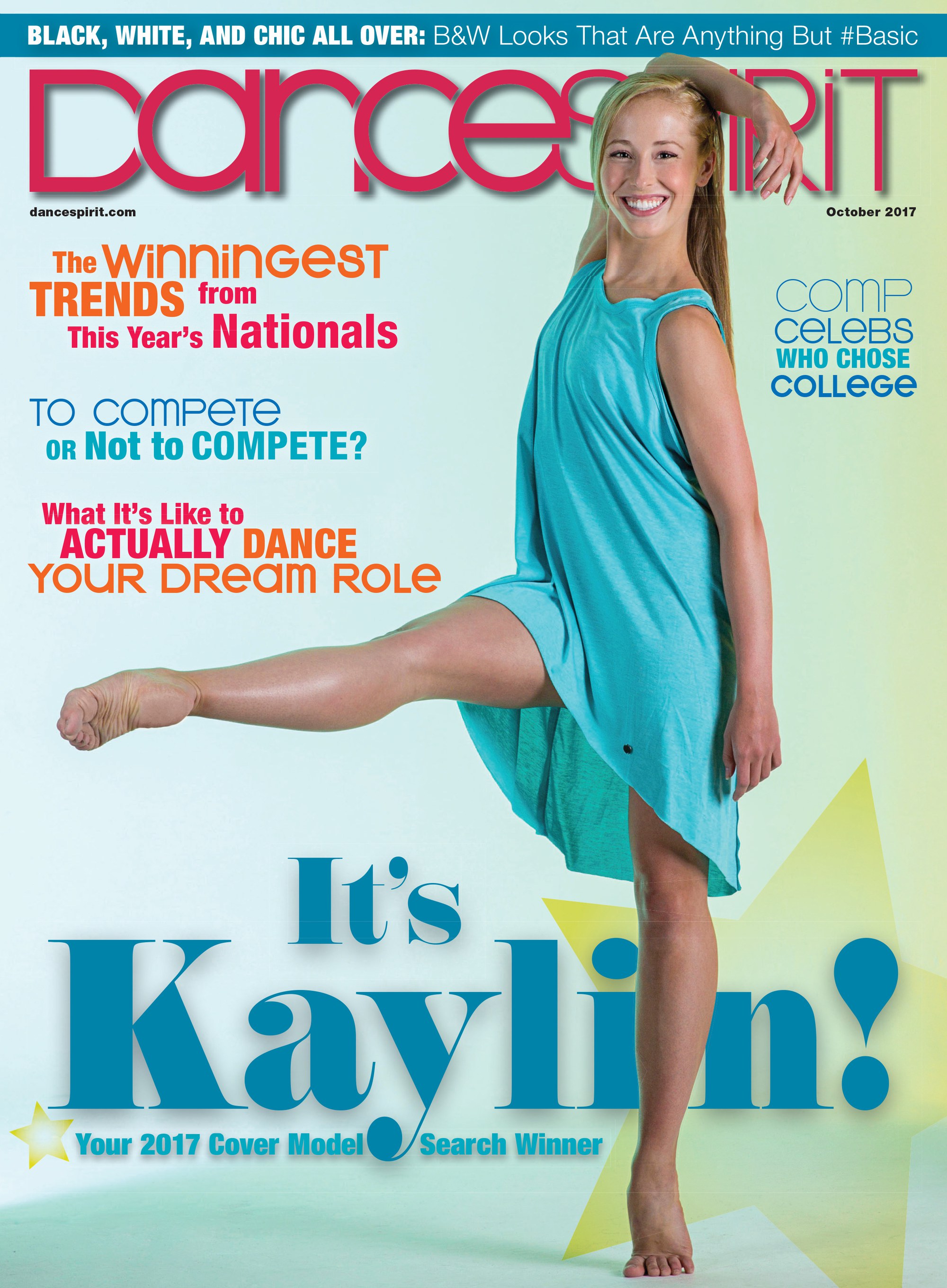 Get Dance Spirit in your inbox