Ballroom
Oct. 20, 2016 12:55PM EST
Thinkstock
Floorcraft: It sounds like some kind of dancer magic, but it's actually a technical term describing the essential ability to avoid collisions with other couples on the ballroom dance floor. Because success in ballroom doesn't just come down to masterful technique, great choreography, stellar musicality, chemistry between partners and magnetic performance quality—it also requires gracefully navigating a packed floor of competitors.
Keep reading...
Show less
Ballroom
Feb. 08, 2016 03:52PM EST
Samantha Abaya-Campos ( Nathan Sayers)
If there's one thing that separates ballroom dancers from everyone else, it's their swinging, sassy hips. Hip action—the rotation of the hips created by the alternate bending and straightening of the knees—is a hallmark of Latin ballroom dance styles, but it's surprisingly tricky to do correctly. Mastering it will make you look like a pro, even if you're taking your first ballroom steps.
Dance Spirit spoke with Ryan Di Lello, a Season 6 finalist and Seasons 9 and 11 All-Star on "So You Think You Can Dance," and one of the team directors for the ballroom company of Utah Valley University in Orem, UT, for advice to help get you movin' and shakin'.
Keep reading...
Show less
Ballroom
Mar. 23, 2017 11:14AM EST
Ballroom dance is everywhere these days. Whether you're looking to land a spot on "So You Think You Can Dance" or hoping to find work on a commercial tour, having some ballroom training is increasingly necessary to stay competitive. Of course, the best way to prepare for an audition is to take lessons in the style. But what if your studio doesn't offer any ballroom classes? Dance Spirit turned to the pros to learn a few key elements that can help you put your best heeled foot forward.
Keep reading...
Show less
Ballroom
Jun. 11, 2013 11:30AM EST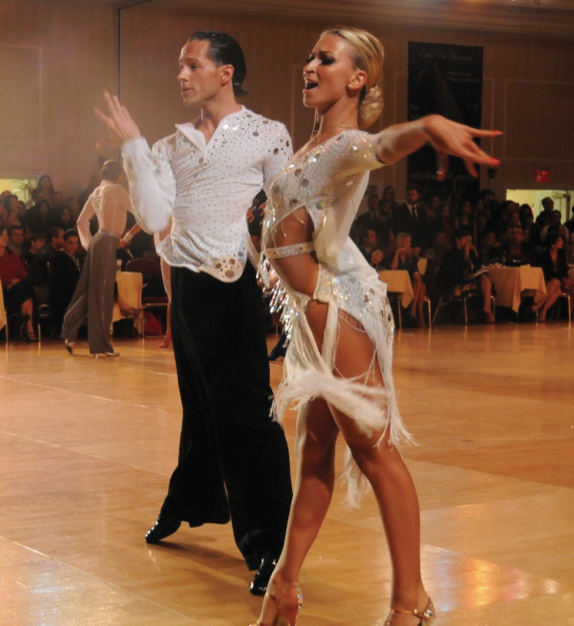 Daniella Karagach and Pasha Pashkov at the U.S. National Amateur Dancesport Nationals in March (courtesy Karagach)
When a 15-year-old Daniella Karagach was first paired up with a 22-year-old Pasha Pashkov, she had her doubts. "My coaches warned me that because I was so young and he was a top dancer in the finals already, people might not respect us as a compatible pair," she recalls. But she stuck with Pasha, and after a month of hard work, the pair hit the competition scene together, where it was clear their age difference was a non-issue. The two went on to rack up titles, becoming 2012 Blackpool Dance Festival semifinalists, 2012 United States National Latin Champions and three-time United States 10 Dance National Champions.
In the ballroom world, a bad match can keep you from dancing at your full potential. As a student, you may not be able to choose who you're paired with, so here's what you can do if you're stuck with a partner who's less than ideal.
Talk It Out 
"Teaching dancers how to communicate is difficult," says Sasha Altukhov, a ballroom teacher at Center Stage Performing Arts Studio in Orem, UT. "Each dancer has his or her own opinion, and the two have to learn to listen to each other."
If you're not feeling the chemistry, be honest. Let your partner know it's important to you to work toward a better connection. It can take time to develop a comfort with and respect for each other, so don't give up if there's not an immediate click. "Just like anything new, you have to adjust to a new partner," says Karagach. "When you stick together for a long time, you get to really understand each other."
When a 16-year-old Dmytry Dmytrenko moved from Ukraine to Utah last December, Altukhov paired him with a 17-year-old Cheyenne Murillo. The two had strong, conflicting personalities—not to mention the fact that they spoke different languages. But after planning fun activities together outside the studio, they started to argue less frequently. "We spent time with our coach, getting to know each other and getting over the language barrier," Murillo says. "We were Dmytry's first friends in America."
If your personalities really clash, focus on what you have in common with your partner: a passion for dance. "You and your partner need to be committed to the same goal, whether it's performing in a show or winning a competition," Altukhov says. Set these goals from the beginning of your partnership, and remind each other of what you're aiming for whenever things get rocky.
Train Together—and Apart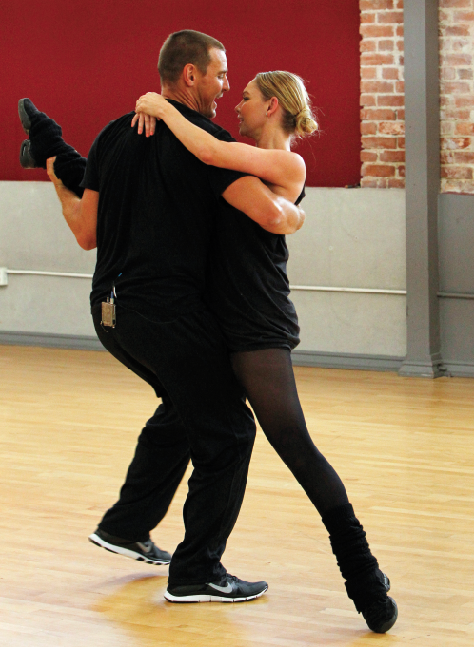 Practice makes perfect for Kym Johnson and "Dancing with the Stars" Season 16 partner, Ingo Rademacher. (Rick Rowell/ABC)
Being more or less technically advanced than your partner can throw both of you off. But if you're paired with someone who's not on par with your training level and physical strength, there are some tricks that will help close the gap.
To start, take a break from rehearsing choreography to work on your technique together. Even if you're more advanced, reviewing the basics is always helpful. You'll show your partner you support him, and that can help you develop a better connection onstage.
If your partner has been dancing longer than you have, put in the extra time and practice on your own. "Dmytry was more experienced than I was when we started dancing together," Murillo says. "So I started taking two private classes a day to develop my technique."
"Dancing with the Stars" professional Kym Johnson has mastered working with partners who have little to no training. "Most of the celebrities I dance with will go home and practice on their own with a pillow," she says. Johnson also suggests taking ballet or Pilates in addition to your ballroom training: "I started with ballet. That's the best foundation for any form of dance."
Get on the Same Level
In an ideal match the male is slightly taller than the female. "It looks funny if there's a big height difference," Karagach says. "You want to dance with someone who's a good fit for you." Height disparities are more apparent in standard styles than in Latin styles, since the dancers' bodies have to be closer together.
If your heights are mismatched—a common issue with juniors, since girls often grow faster than boys—try experimenting with different heel heights (available for both women and men). Karagach also advises using levels in your routine to fool the audience. Altukhov suggests using costumes to balance a height difference. "A shorter boy can wear pants with a higher waist, so his legs appear longer," he says.
If all else fails, talk to your teachers. "Even if you feel nervous or embarrassed, just be honest, and it'll all work out," says Johnson, who has changed partners several times in her competitive professional career. Pull them aside, and let them know exactly why you're unhappy. Chances are, this isn't the first time they've dealt with a conflict between partners. "Teachers are there to guide you, and they can do a much better job of that if they have insight into how you feel about your relationship with your partner," Johnson says. If there comes a point when you're not happy dancing anymore because of your partner, it's time to switch.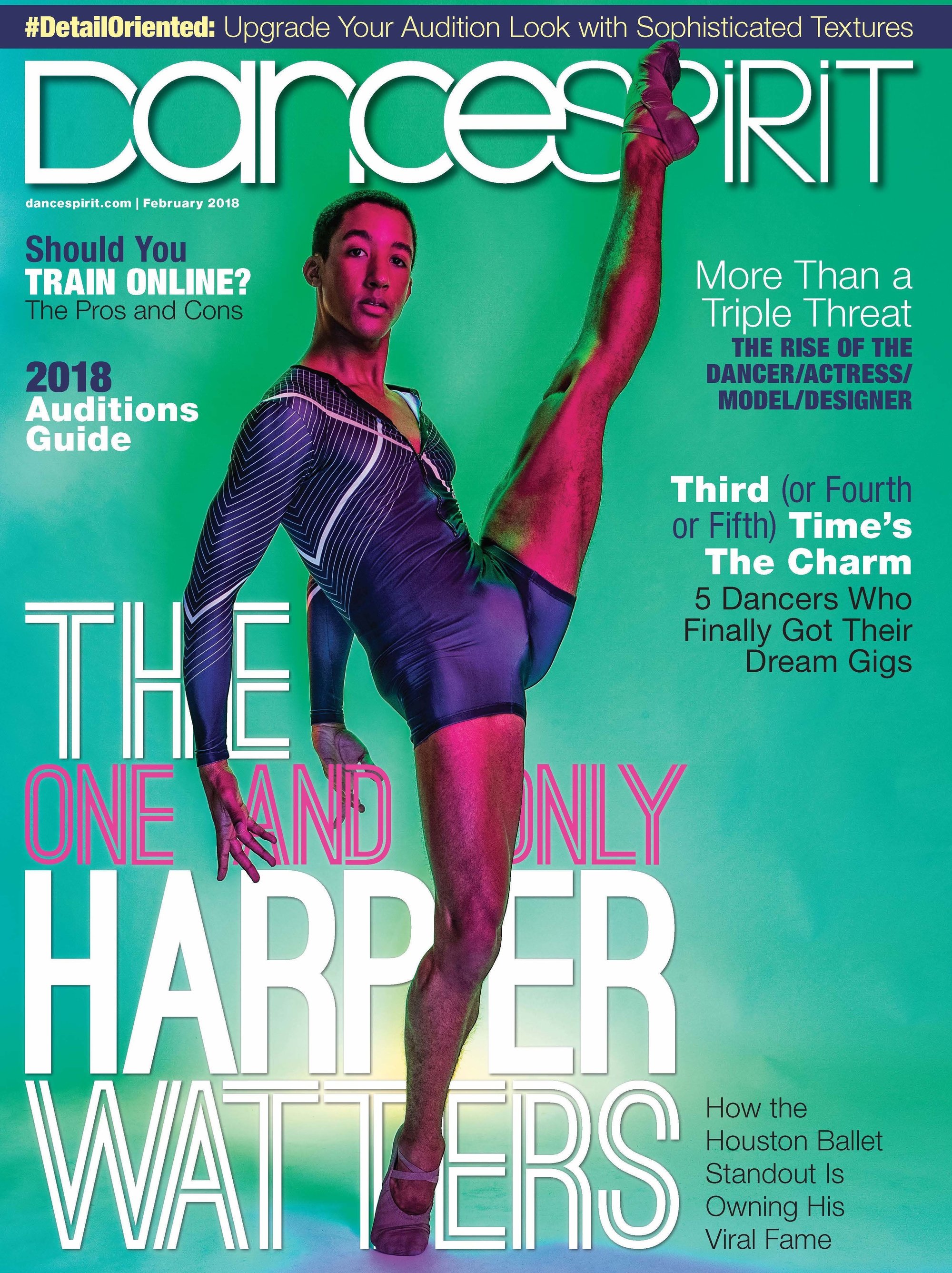 Get Dance Spirit in your inbox