Jun. 14, 2011 04:46AM EST
Behind the Scenes: Auditioning for the Rockettes Summer Intensive
Experiencing what life would be like as one of the glamorous Rockettes is a dream for many, but a reality for Kristen Smith and Aimee Lane. After intense auditions, both girls earned coveted spots in the six-day Rockette Summer Intensive in NYC (42 alumni of the intensive have become
world-famous Rockettes!). The girls are also featured on the MSG Varsity three-part series "The Rockette Summer Intensive," which follows several girls as they vie for positions in the workshop. Kristen and Aimee talked to DS about the audition process and their goals for the summer.

Dance Spirit: What did you do to prepare for the audition?
Kristin Smith: The main thing I did was take extra dance classes. At the audition, they look at your jazz and tap technique, but I also worked on my ballet, since that is a requirement for the intensive.

Aimee Lane: I try to get as much sleep as I can before auditions. I don't do a lot of hard workouts, as that can tighten up my muscles. Plus, I start practicing my hair and makeup about three days before any audition. The Rockettes' signature hairstyle is a French twist, which is really hard to do on yourself!

DS: What was the audition process like?
KS: We first learned a jazz routine and then a tap routine. For both of them, we split into groups of three to audition. I just thought of the audition as a normal dance class.


AL: Obviously, you have nerves because there's a lot weighing on the audition day—you're dancing in front of actual Rockettes! It can be stressful because they teach you the choreography quickly and it really puts your mind to the test. If you have one finger out of line, they notice.

DS: What do you hope to learn at the Summer Intensive?
KS: This intensive is so different and unique—it has a great atmosphere and it's less competitive than other workshops. I look forward to learning more about myself as a dancer.

AL: The Rockette style is such a different genre of tap and jazz than what you're used to at a studio. I'm hoping to gain even more knowledge and background about the Rockettes to use for the future (I would love to intern with the Rockettes next year!).


DS: What are your future dance goals?
KS: In the fall, I'll be attending The Boston Conservatory for dance. I hope to someday become a Rockette and maybe audition for professional ballet companies. I also would love to teach dance during my performance career.

AL: To be a Rockette! Broadway is my other passion—for college, I've been looking into NYC schools with strong musical theater programs.
Follow Kristen, Aimee and other hopefuls throughout their audition process in "The Rockette Summer Intensive" airing tonight at 7:30 on MSG Varsity.
Photos top to bottom: Dancers audition for the Rockettes Summer Intensive; Summer Intensive hopefuls lined up at Radio City Music Hall in NYC. Both courtesy the Rockettes.
Much of Janelle Ginestra's career has been about helping others shine. She's dedicated herself to supporting and cheerleading her partner, WilldaBeast Adams; the emerging talents in their dance company, ImmaBEAST; and the countless dancers she inspires at master classes and conventions. Her YouTube channel has become a launching pad for young talents like "Fraternal Twins" Larsen Thompson and Taylor Hatala, thanks to viral videos featuring Ginestra's creative vision.
But Ginestra's a skyrocketing success in her own right—an in-demand choreographer, a social media influencer, and a dance entrepreneur, building a legacy one eight-count at a time. It's time for her turn in the spotlight. And she's more than ready. "I want to be a legend in whatever I do," she says. We'd argue that she already is.
Keep reading...
Show less
Win It
Oct. 13, 2017 04:31PM EST
Oct. 13, 2017 03:01PM EST
Okay, so it's also Friday the 13th. (Eek! Be sure not to let any black cats cross your path on the way to the studio!)
Keep reading...
Show less
If you've ever seen a Janelle Ginestra class video, you know how lit her combos are. What you don't see in those clips is how devoted Ginestra is to her students. We went behind the scenes at one of her sold-out IMMA SPACE classes to see Ginestra in her element, mentoring some of L.A.'s most talented dancers. It was an inspiration feedback loop.

All photos by Joe Toreno.
Keep reading...
Show less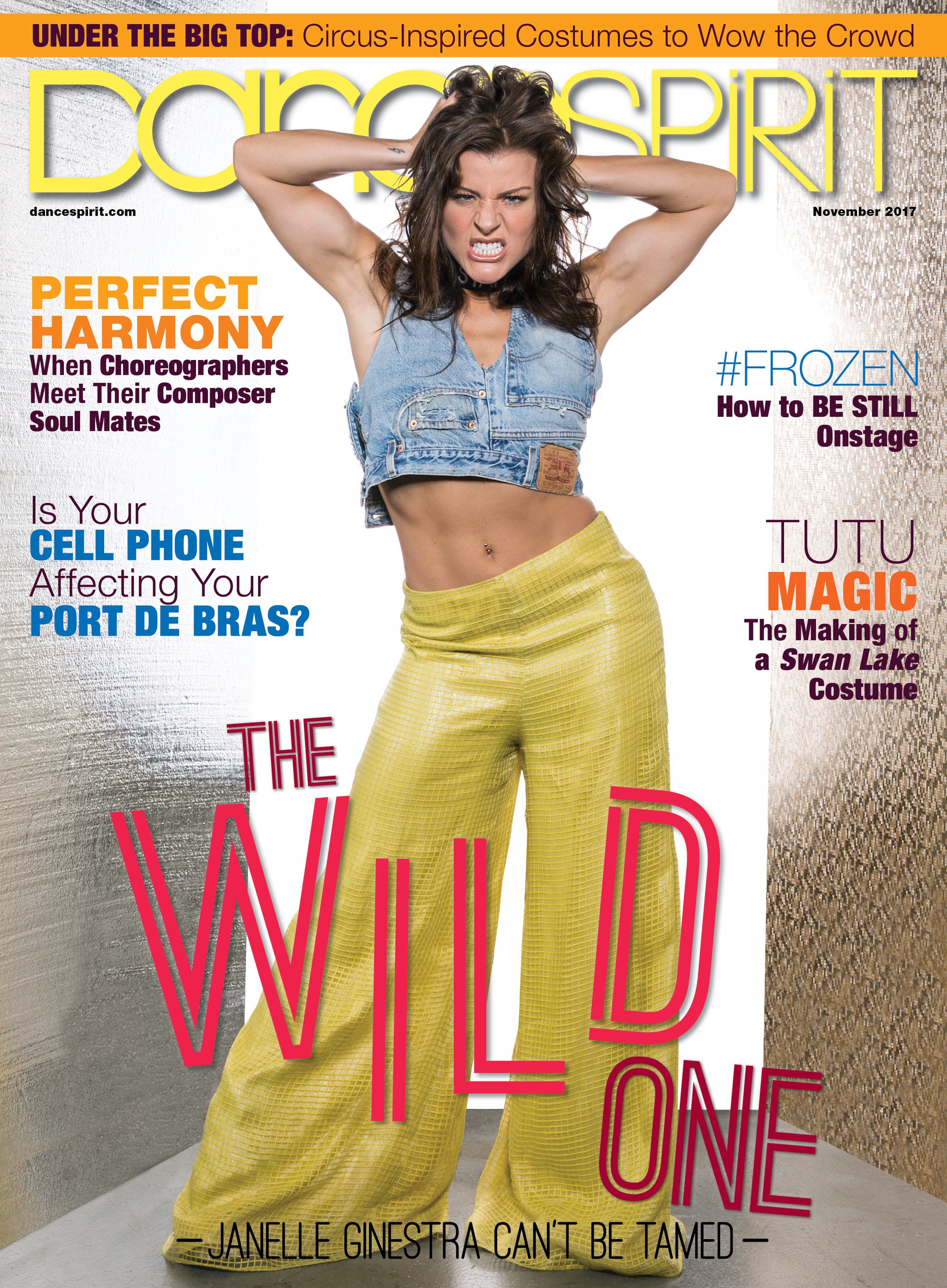 Get Dance Spirit in your inbox