Musical Theater
Mar. 23, 2017 05:39AM EST
Being Annie: Lilla Crawford on Her Starring Broadway Role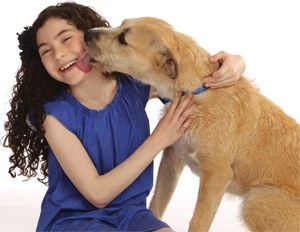 Lilla Crawford gets a kiss from Sunny. By Joan Marcus
It's definitely not a hard-knock life for Lilla Crawford. At only 11 years old, she's singing, dancing and acting her heart out on a Broadway stage—for the second time! This L.A. native made her Broadway debut in 2011, playing Debbie in the closing cast of Billy Elliot. Now she's donning a red wig to star in the title role of the Annie revival, opening at the Palace Theatre on November 8. Dance Spirit chatted with Lilla just a couple weeks after she started rehearsals.
Dance Spirit: What was your reaction when you found out you'd landed the role of Annie?
Lilla Crawford: I was really, really excited. I thought, "Wait, what? Really?" It was this moment of disbelief. It was Friday the 13th when I found out, so now I think that date is lucky.
DS: Who was the first person you told?
LC: I wasn't allowed to tell anyone at first—I had to wait three weeks. I went on the "Today" show to announce it, and then we put it on my Facebook fan page. So everybody kind of found out at once. My friends were calling me like, "Oh my gosh, really?" They were sad to see me leave L.A., but they were so happy for me. I know they're all going to come see me perform.
DS: What have rehearsals been like so far?
LC: Building the show in rehearsals has been so cool. Every day I learn something new, and I'm excited to do the show from start to finish. All the scenes are fun, and the other kids are my best friends. We met for the first time during the audition process, and they're all so nice. Also, working with the dog who plays Sandy is great. Her name is Sunny, and she's the cutest. We've been practicing together a lot.
DS: Do you have a favorite part of the show?
LC: I love the whole show! I've seen the movie a million times, and I saw the play when it toured to L.A. I don't really have a favorite part, but I like the number "N.Y.C." That one's fun to perform.
DS: You made your Broadway debut in Billy Elliot last year. So far, how is Annie different?
LC: The rehearsal process is definitely different. With Billy Elliot, I was being put into a show that was already running, so I started rehearsing by myself, then with the other Ballet Girls, and then finally with the rest of the cast. But I only rehearsed with the whole cast once before I went on. For Annie, we're learning it all together because it's an original cast. I'm excited because I've never done previews, a tech week or an opening night before. I think my favorite part will be tech week, when we start to rehearse onstage with all the cool set pieces and costumes.
DS: Imagine yourself in 10 years. What will you be doing?
LC: I'll probably still be acting because I love it so much. There are so many parts I would love to play, but my dream role would probably be Reno Sweeney in Anything Goes. That would be a really fun character.
via @phil_wright_ on Instagram
Well, this brings class videos to a whole new level! Choreographer Phil Wright and dancer Ashley Liai have been together eight-plus years, but she was still in total shock when he proposed to her mid-dance at Millennium Dance Complex earlier this week. Why? Well, the whole thing was unbelievably perfect.
Keep reading...
Show less
(Courtesy ABC)
In the dance industry, dancers don't always have a say in what they wear on their bodies. This can get tricky if you're asked to wear something that compromises your own personal values. So what should you do if you find yourself in this sticky situation? We sat down for a Q&A with "Dancing with the Stars" alumn Ashly Costa to answer that very question. Here's what she had to say about the options dancers have surrounding questionable costumes.
Keep reading...
Show less
Jul. 20, 2017 04:39PM EST
Erin Carpenter as a Knicks City Dancer (David Safran, courtesy of Erin Carpenter)
The groundwork for Erin Carpenter's company, Nude Barre, began when she was a teenager. At 16, she earned a spot in the residency program at The Kennedy Center in partnership with Dance Theatre of Harlem. "We were required to wear nude—as in, our actual skin tone—tights and shoes," she remembers. Carpenter brought her "sun tan" tights and a pair of pink ballet shoes with her, because that was all she could find. But she wasn't allowed in class because her dancewear didn't match her skin. "I was so embarrassed," she says. "I looked unprepared. I just didn't have the right nudes." Her teacher explained that the dancers dyed their tights and pancaked their shoes.
Keep reading...
Show less


Get Dance Spirit in your inbox