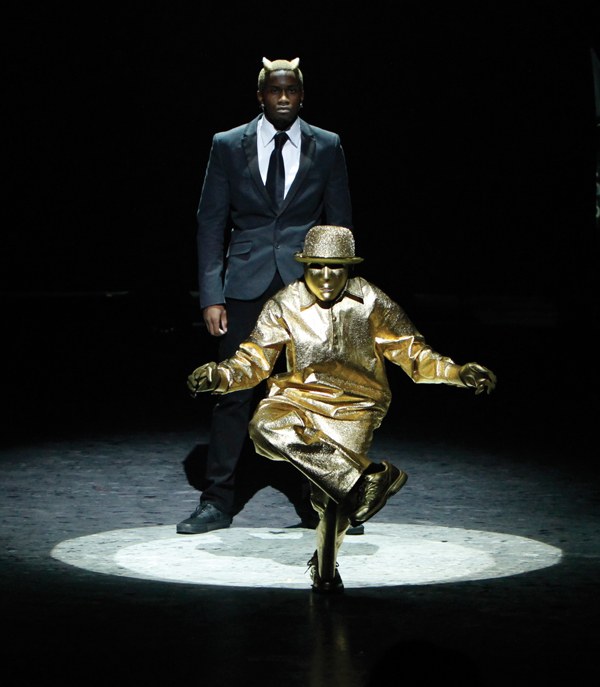 Bryan "Chibi" Gaynor (in gold) performing with Dragon House Crew on "So You Think You Can Dance" (photo by Adam Rose/FOX)
When Cyrus "Glitch" Spencer of Dragon House Crew auditioned for Season 9 of "So You Think You Can Dance," fans were blown away by his "new" style: animation. The fascination continued in Season 10, when judges selected not one but two animators—Jade "Soul" Zuberi and Dorian "BluPrint" Hector—for the Top 20. And while we're still waiting for an animator to be crowned America's Favorite Dancer, one thing's for sure: America's caught the animation bug.
But what exactly is animation? Dance Spirit went to the pros to find out.
Where did animation come from?
This style isn't new. Some sources say it originated in the late 1980s. Old-school animators, like Boppin Andre, drew inspiration from a form of stop-motion animation called dynamation, which brings inanimate models to life within a live-action film—think the early versions of King Kong and Godzilla. Most animators trace their history back to the 1958 dynamation movie The 7th Voyage of Sinbad (which is why Boppin Andre used to call the style "Sinbad dance"). Claymation films are also a source of inspiration for animation dance.
The resulting movement is almost human, but not quite. "When you're animating, you're pretending to be an inanimate model that's trying to move like a human," says Bryan "Chibi" Gaynor of Dragon House and RemoteKontrol crews.
"Animation is about bending reality," adds Soul. "You want to make the audience question whether what they're seeing is real."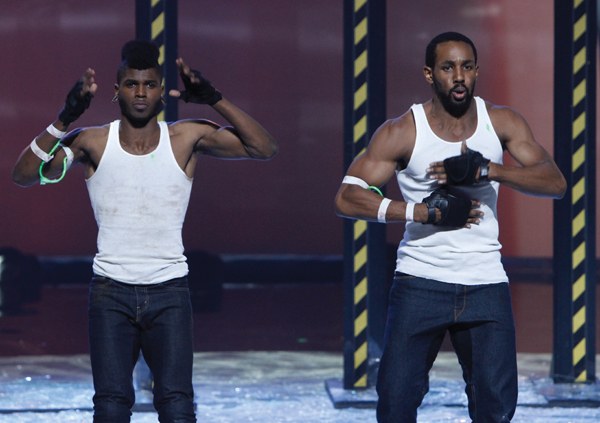 Cyrus "Glitch" Spencer (left) and Stephen "tWitch" Boss performing Like a Criminal on "SYTYCD" Season 9 (photo by Adam Rose/FOX)
How Do You Become an Animator?
Anyone can pretend to be a robot on the dance floor, but becoming a master animator takes a lot of time and research. "As with any style, start by doing your homework," says Soul. When Soul first began animating, he would spend hours on YouTube watching animation-dance videos to pin down the basics.
Glitch stresses that you need to master the fundamentals of popping—hard hits, stopping, isolations, etc.—before you can animate. "Then you can begin to experiment and find out what feels good on your body," he says. "For example, you can add movement—waving, tutting, gliding—to the hard hits of popping to make it look less mechanical."
While it's essential to learn the fundamentals, it's equally important to develop your unique way of moving. "It's easy to mimic someone else's style," Chibi say. "It takes time to find you."
Why Now?
If animation has been around since the late '80s, why the sudden surge in popularity? Soul explains that animation, like any form of street dance, requires exposure to grow. "Now that we have YouTube and camera phones, we can record our stuff and put it out there—and it spreads like wildfire," he says.
When Chibi auditioned for "SYTYCD" in 2007, he not only introduced America to animation, but also set the standard for what it's supposed to look like. The animators who have followed him—on "SYTYCD" and "America's Got Talent," in the Step Up movies, on YouTube and on TV commercials—continue to raise the bar. "The young people coming up are gonna have something that really amazes us," Chibi says.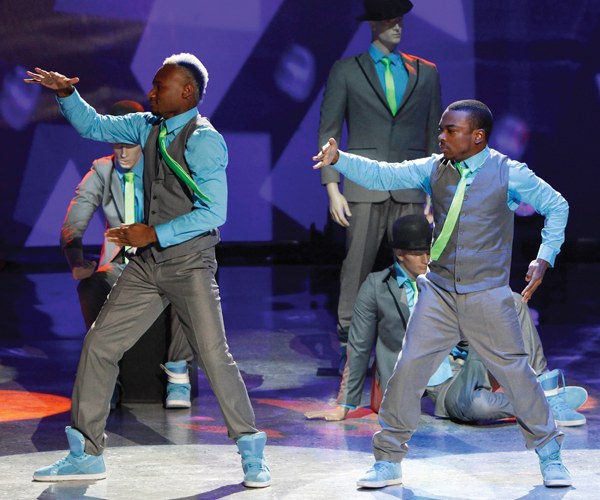 Dorian "BluPrint" Hector (left) and Jade "Soul" Zuberi performing Trigger on "SYTYCD" Season 10 (photo by Adam Rose/Fox)
A Note on Music
Jade "Soul" Zuberi of "So You Think You Can Dance" Season 10, Cyrus "Glitch" Spencer of Season 9 and Bryan "Chibi" Gaynor of Dragon House and RemoteKontrol crews all note the importance of music to style development. Because animation hit the commercial dance scene around the same time dubstep music exploded, many mistakenly call it dubstep dance. "Animation is not dubstep dance," says Glitch.
Glitch's music preference depends on his mood. When he wants to be expressive, he performs to slow music. Hip-hop helps him convey strength and power, and glitch-hop (a form of electronic music with deliberate "glitches" or malfunctions in the sound) is perfect for crisp, small movements.
Soul prefers dancing to classical, ambiance or glitch-hop music.
But just because animation isn't dubstep dance doesn't mean you can't perform animation to dubstep music. Chibi likes using it because it offers a lot of sounds he can capture. "It can be a simple 'tick, tick, tick' or a big move that emphasizes the sound," he says.
Erin Carpenter as a Knicks City Dancer (David Safran, courtesy of Erin Carpenter)
The groundwork for Erin Carpenter's company, Nude Barre, began when she was a teenager. At 16, she earned a spot in the residency program at The Kennedy Center in partnership with Dance Theatre of Harlem. "We were required to wear nude—as in, our actual skin tone—tights and shoes," she remembers. Carpenter brought her "sun tan" tights and a pair of pink ballet shoes with her, because that was all she could find. But she wasn't allowed in class because her dancewear didn't match her skin. "I was so embarrassed," she says. "I looked unprepared. I just didn't have the right nudes." Her teacher explained that the dancers dyed their tights and pancaked their shoes.
Keep reading...
Show less
Via @whitneybugs on Instagram
There are dancers and then there are DANCERS! Whitney Jensen, soloist at Norwegian National Ballet, is the latter. The former Boston Ballet principal can do it all. From contemporary to the classics this prima has the technical talent most bunheads dream about. Need proof? Look no further.
Keep reading...
Show less
Jul. 19, 2017 04:53PM EST
Via YouTube
Luis Fonsi and Daddy Yankee's dance inducing hit, "Despacito," is so catchy it should probably come with a disclaimer that warns people of an uncontrollable itch to tap your feet or bob your head. Some might even feel inclined to go all out and break it down. Niana Guerrero is a prime example of "Despacito's" uncanny ability to unleash the red dressed emoji dancer within. 💃🏽 💃🏽
Keep reading...
Show less
Jul. 19, 2017 04:25PM EST
(courtesy NBC)
Guys, we all knew this was coming—"World of Dance" was eventually going to eliminate someone. But man, is it brutal to watch these talented dancers give their all, only to be sent home. It's the name of the game, though, and after last night's episode, only two dancers per division remain. (At least Misty Copeland guest-judging was a silver lining!) Here's what went down last night:
Keep reading...
Show less


Get Dance Spirit in your inbox