Sep. 26, 2012 12:53PM EST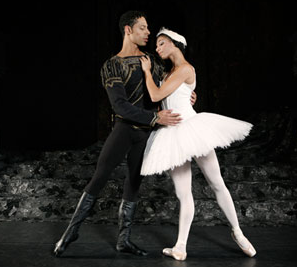 A week from Friday, Birmingham Royal Ballet soloist Céline Gittens will dance Odette/Odile in the company's production of Swan Lake. Gittens is a gorgeous dancer, lyrical and elegant—she'll make a perfect swan. She'll also make history, as the first black dancer to perform the ballerina role in the UK.
There's been a lot of discussion recently about why there are so few black dancers in ballet, with critics arguing both that it is and that it isn't due to discrimination within the field. (For the record, neither Gitten nor her partner—BRB first soloist Tyrone Singleton, who's also black—think discrimination is an issue). The role of Odette, with its white tutu and even, occasionally, white body makeup, has been a particular touchstone in the debate.
So next Friday will be a significant moment, for Gittens and for ballet. And judging by this video of Gittens rehearsing Swan Lake with Singleton, it'll be a beautiful moment, too.
(via YouTube)
Remember that fabulous old-school clip of dancers tapping in pointe shoes that Tabitha and Napoleon D'umo brought to our attention back in March? As we mentioned then, toe-tap dancing was actually super popular back in the 1920s and 30s—which means there are more videos where that one came from. And because #ToeTapTuesday has a nice ring to it, we thought we'd take this opportunity to introduce you to Dick and Edith Barstow, a toe-tapping brother and sister duo from that era who are nothing short of incredible:
Keep reading...
Show less
Adam Rose/FOX
Guess who's back? Back again? The Academy's back! Tell a friend.
After one day at The Academy, the All Stars have successfully taken the Top 100 down to 62. But their work is just getting started: Now they need to keep narrowing the field to a Top 10, ultimately deciding who each will partner with during the live shows.
Keep reading...
Show less
Sara Mearns and Chase Finlay in Pontus Lidberg's "The Shimmering Asphalt" (via @saramearns on Instagram)
We've said it before and we'll say it again: New York City Ballet principal Sara Mearns is some SERIOUS #goals. Her strength and power onstage borders on superhuman. But what's extra magical about Mearns is that she really puts in the fitness and cross-training work outside of the rehearsal studio. And she's overcome her fair share of injuries. Which is why she was the perfect source for Vogue's latest ballet fitness story.
Keep reading...
Show less


Get Dance Spirit in your inbox