Black Swan: Behind the Scenes
Ballerina Holly Lynn Fusco has a long history with Swan Lake. As a young dancer training in West Bloomfield, MI, she played a court page in American Ballet Theatre's production when the company made a tour stop in Detroit. Later, she danced the Swan Lake pas de trois when she was a student apprentice with Miami City Ballet. Today, Holly's in the corps at Pennsylvania Ballet, where she will be in Christopher Wheeldon's take on the classic ballet this spring. So it seems only fitting that she would be one of 19 dancers to land a role in Black Swan, a movie that uses Swan Lake as its backdrop.
In the movie, Natalie Portman and Mila Kunis play two NYC ballerinas vying for the lead role in their company's Swan Lake production. In the ballet, the White Swan, Odette, is a princess who's been transformed into a swan by an evil sorcerer, a spell she can break only by receiving a pledge of eternal love; the Black Swan, Odile, is the sorcerer's daughter, whom Odette's suitor mistakes for his true love. Portman's character, Nina, has Odette's innocence and earnestness while Kunis' character, Lily, is cunning and fiery like Odile. The ballet unfolds throughout the movie, alongside the battle between Nina and Lily.
Holly kept a diary of her time on set. Read on to get a behind-the-scenes look at Black Swan. —Katie Rolnick
December 9, 2009
Today the news arrived: I've been cast with 13 other Pennsylvania Ballet dancers in Black Swan! I'll be a background extra and performance dancer. I'm not quite sure what that means, so I'll have to wait and see.
December 22, 2009
Two nights ago, the PAB dancers set out for SUNY Purchase, where parts of the movie are being filmed. We got to the set early yesterday morning for our first day of work. There was a whirlwind of activity: crew members bustling, people shouting instructions and large film equipment being carted around.
We were told to bring our own dance attire within a palette of blacks, grays and whites; Natalie Portman and Mila Kunis, the lead actresses, would be wearing brighter colors. After the wardrobe department approved my outfit, I did my own hair and makeup and headed up to "holding," which is a large room filled with tables (including the craft services food table) where the crew and actors wait until they're needed.
In the film, I'm a member of the corps de ballet, and the scene for the day was the first company class after summer vacation. Before the camera started rolling, we learned and rehearsed a few combinations at the barre. Then filming started. They first shot us doing barre exercises, and then we progressed into the center. I thought to myself, "This is easy! I do this every day." Boy, was I wrong. The director said, "Cut," and we returned to the barre—and then performed the same fondu exercise for nearly eight hours! Because of the studio mirrors, the scene had to be shot from many angles, and we had to keep our clothes, hair and movements exactly the same for each take. We worked through the night and finished filming the scene at about 4 am.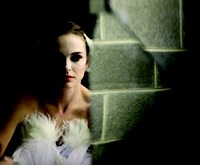 Natalie Portman in "Black Swan." Photo by Niko Tavernise.
January 17, 2010
As filming has progressed, we've had the opportunity to work more closely with the lead actresses and the professionals playing their dance doubles. American Ballet Theatre soloists Sarah Lane and Maria Riccetto are dancing for Portman and Kunis, respectively. This means that every scene with the lead actresses is filmed twice: once with the actors and once with their dancer doubles. Portman amazes me. She has beautiful port de bras and a passion for ballet that could rival any professional dancer's.
January 20, 2010
The last 10 days have been devoted to filming the movie's performance scenes. Just like real ballet performances, we're in full costume, hair and makeup. The costumes are on loan from ABT and they're gorgeous! And unlike before, professionals have been doing our hair and makeup. After transforming into the corps of white swans, we often sit in holding for up to seven hours before they're ready for us on set. On days with a lot of waiting, we pass the time playing games, reading books and stretching because we always have to be warm and ready to go.
These have been some of the hardest scenes to shoot. Prior to any filming, we rehearse in a basement studio at SUNY Purchase with New York City Ballet principal and Black Swan choreographer Benjamin Millepied, former NYCB corps member and associate choreographer Kurt Froman and on-set ballet consultant Olga Kostritzky, a former School of American Ballet teacher. Olga epitomizes "tough love" and whips us into shape. But once we're on set, everything changes. Because of the cameramen and equipment, the choreography often has to be altered to prevent collisions. Such is Hollywood!
January 24, 2010
Today was my final day on set. The last scene we shot was simple: The corps de ballet walked up the stairs while Portman, dressed as the Black Swan, came down the stairs. Her tutu, created by Kate and Laura Mulleavy (the sisters behind the high fashion line Rodarte), gleamed under the lights. Her makeup and hair were immaculate, her poise incomparable.
It was bittersweet when I heard "That's a wrap" echoing in the stairwell. I've come to realize that the film world is not that different from the ballet world. We have crews, directors, actors and actresses, if you will, all working toward the same goal: the performance. And in both forms, the process leading up to the performance is crucial. In ballet, that process is the countless hours in the studio, the obstacles you had to overcome to nail a tough moment in your variation. Actors put a lot of energy into their roles, too. Portman and Kunis spent months training with Olga, Manhattan Youth Ballet faculty member Marina Stavitskaya, former NYCB dancer Mary Helen Bowers and former ABT ballet mistress and coach Georgina Parkinson (who, sadly, passed away shortly after filming began) to finesse their technique. Being a part of Black Swan has taught me to appreciate that process in my own career, and to live in the moment—you can never get it back!
Look for Holly in Black Swan when it opens on December 1, 2010.
What's more daunting than getting into your dream college dance program? Figuring out how you'll cover the costs of tuition, room and board, incidental expenses and more. Here's the good news: The right scholarship(s) can bring your dream school well within reach.
Look Around, Look Around
Scholarship applications are due between the fall of senior year and graduation time, so familiarize yourself with funding opportunities during the spring of junior year. And there are a lot of opportunities out there, says Kate Walker, chair of dance at Booker T. Washington High School for the Performing and Visual Arts in Dallas, TX. "A lot of school guidance counselors now have software that automatically matches you with scholarships," she says.
Seek out scholarships on your own, too. According to Walker, "a lot of corporations are required to have some community engagement, including offering scholarships, so research corporations in your community." Your parents' employers might offer assistance too, says Doug Long, an academic and college counselor at Interlochen Arts Academy in Interlochen, MI. "They might have scholarships you can apply for just because your parent works there."
Other sources of grant money you won't have to pay back (as you would a loan)? The YoungArts Foundation; competitions/conventions, like New York City Dance Alliance; and the university or dance department you're applying to. Even some scholarships aimed at athletes are open to dancers!
Apply Yourself
A winning scholarship application involves a fair amount of paperwork, especially if the organization requires you to show financial need. In addition, certain scholarships ask for the College Board's CSS/Financial Aid Profile, which gives the awarding organization a more complete picture of your family finances.
Other ingredients of a successful scholarship application include recommendation letters, a dance and/or academic resumé and an essay or statement of purpose. Treat these components just like college applications: Have multiple trusted adults proofread your materials, and ask for recommendation letters or transcripts long before deadlines.
A note for non-dance scholarships: Including objective measures of achievement can only help you. "List national recognitions, like YoungArts or other competitions," says Long. "That shows the scholarship committees that people at high levels have acknowledged you as an artist of quality." And don't forget who your audience is. "Especially in writing samples, make sure you paint a vivid picture for your reader," Walker says. "Don't assume they know about all the things—like barre every day—that we as dancers take for granted."
No award amount is too small to be worth your time and effort. As Walker says, "Don't pooh-pooh a couple hundred dollars in award money, because any scholarship is funding that you didn't have yesterday."
A version of this story appeared in the July/August 2017 issue of Dance Spirit with the title "All Aboard the Scholar-ship."
Every ballet dancer knows the time, sweat, and occasional tears the art form demands. But many non-dancers are clueless about just how much work a ballet dancer puts into perfecting his or her dancing. So when the mainstream crowd recognizes our crazy work ethic, we'll accept the round of applause any way it comes—even if it comes via four men in tutus. Yep, we're talking about "The Try Guys Try Ballet" video.
Keep reading...
Show less
(via YouTube)
Remember that fabulous old-school clip of dancers tapping in pointe shoes that Tabitha and Napoleon D'umo brought to our attention back in March? As we mentioned then, toe-tap dancing was actually super popular back in the 1920s and 30s—which means there are more videos where that one came from. And because #ToeTapTuesday has a nice ring to it, we thought we'd take this opportunity to introduce you to Dick and Edith Barstow, a toe-tapping brother and sister duo from that era who are nothing short of incredible:
Keep reading...
Show less
(Adam Rose/FOX)
Guess who's back? Back again? The Academy's back! Tell a friend.
After one day at The Academy, the All Stars have successfully taken the Top 100 down to 62. But their work is just getting started: Now they need to keep narrowing the field to a Top 10, ultimately deciding who each will partner with during the live shows.
Keep reading...
Show less


Get Dance Spirit in your inbox