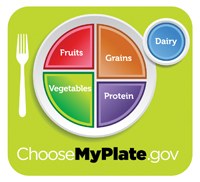 Courtesy Choosemyplate.gov
You probably learned about the food pyramid back in elementary school. But did you know that First Lady Michelle Obama recently helped introduce the U.S. Department of Agriculture's MyPlate icon to replace it? That's right: Coinciding with the First Lady's "Let's Move!" campaign to end childhood obesity, the USDA has created an easier way to make sure you're getting all the nutrients you need to keep your body performance-ready. Simply follow the icon: Fill half your plate with fruits and vegetables, about a quarter with grains and a quarter with protein, then add a small side of dairy. It's that easy. Just make sure your plate isn't super-sized!
Perfect Portions
Test your knowledge about how much you should really be eating.
1.    One serving of vegetables or fresh fruit is about the size of:
a)    a ping-pong ball
b)    a baseball
c)    a softball
2. One serving of fish is similar in size to:
a)    a credit card
b)    a passport
c)    a checkbook
3. One serving of dried fruit and nuts is comparable in size to:
a)    a large egg
b)    a lemon
c)    an avocado
4. One serving of ice cream is similar in size to:
a)    a golf ball
b)    a tennis ball
c)    a Wiffle ball
5. One serving of meat is about the size of:
a)    a box of matches
b)    a deck of cards
c)    a postcard
Quiz Answers: 1. b, 2. c, 3. a, 4. b, 5. b
Make portion control easier:
Never eat straight from the bag. Just pour a serving size of your favorite snack into a small bowl. You'll eat less and feel satisfied—not sick.
Boyfriends & Ballet
Men who attend the ballet, museums and other cultural events lead healthier and happier lives, according to a new study published in the Journal of Epidemiology and Community Health. If your man has been feeling upset or anxious lately, cheer him (and yourself!) up with tickets to see your favorite ballet company. It's time for a date night at the theater.
Bright Eyes 
If you've been rehearsing late and waking up early, you're probably sporting some unwanted bags under your eyes. For a quick remedy, place your eye moisturizer in the refrigerator overnight. The cool cream will reduce puffiness and act as a moisturizer, leaving you looking healthy and happy!
Via @whitneybugs on Instagram
There are dancers and then there are DANCERS! Whitney Jensen, soloist at Norwegian National Ballet, is the latter. The former Boston Ballet principal can do it all. From contemporary to the classics this prima has the technical talent most bunheads dream about. Need proof? Look no further.
Keep reading...
Show less
Via YouTube
Luis Fonsi and Daddy Yankee's dance inducing hit, "Despacito," is so catchy it should probably come with a disclaimer that warns people of an uncontrollable itch to tap your feet or bob your head. Some might even feel inclined to go all out and break it down. Niana Guerrero is a prime example of "Despacito's" uncanny ability to unleash the red dressed emoji dancer within. 💃🏽 💃🏽
Keep reading...
Show less
Jul. 19, 2017 04:25PM EST
(courtesy NBC)
Guys, we all knew this was coming—"World of Dance" was eventually going to eliminate someone. But man, is it brutal to watch these talented dancers give their all, only to be sent home. It's the name of the game, though, and after last night's episode, only two dancers per division remain. (At least Misty Copeland guest-judging was a silver lining!) Here's what went down last night:
Keep reading...
Show less
Jul. 18, 2017 06:03PM EST


Get Dance Spirit in your inbox