Jan. 16, 2014 10:48AM EST
"Breaking Pointe" Has Been Canceled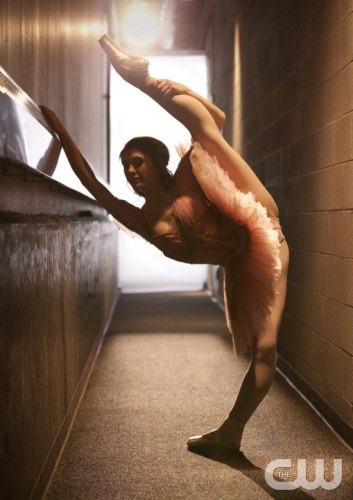 We'll even miss Beckanne's oversplit. OK, we'll especially miss Beckanne's oversplit. (Photo Erik Ostling/The CW)
Sad news, bunheads: The CW announced yesterday that it's curtains for "Breaking Pointe." The docusoap, which followed Utah's Ballet West, won't be back for a third season.
Let's be honest: Most dance fans had a pretty conflicted relationship with the show. A lot of us were irritated by the way the cast's interactions were manipulated for maximum drama, and disappointed by how little dancing actually made the final cut.
But here at DS, we're genuinely sad that "Breaking Pointe"'s run is over. It brought ballet—real, professional ballet!—to mainstream television. It earned some truly beautiful dancers, like Beckanne Sisk and Christiana Bennett, a well-deserved degree of fame. It showed us a whole lot of Frederick Ashton's amazing (and relatively rarely-seen) Cinderella. And while some of its plotlines were melodramatic, others—especially director Adam Sklute's hesitation about casting Josh Whitehead, the company's only African-American male dancer, in a comic role—addressed meaty ballet-world issues.
Farewell, "Breaking Pointe." We'll miss our weekly dose of professional ballet company life—however "real" or "unreal" it may have been.
Dance is a powerful form of expression, and Ahmad Joudeh is using its influence to promote peace.
The 27-year-old is a Palestinian refugee, whose decision to pursue his passion for ballet has made him the target of death threats from terrorist organizations. Despite the danger, Joudeh has decided to continue on his path as a dancer, using his performances as an opportunity to spread a message of peace and cultural awareness.
Keep reading...
Show less
A dance photo of Averi Hodgson (courtesy of Cortney Hodgson)
For 14-year-old Averi Hodgson, focusing on her ballet training while growing up was never easy: She's suffered from epilepsy since she was in first grade, and later, she was also diagnosed with scoliosis. Here, she tells her story of perseverance—and how her determination earned her a spot at the School of American Ballet's 2017 summer intensive.
Keep reading...
Show less
CBS
"Late Late Show" host James Corden was one of the many, many people shocked by President Trump's sudden decision to ban transgender people from the military yesterday. And he decided to voice his outrage in the way most likely to rile a President who's uncomfortable with anything "un-manly": through a big, beautiful, extra-sparkly song-and-dance routine.
Keep reading...
Show less
Jul. 25, 2017 05:04PM EST


Get Dance Spirit in your inbox