Musical Theater
11 March 2011
You've been dancing your whole life, so when it comes time to start auditioning for musicals, it's not the dance portion you're worried about. You can time step and piqué turn with the best of 'em. But at musical theater auditions, there's new lingo to learn, and you can't just show up with your tap shoes hoping for the best. What if you have to sing? What is an "audition book"? What are you supposed to do with sheet music?
To get the lowdown, DS called on the experts to answer your questions.
How should I prepare for an audition?
"First, research the creative team and learn about the style of the show," Vallins says. "The era the show takes place in will affect what you should wear and what you're going to sing. Learn whatever you can about the director and choreographer." If the show's website is already up and running, look there for bios, or Google the names you find. "Knowing the people involved will help you know what they're looking for during the audition combination," Vallins says. "Will they work on character-based combinations or focus on technique?"
What if I'm not a singer?
In most shows, everyone needs to sing—not just the leads. "Find a voice teacher and go as many times as you can afford," Martignetti says. "When you choose your audition song, make sure it's something you love to sing." Pick songs that are in your vocal range and practice often.
What if I can't afford voice lessons?
"Save enough for one lesson with someone who can put the vocal exercises on a CD for you," Vallins says. Check out voice lesson videos online, Jones suggests. Or "find a singer who needs help with his or her dancing and trade services."
What is an audition book?
All performers need a binder with plastic page covers that hold sheet music (yes, you must learn how to read sheet music). When the casting team asks you to sing, bust out your book. The accompanist will play the song you choose and you sing along. If you don't know how to read sheet music, search for a guide online, then get to a voice coach.
What kinds of songs should I have in my audition book?
Beginners should start with at least two songs. "One should be a standard Broadway song," Vallins says, from a show like A Chorus Line or 42nd Street.
"Everyone should also have a pop/rock song prepared," Woodard says. As Broadway embraces rock musicals—from Rock of Ages to Spider-Man: Turn Off the Dark—you should, too. It's also a good idea to prepare a ballad to add range.
"Whatever you choose, the songs should be simple and should show off your ability to keep a melody and stay on pitch," McGill says.
What are common mistakes dancers make during auditions?
"Apologizing!" Martignetti says. "If you make a mistake, don't make excuses. The casting crew knows you're human."
What are the casting directors thinking?
"Casting directors want you to have a good audition and show what you're capable of," Jones says. "If you mess up during an individual audition, ask to start over. It shows that you're in control."
Harmon adds, "The hiring crew wants someone who can handle whatever is thrown at them."
Meet The Pros
Nikole Vallins, casting director for Binder Casting: cast A Chorus Line, White Christmas, Gypsy, Dreamgirls and The Lion King
Paul McGill: Memphis and A Chorus Line
Cornelius Jones Jr.: The Lion King, Smokey Joe's Cafe and Thou Shalt Not
Chasten Harmon: Les Misérables, All Shook Up, Hair and Once on This Island
Jeremy Woodard: Rock of Ages and national tour of Hairspray
Stephanie Martignetti: National tours of Mary Poppins and A Chorus Line
Quick Tips
Don't forget your dance resumé.

Make sure your headshot looks like you—not an overdone, too-much-makeup, super-altered version of you.

Warm up before going into the audition room. Don't wait until you're in the room to get ready to perform.

Don't be afraid to ask questions.

If you are told to mark it, mark it. Going full out every time won't impress the choreographer if that's not what he/she asked for.

Don't mark the combination on the side when others are performing.

Be aware of your spacing. Bumping into a fellow dancer will affect your performance and someone else's.
Our Broadway Pros Share Their Go-to Audition Songs
Paul McGill: "Bridge Over Troubled Water" by Simon & Garfunkel and "Can't Take My Eyes Off You" by Frankie Valli and the Four Seasons (the Lauryn Hill cover version)
Stephanie Martignetti: "That'll Show Him" from A Funny Thing Happened on the Way to the Forum and "Take the World Away" from Little by Little
Cornelius Jones Jr.: "Lost in the Wilderness" from Children of Eden and "On the Wings of Love" by Jeffrey Osborne
Chasten Harmon: "Rockin' Robin" by the Jackson 5
Jeremy Woodard: "Wanted Dead or Alive" by Bon Jovi and "In the Still of the Night" by The Five Satins
Katie Webber: "Something to Talk About" by Bonnie Raitt
Photo by ABC/Eric McCandless
And that's a wrap on "Dancing with the Stars" Season 24, ladies and gents! It's certainly been one for the books. From injuries to shocking eliminations, let's just say Season 24 has had its emotional ups and downs. But despite all that, the season made for some seriously phenom dancing and some killer performances. And as usual, we've loved watching every second of those cha chas, foxtrots, and waltzes.
Let's get right to the exciting stuff, though: Last night's winning couple of "Dancing with the Stars" is...
Keep reading...
Show less
May. 23, 2017 01:11PM EST
Via @quinn_starner on Instagram
Nearly 80,000 dance-loving Instagram followers can't be wrong: Quinn Starner is one to watch. And what's just as impressive as the 15-year-old's rabid online following is her ever-growing list of competition accolades. Quinn, who trains at Indiana Ballet Conservatory and Stars Dance Company, been named first runner-up at The Dance Awards for two years in a row (as a junior and a teen); was the 2016 West Coast Dance Explosion Teen National Champion; earned first place in contemporary and third place in the classical division at Youth America Grand Prix Regionals in Pittsburgh last year; has won the Grand Prix Award at ADC|IBC; and was a gold medalist at World Ballet Art Competition Grand Prix. Plus, she made it to the Academy round on last year's "So You Think You Can Dance: The Next Generation," and has performed as Clara in the Radio City Christmas Spectacular. Here's what Quinn has to say about her favorite songs, teachers, and career highlights.
Keep reading...
Show less
May. 23, 2017 02:34PM EST
NBC
Want a chance to get personally involved in the HOTLY anticipated TV show "World of Dance"? Of course you do. That's why J. Lo. and the rest of the "WOD" team have launched an interactive version of the upcoming NBC series that lets Snapchatters get in on the action.
Keep reading...
Show less
May. 22, 2017 02:07PM EST
On Saturday morning, Russell Horning—aka 15-year-old Instagram king @i_got_barzz—was already kind of famous. His admittedly bad but weirdly mesmerizing dance videos had earned him shoutouts from the likes of Rihanna (and dance tributes from the likes of Josh Killacky).
But by Sunday morning? By Sunday morning, Russell Got Barzz had reached an entirely different level of memedom. Because Katy Perry tapped the teen—signature backpack and all—to perform "Swish Swish" with her on "Saturday Night Live." And the internet lost its darn mind.
Keep reading...
Show less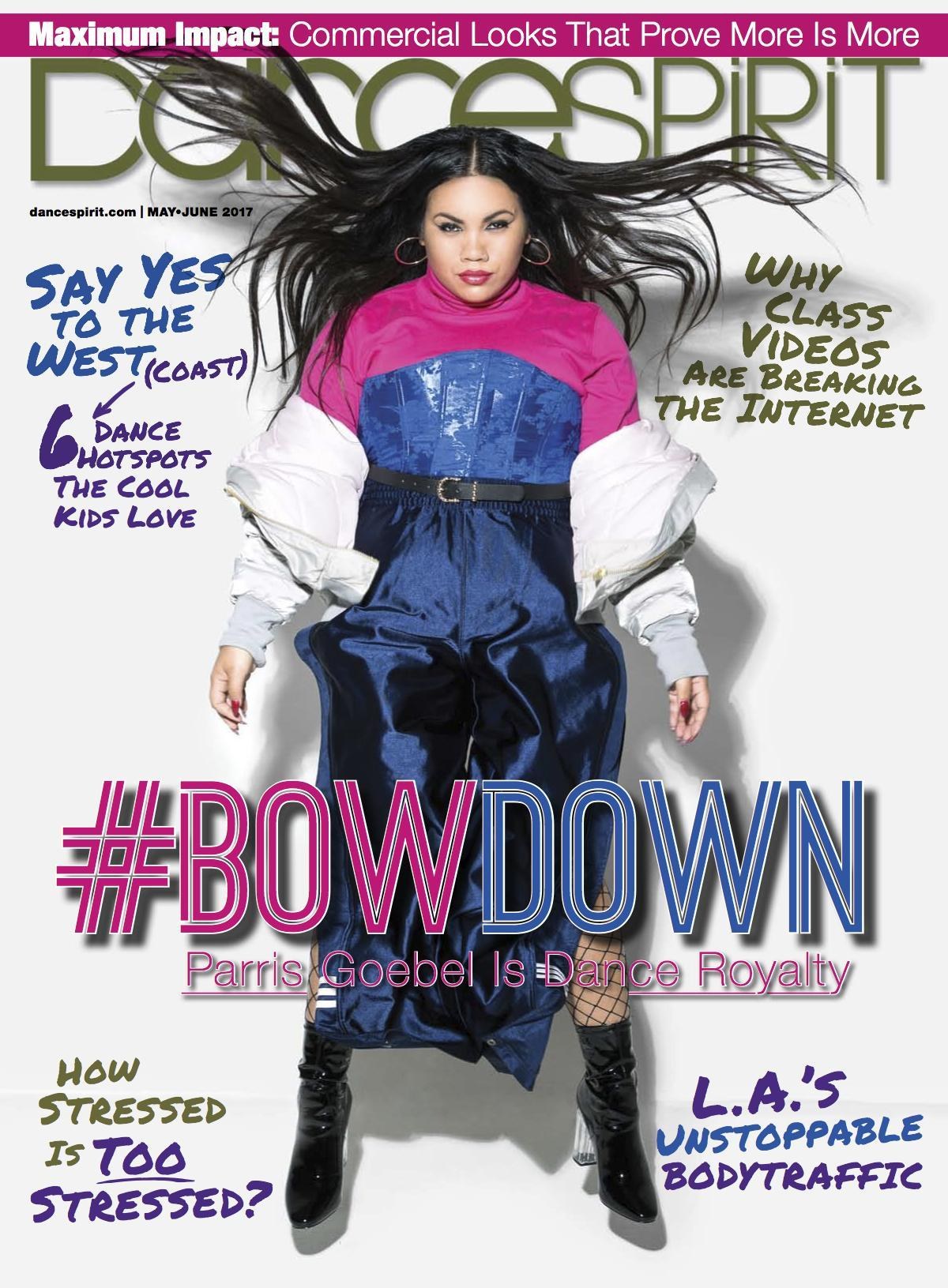 Get Dance Spirit in your inbox