"It's my first professional performing experience, and it just happens to be on Broadway!" exclaims Meredith Miles. Indeed, last March, this leggy platinum blonde made her professional debut on Broadway as an ensemble member in Twyla Tharp's dance-centric Come Fly Away. And even among the show's Tony-nominated dance elite, Miles is an unforgettable force who holds her own. Her pure lines and sultry persona are on display, especially during ensemble numbers like "Take Five" and "Jumpin' at the Woodside." But a career on Broadway wasn't Miles' initial plan.
Originally from Columbia, MO, Miles trained primarily at the Columbia Performing Arts Centre. After graduating high school, she went to San Francisco to continue her education at the Alonzo King LINES Ballet BFA program. But before returning for her third year, Miles took a leave of absence in order to pursue her dream career with Netherlands Dance Theatre. She had attended the NDT Summer Intensive in 2009, and, at the urging of faculty members and other dancers, bravely stayed in Holland to take classes with NDT, hoping to break into the company. However, two months later, a still jobless Miles moved back home and then to NYC—which quickly led her to her Broadway destiny.
It wasn't long before Miles signed on with an agent and started auditioning for jobs—and, eventually, Tharp's new Broadway production based on the songs of Frank Sinatra. "My agent asked the producers if I could skip the open call and attend an invite-only audition," says Miles, "but they told her I was too young for the show entirely." Unwilling to take "no" for an answer, Miles attended the open cattle call audition. Kim Craven, Come Fly Away's resident director, saw Miles at the first audition. "Meredith's confidence and lines stuck out immediately. I kept looking at her resumé, wondering why I didn't see numerous Broadway credits. She was so good!"
Like Craven, Keith Roberts, former American Ballet Theatre principal and star of Tharp's Movin' Out and Come Fly Away, was at first surprised that Miles was so inexperienced. "But once I saw her working," Roberts says, "I immediately understood what Twyla saw in her." Although she's the baby of the tight-knit group of Tharp regulars—the majority of the cast is 10 to 15 years older—Miles fits in just fine both onstage and off. "It was a little tough for her in the beginning," Roberts says. "A lot of us have known each other since Movin' Out, and some of us have even grown up together, so anyone coming into the show would be intimidated. But Meredith's definitely found her place."
Miles actually sees her youth as an advantage: "I'm in the best position because I am the least experienced. I'm so fortunate to be able to look up to everyone in the cast," she says. "I keep my eyes wide open and observe everything." Roberts admires her drive backstage. "Already at 21, she's incredibly professional," he says.
Almost all of Tharp's choreography in Come Fly Away involves tricky, contemporary partnering. Girls fly through the air in complicated and elaborate pathways. "It helps when you're partnered with more experienced guys," says Miles, who's paired with Roberts in "Let's Face the Music and Dance." "Meredith really does her homework," Craven says. "She comes prepared and ready to give 110 percent every day." But Miles' work ethic stems from her respect for the production and its leader. "It's such an honor to be working with a legend like Twyla Tharp, and to be in the original cast," Miles says. "And since she took a chance on me, and invested time and energy in me, I'm going to do nothing but the best for her."
Now, Miles' talent and hard work are paying off even further: She has recently begun rehearsing the role of Slim, a principal character played by Rika Okamoto. "Things are still up in the air, but after I finish learning it, maybe I'll go on during a matinee or if someone is injured," Miles says.
Just six months after her first performance, Miles is still learning the ins and outs of being on Broadway. "It's a struggle to be consistent and do the same show every day," she says. "Being a professional dancer really means learning how to remain calm and efficient in an ever-changing environment."
Although she has a standout duet in the show and is on a principal performance track, Miles' favorite Come Fly Away scene is the last one, in which principals and ensemble members share the stage. Sinatra's "New York, New York" echoes through the theater and the entire cast dances through their curtain calls. "The very end of the show is the first time everyone in the cast is touching and connected," Miles says. "Then, after everything is done, getting to bow for your work, knowing it was a great night—that's my favorite part."
Fast Facts:
Birthday: May 8, 1989
Favorite music right now: Norah Jones. "NYC gets so crazy. I want something soothing when I get home."
Favorite movies: Father of the Bride and Father of the Bride Part II. "They're oldies, but goodies!"
Must-see TV: "Grey's Anatomy"
Favorite foods: Sweet potatoes and dark chocolate
Siblings: 3. "I'm the bologna in the middle! It goes girl, girl (me), boy, boy."
Fave NYC dance classes: Nancy Bielski's ballet class and Joe Lanteri's jazz class, both at Steps on Broadway
Who would play her in a movie: "Any strong leading lady—maybe Julia Roberts, Meryl Streep or Sandra Bullock. I'd be OK with that!"
Cool job: "I was working on the film Black Swan as an extra and dancer while I was auditioning for Come Fly Away. It was a crazy schedule!"
Hobbies: "I love to cook and go running with my dog. I have a maltipoo and I love taking her to the river or Central Park. I love to be outside. Being from the Midwest, I went through tree withdrawal when I moved to NYC."
Photo by ABC/Eric McCandless
And that's a wrap on "Dancing with the Stars" Season 24, ladies and gents! It's certainly been one for the books. From injuries to shocking eliminations, let's just say Season 24 has had its emotional ups and downs. But despite all that, the season made for some seriously phenom dancing and some killer performances. And as usual, we've loved watching every second of those cha chas, foxtrots, and waltzes.
Let's get right to the exciting stuff, though: Last night's winning couple of "Dancing with the Stars" is...
Keep reading...
Show less
May. 23, 2017 01:11PM EST
Via @quinn_starner on Instagram
Nearly 80,000 dance-loving Instagram followers can't be wrong: Quinn Starner is one to watch. And what's just as impressive as the 15-year-old's rabid online following is her ever-growing list of competition accolades. Quinn, who trains at Indiana Ballet Conservatory and Stars Dance Company, been named first runner-up at The Dance Awards for two years in a row (as a junior and a teen); was the 2016 West Coast Dance Explosion Teen National Champion; earned first place in contemporary and third place in the classical division at Youth America Grand Prix Regionals in Pittsburgh last year; has won the Grand Prix Award at ADC|IBC; and was a gold medalist at World Ballet Art Competition Grand Prix. Plus, she made it to the Academy round on last year's "So You Think You Can Dance: The Next Generation," and has performed as Clara in the Radio City Christmas Spectacular. Here's what Quinn has to say about her favorite songs, teachers, and career highlights.
Keep reading...
Show less
May. 23, 2017 02:34PM EST
NBC
Want a chance to get personally involved in the HOTLY anticipated TV show "World of Dance"? Of course you do. That's why J. Lo. and the rest of the "WOD" team have launched an interactive version of the upcoming NBC series that lets Snapchatters get in on the action.
Keep reading...
Show less
May. 22, 2017 02:07PM EST
On Saturday morning, Russell Horning—aka 15-year-old Instagram king @i_got_barzz—was already kind of famous. His admittedly bad but weirdly mesmerizing dance videos had earned him shoutouts from the likes of Rihanna (and dance tributes from the likes of Josh Killacky).
But by Sunday morning? By Sunday morning, Russell Got Barzz had reached an entirely different level of memedom. Because Katy Perry tapped the teen—signature backpack and all—to perform "Swish Swish" with her on "Saturday Night Live." And the internet lost its darn mind.
Keep reading...
Show less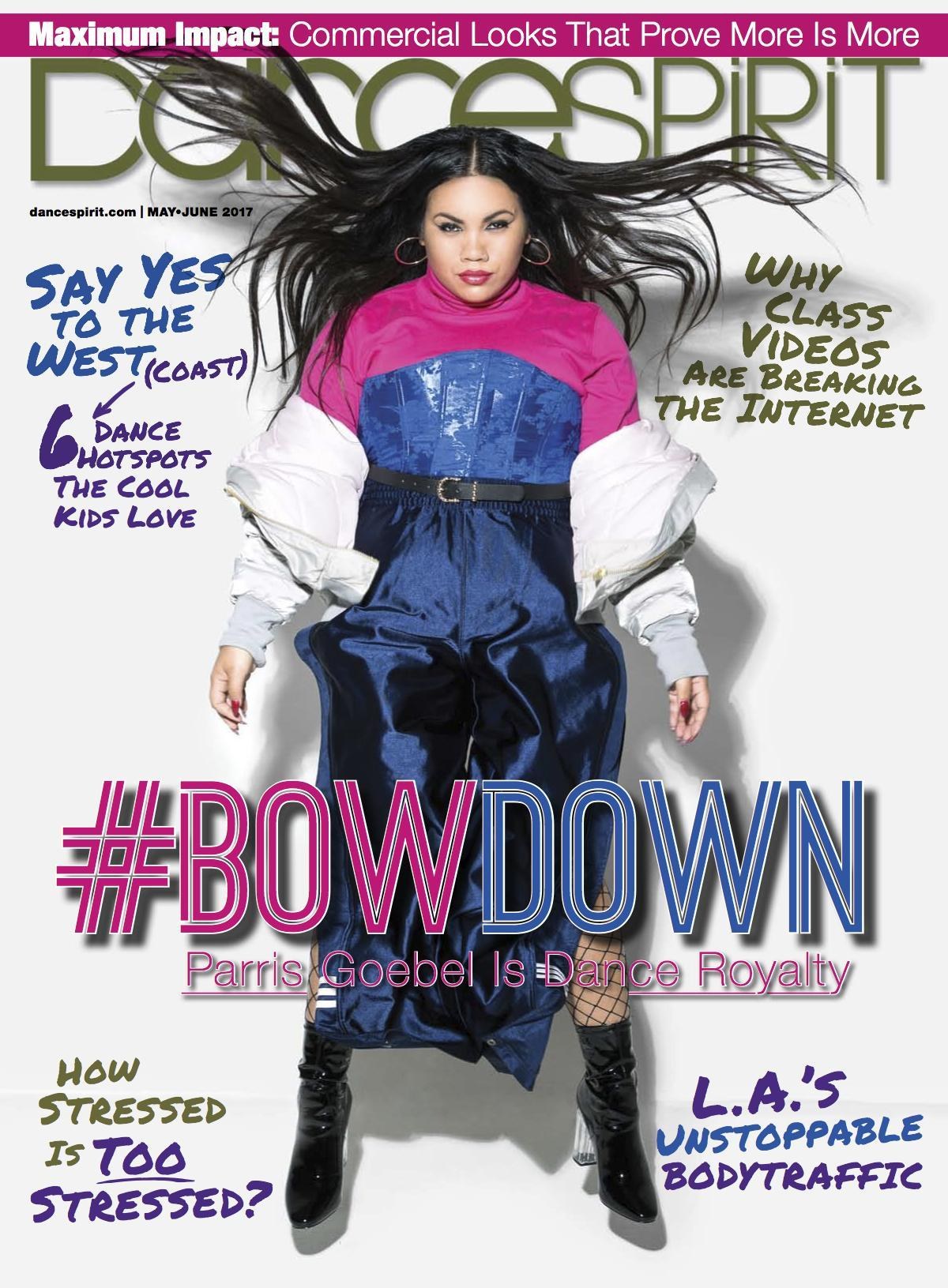 Get Dance Spirit in your inbox