Building a Fitness Empire
(photo by The Emma Experience, courtesy Hsu)
You may have noticed Broadway dancer Emily Hsu's vibrant leggings and sports bras in dance and yoga studios across the country. In just two short years, Emily Hsu Designs has become a dancer-approved sensation, thanks to her unique understanding of line and fit—knowledge of a woman's body that only a dance career can teach. Her roster of clients now boasts the Rockettes and top-level Broadway dancers, who swear by her flattering gear.
---
The Road to Broadway
Hsu was late to dance, not starting in earnest until she was an undergrad at Harvard University, where there's no formal dance program. She dedicated herself to dance training in her free time, and moved to NYC after graduating with a psychology degree. "I always knew I wanted to perform growing up, and I always loved theater," she says. "So, I started auditioning and training at Broadway Dance Center." Her work paid off within a year, when she landed her first Broadway gig, Miss Saigon. In the 22 years since, Hsu has performed in 12 Broadway shows, including Spamalot and Elf, and many workshops and tours.
Supply and Demand
In the summer of 2014, Hsu reconnected with her yoga practice. "I just really couldn't find much that I liked to wear to class," she says. She had no formal training in sewing or patternmaking, outside of her mother's instruction, but Hsu decided to go buy some stretch fabric and see what she could do. "After many, many tries, I actually made something that I really liked for myself," she says.
People at the yoga studio took notice and started asking for custom pieces of athletic wear. Hsu's network of dance and fitness colleagues followed. Beth Nicely, a dancer in Something Rotten!, a former Rockette and current trainer at Body by Simone, started posting pictures of Hsu's creations on her Facebook page—and the requests started to multiply. "There's a pattern for any mood or emotion you're giving while you dance," Nicely says. "They're supportive but don't hold you back from kicking your legs." At the time, Hsu was making all of the clothes by hand. "I would make 40 pairs and load them up in a suitcase and sell them to the Rockettes," she says. She later opened an Etsy shop and eventually launched a website. Faced with growing demand, she enlisted a cut-and-sew operation out of New Jersey to produce her pieces.
Models wearing Hsu's designs (photo by Justin Patterson, courtesy Hsu)
Building a Brand

Great dancers are master cross-trainers, and Hsu wanted her pieces to stand up to anything her customer threw at them. "You want to wear it out and about looking cute, but you also want to be able to dance, spin or do hot yoga," she says. All of her garments are made with four-way stretch fabric and high-performance thread to withstand all those high kicks and splits, and her leggings are also all high-waisted and are cut long. Her high-waist design stems from frustration with other leggings causing muffin top. "I used to feel like I had to wear baggy tops with my leggings or wear a really tight tank top to pull me in, but with the cut of my leggings it's smooth, so you can wear anything."
Hsu's colorful prints have become her signature. She's often drawn to patterns with lots of color and interest. "I think when there's movement to a print, it draws the eye away from any imperfections," she says. Though Hsu sources most of her prints, she has been starting to experiment with designing her own fabrics.
Being a professional dancer has prepared Hsu to own an activewear company because she actually knows how it feels to use her products. "I'm not some man sitting in a corporate office. I am my customer," she says. Dance has also prepared her to roll with the punches. "It's hard to audition all the time and constantly put yourself out there, being true to yourself and understanding that it's OK if you're not what they're looking for," she says. "Knowing that it's acceptable to fail is a big lesson that carries over from the dance world to the business world. There's no set path, just like being a performer."
(From left) Mean Girls dancers Riza Takahashi, Ben Cook, Kamille Upshaw, Jonalyn Saxer, DeMarius R. Copes, and Stephanie Lynn Bissonnette (photos by Erin Baiano)
Get in, losers. We're going to Broadway.
OK, not losers, actually—more like the bajillion die-hard fans of Tina Fey's 2004 cult hit Mean Girls, who've been wearing pink every Wednesday since a musical adaptation of the film was first teased back in 2013.
Now their world is like a cake filled with rainbows and smiles, because Mean Girls the musical, which had a trial run in Washington, DC, last fall, is set to open at Broadway's August Wilson Theatre April 8. And in a very grool twist, it turns out the show—with direction and choreography by Casey Nicholaw and a book by Fey herself—is delightfully dancey.
Keep reading...
Show less
Lloyd Knight perform ing in Martha Graham's Night Journey (photo by Brigid Pierce, courtesy Knight)
Principal Lloyd Knight has become a true standout in the Martha Graham Dance Company thanks to his compelling presence and dynamic technique. Knight, who performs leading roles in iconic pieces like Appalachian Spring and Embattled Garden, was born in England and raised in Miami, where he trained at the Miami Conservatory and later graduated from New World School of the Arts. He received scholarships to The Ailey School and The Dance Theatre of Harlem School in NYC and joined MGDC in 2005. Catch him onstage with MGDC during its New York City Center season this month. —Courtney Bowers
Keep reading...
Show less
University of Minnesota Dance Team (courtesy University of Minnesota)
They say there's no "I" in "team"—and nowhere is that truer than the world of college dance teams, where precision reigns, uniformity is key, and a single misstep from any given "I" can cost a group a championship trophy. So it's unsurprising that securing a spot on one of the best dance teams in the country is no easy feat.
Members of these highly athletic teams rehearse for hours every week—on top of academic classes and commitments—and perform at football and basketball games, annual concerts, and nationally televised competitions (hi, ESPN). And "no I" rule notwithstanding, each of these top teams is made up of highly trained, highly technical, highly hard-core individuals, who come together to create a ready-for-victory pack.
These six teams aren't one-off success stories—they're consistently strong, and earn the top spots at major competitions like UDA and NDA nearly every year. Up for the challenge? Here's what to know before you go to auditions.
Keep reading...
Show less
Alicia Vikander in Tomb Raider (Warner Brothers)
Keep reading...
Show less
Photo by Travis Kelley, courtesy Kathryn Morgan
In our "Dear Katie" series, former NYCB soloist Kathryn Morgan answers your pressing dance questions. Have something you want to ask Katie? Email dearkatie@dancespirit.com for a chance to be featured!
Dear Katie,
I'm a hip-hop and jazz dancer, and I want to get involved in the commercial-dance world. I've never studied ballet, but people keep telling me I "have to" take ballet classes if I want to make it professionally. Is that really true? My family has limited money for dance classes, and I have to be careful about how I spend it.
Sarah
Keep reading...
Show less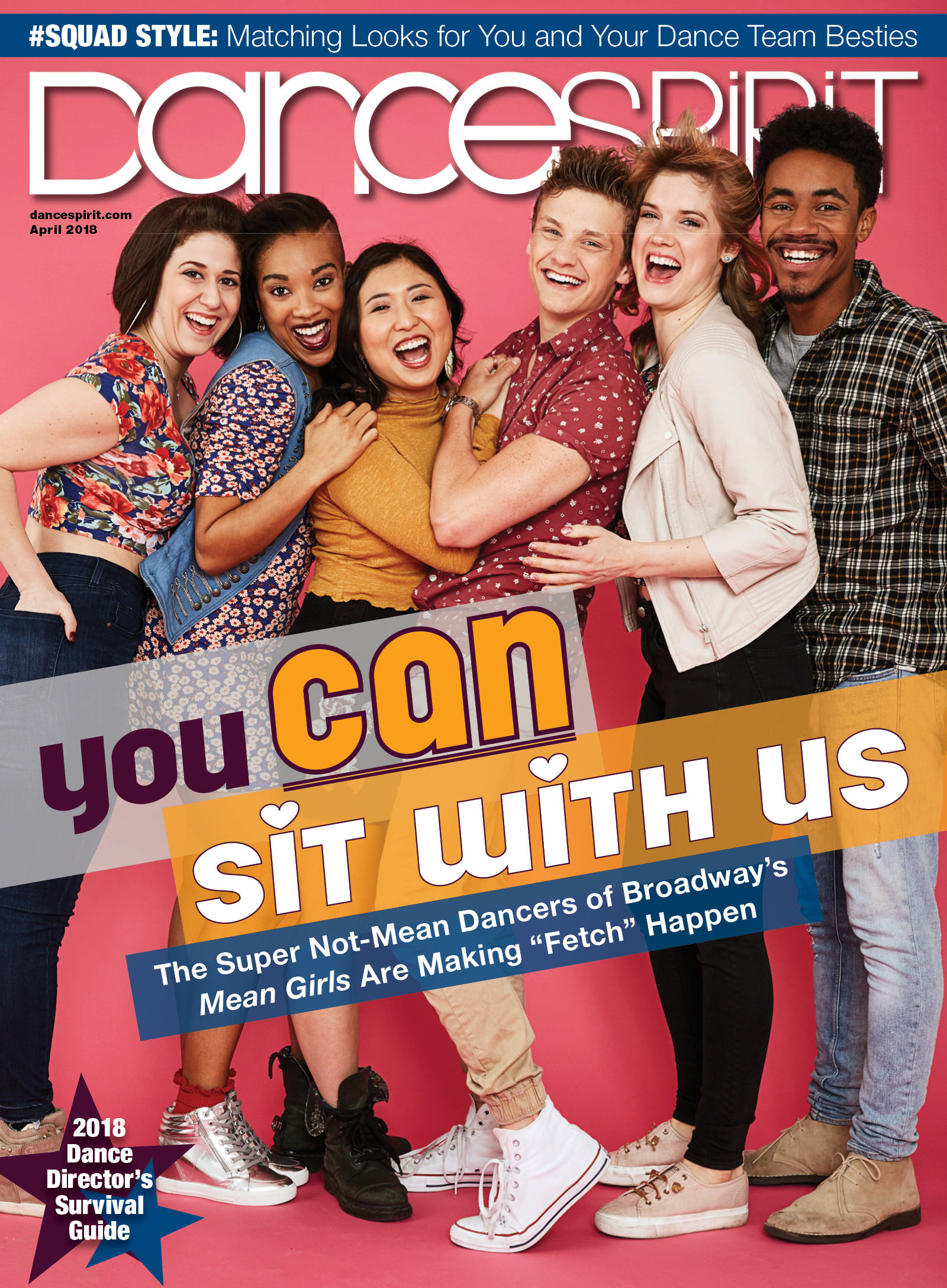 Get Dance Spirit in your inbox