Calling All Choreographers: It's A.C.E. Awards Time!
Hello all you lovely, creative people! Are you possibly the world's next choreographic genius? Do you want $15,000 to produce your very own show? Of course you are—we've seen how much talent y'all have!—and of course you do. Which makes us especially happy to announce that the 2016 Capezio A.C.E. Awards competition is now accepting submissions.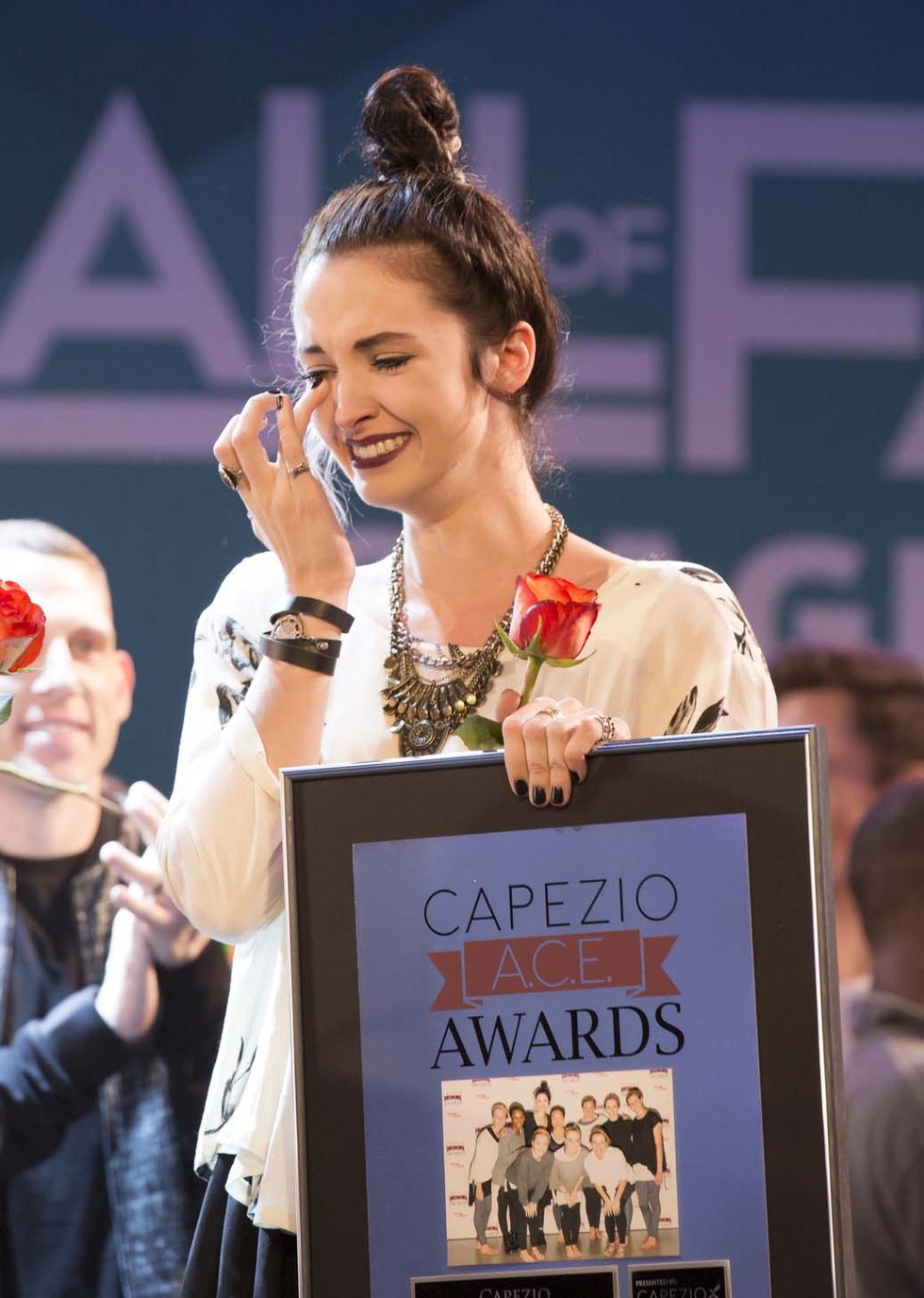 Here's last year's winner, Kirsten Russell, receiving her prize. YOU WANT TO BE THIS HAPPY! (photo by Joe Toreno)
A little background: Each year, the A.C.E. (Award for Choreographic Excellence) Awards invites 15 gifted dancemakers to present their best work at the Dance Teacher Summit. Three winners from that group, chosen by reps from Capezio and Dance Teacher magazine, receive funds to produce a full-length show, with $15,000 being the top prize. And in case you're wondering just how legit the A.C.E. Awards are, please note that past winners include Travis Wall, Peter Chu, Al Blackstone, Melinda Sullivan and Talia Favia. BOOM.
Anyway, entering the contest is easy: Just upload your best choreography video to dancemedia.com anytime between now and May 2. 15 semifinalists will get to present their choreo at the NYC Dance Teacher Summit, which will be held July 29–31; winners will be announced there. Questions? You can find all the rules and regulations (plus more delicious details about the prizes) here.
Get uploading, everybody. And if you need a little inspiration, take a look at last year's winning entry, Kirsten Russell's brilliant "Islands":
(From left) ABT's Erica Lall; NYCB's India Bradley; Washington Ballet's Nardia Boodoo; NYCB's Rachel Hutsell (all photos by Rachel Neville)
Misty Copeland. Her name is synonymous with exquisite artistry and outspoken advocacy. And her visibility has made a huge impact on the ballet world. Ballet's relationship with race has always been strained at best, hostile at worst. But Copeland's persistent message and star quality have finally forced the ballet industry to start talking about racial diversity, inclusivity, and representation. "The rarity of seeing ourselves represented is sad," Copeland says. "The more we see every hue and body shape represented on the stage, the more possibilities young dancers feel they have for themselves."
Keep reading...
Show less
Popular
Feb. 18, 2018 07:00AM EST
Rippon after his stunning performance (via Instagram)
We love, love, LOVE figure skaters who completely embrace the dance aspect of the sport, putting real time and thought into their choreography and music choices (while also, you know, casually pulling off death-defying jumps). This Olympics, a lot of attention has (rightly) been focused on frontrunner Nathan Chen, whose ballet background lends him a beautiful grace and fluidity on the ice. But it was Chen's teammate Adam Rippon who stole our dance-loving hearts yesterday, making his Olympic debut with a routine choreographed by none other than "So You Think You Can Dance" alum Benji Schwimmer.
Friends: HE. SLAYED. And because Rippon is the first openly gay U.S. man to qualify for any Winter Olympics—ever—the performance marked a major milestone.
Keep reading...
Show less
Popular
Jan. 21, 2018 07:00AM EST
ABT JKO School student Miuka Kadoi shoiwng off her beautiful line (photo by Kenneth Edwards)
Contemporary phenom Christina Ricucci has super-flexible hips, which means she can stretch her legs to unbelievable heights. But when she noticed herself making contorted positions in class, Ricucci realized she was approaching her extensions all wrong. "I went back to the basics in class, squaring my hips and using my turnout," Ricucci says. "I learned to create proper positions, rather than whacked-out versions of them."
Some dancers are so wonky they have a hard time supporting their high legs, while others struggle with limited flexibility. But no matter your facility, you can find a balance of stretch and strength to achieve your fullest range of extension. It's not about how high (or not) your legs can go: It's the quality of the movement, and how you get those legs up, that counts.
Keep reading...
Show less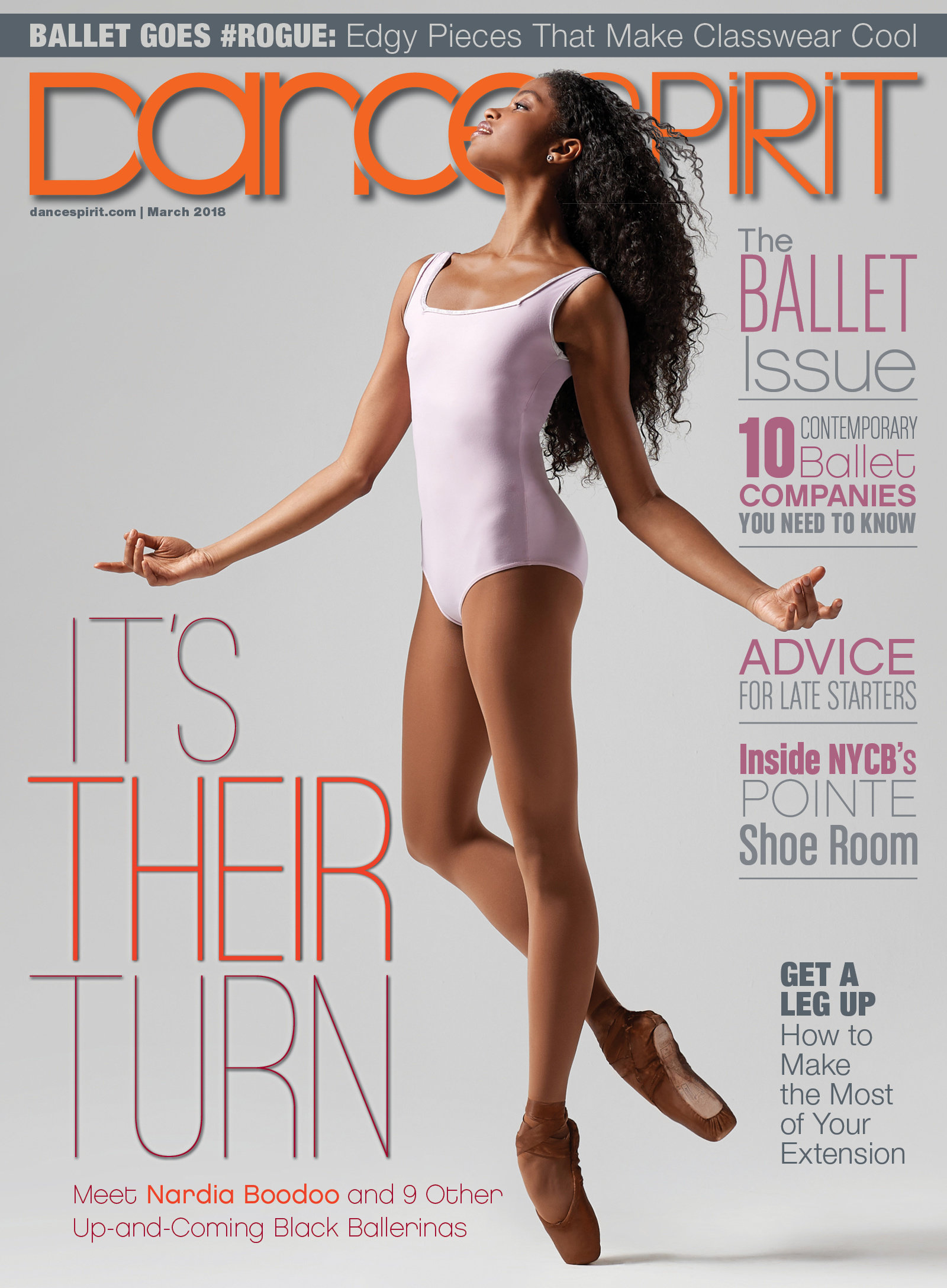 Get Dance Spirit in your inbox