How To
Jan. 30, 2017 01:44PM EST
The Four Toxic Girls You'll Meet at Every Competition
Illustration by Lealand Eve
A few years ago, 16-year-old Kayla Gonzalez found herself dancing alongside a mean-spirited girl. "She could be so rude," says Gonzalez, who trains at The Dance Zone in Henderson, NV. "It got worse at competitions. She'd make up lies, saying my teammates and I were doing things we weren't. She was always trying to get ahead." Sound familiar? A competitive environment can bring out the very worst in some dancers' personalities. When put in a stressful situation, students can become bossy, overdramatic or downright mean. Here, DS breaks down four toxic types you might encounter, and offers tips on how to respond.
---
The Diva
What she does: Pushes to be front-and-center; monopolizes teachers' time and attention; acts like she's the most important member of the team.
How to deal: Try to focus on what you need, in spite of the diva. "I tell my dancers, 'You do you.' Don't take that person's behavior personally," says Noel St. Jean, an instructor at Artistic Dance Conservatory in East Longmeadow, MA. The diva may be acting that way in an effort to make the most of her competition/convention weekend—but you deserve a spectacular experience, too.
Veteran convention teacher Mandy Moore agrees, and adds an extra tip for handling convention class space-hogs: "When someone is being bigger, it might make you feel like you have to take up less space. That's not the case. Use that person's confidence as inspiration."
The Micromanager
What she does: Corrects and nitpicks everyone else.
How to deal: If one of your peers is constantly offering corrections backstage during a competition or while you're trying to focus in convention class, and it's setting your nerves on edge, "Keep in mind that this person might be genuinely trying to help!" Moore says. A micromanager's anxiety about her own performance can manifest as a need to critique others to make sure everything's perfect.
Rehashing choreography as a group can stop nitpickers from taking over. If you're in the wings, St. Jean says, "You're going onstage as a team. In that moment, it doesn't matter if, six months ago, the choreographer said, 'Do it like this.' Take a vote and agree to stick to it." You can ask specific questions at your next rehearsal.
If the micromanager is commenting on your technique in convention class—especially if it's not a correction you're getting from the instructor—it's okay to politely change the subject. "I might say, 'Thanks. Let's go over that when we're back at the studio on Monday,' " Gonzalez says.
The Debbie Downer
What she does: Expects the worst—and shares her fears with anyone who will listen.
How to deal: It can be a real bummer having a Debbie Downer in your group. Unfortunately, some dancers process their stress by dwelling on worst-case scenarios. St. Jean remembers one student who had nightmares about forgetting her competition routine and running offstage: "She'd say, over and over, 'I'm going to mess it up.' " If you're not careful, that doom-and-gloom attitude can infect everyone.
Fight back by going overboard with positivity. "Nothing stops negativity better than a wall of positive energy," St. Jean explains. "The more upbeat and excited and encouraging you all are, the less likely it is that you'll see that person start to fade." You may even be able to help her forget her worries and look on the bright side, too.
The Frenemy
What she does: Acts super-sweet and supportive—until you're about to go onstage.
How to deal: Are you getting the competition cold shoulder from someone you consider a friend? This can feel terrible, especially when you value her encouragement and support. Before you decide your friendship is toast, consider how she usually handles pressure. "Some people just shut down," St. Jean says. "They're not trying to be rude." Maybe your friend needs some alone time in order to get in the right headspace to perform. If this is the case, things will probably return to normal once the pressure's off.
"I do think it's okay to say, 'You hurt my feelings,' " Moore says. But ask yourself: Is this something you want to hash out in this high-stakes environment, or can it wait until you're back home? If getting into an argument will ruin your competition experience, it might be a good idea to brush it off.
The Bottom Line
It never hurts to talk to an authority figure when someone's being toxic. "I'm a big advocate of sticking up for yourself," Moore says, "but these situations often benefit from a mediator." A teacher or a chaperone can resolve disagreements and give students individualized strategies to handle their nerves in a healthier way. They can also issue formal behavior warnings, if necessary.
If all else fails, remember that you're in control of how you respond to negativity. "Ask yourself, 'If Person A was gone, how would the competition feel different?' " Gonzalez says. "Once you realize, Wow, I'm letting her take this and this away from me, it's easier to let go of the frustration. Competitive dance is supposed to be fun!"
(From left) Mean Girls dancers Riza Takahashi, Ben Cook, Kamille Upshaw, Jonalyn Saxer, DeMarius R. Copes, and Stephanie Lynn Bissonnette (photos by Erin Baiano)
Get in, losers. We're going to Broadway.
OK, not losers, actually—more like the bajillion die-hard fans of Tina Fey's 2004 cult hit Mean Girls, who've been wearing pink every Wednesday since a musical adaptation of the film was first teased back in 2013.
Now their world is like a cake filled with rainbows and smiles, because Mean Girls the musical, which had a trial run in Washington, DC, last fall, is set to open at Broadway's August Wilson Theatre April 8. And in a very grool twist, it turns out the show—with direction and choreography by Casey Nicholaw and a book by Fey herself—is delightfully dancey.
Keep reading...
Show less
Alicia Vikander in Tomb Raider (Warner Brothers)
Keep reading...
Show less
Quiz
Dec. 11, 2017 04:24PM EST
Via @dreamcatchersda on Instagram
Everyone loves a good viral video, especially when there's dancing involved. And though many viral videos are contrived and created for the soul purpose of instafame, the story behind the latest video catching the eyes of millions—including Rihanna, super model Naomi Campbell, and Diddy—is even more unique because it features children who don't even know who those celebrities are.
A dance troupe in Nigeria has become the next internet sensation, thanks to their exuberant dancing and passion with which they perform. Their enthusiasm for dance is evident in every step and it's hard not to smile as you see these children (who range from ages 6 to 15) express pure joy in something as simple as dance. These nine kids are part of The Dream Catchers, an organization started by 26-year-old Seyi Oluyole, that gives impoverished children a place to live while teaching them how to dance.
Keep reading...
Show less
Illustration by Dniella Ferretti
For 16-year-old Amanda*, dance is everything: her passion, her escape from the daily grind, and her career goal. Her parents see things differently. "I have siblings who are active in sports," Amanda says, "and my parents would rather I play soccer or basketball. They don't see dance as something I can earn a stable living from in the future. They often tell me I should just quit."
Some parents aren't able to, don't know how to, or choose not to give you the kind of support you need to thrive in the studio. And when your parents are adding stress to your life, rather than alleviating it, there's a lot at stake. "Dancers who don't have the support of their parents might struggle with self-doubt," says Dr. Linda Hamilton, a former dancer with New York City Ballet and a clinical psychologist specializing in the performing arts, "while those whose parents are too involved can crack under the pressure." Whether your parents aren't there when you need them or they're always there, practically smothering you, try these tips to improve your situation.
Keep reading...
Show less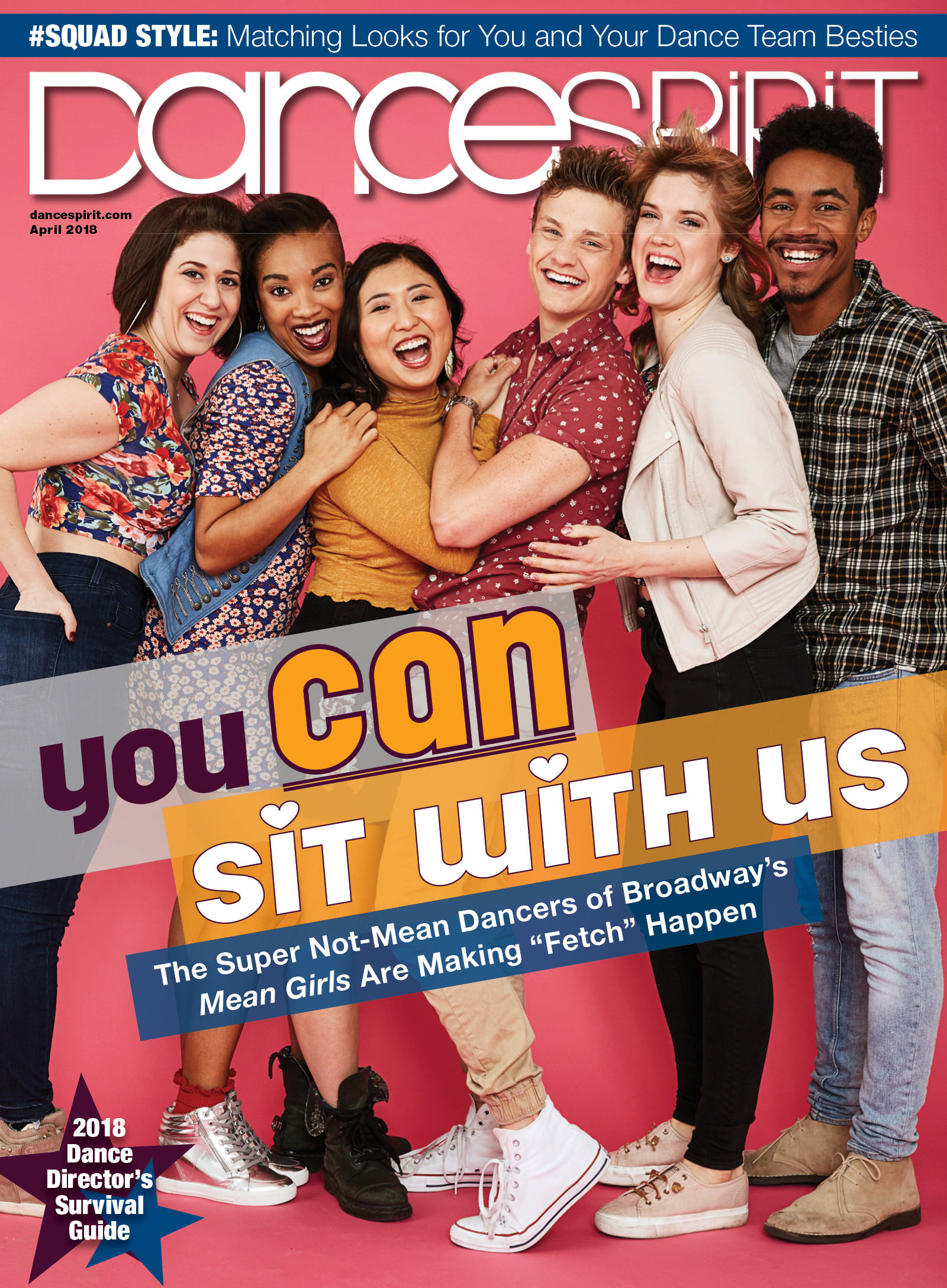 Get Dance Spirit in your inbox