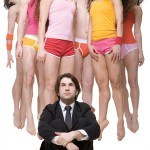 As a young dancer, Chase Brock was caught in a conundrum: He loved the classicism of ballet and trained rigorously with Ronnie Zink and at Ballet Spartanburg. But he also enjoyed—and excelled at—musical theater, attending the Broadway Theatre Project and performing in regional musical theater. Choosing between the concert dance world and the theater scene was a never-ending struggle. "All my dance friends thought of me as the dramatic one," Chase says. "And all my theater friends thought of me as the technical dancer! I kept going back and forth."
As a choreographer and founder of the Chase Brock Experience, the 26-year-old has finally found plenty of room for both. At a rehearsal for his piece Slow Float last summer, eight of his dancers worked on giddy pony skips, hip swirls and head rolls that recalled the swinging 70s (and perhaps Liza Minelli) right alongside flashes of delicate technical elegance. All told, it's an appropriate example of 26-year-old Chase's work, a hodgepodge of stylistic energy and serious precision, simultaneously indebted to animated musical theater, formal ballet and modern dance.
Chase watches this rehearsal thoughtfully then pops to his feet to discuss dynamics. He slides through an eight-count demonstration, momentarily revealing his own dance prowess. But while Chase was successful as a professional dancer—he nabbed his first Broadway gig, in Susan Strom
an's revival of the The Music Man at just 16—it was choreography that fascinated him most.
"When I was young, I always got the kids in my neighborhood together to make up dances and plays," Chase says. "I loved organizing people, building on a thought and seeing my finished product." Later, during rehearsal for The Music Man, Chase realized he was jealous of the show's creative team, especially when they got to work on formations and concepts. So, he grabbed a video camera and friends and started choreographing on his days off. After 721 performances in the classic's revival, Chase decided to officially step from the stage to the sidelines. "Choreography is an invitation to make beautiful things," Chase explains. "I far prefer that to being the center of attention." After his stint on the Great White Way, he continued with his new endeavor and assisted such legends as Kathleen Marshall, Ann Reinking and Jeff Calhoun.
Fortunately for dance lovers, this once-frustrating dual influence now strengthens Chase's work, keeping it interesting and varied, with nods to everyone from Fosse to Balanchine. The whole of it is in high demand: In the short lifespan of the group of 19 rotating dancers, Chase has created 23 diverse pieces, ranging from wildly technical to poignantly narrative. The company has performed them at increasingly impressive venues, including Dance New Amsterdam, La MaMa e.t.c. and Joyce Soho in NYC.
And, along with founding his 3-year-old company, he has created work for the New York Theatre Ballet, musicals for theaters around the country and operas internationally.
In his current work, Chase strives to "be part of the American dance lineage. "When I first started choreographing I looked at my ancestors: Martha Graham, Agnes De Mille, Bob Fosse, Jack Cole, Twyla Tharp," Chase says. "That's where I fit in—with Americana, that jazzy folk of our country. I want to uphold that tradition."
With his troupe of "scrappy, beautiful creatures" swirling around him, Chase works toward this end daily, finally letting the borders of prescribed styles hold less importance. He also collaborates with young set designers, musicians and artists, hoping to move not just dance, but all art, forward in a thoughtful and deliberate way. "The name of the company started out as a joke, and yes, it's cheeky," Chase admits. "But in reality, we do try to give our audiences a complete, unique experience. From the graphics on the mailers and audience seating, to the details of each movement, costuming and live music, it's all considered and measured. I want to do it all. And do it really, really well."
Check out the Chase Brock Experience at these upcoming performances, all in NYC:
CBE fall season October 8–11 at the Abrons Arts Center
December 7, CBE Gala at the Galapagos Art Space
January 9 at the Dance Gotham Festival at the Skirball Center for the Performing Arts
Photo by Sarah Small
What's more daunting than getting into your dream college dance program? Figuring out how you'll cover the costs of tuition, room and board, incidental expenses and more. Here's the good news: The right scholarship(s) can bring your dream school well within reach.
Look Around, Look Around
Scholarship applications are due between the fall of senior year and graduation time, so familiarize yourself with funding opportunities during the spring of junior year. And there are a lot of opportunities out there, says Kate Walker, chair of dance at Booker T. Washington High School for the Performing and Visual Arts in Dallas, TX. "A lot of school guidance counselors now have software that automatically matches you with scholarships," she says.
Seek out scholarships on your own, too. According to Walker, "a lot of corporations are required to have some community engagement, including offering scholarships, so research corporations in your community." Your parents' employers might offer assistance too, says Doug Long, an academic and college counselor at Interlochen Arts Academy in Interlochen, MI. "They might have scholarships you can apply for just because your parent works there."
Other sources of grant money you won't have to pay back (as you would a loan)? The YoungArts Foundation; competitions/conventions, like New York City Dance Alliance; and the university or dance department you're applying to. Even some scholarships aimed at athletes are open to dancers!
Apply Yourself
A winning scholarship application involves a fair amount of paperwork, especially if the organization requires you to show financial need. In addition, certain scholarships ask for the College Board's CSS/Financial Aid Profile, which gives the awarding organization a more complete picture of your family finances.
Other ingredients of a successful scholarship application include recommendation letters, a dance and/or academic resumé and an essay or statement of purpose. Treat these components just like college applications: Have multiple trusted adults proofread your materials, and ask for recommendation letters or transcripts long before deadlines.
A note for non-dance scholarships: Including objective measures of achievement can only help you. "List national recognitions, like YoungArts or other competitions," says Long. "That shows the scholarship committees that people at high levels have acknowledged you as an artist of quality." And don't forget who your audience is. "Especially in writing samples, make sure you paint a vivid picture for your reader," Walker says. "Don't assume they know about all the things—like barre every day—that we as dancers take for granted."
No award amount is too small to be worth your time and effort. As Walker says, "Don't pooh-pooh a couple hundred dollars in award money, because any scholarship is funding that you didn't have yesterday."
A version of this story appeared in the July/August 2017 issue of Dance Spirit with the title "All Aboard the Scholar-ship."
Every ballet dancer knows the time, sweat, and occasional tears the art form demands. But many non-dancers are clueless about just how much work a ballet dancer puts into perfecting his or her dancing. So when the mainstream crowd recognizes our crazy work ethic, we'll accept the round of applause any way it comes—even if it comes via four men in tutus. Yep, we're talking about "The Try Guys Try Ballet" video.
Keep reading...
Show less
(via YouTube)
Remember that fabulous old-school clip of dancers tapping in pointe shoes that Tabitha and Napoleon D'umo brought to our attention back in March? As we mentioned then, toe-tap dancing was actually super popular back in the 1920s and 30s—which means there are more videos where that one came from. And because #ToeTapTuesday has a nice ring to it, we thought we'd take this opportunity to introduce you to Dick and Edith Barstow, a toe-tapping brother and sister duo from that era who are nothing short of incredible:
Keep reading...
Show less
(Adam Rose/FOX)
Guess who's back? Back again? The Academy's back! Tell a friend.
After one day at The Academy, the All Stars have successfully taken the Top 100 down to 62. But their work is just getting started: Now they need to keep narrowing the field to a Top 10, ultimately deciding who each will partner with during the live shows.
Keep reading...
Show less


Get Dance Spirit in your inbox