Tips for Choreographing Your First Dance in College
(Left to right) Madison Hicks rehearsing one of her creations with fellow Juilliard senior Page Borowski (photo by Kenneth B. Edwards)
Even if you've choreographed tons in high school, having your work seen—and critiqued—by professors and peers for the first time can be more than a little intimidating. So DS asked those who've been there how you can feel confident and creative throughout your first collegiate choreographic experience.
---
Getting Started
Chances are, the first dance you'll make in college will take one of two forms: a course assignment complete with guidelines and criteria, or an anything-goes submission to a concert of student works. If it's an assignment
for class, embrace the rubric. "We think we can't be creative within strict guidelines," says Professor Anne Van Gelder, director of dance at the University of Richmond. "But it's within parameters that we find creativity. In the professional world, you'll mostly be assigned projects—not picking out what you want to do. For example, if you're choreographing a musical, you're working with a creative team, in their concept."
If you aren't working within a rubric and you feel like you don't have anything to say, consider expanding your notions of choreographic inspiration. "Have you read a play or novel, or seen artwork that you want to respond to through movement?" Van Gelder suggests. "Or maybe something's happened politically, or there's a cause you care about. Talk to a faculty member or peer about what matters to you, confuses you, or is interesting to you."
Finding Your Process
Juilliard senior Madison Hicks says working with guest artists and choreographers has been the best way
for her to learn more about choreographing. "I enjoy observing how each choreographer's process is so individual," Hicks says. "If you look at their thought process, the tools they use, and the directions they
unexpectedly go, every experience will show you new ways to create."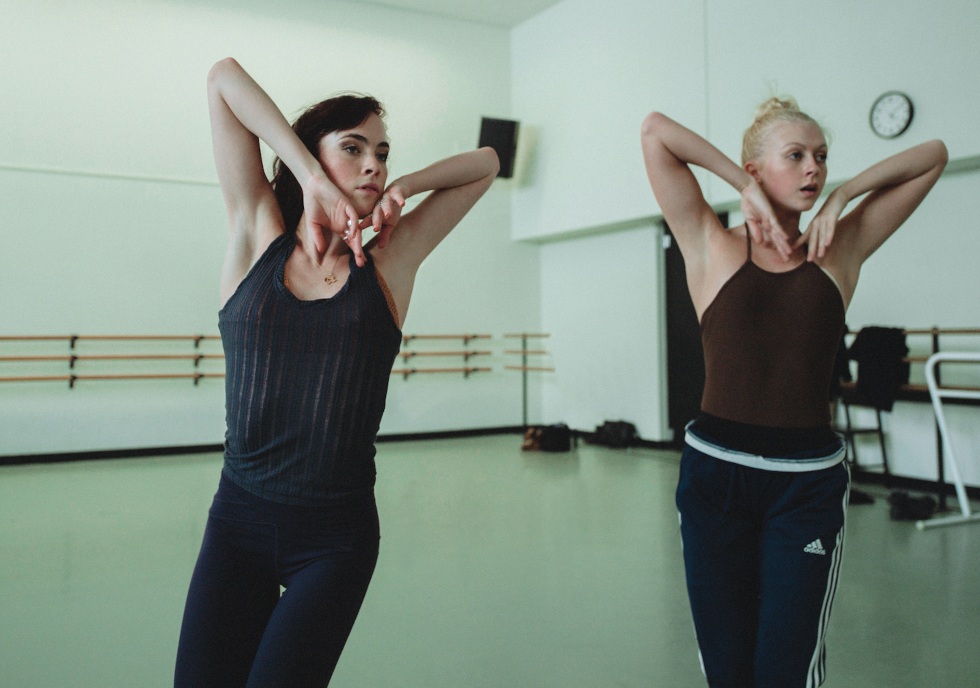 (From left) Hicks rehearsing with Borowski
If you've never choreographed before, it might feel safer to prepare intensively before each rehearsal, but don't close yourself off from possibility. "Be flexible, open, and willing to see where a phrase is going—or where your dancers are taking it," Van Gelder says. "Communicating what you want through words and physicality is different than your mind telling your body what it wants."
When the Going Gets Tough
Choreographer's block happens to everyone, and stressed-out college students are no exception. "Taking a step away from the piece is always beneficial, even for a few minutes," Hicks says. "Or give a task to a dancer and watch them explore! All artists have wonderful ideas and will react differently to your guidance."
Van Gelder suggests improvising to get past the block—just not to the music you're using. "Play whatever gets you relaxed and not censoring yourself," she suggests. "If you have time, go look at something that's artistic, like visual art in a gallery, but not connected to the pressure to produce."
The Big Picture
Dissatisfied with how the work turned out? Don't stress too much. "I wish I'd known freshman year that not every little piece I created needed to be the best, and not every phrase I create will affect my future," Hicks says. "Sometimes exploring for fun with no pressure makes the most creative and enjoyable pieces. All you have to do is keep going."
A version of this story appeared in the April 2018 issue of Dance Spirit with the title "New Choreographer on Campus."
(From left) Mean Girls dancers Riza Takahashi, Ben Cook, Kamille Upshaw, Jonalyn Saxer, DeMarius R. Copes, and Stephanie Lynn Bissonnette (photos by Erin Baiano)
Get in, losers. We're going to Broadway.
OK, not losers, actually—more like the bajillion die-hard fans of Tina Fey's 2004 cult hit Mean Girls, who've been wearing pink every Wednesday since a musical adaptation of the film was first teased back in 2013.
Now their world is like a cake filled with rainbows and smiles, because Mean Girls the musical, which had a trial run in Washington, DC, last fall, is set to open at Broadway's August Wilson Theatre April 8. And in a very grool twist, it turns out the show—with direction and choreography by Casey Nicholaw and a book by Fey herself—is delightfully dancey.
Keep reading...
Show less
Screenshot form YouTube
What do you get when a hoard of dancers collaborate to the catchy tune of "Love Somebody," by the band Frenship? The most epic dance party ever, of course! Said dance party was produced by the talented Michael Riccio, who's performed in feature films, including "Confessions of a Teenage Drama Queen" and "Shrek Forever After."
Keep reading...
Show less
Alicia Vikander in Tomb Raider (Warner Brothers)
Keep reading...
Show less
Quiz
Nov. 30, 2017 10:41AM EST
University of Minnesota Dance Team (courtesy University of Minnesota)
They say there's no "I" in "team"—and nowhere is that truer than the world of college dance teams, where precision reigns, uniformity is key, and a single misstep from any given "I" can cost a group a championship trophy. So it's unsurprising that securing a spot on one of the best dance teams in the country is no easy feat.
Members of these highly athletic teams rehearse for hours every week—on top of academic classes and commitments—and perform at football and basketball games, annual concerts, and nationally televised competitions (hi, ESPN). And "no I" rule notwithstanding, each of these top teams is made up of highly trained, highly technical, highly hard-core individuals, who come together to create a ready-for-victory pack.
These six teams aren't one-off success stories—they're consistently strong, and earn the top spots at major competitions like UDA and NDA nearly every year. Up for the challenge? Here's what to know before you go to auditions.
Keep reading...
Show less
courtesy ADCC
Are you a high school senior who's been accepted to a four-year accredited college or university program? Congrats! Within the 2017-2018 season, have you competed in events run by at least two of the organizations in the above graphic? Double congrats, because the Association of Dance Conventions and Competitions, or ADCC for short, wants to give you $1,000 (!!) towards college tuition.
Keep reading...
Show less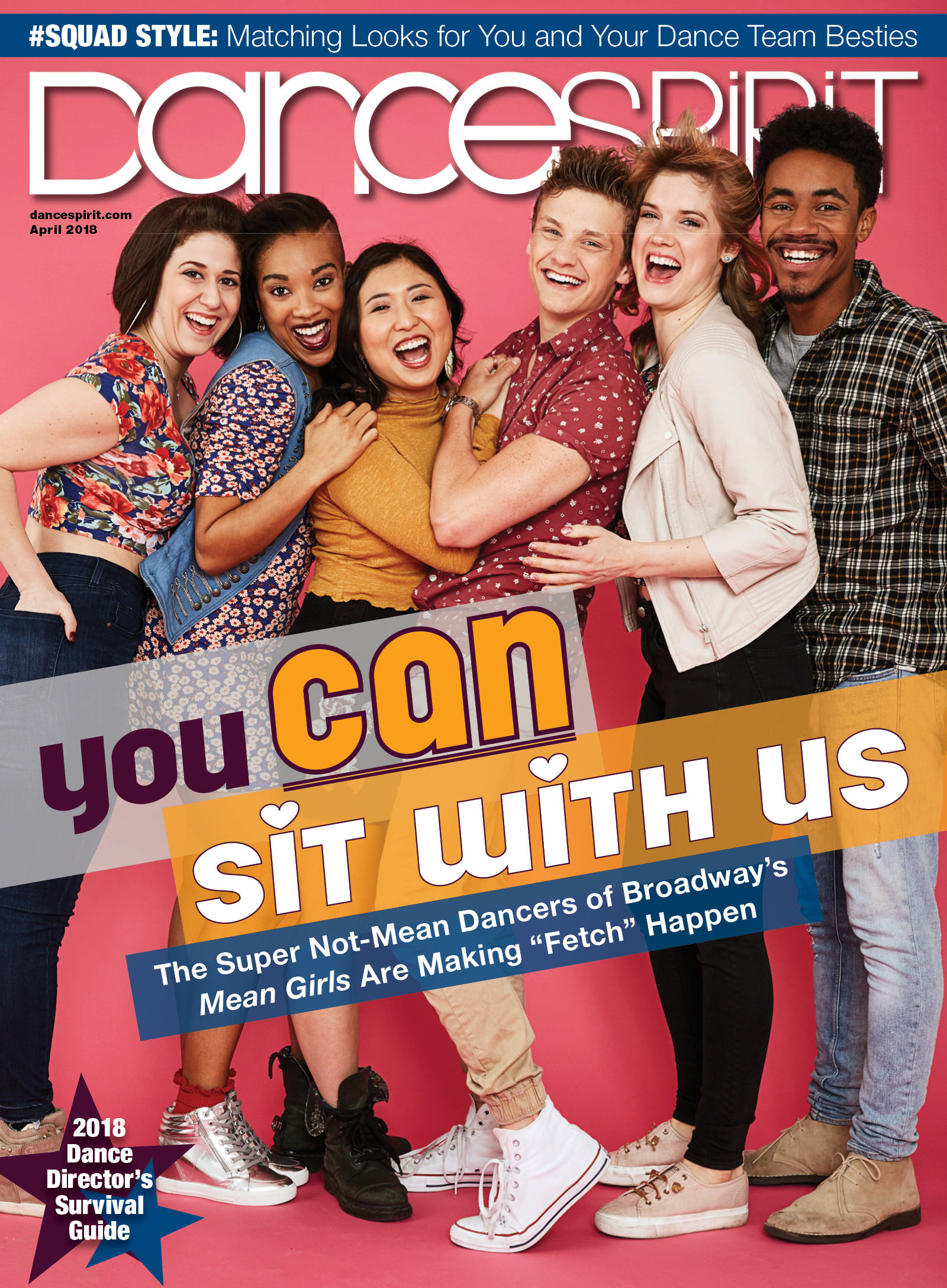 Get Dance Spirit in your inbox